Planning and throwing a Funeral For My Youth birthday party was so fun (and hilarious)! I'll show you all the DIY crafts to make for a funeral birthday party, plus all the extra ideas I didn't get around to making!
Well…it would appear I'm officially over the hill. Old. Elderly. Decrepit.
Just kidding, I'm really not that dramatic. Age is just a number that doesn't mean a whole lot to me. Which is why I thought it would be hilarious to throw myself a Funeral for My Youth. It was fabulous, if I do say so myself. I highly recommend it (as long as your guests can find the humor and aren't offended by a funeral birthday party).
This would totally be great for a 40th or 50th birthday party, too. Maybe 60th…but then I wouldn't go beyond that because then you might be looking at an actual funeral…and that could be seen as poor taste…
Read or scroll on for all my best DIY funeral birthday party ideas!
This post contains affiliate links. For more information, see my disclosures here.
How to Throw a DIY Funeral Birthday Party
DIY Your Own Funeral Birthday Party Invitations
Funeral for Your Youth birthday parties are becoming more popular, but they're not the regular, so don't expect the party section of Walmart to have a lot of premade options (or any). You're going to have to DIY your own invitations. But it's not hard to do, especially if you use a program like Canva!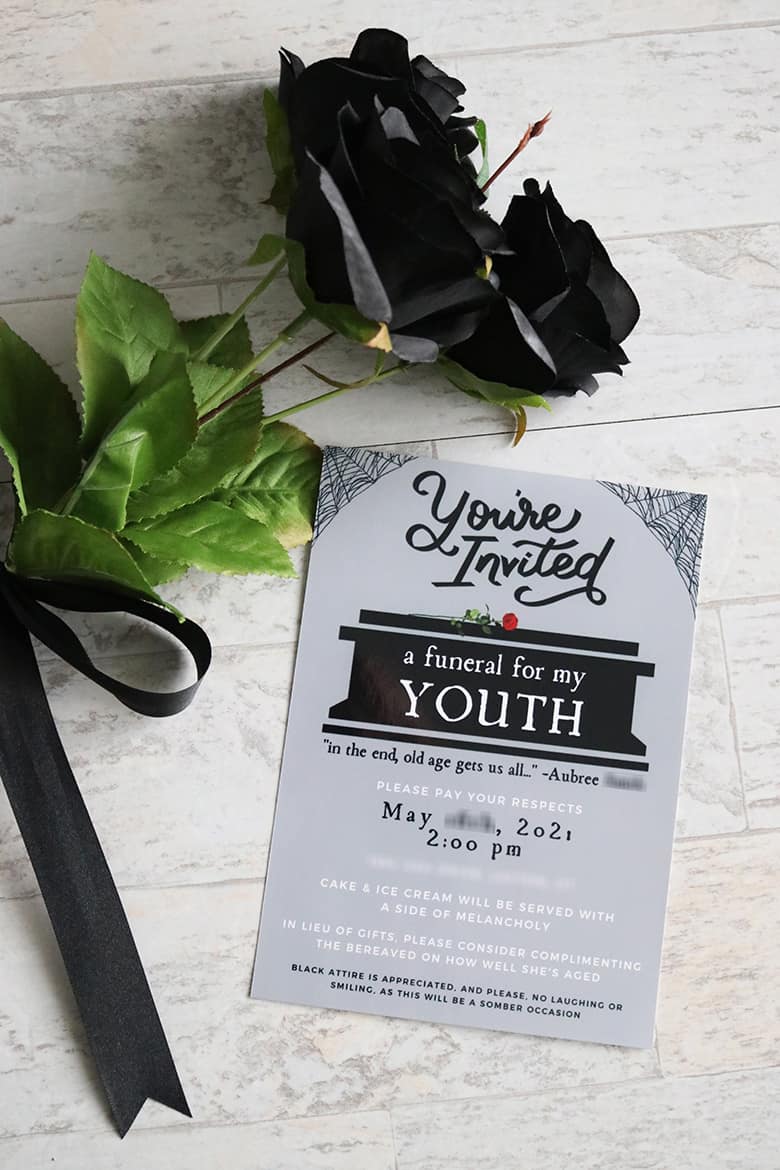 I made this invitation using my Pro subscription in Canva, which I highly recommend if you're into design at all–I use it for everything, and the Pro subscription gives you SO MANY extra features that I couldn't live without now).
You can even print your invites through Canva…though, in my experience quality has gone down just a little bit over the last year or so. It's just as easy to download your design (choose one of the PDF options for the best quality and then use a free PDF to JPG converter online) and send it to your favorite print shop.
UPDATE: You can now purchase this invitation as a template that you can edit in Canva! You can purchase it in my Etsy shop (and all the instructions on how to download and edit the template are included there).
Make it Black
First things first…we're in mourning…for our youth. So make everything as dreary and black as possible. Think black decor and black apparel. You can even request that your guests wear black, too, like I did in the invitation. Here are some ideas for black decor:
Use lots of black roses
I bought mine at Hobby Lobby when the floral was 50% off (Hobby Lobby no longer offers coupons, so keep that in mind and wait for a sale–different departments usually go on sale every third week). Use wire cutters to separate the roses from the bouquet. Tie some together with a black ribbon or put a bunch in a vase.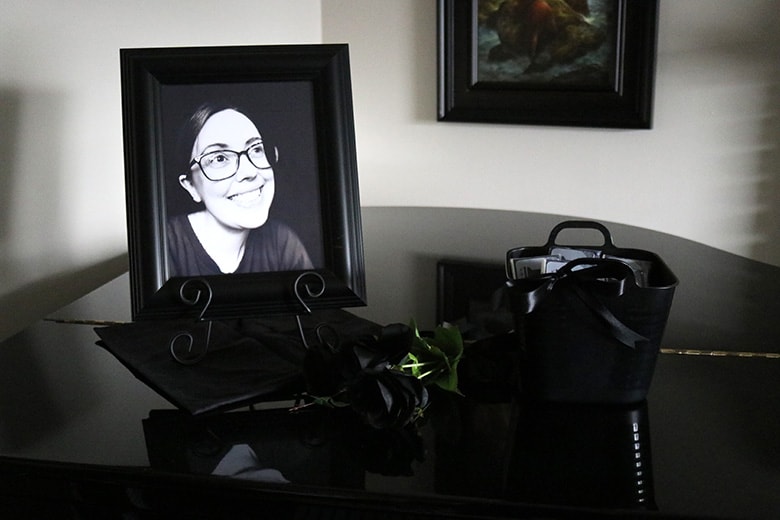 (I had weird lighting when I was taking pictures, so the black roses above are just blending into my black piano…)
Make a wreath to greet guests
I've gotten way into wreath-making lately, so I whipped up a deco mesh wreath complete with black roses, ribbons, and a satin sash I made from ribbon and an iron-on vinyl sentiment of "In Loving Memory." I used my new EasyPress Mini for this and it was AMAZING!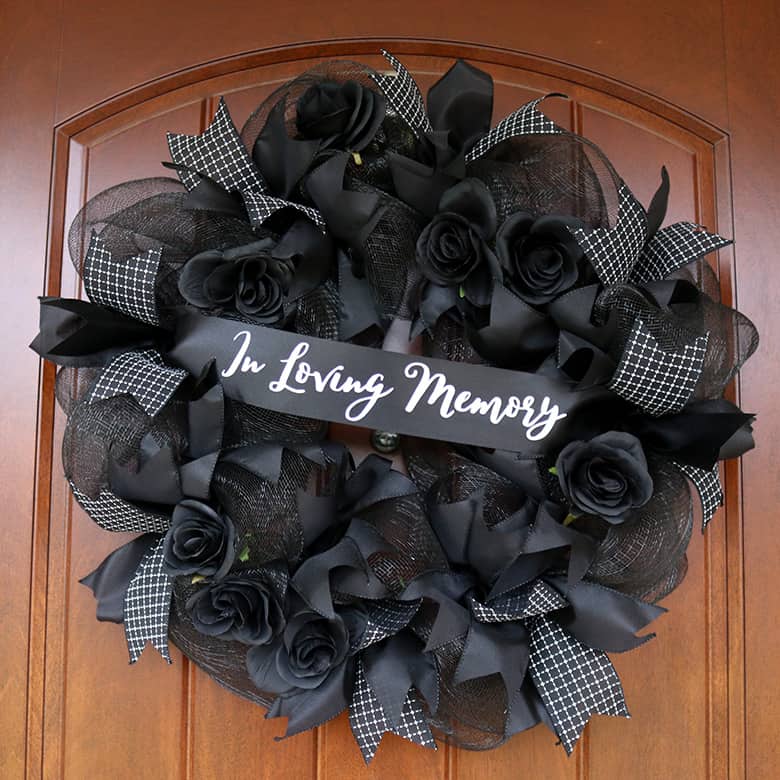 Decorate with black balloons
I thought about buying a bunch of plain black balloons from Walmart…but then the logistics of getting all those balloons in my little car with a toddler wasn't really working…so I ultimately decided to save the money for other things.
But black balloons would be perfect for a funeral party: use them as a photo backdrop, tie pictures of yourself (or the birthday guest) to the bottom of the strings, or use as outside decor to greet guests (and inform all your neighbors that you're celebrating something very sad 🤣). You could also purchase number balloons like these.
Make a DIY "Farewell My Youth" birthday banner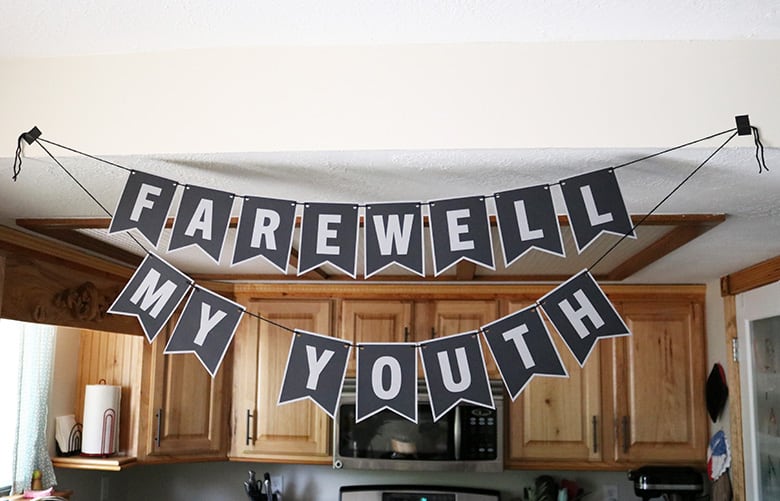 I used my Cricut to whip up a quick birthday banner with the saying "Farewell My Youth." I cut it from black and grey cardstock, glued the layers together, strung it together with yarn, and used black masking tape to tape it above my kitchen counter. If you want to use the exact same design, you can find it in Design Space here.
Other ideas you could DIY: a paper skull or spider garland, a tissue paper garland like this one, or a simple black crepe paper garland.
Display Plenty of Photos of the Birthday Guest
I cracked myself up with this part. A few days before the party, I took about a million selfies using the Stage Light Mono Portrait setting on my iPhone (these were some of the last photos taken in my youth…*sniffle*). You may or may not be able to tell without knowing me personally, but my expressions were extra cheesy and ridiculous–I was having way too much fun during my toddler's naptime. (I didn't even change out of my ratty t-shirt with slobber stains or put on makeup…I'm nothing if not true to myself. 😆)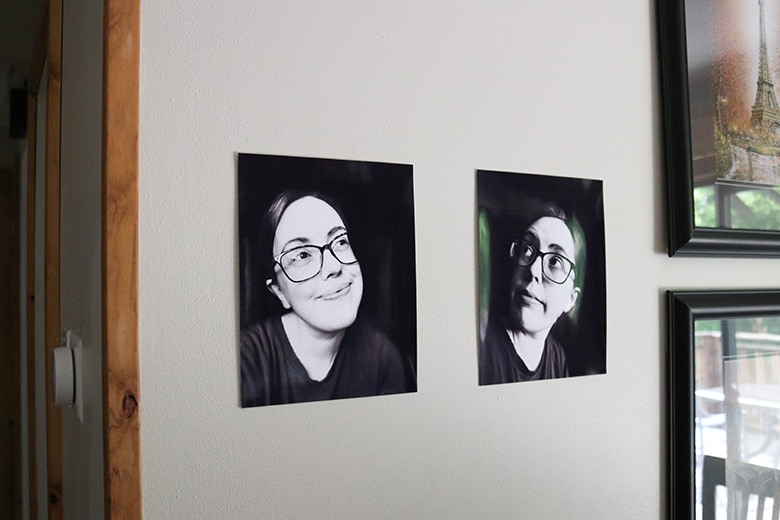 I used Canva again to size the pictures and then I printed them at home to save money (because quality didn't really matter–I just used cheap photo paper from Walmart).
I printed some large 8×10 photos and taped them to my railing with black masking tape (I had no idea this existed and it's so much stronger than black washi tape–worked perfectly!).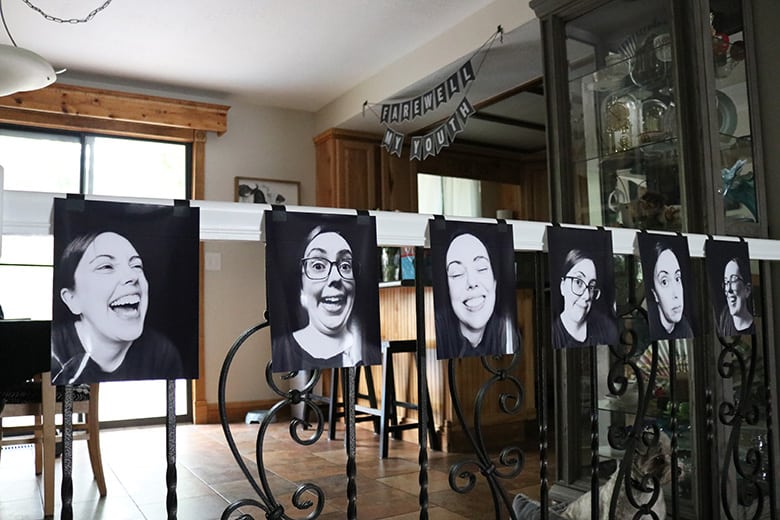 I also punched holes in some 5×7 photos with my favorite small hole punch and strung them into a garland with black yarn. I attached the garland (using the black masking tape again) to my fireplace mantel.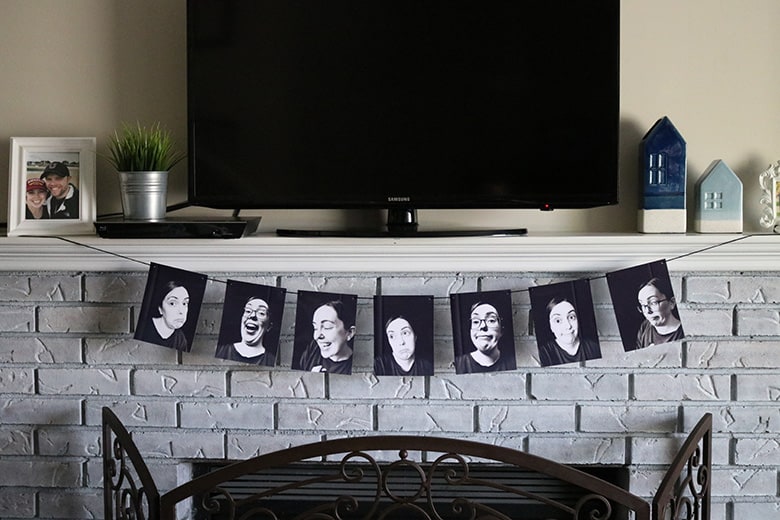 Ahh, too funny…
If you want, you could also display photos on a memorial poster or set up a "photo walk" to guide guests through the years of your youth (awkward photos are a plus).
Offer Tissues to Your Guests
This may be a very tearful occasion, so be prepared. Actually, tissues make the perfect, simple party favor. I considered custom-printing tissue packs but that was getting a little too expensive and over the top (who am I kidding, all of this is over the top 😂). Instead, I bought Kleenex tissue packs from Walmart, designed a label in Canva, uploaded the design to Avery.com, printed the labels and stuck them to the front of the tissue packs.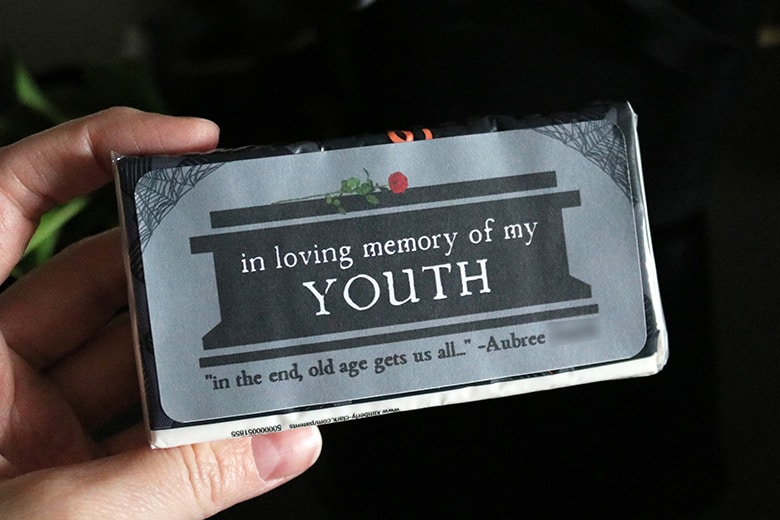 (Of course, I had to include the quote from my invitation again…it was such a profound quote by Me.)
Make or Order a Tombstone Cake
I ordered a delicious cake from my local grocery store bakery and it was perfect for a funeral birthday party! (A little more expensive than I was anticipating, tbh, but that's okay, it worked out.)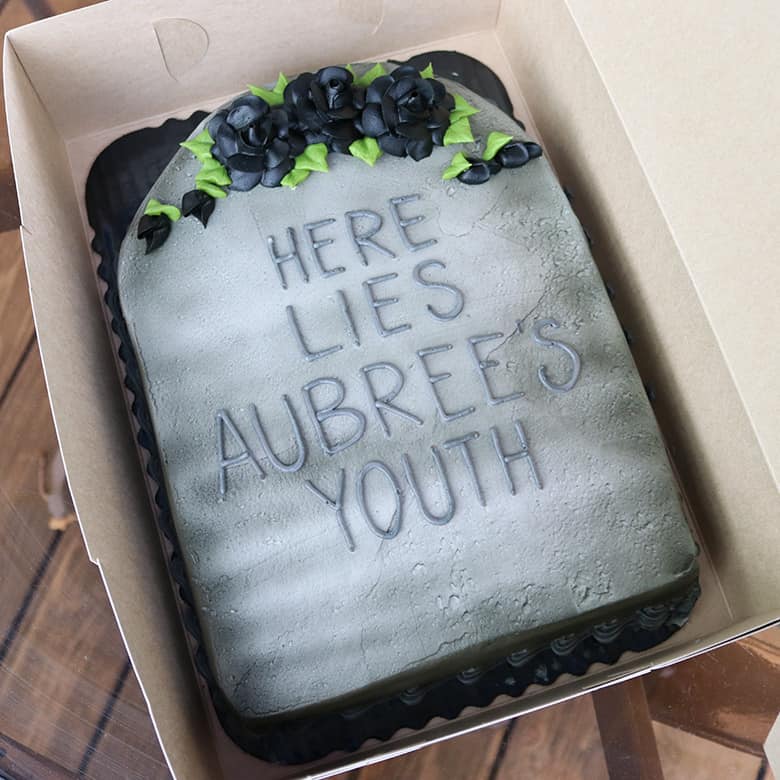 Apparently a tombstone cake wasn't an unusual request for them, so maybe people are having more funeral or over-the-hill parties than I thought. The cashier taking my order did find it amusing, however, that I was ordering my own cake. Hey, sometimes you just have to do things yourself when you are OCD and have crazy party visions that need to be realized. 😜
I also ordered a dozen cupcakes with grey frosting (which they recommended because black wouldn't taste very good), just in case the cake wasn't big enough for everyone. Which brings me to…
Make Funny Photo Cupcake Toppers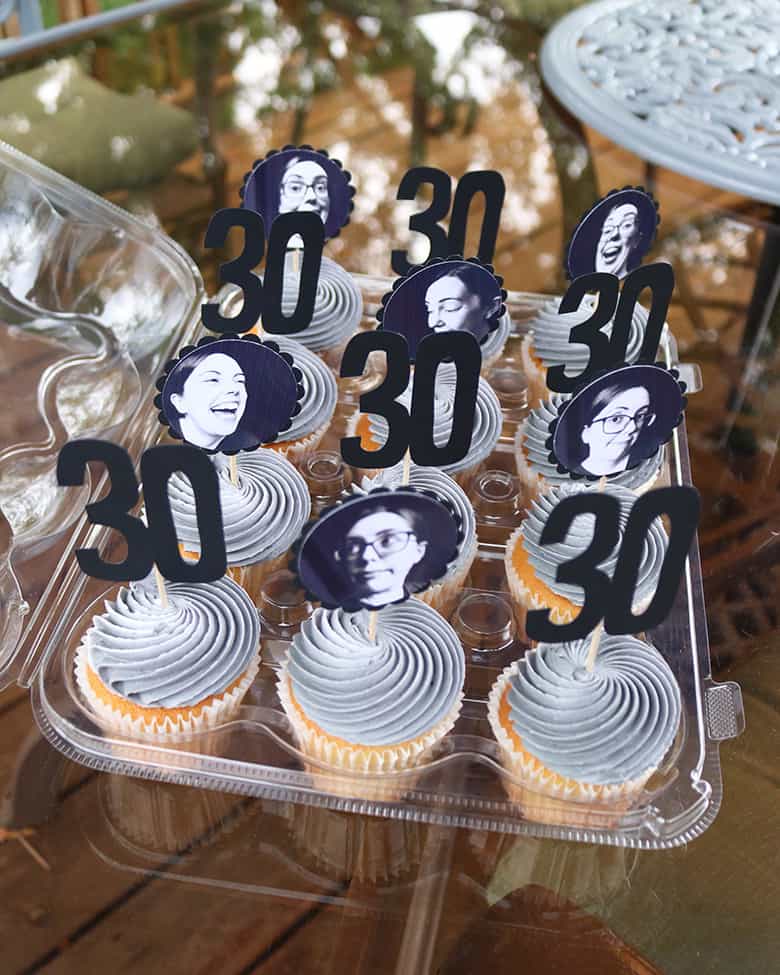 For extra kicks and giggles, make some cupcake toppers with pictures of yourself (or the birthday guest). Here's the easy process I used (and maybe I will try to make a video tutorial at some point):
In Canva, create a new design with custom dimensions (I did 8.5×11, the size of my photo paper). Upload your pictures in the sidebar on the left where it says "uploads." Go to "elements" and type in "circle frame." Choose the circle that has green hills, sky, and clouds–this is a frame element. Either click the circle frame or drag it to your page. Resize it by dragging the corner so it's about 2″ or a little smaller (you'll see the "w" and "h" dimensions pop up while you're dragging the corner). To keep all your cupcake toppers the same size, copy and paste your circle frame using the keyboard shortcuts (cmd or ctrl C and V) or click the duplicate icon in the upper right corner of the menu bar. Make as many frames as you need. Then, drag your uploaded photos to each frame and position them where you'd like (double click on the photo in the frame to be able to change the position).
When you're ready, download and print the page of cupcake toppers (again, download as PDF for highest quality). If you have a Cricut, you could probably upload the file as a Print then Cut into Design Space and have your Cricut cut the circles out for you. But I didn't think of that so I just cut mine by hand (I only made 6). Next, I had my Cricut cut out cardstock scalloped circles (tons of options in Design Space) slightly larger than my circle photos and glued them together. Cut small pieces of black masking tape and tape toothpicks to the back of your cardstock-framed photos. So easy!
Make "30" Number Cupcake Toppers
For the other half of my cupcake toppers, I designed a simple "30" in Cricut Design Space and cut them out of black cardstock with my Maker. Then, just tape a toothpick to the back using black masking tape.
(Don't forget the black plates and silverware! I almost went with a skull theme and used these plates.)
Have a Coffin or Tombstone Piñata
…because why not? This is one of the things I wanted to do but didn't have time…and I also knew there was a chance of bad weather the day of my party (yes, even the sky was in mourning for my youth).
If I had made my own piñata, it would've been a simple coffin shape with "in loving memory" or a similar saying on the front. Think Make Share has some great piñata-making tutorials.
Make a Life-Sized Cardboard Coffin
Okay, again, something I didn't have time to do. But how awesome would this have been?! In my head, I imagined a coffin made from cardboard (and spray-painted black) that was big enough to put upright and stand in it (for amazing pictures, or maybe just to greet guests 😆). Or, I thought about making one to put on some sort of table or stand that everyone could drop black rose petals into after the funeral service.
Oh, yeah, I almost forgot:
Have a Funeral Service
I wish I had actually planned a full service, complete with sad musical numbers and sharing of memories. (I did ask my husband to give a eulogy but he said no.) All that I really ended up doing was thank my guests for being there on such a difficult day and offer a few remarks about the passing of my youth. It was short and sweet and then we ate cake.
Make a Funeral Guest Book
I didn't have enough guests to need a guest book (at least I didn't think so), but you could easily do this! A simple black notebook with a customized vinyl saying on the front would work great. Or, just have pieces of cardstock for guests to write memories and then include them in a scrapbook with photos later on. If you want to be really fancy, you could even buy a guest book.
Make DIY Birthday T-Shirts
I opted to wear a black dress for my funeral, but I decided that my toddler needed a new shirt, so I came up with this: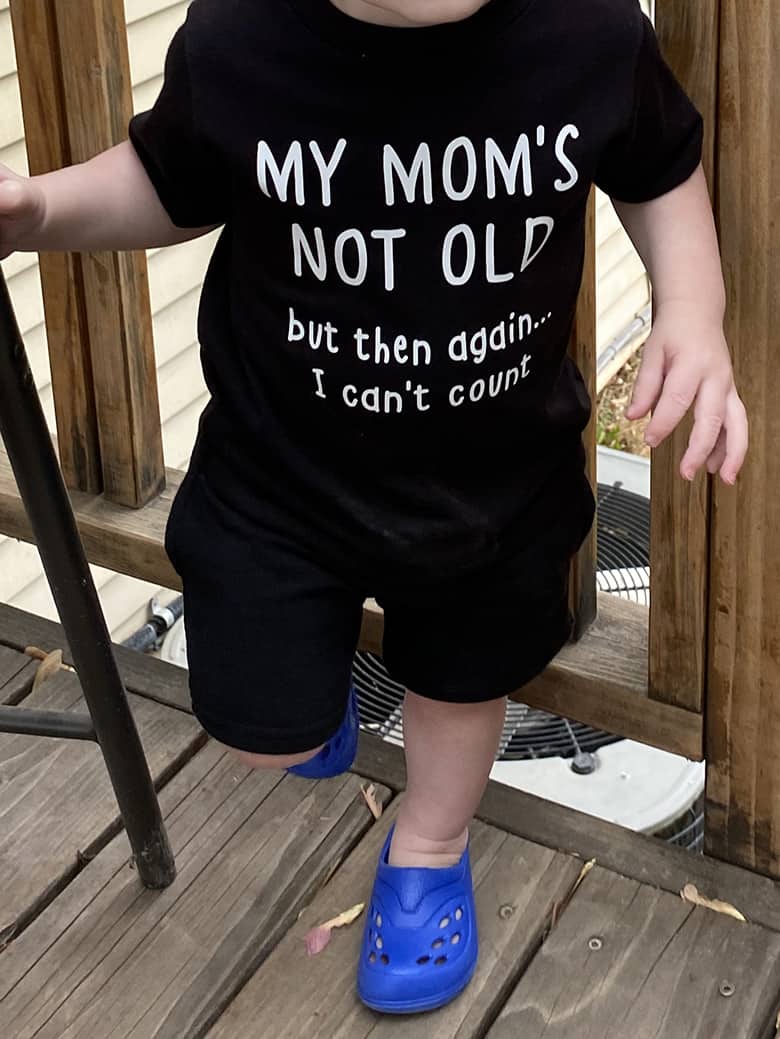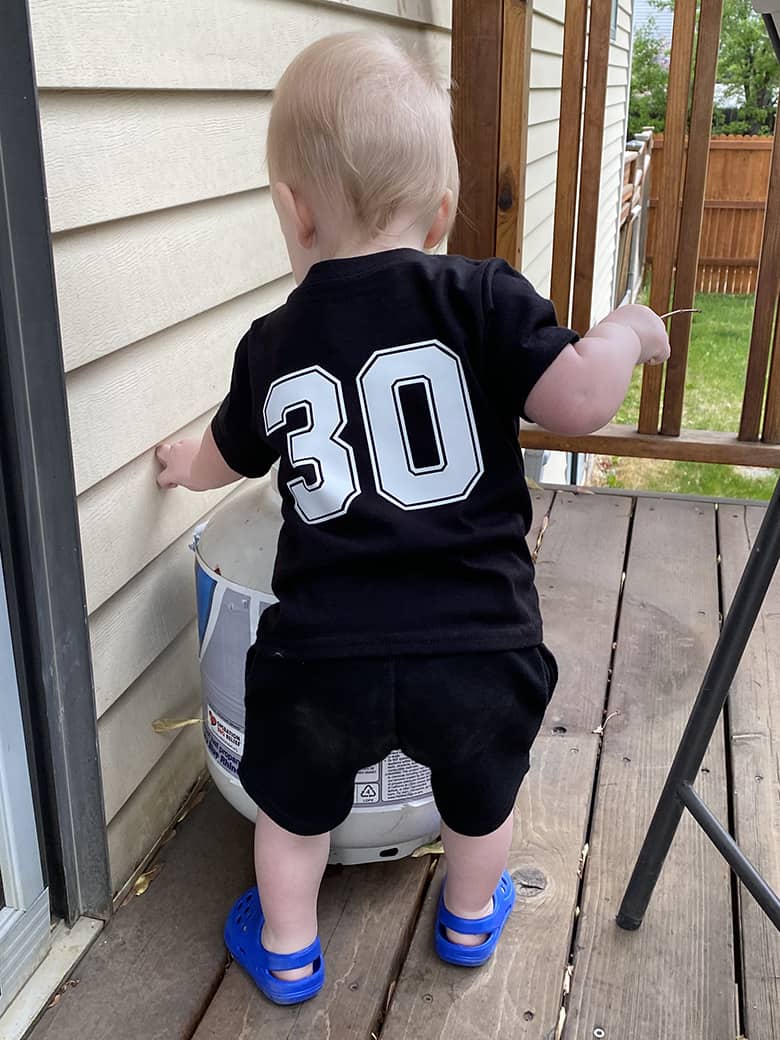 "My mom's not old but then again…I can't count." Thanks, Cricut Maker and EasyPress for allowing me to make this 30 minutes before guests arrived! 🤪 (I always think I'm going to have more time than I do…)
Feel free to make yourself or any of your guests a shirt, just be sure they're black! I think it'd be super fun for everyone to sport "30" jersey shirts for the day (in solidarity) and then take group photos.
Which brings me to the final step for throwing a funeral birthday party…
Have a Funny Photo Shoot
Sad occasions deserve documentation, too. Don't forget to take some group shots of all your guests. Bonus points for the relatives who wore "funeral attire"–the black top hats and cloaks were all their idea! #ihavethebestrelatives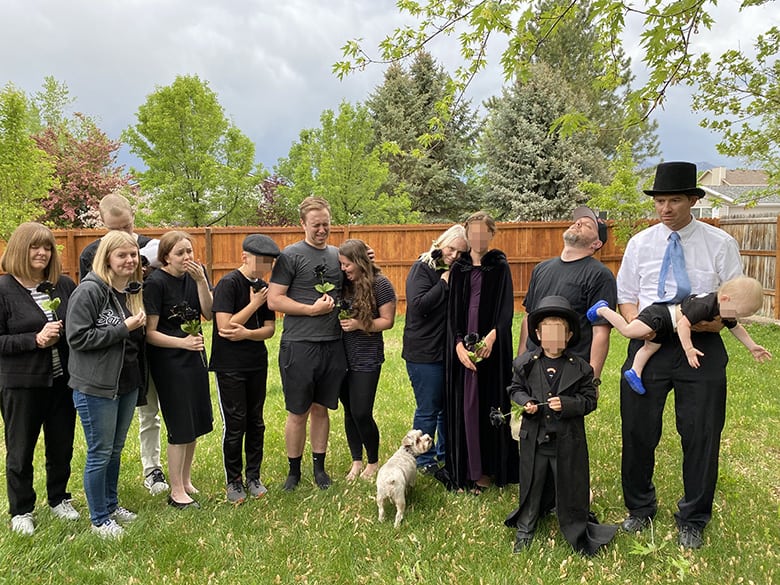 The picture above was taken with instructions (from me) to look very distraught. I've blurred out the kids' faces (I feel funny sharing them so publicly online), but one of the boys had the biggest grin in this picture. 😂 Also, that's my toddler trying his very best to escape this photo shoot. And my dog, very confused why we're so upset.
Faux black roses were the best photo props (I just stole them from my decor near the end of the party)! I love this shot of us throwing them in the air…it's like we're throwing our graduation caps 😂…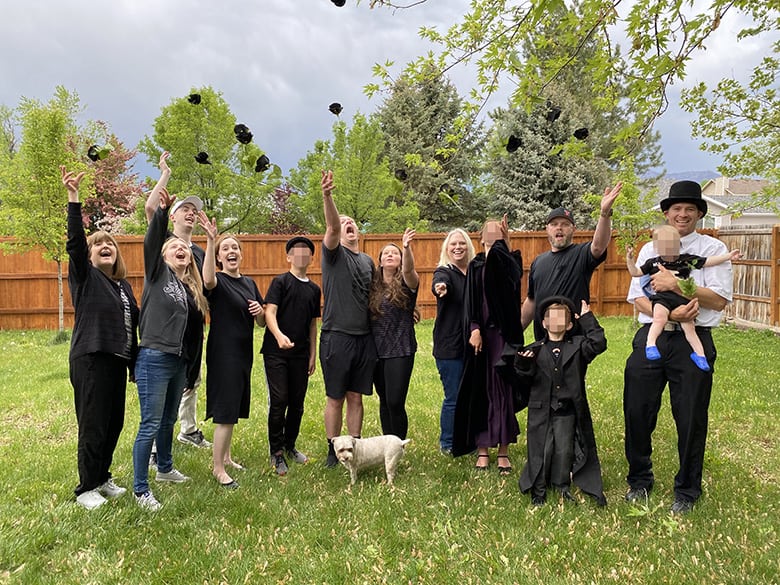 If I had had more time (and the money), I may have had a professional photo shoot done of myself with some black balloons, maybe wearing a black derby-style funeral hat or something fun. I totally considered buying these tights and doing a half-face skeleton makeup, and I actually kind of wanted to take pictures in a cemetery, too…too macabre?
DIY 30th Birthday Funeral Party
And there you go! All the ideas to throw yourself (or someone else) a funeral birthday party!
Did I forget anything? I wouldn't be surprised if I did…old age and all…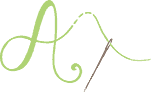 Don't forget to pin and save for later!