These Disney craft projects are so fun! They're great anytime, but especially if you're headed on a Disney trip! Save some money in the parks by making these DIY crafts before going!
Guess what I'm doing in less than a month?! Okay, I can't stand the suspense: I'm jumping on an airplane and going to the happiest place on earth! When my husband and I were dating and I found out that he, too, loves Disney, I decided I could keep him.
Seriously though, Disney vacations are our favorite. From the lovable characters to the magical rides to the overpriced-but-oh-so-worth-it treats, what's not to love?
And apparently there's a whole souvenir store of Disney Christmas ornaments! I better start saving my nickels and dimes hundred dollar bills.
To prep for this awesome trip, I've been making all kinds of Disney crafts to remind me just how much I love Mickey Mouse and princesses and…couples' outfits (yay!).
This post contains affiliate links. For more information, see my disclosures here.
1. How to Make DIY Disney Countdown Blocks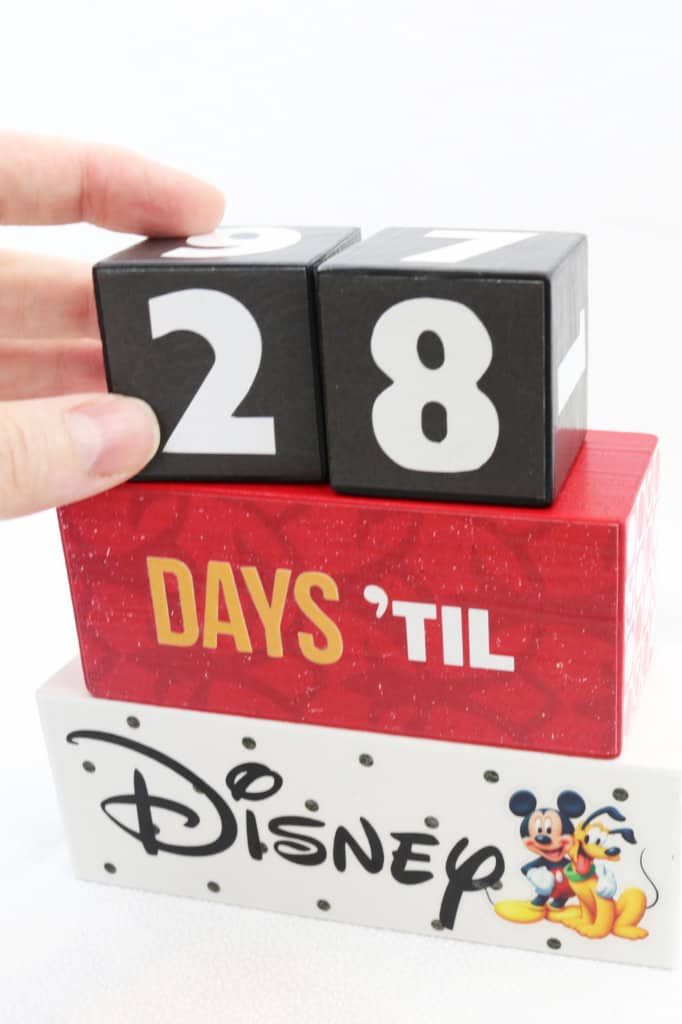 Obviously, this is the most important of the crafts (well…maybe tied with number two, because the funds are also pretty important). But Disney is all about the magic and excitement and anticipation. I'm so pleased with how these turned out!
What You Need to Make Disney Countdown Blocks
3 blocks measuring 1.5 x 1.5 x 1.5″, 1 block measuring 4 x 1.75 x 1.75″, 1 block measuring 5 x 1.75 x 1.75″–I purchased mine pre-cut from Michaels for about $8 total, but you could save money by cutting your own from scrap wood (I opted for convenience, though)
sandpaper (optional)
scrapbook paper
letter and number stickers (you could also hand-paint the text, print it with a laserjet printer, or use vinyl)
matte Mod Podge (I personally hate the gloss Mod Podge: it's really sticky, doesn't seem to dry as well, and causes things to stick together–not a good idea for these blocks)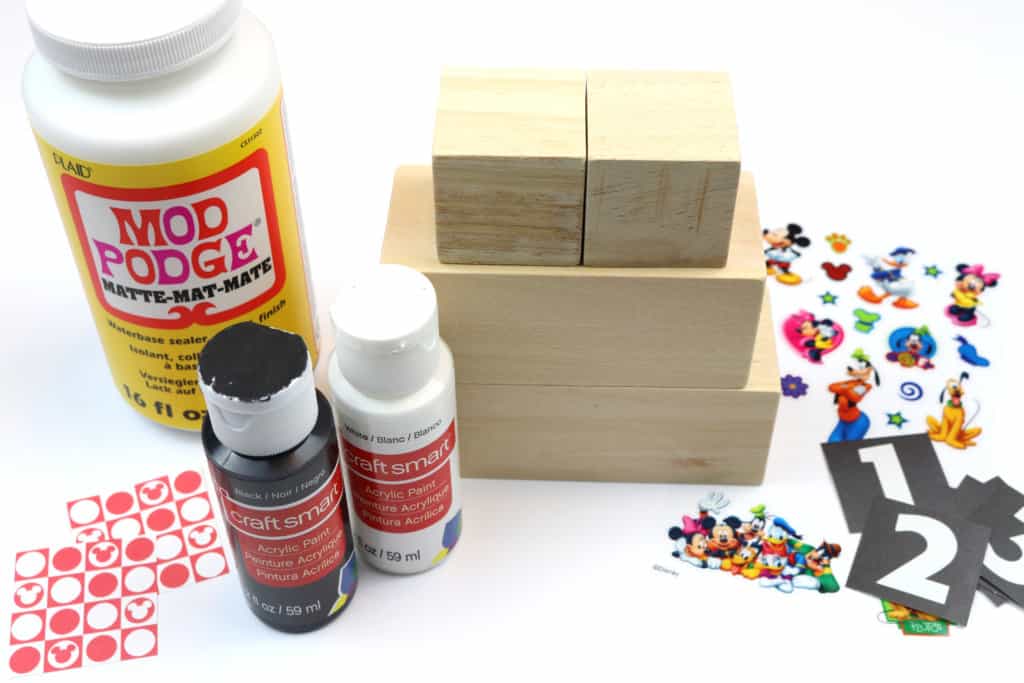 How to Make Your Own Disney Countdown Blocks
Lightly sand the blocks, smoothing out any rough edges. Wipe clean with a dry or slightly-damp cloth.
Paint the blocks. I painted the large block white, the medium block red, and the small blocks black.
If you're using scrapbook paper, measure and cut to fit the face of each block, leaving a small border. (If you're going to be printing any of the text, you may need to do so before cutting the paper–anything smaller than an 8.5 x 11″ piece of paper causes my printer to jam. Also, if you're planning on Mod-Podging over the top of the text, be sure you're using laserjet ink; an inkjet printer will bleed when wet.)
Apply stickers and/or vinyl to the scrapbook paper. *see my notes below on the number blocks
Apply a coat of Mod Podge to the back of each paper piece and adhere them to the blocks. Use enough Mod Podge to avoid bubbles from dry spots but not so much that it seeps out the edges and makes a mess.
Apply a coat of Mod Podge to each block as a protective coating (this will also help prevent any stickers from falling off). Just brush the Mod Podge right over the scrapbook paper and even the plain painted sides if you want. Do this part in phases, so that you always have a dry side to set the block on. If you have any Mod Podge on that bottom surface, try to set your block on a smooth surface–wax paper might work. (You'd think I'd know better, but I let my blocks dry on a piece of newspaper and they stuck to it–I had to sand off the newspaper and re-paint some sections. 🤦‍♀️)
Let your blocks dry completely before stacking them, at least overnight, maybe more. (After a couple days, my larger blocks were still wanting to stick to each other, but not badly enough that paint was coming up or anything like that. So, I stacked them because I was too excited to wait any longer.)
Enjoy counting down to your upcoming vacation!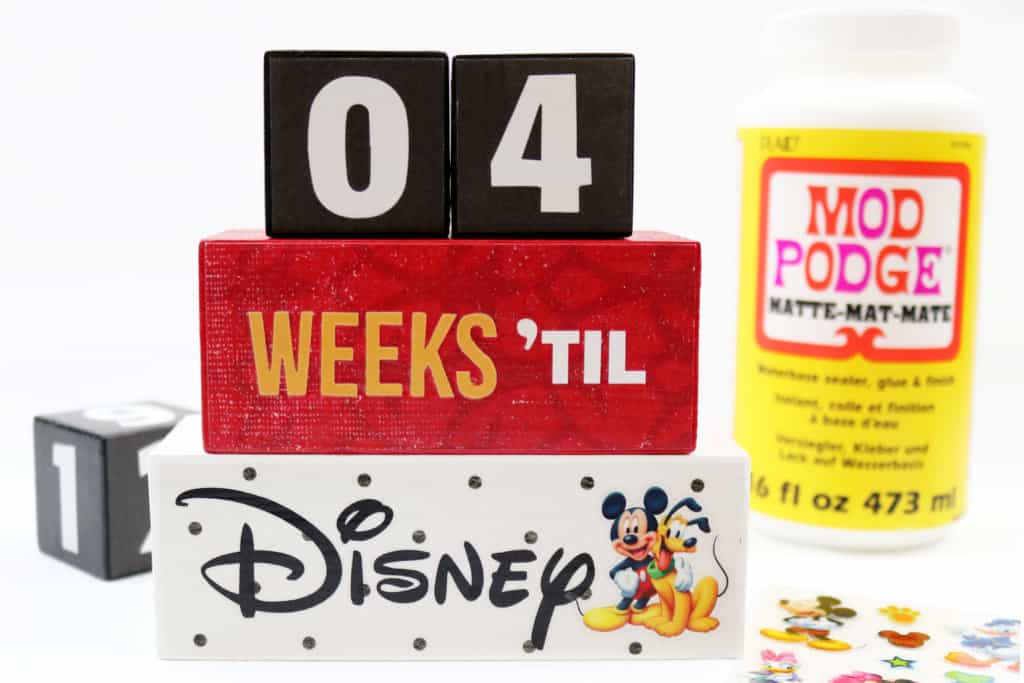 *Making numbered blocks can be confusing. You have to have enough numbers to be able to make all combinations of numbers when displaying the different blocks. For example, if I put all my 2's on one block, I could never display a "22". If you're trying to count down for an entire month, you'll need three blocks (with numbers 1, 2, 3, 4, 5, 6, 7, 8, 9, 0, 1, 2, and 3). I had extra number stickers so I added a few more numbers to my third block, making it possible to count down for longer than a month. But…my dumb sticker sheet only came with one 8 (for some silly reason), so I'll never be able to display an "88". 😂 Oh well. That's where the double-sided option of days or weeks comes in handy.
2. How to Make a Painted Disney Mickey Savings Jar
At one point, I had several hundred in cash saved up in this jar. And then life happened and we had car expenses, a yard to take care of, and intense cravings for Arctic Circle chocolate moose tracks shakes (probably a few of those).
So then it became a change jar (my husband has a habit of leaving change in his truck and all over the house–finders, keepers, I say). I'm excited to go dump it in one of those coin counters at the bank. If we're lucky, we might have $50 for ornament #1 of 10 (or 12).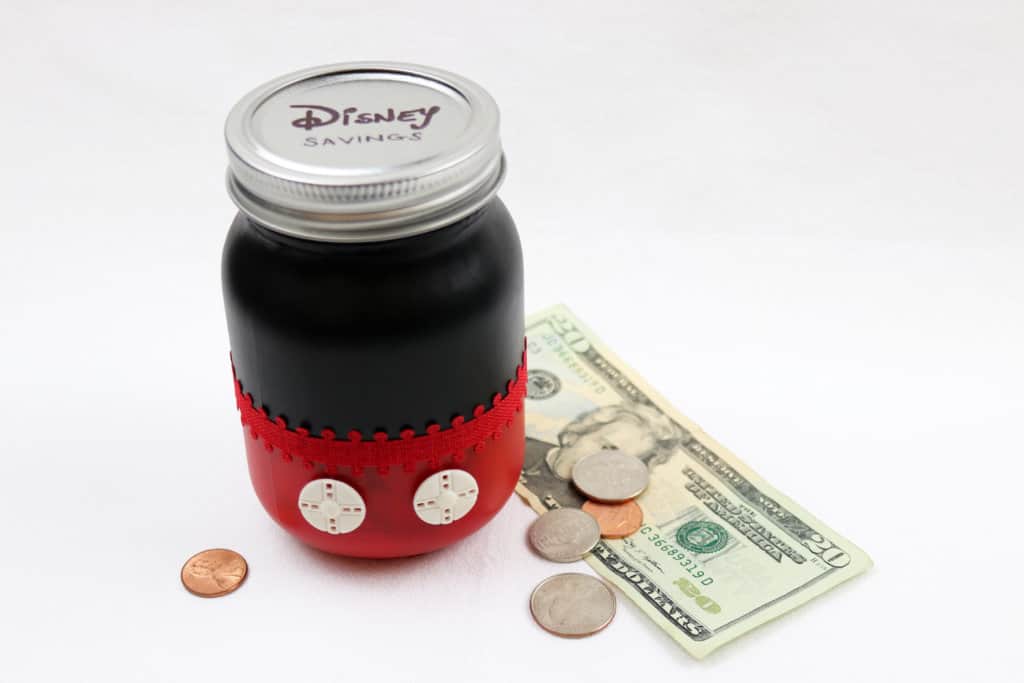 What You Need to Make a Disney Mickey Savings Jar
glass jar (I used a canning jar)
multi-surface glass paint (be sure the label specifies it can be used on glass, otherwise your paint might peel)–I used Martha Stewart Multi-Surface Satin Acrylic Craft Paint
painter's tape
ribbon or trim
buttons (remove any shanks first–I used a wire cutter to do this)
glue dots, super glue, and/or

E6000 glue

Sharpie, stickers, or vinyl

How to Make a Mickey Savings Jar
Starting with red paint, paint the bottom third or so of the jar. Try to keep a straight line, but it's not terribly crucial if you're going to cover the line with trim or ribbon like I did–or maybe that's why I covered it with trim…huh. Let it dry, apply a second coat if needed, and let it dry completely. The paint I used went on fairly transparent at first, so I think I did at least two coats if I remember correctly.
Next, tape off the mouth of the jar and apply black paint to remainder of the jar up to the neck. Let dry between coats and then dry completely.
Adhere ribbon or trim to cover your red/black transition line with whatever glue works for you. I used glue dots and haven't had any issues with the trim coming off yet.
Adhere buttons with superglue or E6000 glue. I originally used hot glue, but it wouldn't stick to the paint and the buttons popped right off. E6000 glue is always a safe bet–probably one of my favorite inventions ever.
Write "Disney Savings Jar" on the top of the lid with a Sharpie. Or use stickers or vinyl. Or don't write anything at all, I'm easy.
Save for all those Mickey pretzels and collectors' pins (and don't steal from the jar!).
3. How to DIY a Jack Skellington Baseball Hat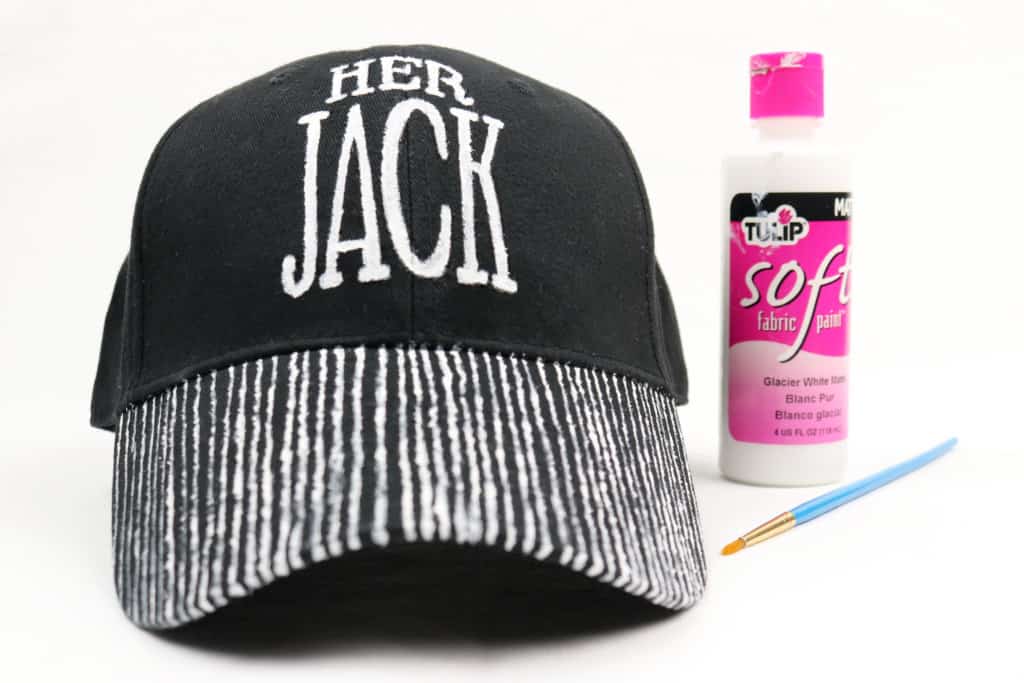 Have I mentioned that I'm a huge fan of couples' outfits? It's something I thought was so quirky about South Korea, where you'd be out and about and see cutesy couples with matching-everything, right down to their socks and shoes.
Well, the husband's not really on board…yet. I have a "His Sally" shirt from shopDisney, and once upon a time there was a matching "Her Jack" men's shirt. But Disney customer service didn't know when or if it would be back in stock (yes, I emailed them–it was very important to me). So I considered buying a "Her Jack" hat, again from shopDisney, but why would I spend $25 on a hat I'd only successfully force my husband to wear once?
So, another craft project was born. And the husband is so excited (oh, I mean about the Mickey pretzels, not really about this hat).
What You Need to Make a DIY Jack Skellington Hat
black baseball hat

(I found mine at Walmart in the men's section for about $3)

fabric paint

(I used Tulip brand soft fabric paint in Glacier White Matte)
painter's tape (if you're OCD about getting straight lines, but I found out that squiggly lines better-matched the real Jack Skellington)
toothpicks and the smallest paint brushes you can find (I found toothpicks helped get a skinny line, but so did the very tip of a flattened-out paint brush)
How to Make a Jack Skellington Hat
Go to two different stores and buy three different hats because your husband won't just go to the craft store with you to try them on. No, no, that's not the first step. Step 1: Tape off the hat if you're OCD.
Paint stripes and "Her Jack" letters. I actually printed off an image of "Her Jack" so I could get the font as close to my shirt as possible, but that's optional.
Force my husband to wear the hat at least one day on the trip and every other time I wear my "His Sally" shirt. Why am I doing this again? 😜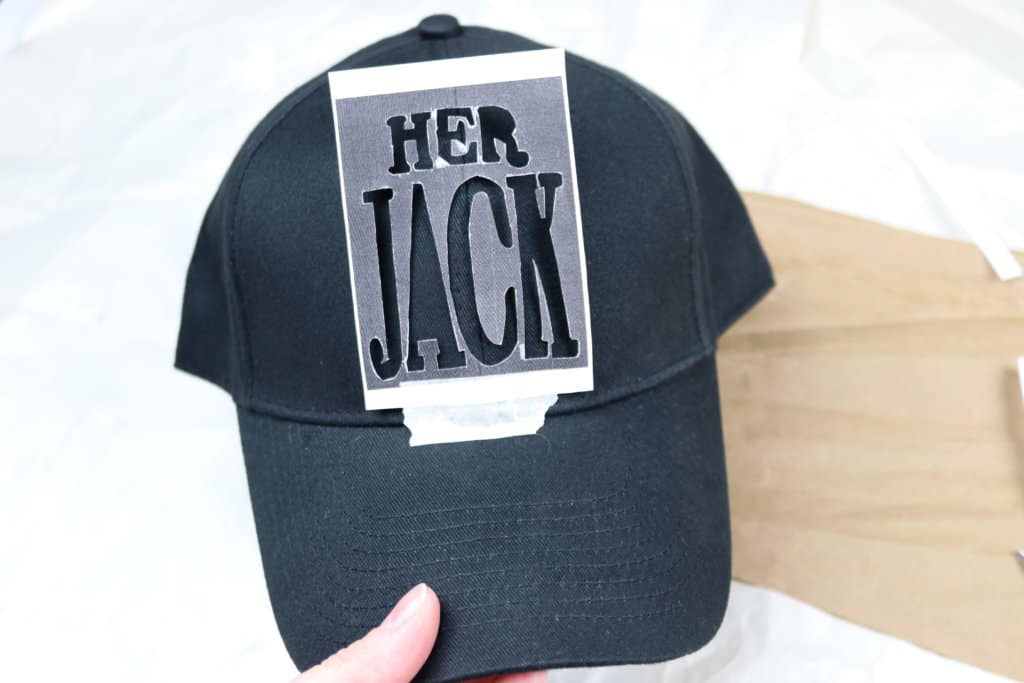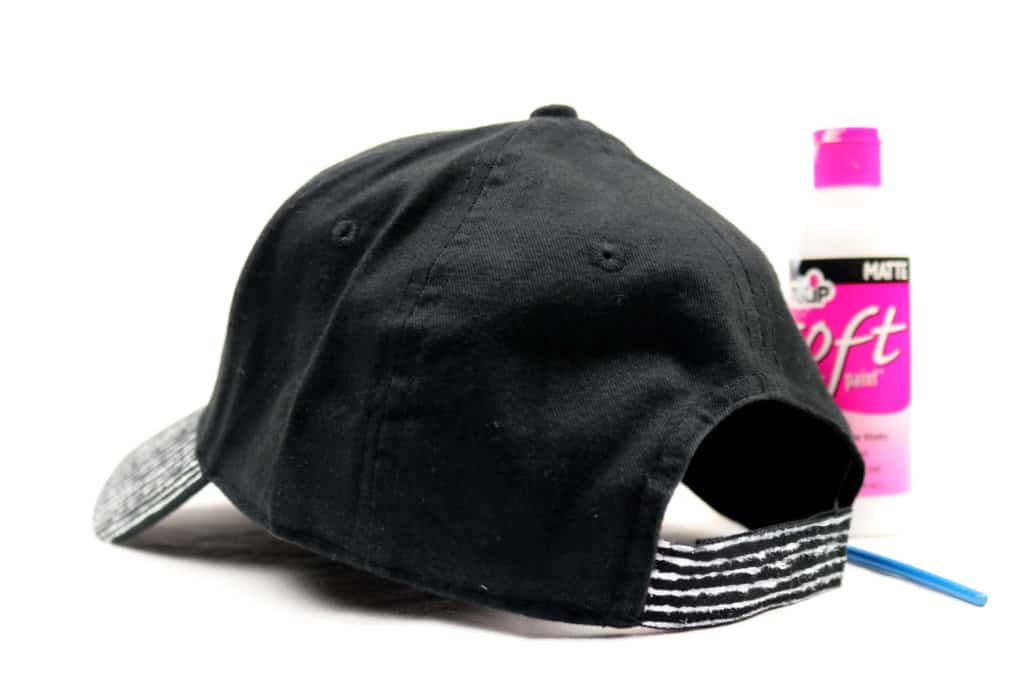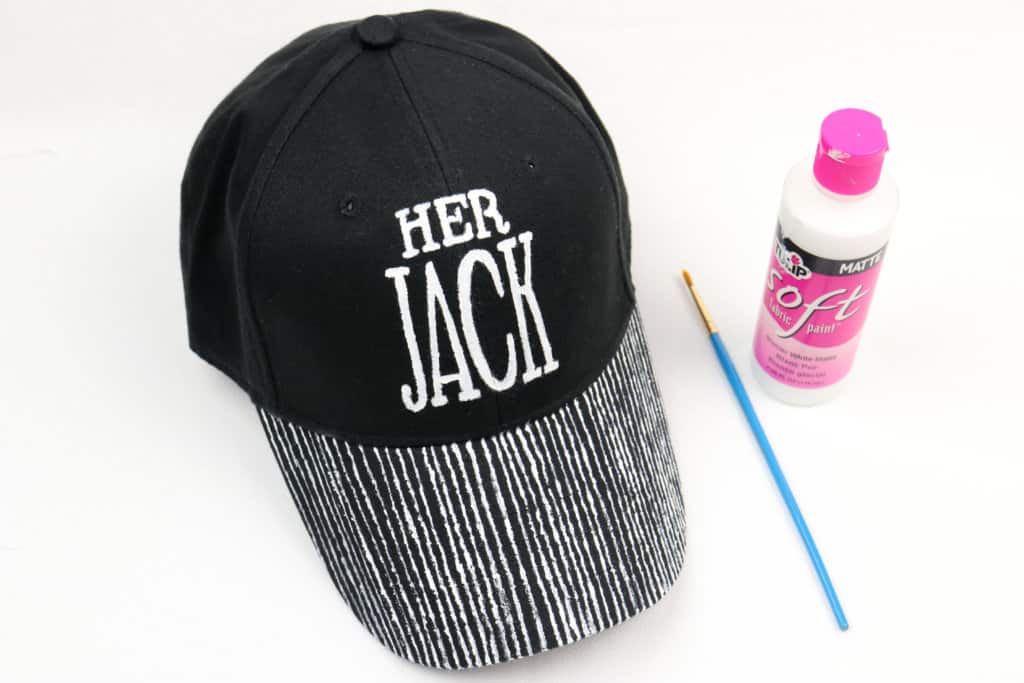 4. How to Make a Mickey Mouse T-shirt Appliqué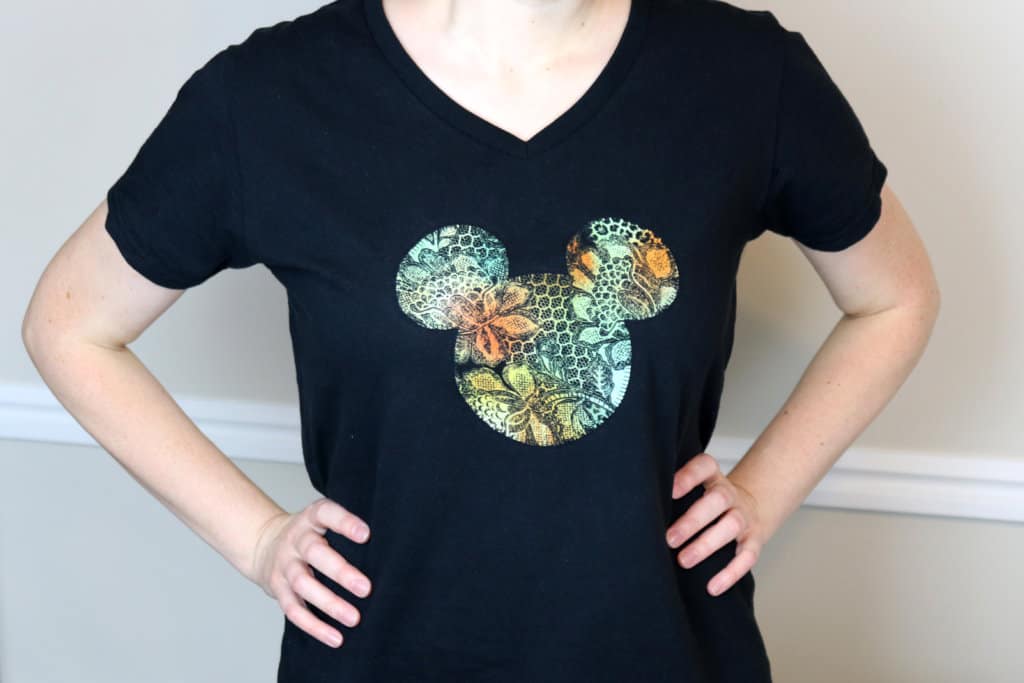 This is the easiest form of appliqué, and the one I use more than any other! I've used this for multiple projects, and even made an entire queen-sized quilt for my brother using this technique.
What You Need to Make a T-shirt Appliqué
t-shirt
fabric
Pellon Wonder-Under (Available at Joann fabric stores. It comes on a bolt–so you purchase it by the yard–and it's kept with all the other interfacing. Be sure to keep some of the instructions if you've never used Wonder-Under before.)
iron (I'm jealous if you own

this iron

, because I hear it's amazing!)
printed template, design, or stencil of your choice
sewing/fabric scissors
sewing machine, optional

Fray-Check

, optional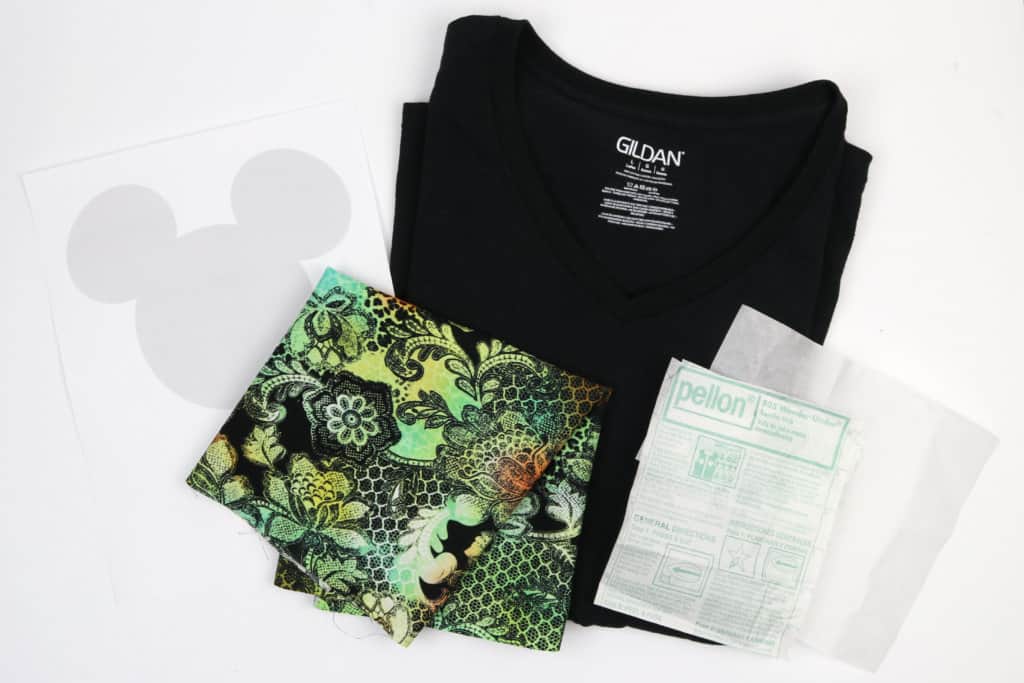 How to Make a Mickey Mouse T-shirt Appliqué
Pre-wash t-shirt and fabric. Iron both.
Find a template online, make a mirror image of it in Microsoft Word (if it's a directional print), blow it up to be the correct size, and print at half color (to save printer ink). I used this image here.
Trace template onto smooth side of Wonder-Under.

Following Wonder-Under instructions, iron to wrong side of fabric.

Cut out design with sewing/fabric scissors. This is the one time I break the no-paper-with-sewing-scissors rule, because it's so much easier to cut both the Wonder-Under and fabric together.

Peel Wonder-Under backing off. If the Wonder-Under backing isn't coming off smoothly and it's looking "spider-webby," replace backing on fabric and re-iron for a little longer. It's fine if the backing doesn't come off in one piece, you just don't want the "glue" part sticking to the backing–it should have transferred completely to the fabric.

If you want to use Fray-Check, this is where you'd do that: lay design on cardboard or scrap piece of paper and draw a light line of Fray-Check around entire perimeter of design (or anywhere that might fray). Fray-Check has a tendency to "run" and spread, so use a small amount to begin with (it can come out fast!). Let dry completely before moving onto the next step. (I'm a huge fan of Fray-Check, but do know that you might still be able to see it once it has dried–depending on fabric weight and color–so it might not be ideal for every fabric and application. Test it on some scrap fabric first.)
Line up design on t-shirt, measuring for even placement. To make sure it's centered, first pin to shirt and carefully try on first, making any adjustments before ironing. My side seams on the t-shirt were uneven, so I had to measure based on the v-neck and by eyeing it once I had tried it on. Iron design to shirt (Wonder-Under side down). Again, follow Wonder-Under instructions here–they say to use a damp press cloth between your project and the iron, which will help generate enough steam to fuse your design to the shirt. For the damp press cloth, I use an old t-shirt, soak it with water, and wring it out until just damp. If your t-shirt has any stretch to it, make sure it's un-stretched on your ironing board to prevent any wrinkling of your design later.

Once fused to t-shirt, you can stitch around the edge by hand or with a machine to give a finished look. This step wouldn't be necessary if you used Fray-Check, but I still recommend it as an added security–and it looks more professional!

Enjoy your one-of-a-kind Disney apparel!
Tips on machine-sewing around appliqué:
Be sure to back-stitch. You'd hate for your finishing stitches to start unraveling after a few washes.
Test your stitch length on scrap fabric before starting on your t-shirt. I practiced a couple different styles and sizes before picking a simple appliqué stitch. Doing so helped me figure out where the needle would start and where I'd need to place my appliqué under the presser foot.
Sew slowly, especially around curves where you'll constantly be lifting your presser foot and rotating your fabric.
Make sure you have enough top thread and bobbin thread–it totally sucks when you run out halfway-through.
Make sure you're only catching the top layer of fabric! Most sewing machines should have a free arm that you can slide the shirt over, keeping the bottom layer out of sewing range. I still keep my hands on top of the fabric to make sure I'm only sewing one layer.
5. How to Make DIY Mickey Ears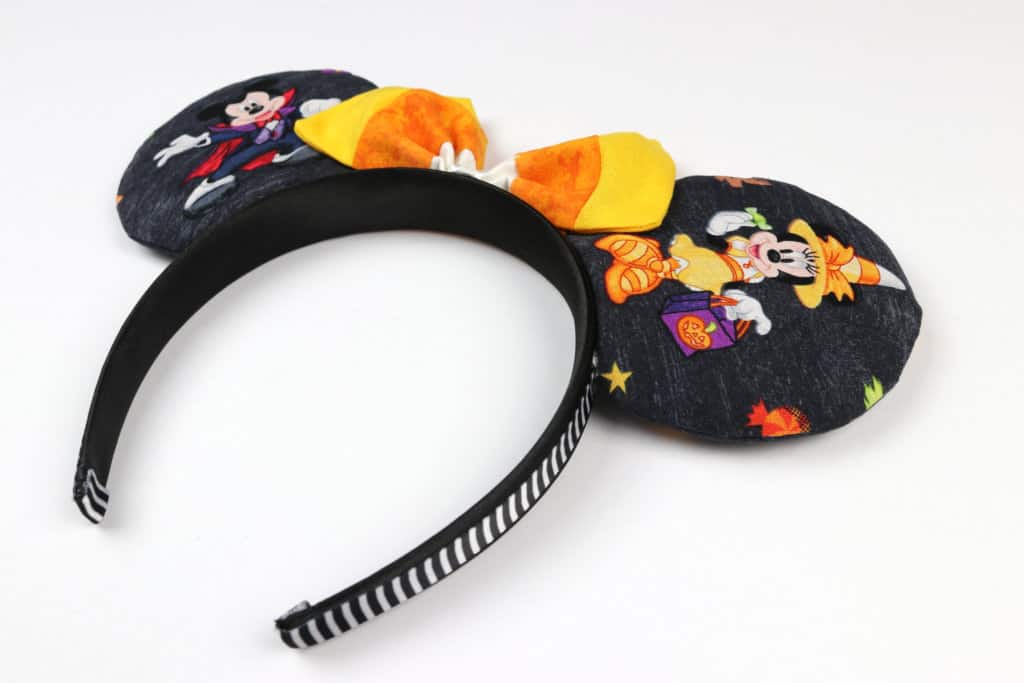 Supplies
Mickey Mouse ears template

(I used this template as a rough guide, but made my fabric template 4.5″ in diameter, and the sewing/foam/batting template 3.75″ in diameter)

fabric (you'll need two pieces for each ear)
craft foam (you'll need one piece for each ear)
batting (you'll need two pieces for each ear)
sewing machine or hand sewing materials
hot glue
ribbon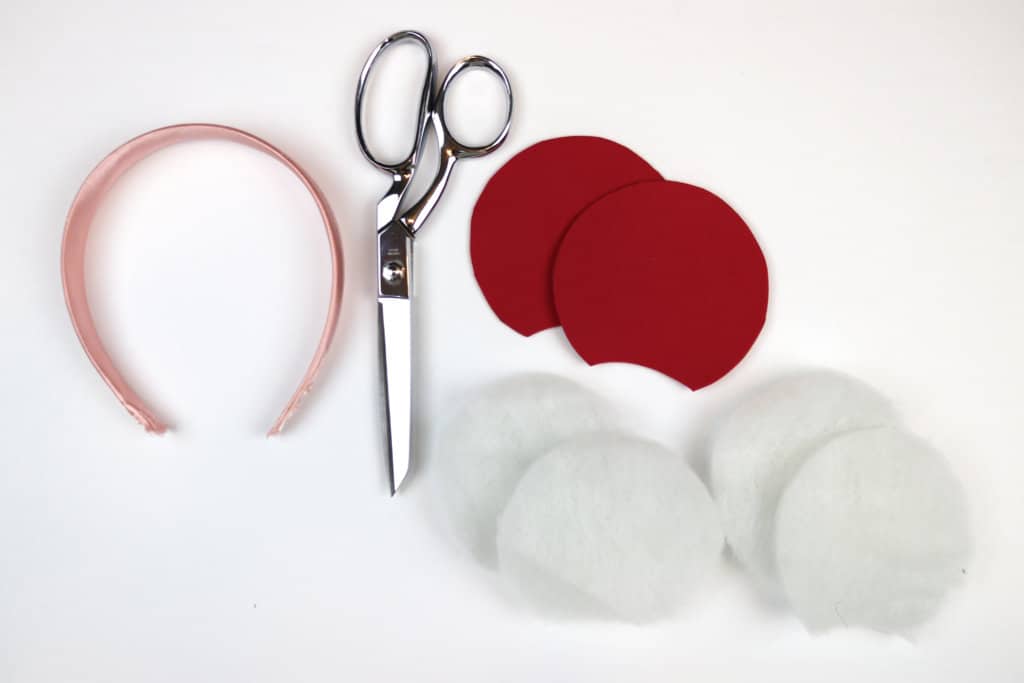 Note: I will upload a full tutorial (with pictures and/or video) at some point, but I am still trying to nail down the perfect process for making Mickey ears. Hot glue can be a little tricky to work with, and I originally made a mess trying to cover the pink headband (which is why I ended up using a black headband that I didn't have to cover).
Steps
Trace and cut out two ears from the craft foam using the sewing/foam/batting template (use a pencil or Sharpie so it doesn't smear and transfer to your fabric). Cut out four ears from the batting using the same template.
Trace and cut out four ears from the fabric using the larger fabric template. Leave extra fabric at the opening ("bottom" of the ears)–I cut out a large rectangular tab instead of cutting the arc across. This will give you extra fabric to turn under, giving you a clean base to hot glue to the headband.
Sew two fabric ears together, wrong sides of fabric together, with a 1/4″ seam allowance. Repeat with other two fabric ears.
Turn ears inside out, and pull seams open as much as possible to get the rounded shape (I use a pin to "pick out" the seams).
Curl up one foam ear and push through opening of one fabric ear. Position with fingers until the foam is flat and the curved edge is at the opening. Repeat for other ear.
Curl up one batting ear and push on top of foam piece. Curl up another batting ear and push on opposite side of foam piece. Repeat for other ear.
Fold fabric tabs of ears under to hide raw edges and prepare to be glued to headband (I tried to make as flat of a base as possible to make the gluing easier).
Cover headband as necessary. I just needed to cover a seam on top of the headband, so I glued a piece of ribbon all the way around (with a fabric tacky glue), tucked raw edges under, and hot glued at the base on each side. If you need to recover the entire headband, there are tutorials online for gluing fabric with hot glue, but I'm not a huge fan. I'll have to experiment with some other options and let you know.
Hot glue ears to headband at the base of the ears. To keep your ears stable, you'll need to glue the entire base down. However, don't use too much hot glue as it will seep out and look messy. It might take some practice!
Optional: make a bow and hot glue to the middle of the headband. If you're interested, I can make a tutorial at some point for this candy corn bow. It turned out pretty cute. 🙂 Did I mention that Halloween is my favorite holiday?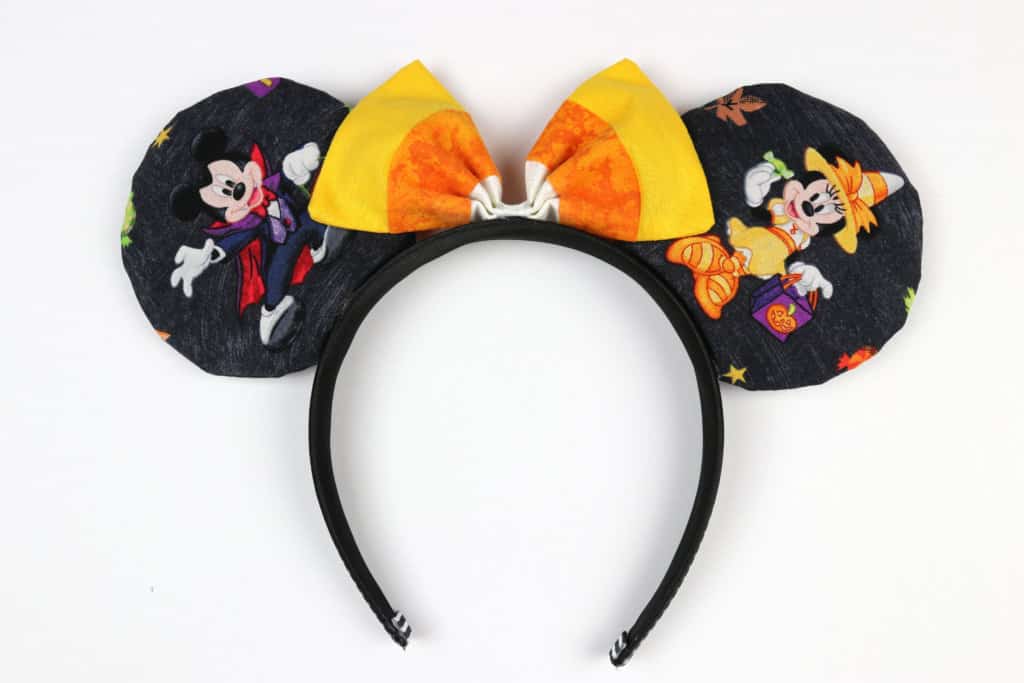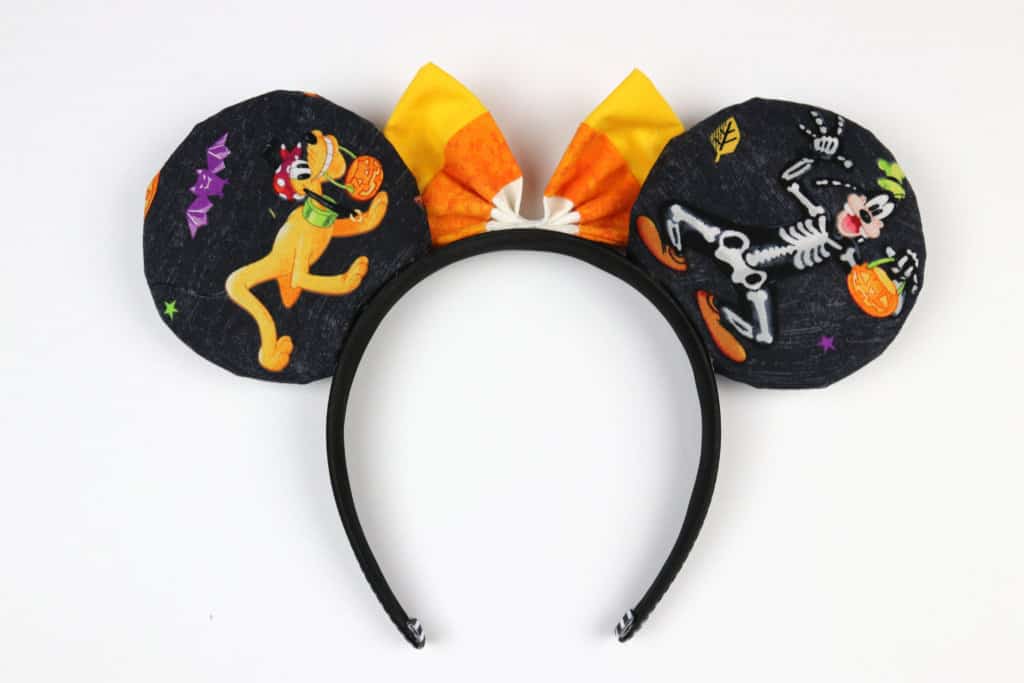 6. How to DIY Carl and Ellie's Adventure Book From Up
Have you seen the movie Up? Need a good cry? Go watch the first 10 minutes of the movie. And then watch this 3-minute clip. You'll be a great big pile of mush and dialing up your favorite person to tell them you love them (yeah, not even a text message).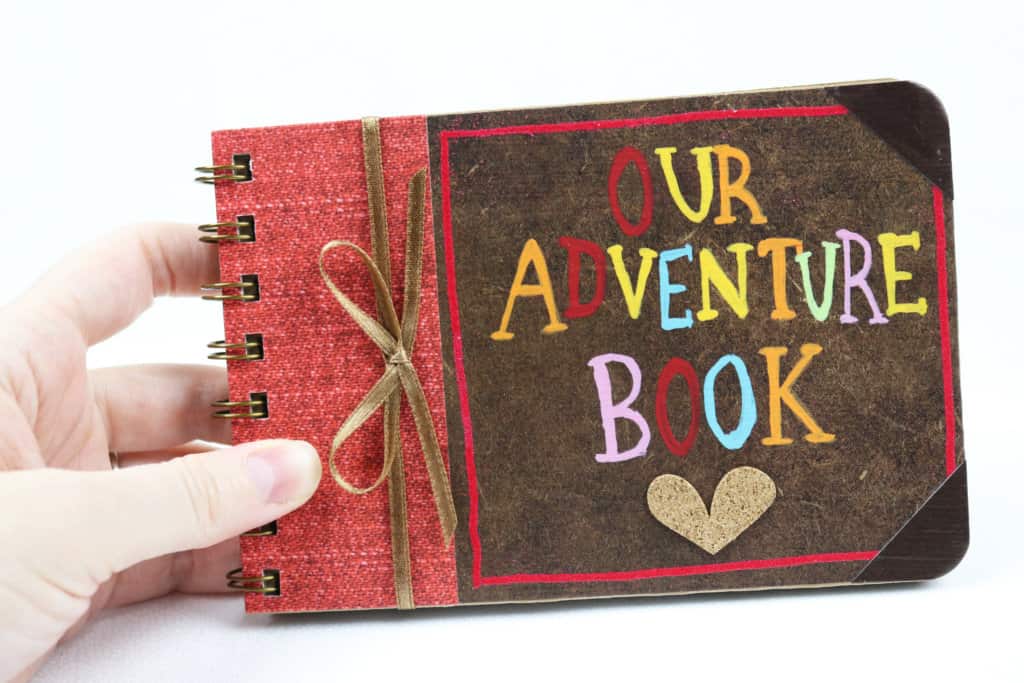 Anyway, I decided I needed the Adventure Book before our Disney trip. My siblings gave me an instax mini for Christmas that I haven't used yet (I know, I'm horrible), so what better time to try it out than on a magical vacation?
But then I got to thinking how I would protect said pictures while on the go. And, voila, the Adventure Book appeared in my craft room. After a few hours of crafting, obvs.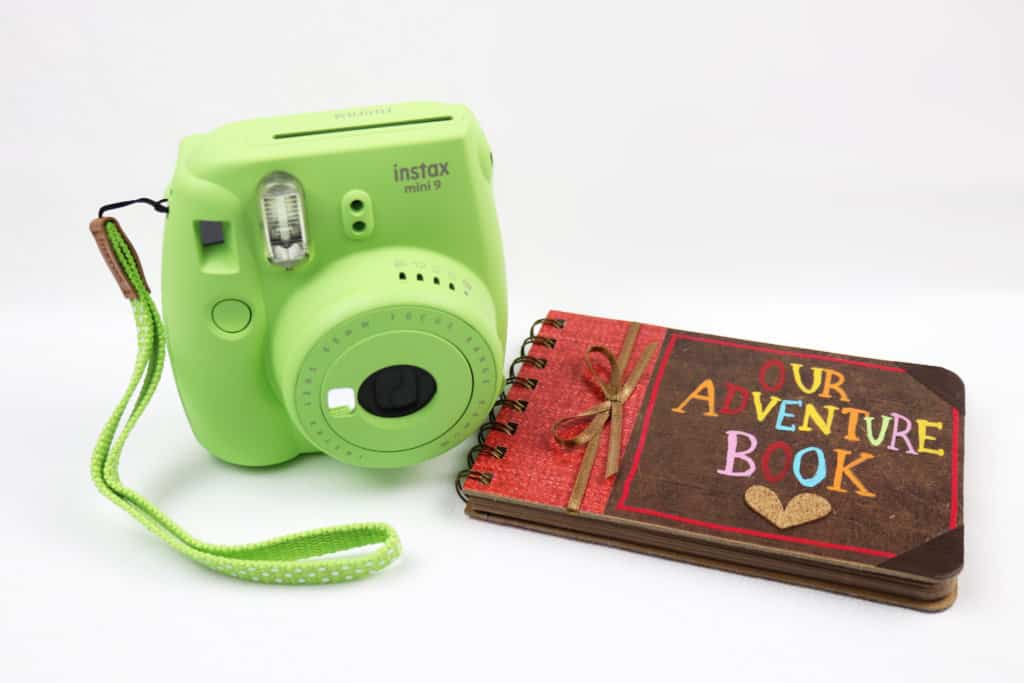 I made a mini book, but you could just as easily turn this into a cover for a full-size scrapbook album! I know some people have also used their Adventure Book as a wedding guest book or Disney character autograph book, both awesome ideas!
Supplies
Steps
Cut cover papers to size.
I lightly sketched out "Our Adventure Book" and then painted it by hand according to the colors used in the Up book. You could also use stencils or stickers. And feel free to change the wording!
I then drew a border with the Versamarker, coated it with embossing powder, and used an embossing heat gun to set it. You could also used small strips of paper, puffy paint, or glitter glue to get a textured border.
Mod Podge the paper to the chipboard.
Punch rounded corners on the right side (per the Up book).
Apply a layer of Mod Podge on top to protect and seal the layers. Let dry.
Add additional stickers or embellishments as desired.
Cut insert papers to size and round corners.
Punch covers and inserts with Bind-It-All, according to manufacturer's instructions. If you have a Bind-It-All, I simply lined up the middle of the covers/inserts with the middle markings on the machine and used the Continuous setting to finish punching the rest of the holes. Then, close the Owire over the holes, following the Bind-It-All instructions. If you don't have a Bind-It-All, you can bind your book with binder rings, ribbon, or have your local copy store bind it for you.
Flaunt your totes-adorable Adventure Book at the parks! And say cheese for the cameras!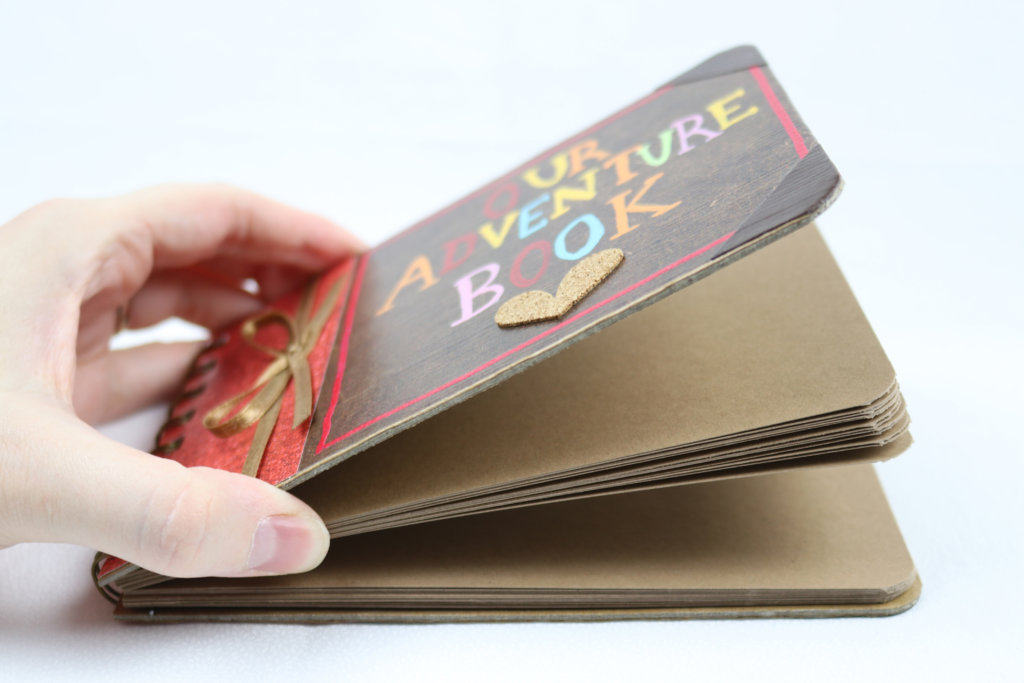 What are some of your favorite Disney crafts you've made or seen at the parks? Is there something you'd like help making to save money on your next Disney vacation? Leave me a note in the comments!