Whip up this simple apple syrup recipe in minutes! It's made with store-bought apple juice and a few simple ingredients you probably already have on hand. Serve with homemade pancakes for a delicious breakfast!
Oh my goodness, this apple syrup recipe is my favorite. And so, so easy! I can't believe it's taken me this long to post it. It tastes (and smells!) like heaven and fall. Or winter. Or any time of year, really. We enjoy this recipe year round.
One year, my mom made dozens of pints to give away as neighbor Christmas gifts, and I remember being sad that we weren't getting to keep it for ourselves—it's that good.
The good news is that it only takes a few minutes to prep and cook, and a 2-liter container of apple juice would make several batches (plenty for everyone!).
If you're looking for an easy neighbor gift (perfect for fall or Christmas), this syrup would be perfect! (Pair it with my free printable fall gift tags!)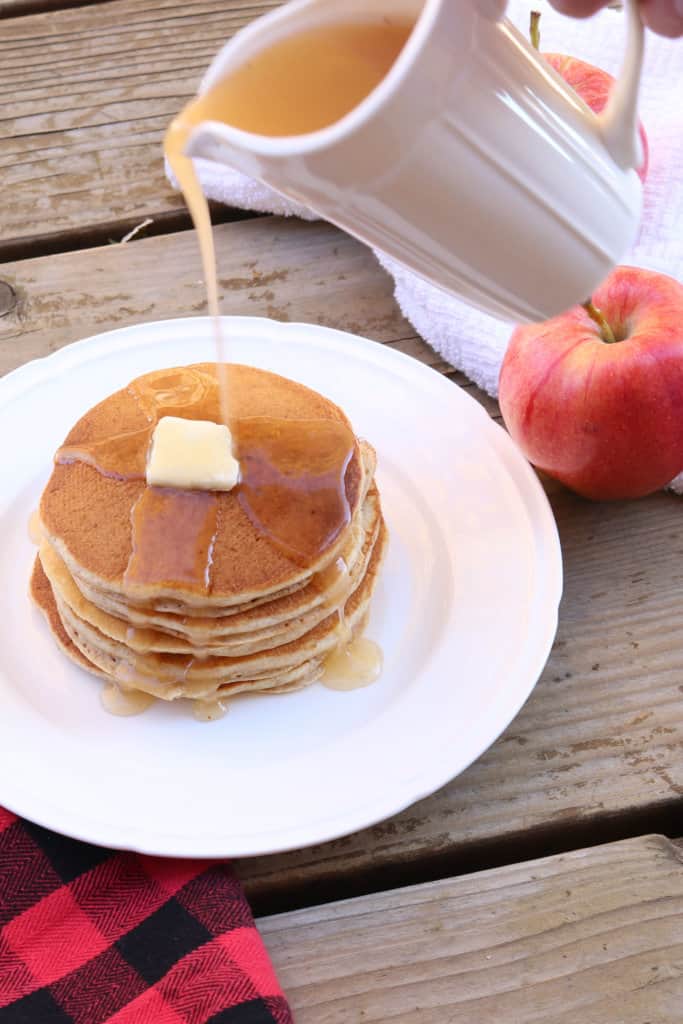 This post contains affiliate links. For more information, see my disclosures here.
​Homemade apple syrup ingredients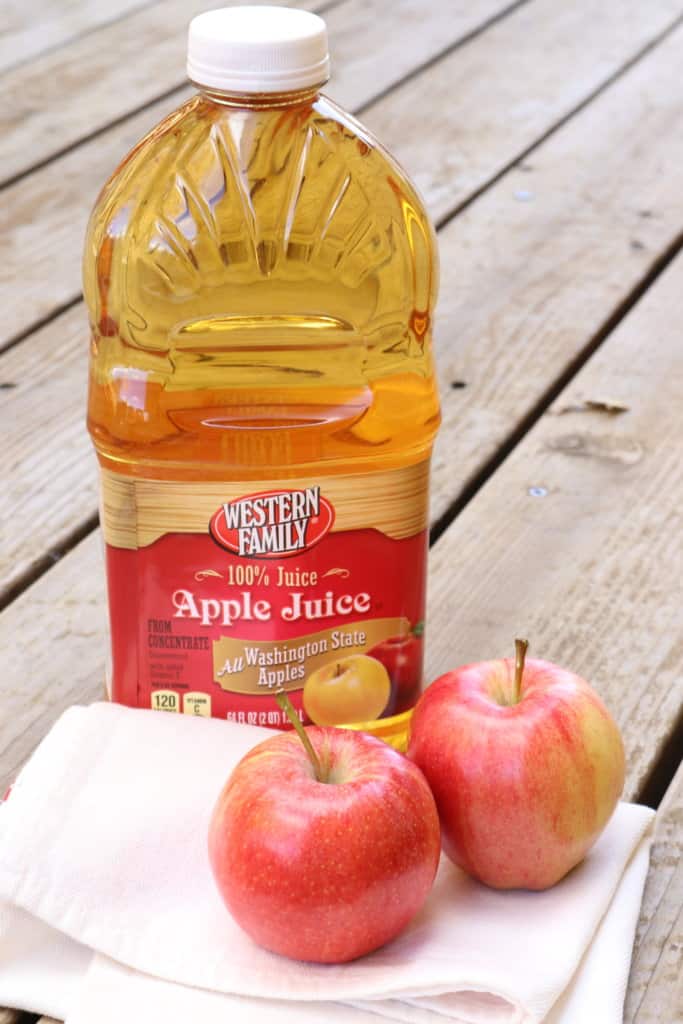 This apple pancake syrup only has a few simple ingredients, and it's seriously the least fussy recipe ever.
The key ingredient in this syrup is store-bought apple juice. (You could probably also use fresh apple cider here but it will change the taste a little bit.)
There's no need for fresh apples in this recipe, which is what makes it so simple and easy to throw together anytime you want. If you ever find yourself with extra litres of apple juice (or if you find them on sale at the grocery store), this is a great way to use them up.
You'll also need white sugar (cane sugar works too), cornstarch, ground cinnamon, nutmeg, lemon juice, and butter.
I haven't tried subbing the spices for anything else (because why mess with perfection?), but apple pie spice or even pumpkin pie spice could probably be used in place of the cinnamon and nutmeg (I'd try using the same amount, so 1/2 teaspoon total of spices). I love all these flavors of fall!
How to make simple apple syrup
The steps of this recipe are even simpler, basically just mixing everything together on the stove top. (This is definitely the easy way to make homemade apple syrup, but I still say it's the best way!)
Mix the dry ingredients together in a medium saucepan, then add the juices. Bring to a boil over medium-high heat, whisking or stirring with a wooden spoon occasionally. Add the butter until it's melted and you're done! Such an easy recipe.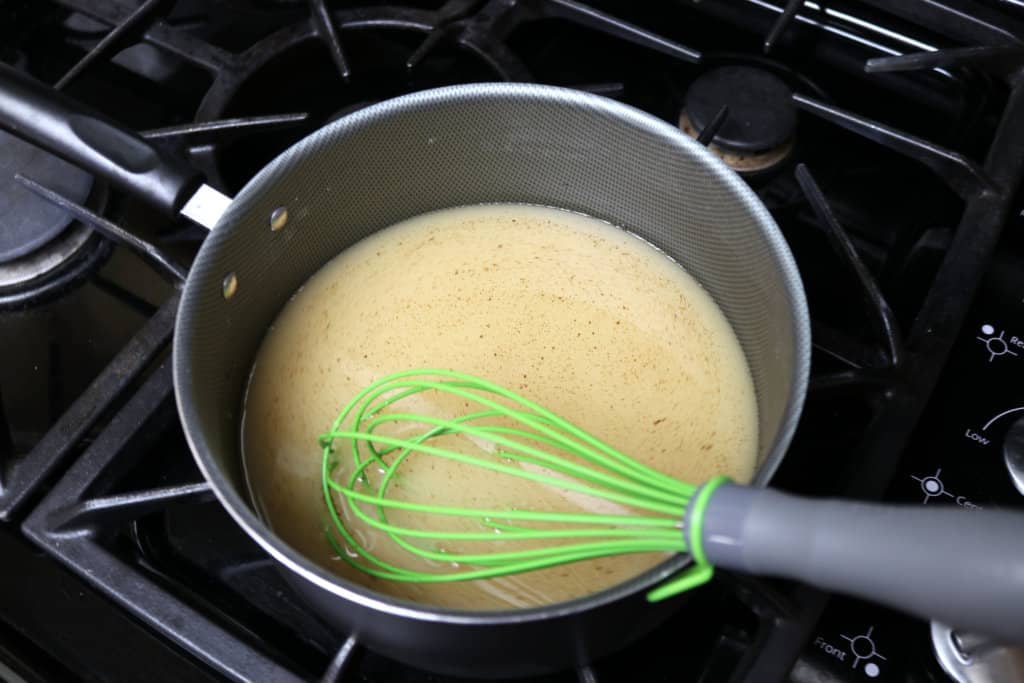 Store the finished syrup in an airtight container in the refrigerator. I love the Rubbermaid containers like I have pictured for storing liquids, but I haven't been able to find them anywhere lately. A mason jar would work just as well for storing and gifting.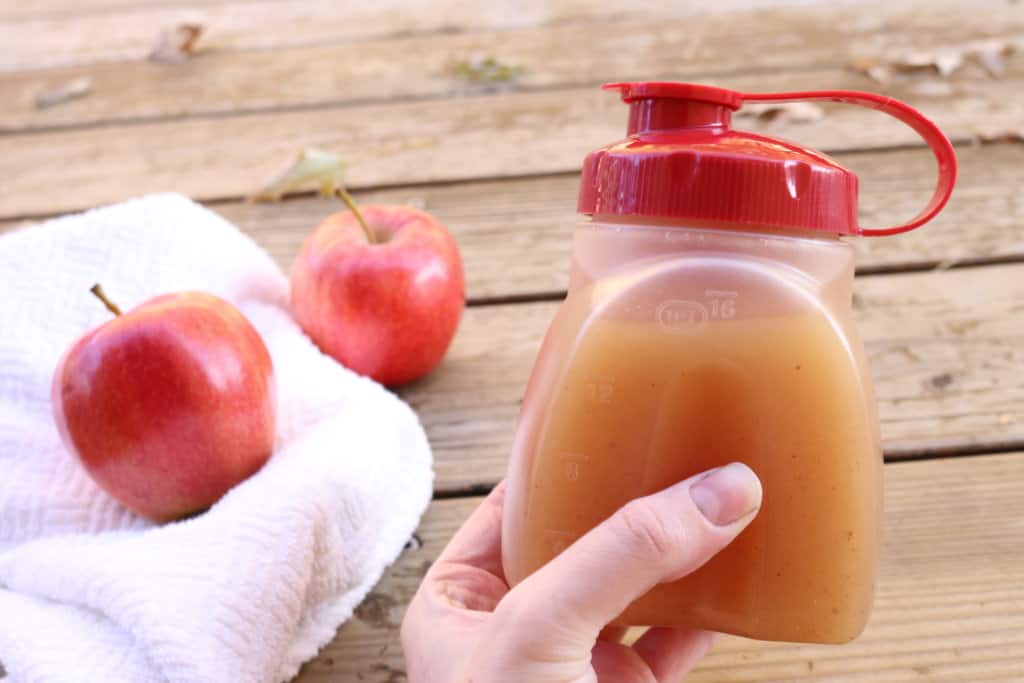 Reheat in the microwave or on the stovetop (only reheat as much as you're going to consume at a time and keep the rest refrigerated).
The little bit of spices combined with the apple juice will make your house smell amazing while this is cooking! It smells like cold weather and cozy afternoons. All you'll need, then, is a batch of homemade whole wheat pancakes and a Hallmark movie. (Cozy pajamas and a cute puppy would be a plus, but to each their own.)
What can you serve homemade apple syrup with?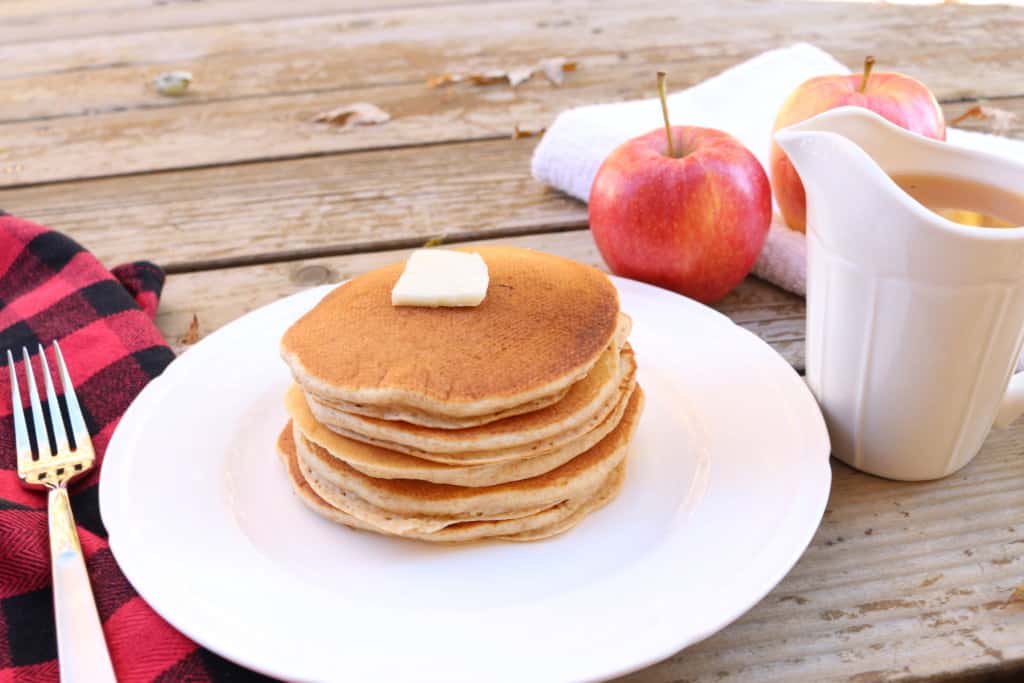 This syrup is delicious with pancakes, waffles, and french toast (or any similar breakfast item). You could also serve it over vanilla ice cream and other desserts that go well with that fresh apple flavor.
My favorite whole wheat pancakes to go with apple syrup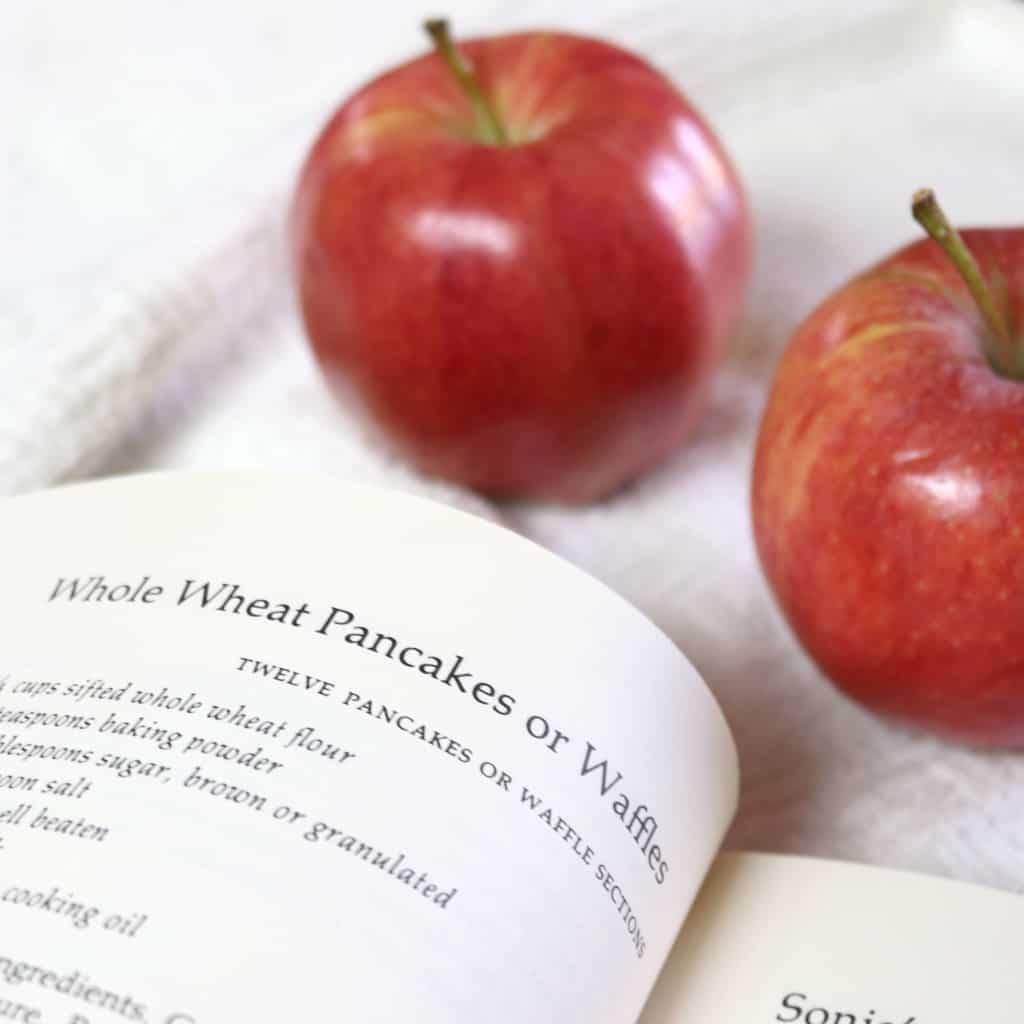 Growing up, whole wheat pancakes were a Sunday-after-church favorite. The best recipe is from Mormon Country Cooking by Winnifred C. Jardine, which I think is now out of print. (I was lucky enough to find a copy at the Deseret Industries a few years ago for just a few dollars—score! And you can still get it on Amazon!) If you don't have this cookbook, I highly recommend it. There are some amazing recipes in here—can you say "world's best gingersnaps"? (Actually, my parents' copy of this cookbook automatically falls open to the gingersnaps page, because we made those so much growing up—that, and there's like a pound of butter and sugar stuck to that page…)
​And topping your pancakes with this apple simple syrup takes them to the next level, I promise!
Can you freeze homemade apple syrup?
I've never frozen this apple syrup, but I don't see why you couldn't. I suggest freezing in small containers or in quart-size freezer bags (lay them flat so the syrup freezes in a thin layer so it's easier to thaw). You could probably even freeze in ice cube trays and then store the cubes in a ziplock freezer bag, taking out only as many cubes as you need at a time.
Easy homemade apple syrup recipe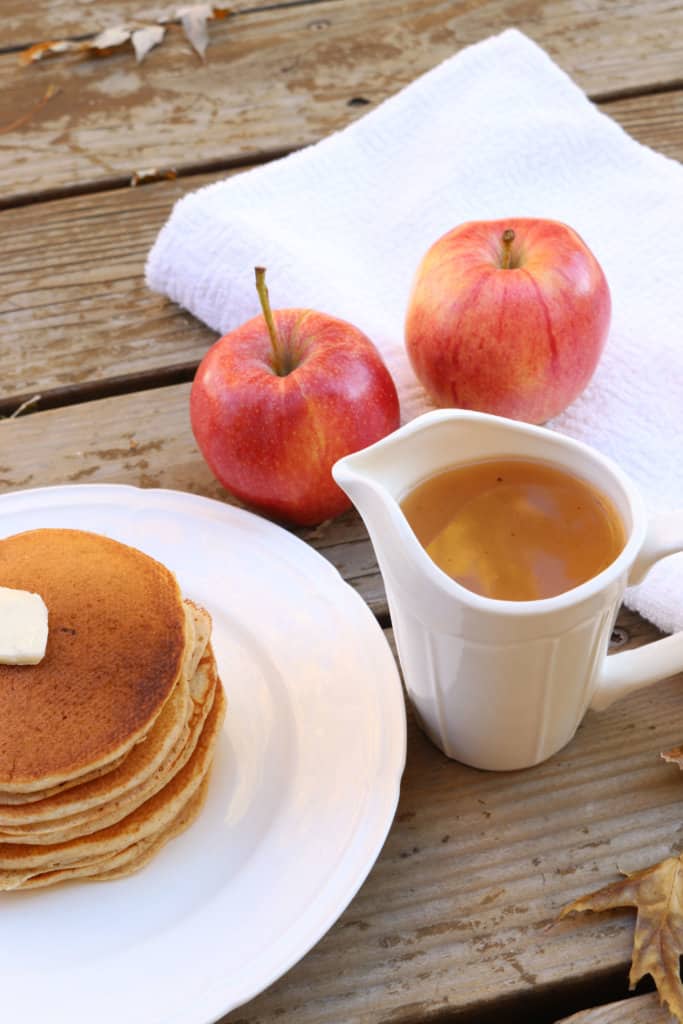 I hope you love this homemade syrup recipe as much as I do! It's so quick and easy. This delicious recipe has definitely become a fall staple for my family. It's the perfect recipe for apple season or anytime!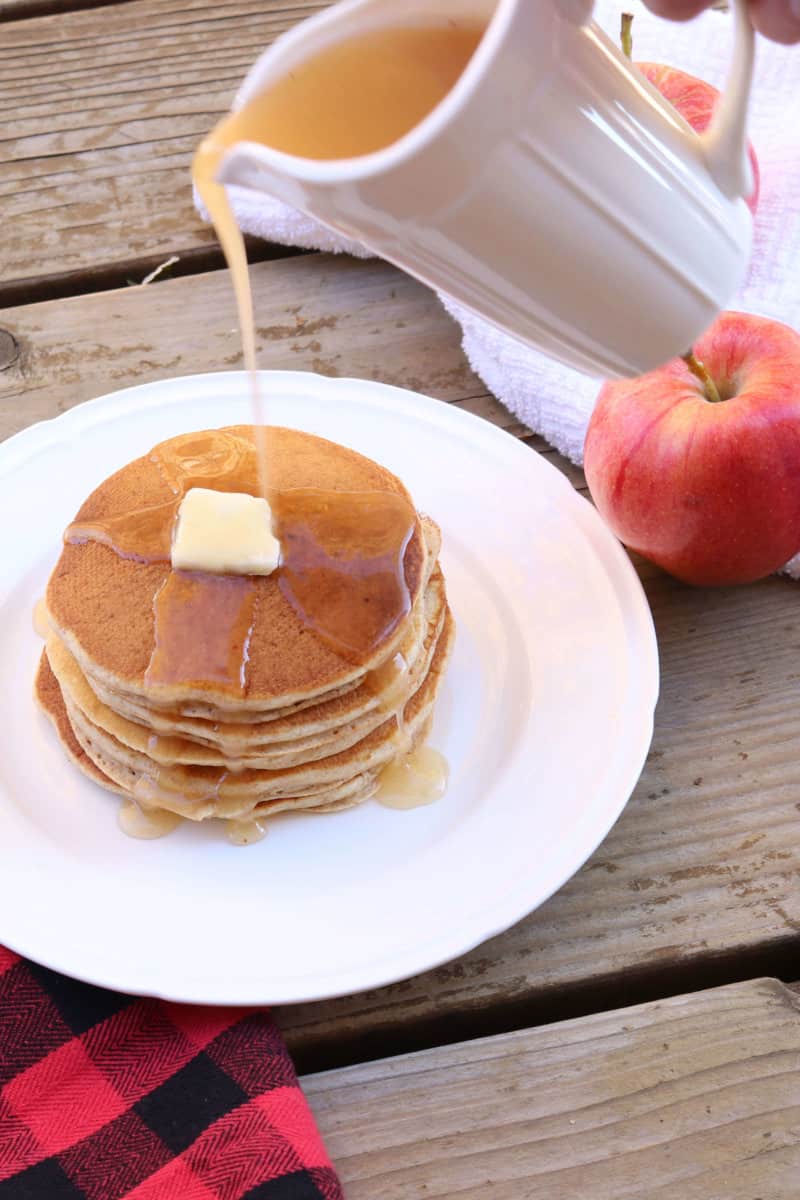 Simple Homemade Apple Syrup
This apple syrup is absolutely delicious. It only takes minutes to prepare--with ingredients you probably already have on hand! Serve with homemade pancakes and you've got a scrumptious fall meal!
Ingredients
1

cup

sugar

2

tablespoons

cornstarch

1/4

teaspoon

cinnamon

1/4

teaspoon

nutmeg

2

cups

apple juice

2

tablespoons

lemon juice

1/4

cup

margarine or butter
Instructions
Mix dry ingredients in a medium saucepan.

Add juices to the mixture.

Bring to a boil over medium-high heat, stirring occasionally.

Add butter until it melts and remove from heat. Keep refrigerated and reheat in the microwave when needed.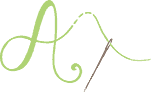 Don't forget to pin and save for later!