These items are at the top of my crafting wish list! If you know a crafter in your life, these would make great Christmas and birthday gifts!
May is my birthday month, so obviously I'm wishing for all the craft supplies–even if it's just wishful thinking. (We're on a much tighter budget these days, but a girl can dream, right?)
And if you're anything like me, you'd probably love some of the items on my list!
This post contains affiliate links. For more information, see my disclosures here.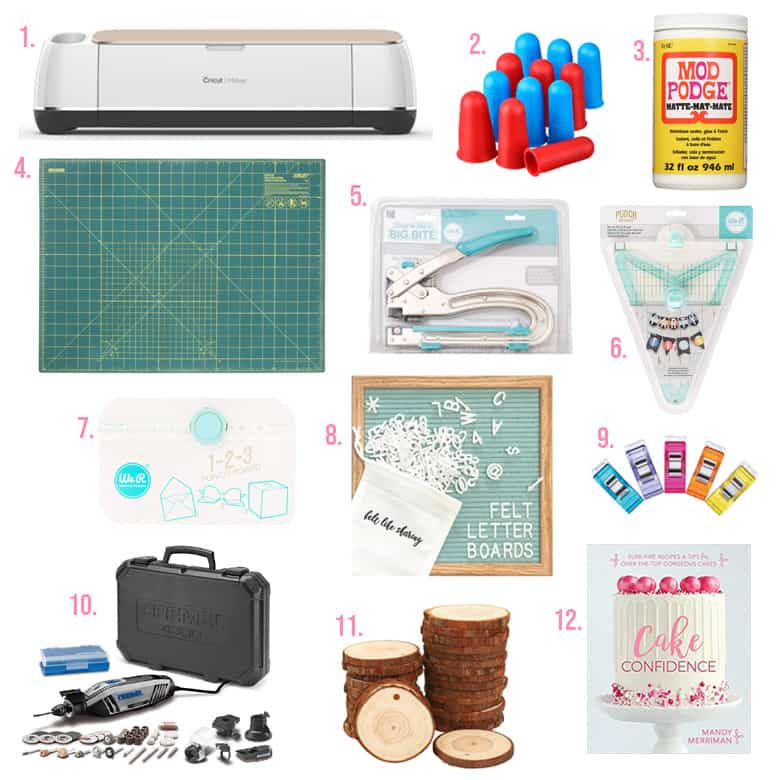 1 | 2 | 3 | 4 | 5 | 6 | 7 | 8 | 9 | 10 | 11 | 12
Ahh, I really want a Cricut Maker. I have a 1st generation Cricut–you know, the one with super expensive cartridges and not a whole lot of cutting options. I'm friends with a girl on Facebook who has a Cricut Maker and I'm constantly drooling over her projects–and how easy they were to make. One day.
Wow, why have I not bought these yet?! The hot glue scars on my fingertips obviously tell me I need them…
You may say boring, but I say essential. And I'm always running out of Mod Podge. (Choose matte over glossy, it's so much easier to work with!)
I mentioned in my essential quilting supplies post that I already have an Olfa cutting mat that measures 18″ x 24″, but I'm due for a new one. I think this larger size would be so nice.
A Crop-A-Dile has been on my list for so long, it's a little embarrassing. It's just one of those things I don't think about until I need it, and then I make do with tools I already own.
Surprisingly, I think I would use this banner punch board all the time.
Well, if I'm getting the banner punch board I might as well get this 123 punch board that can make bows, boxes, and envelopes. Seriously, the bows are so cute!
I know I'm super late to the "Instagram letter board craze" but I still want one. Or two, because there are so many cute colors to choose from!
Okay, I've never used these but they look like so much fun (haha, that makes me such a crafting nerd, I know). Besides, no one likes getting stabbed with pins.
I'm not entirely sure how to use a dremel or what I'd use it for…but I'm dying to try! Maybe start with something easy, like Christmas ornaments. (I don't claim to be an expert on dremels, so I've simply linked what Amazon recommends. Do some research before you buy!)
To make the afore-mentioned Christmas ornaments, of course.
Is a cake cookbook a craft item? Well…I argue yes, because have you seen what works of art these cakes are?! I would love to try these recipes and improve my decorating skills.
Um…I'm going to argue that these teacup molds are also a "crafting supply." Because they're adorable and I need them. (P.S. Did you know I collect teacups?)
I think this pattern would be so cute, especially for baby quilts! I love that it's designed for beginners, too! (I'm not an affiliate for this, I just want it. If you purchase the quilt pattern, drop Suzy a note that I sent you there and maybe she'll want to send me a birthday gift. 😉 )
I love felt. But local craft stores only carry so many colors. I just love browsing this shop and dreaming of all the fun felt projects I could make with their collections.
Obviously, there's so much more I'd love to buy. Especially fabric. But I just want to shop for that in person, so gift cards are welcome. Just make it for $500, though.
What's on your crafting wish list? Share below!