Want a quick 30-minute holiday decor sewing project? Make this easy garland out of felt! This is easily customizable for any holiday, event, or color scheme! Perfect for beginners.
I am seriously lacking in holiday decor for the 4th of July. I needed a quick "something" to throw on my mantel, so I whipped up this easy felt circle garland to add some red, white, and blue to my front room.
This garland was so fast and easy that I went back to Hobby Lobby for more felt and made a spring and Halloween garland!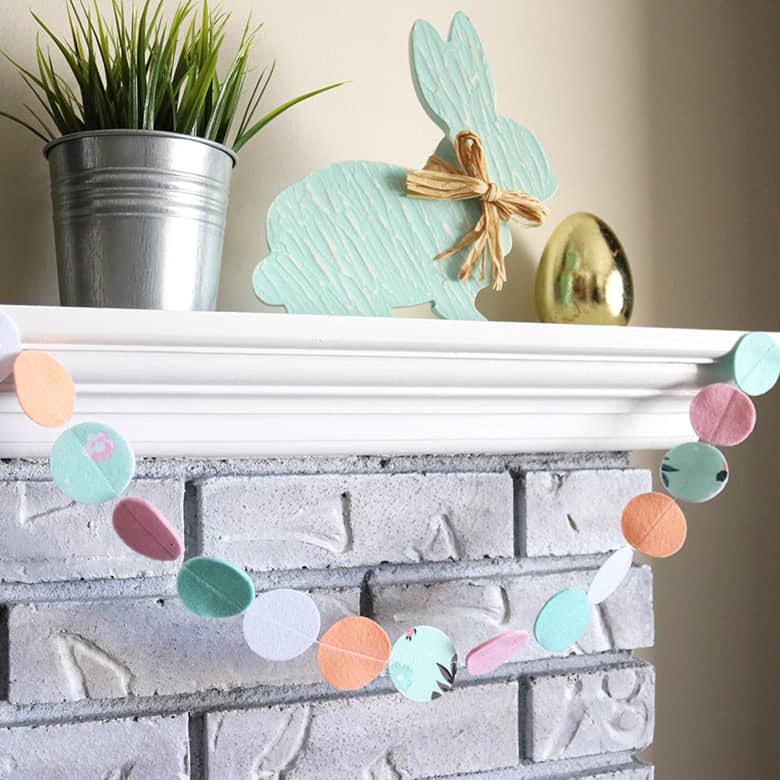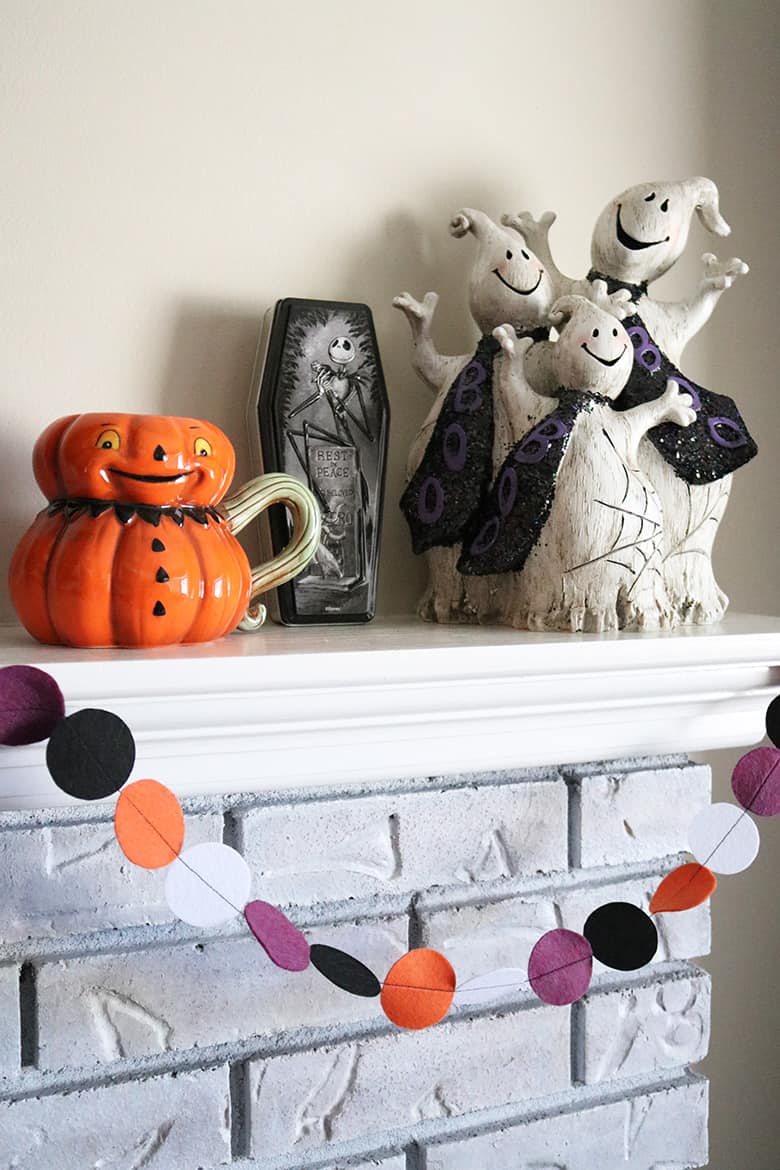 Oh, and did I mention that this project costs next to nothing? A sheet of felt at Hobby Lobby is between $0.33 and $1.99, depending which kind you get. Plus, you'll likely end up with extra felt…and the hoarder in me is totally okay with that.
These garlands make great mantel decor, but would also be fun to drape over a table runner, hang from a banister, or decorate a party table with.
This post contains affiliate links. For more information, see my disclosures here.
Supplies needed to make a felt garland
And, obviously, if you're lucky enough to have a Cricut Maker, ignore all of the above except the felt and your sewing machine. I'm so jelly of you.
Some notes about the felt…
In order to get the colors/patterns I wanted, I ended up using three different kinds of felt: 1 mm, 2 mm, and stiffened felt. Honestly, all three kinds worked well for this project. I think I prefer the stiffened felt, just because it's slightly easier to cut out and work with.
Of course, if your craft store doesn't sell stiffened felt, you can always make your own. The process is pretty simple–essentially mix equal parts white glue and water and paint the felt–but I was too impatient to wait for felt to dry. And I wanted to see if the softer felt worked just as well (and it did). Feel free to experiment, though, and find what works for you.
How to make the easiest felt garland ever
Seriously, it's so easy.
First, how many circles do you need?
It's totally up to you, how long you want your garland to be, and what size your circles are. For reference, my circles measured 1.5″ in diameter and I used about 55 circles per garland, which makes roughly an 8-foot garland.
If you're not sure how long you want your garland to be, make it extra long and you can always cut off circles later.
You will want to cut double the amount of circles for any patterned felt you use (since the pattern is only on one side of the felt). Then sew two patterned circles back to back so you'll still see the design, no matter which way the garland is facing.
1. Trace circles onto felt
Trace your circle template onto the felt with a Sharpie or marking pen.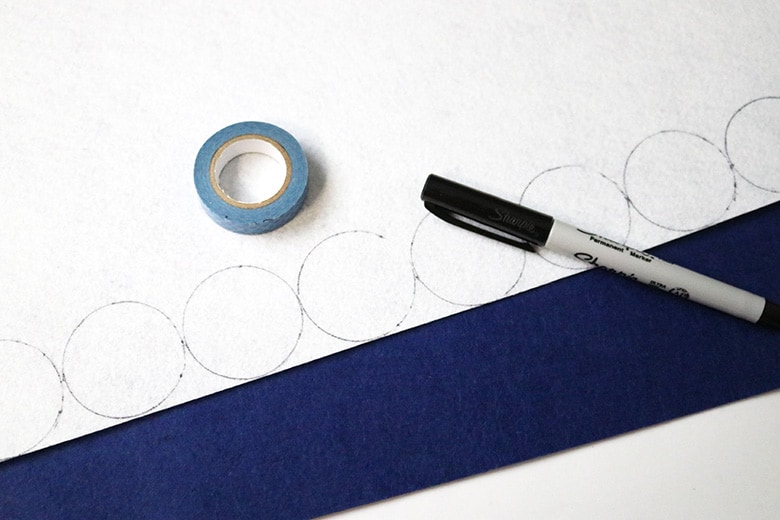 If you're using the disappearing ink fabric marking pen, be aware that it can disappear on you if you trace too many circles at once before cutting them out (I think it depends on the humidity of the air or something scientific like that…).
To make it easier to see your lines on dark colors of felt, use a metallic Sharpie.
2. Cut out circles
If your marking lines are permanent, try to cut on the inside so you don't have a border left on your circles.
3. Sew the circles together
Determine what pattern you want for your garland and stack your circles by your sewing machine in that order–this just makes for quick sewing.
If you'd like your garland to have extra thread for hanging on the end, pull out enough of your top thread and bobbin at the start.
Sew the circles together with a seam down the middle–and don't forget to backstitch at the beginning and end. Just keep lining up the circles, one after the other–just keep your machine going while you "feed" it circles.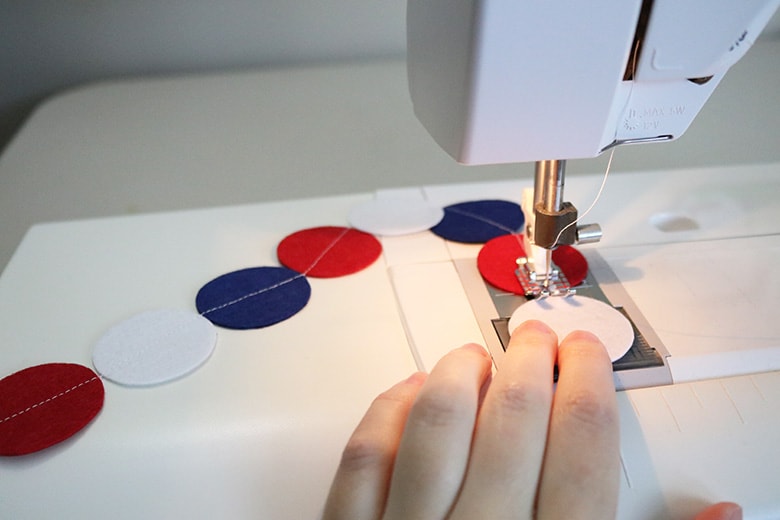 If you used any 2 mm (thicker) felt, your machine may have a harder time "catching" it, so you may want to slow or stop your machine when you come to those circles. Sometimes it helps to raise the presser foot and manually position the thicker circle underneath.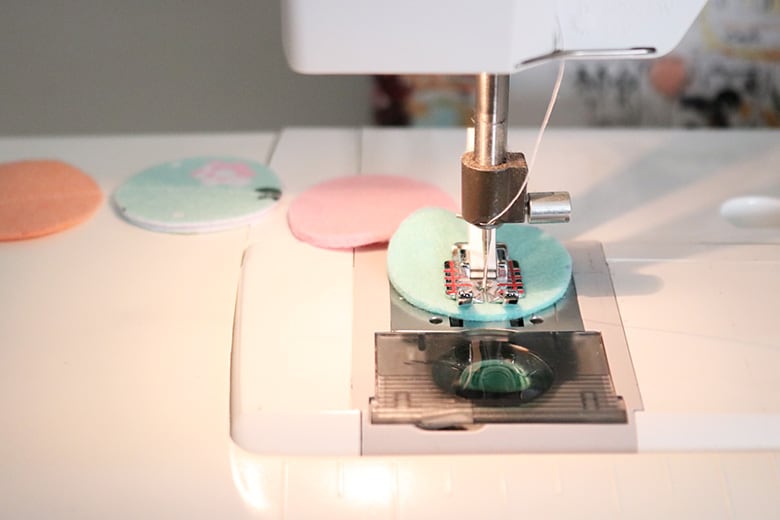 I tried to sew my circles close together, but don't worry if you get some gaps in between. Or maybe you even prefer it that way, and that's great too.
When you get to the end, pull your threads out if you want the extra length or trim them close.
And you're done! Easiest holiday decor project ever!
P.S. If you're wondering, I totally just used double-sided tape to stick the garlands to my mantel! It's been a couple weeks and the 4th of July one is still hanging fine. Works for me!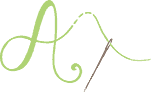 Don't forget to pin and save for later!