Wedding planning can be a huge strain on a married-couple-to-be. But I also understand the desire to DIY as much of your wedding as possible. Follow these tips to have all those handmade wedding elements without losing your mind!
Jared and I celebrated our one-year wedding anniversary this weekend (by getting sealed in the Bountiful, Utah temple, hanging out with family, and binge-watching Designated Survivor…it was the best).
One year and I'm pretty sure we've got this thing down–said no one ever. 😂 But I wouldn't trade this last year for anything! I have grown so much closer to my husband and I realize more and more everyday what a blessing he is to me. He's a gem and I'm one lucky girl! I can't wait for all the years we have ahead of us.
Jared and I had the perfect wedding day. It makes me smile every time I think about it.
I was totally the girl who had a million ideas scattered around tons of Pinterest boards (from day 1 when Pinterest became a thing) because I wanted everything and I wanted it all to be perfect.
Well, I ended up not doing everything. And you know what? It still ended up being perfect!
Wedding planning can get cray-cray, and you might convince yourself that you have superhuman powers during your engagement. But, if you're like me, you may need to tone it down a little. Seriously, you can't do it all, and you definitely can't do it all by yourself!
I learned a lot from planning my own wedding, so I compiled this list of eight awesome tips to get you through your perfect day–all while keeping your sanity!
How to have your perfect DIY wedding
1. Realize that not everything can be handmade, or at least handmade by you, the bride.
If I had Hermione Granger's time turner, I wouldn't use it to take extra Arithmancy classes, but instead would have made my own wedding dress, cake, and quilt.
But you just don't have enough time. Not when you also want to make your own centerpieces, favors, and guest book.
So I "sacrificed" and found a dress that fit me beautifully, hired an awesome catering company for our luncheon, and ordered a delicious cake made by Granite Bakery in Salt Lake City (highly recommend!).
(Oh, and I still bought the wedding quilt fabric. And yeah, I'm still going to make a wedding quilt someday.😉)
2. Organize your ideas into different Pinterest boards.
Seriously. Where would we be without the organization of Pinterest? I had generic wedding boards for years, but when I actually got engaged, I created more specific boards for centerpieces, invitations, bouquets, guest books, favors, and one for "to do, to buy, or to make."
Having these boards also helped Jared visualize what I wanted, making it easier for us to decide things together. Pinterest is awesome for visual-thinkers and those less-likely to daydream about a wedding since the age of 5 (*ahem,* your groom).
3. Make a list of everything you'd like to make yourself and prioritize it.
Again, this is where your highly-organized Pinterest boards come into play.
Make a list of your must-haves and make realistic goals based on how much time each one takes. Then, if you've always dreamed of building your own Anthropologie-inspired photo backdrop or you know you just have to give out your homemade jam favors (with mini loaves of homemade bread because wouldn't that be adorable), rank those higher on your list.
As you get closer and closer to your wedding day, you'll know that at least the crucial items are crossed off and you'll survive without the rest. (Really, you will.)
4. Tour your wedding venue at least once beforehand to take photos (and measurements) of everything.
This will help you know how many table centerpieces you'll need to make or if you have room for that DIY photo booth. There's no sense wasting time making something extra or unneeded.
I ended up taking a second trip to my venue when I had almost finalized my ideas to be sure I wasn't missing anything else.
5. Let other people assist you.
This one was hard for me to do, because I take great pride in my ideas and seeing them come together. But the night before my wedding (classic procrastinating Aubree) I realized I wasn't going to get all the favor tags tied onto the bags of popcorn and mini Dr. Peppers. So I recruited my mother-in-law and sister-in-law and they were an amazing help!
6. If you want something decorated a specific way at your ceremony/reception, take pictures of the setup beforehand.
When it's your own wedding, you're not going to have time to do the decorating yourself–you're going to be getting dressed, taking pictures, and socializing with guests. Plan on having many hands to help. Pictures of your ideas will guide your helping friends and family to know what-goes-where.
7. Aim to have everything done well before your wedding day (and don't start any new projects the week of your wedding).
Umm…yeah…I didn't do this. I was up til 4:00 am the morning of my wedding…unnecessarily hand-stitching notes in my dad's and Jared's ties. Because sometimes I get crazy ideas in my head and can't rest until they're done. Don't be like me.
8. When you finally get to your wedding day, enjoy it!
And eat cake. Lots of cake. And take a tupperware of leftover cake when you leave.
The end.
Tell me about your wedding! What were your favorite handmade touches?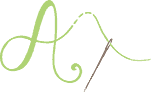 Photography: Ashlee Elizabeth Photography
Don't forget to pin and save for later!