Try out this fun stamping technique using craft paint and leaves! This is a fun and easy fall craft project, perfect for kids!
I had this fall craft idea forever ago and I'm just barely getting around to making it. I love everything about fall but there's something magical about falling leaves—well, until they're fallen and you have 27 garbage bags of leaves to clean up in your yard and then it's a little less magical (we have some BIG trees in our backyard).
Anyway, I was curious if you could stamp with leaves and get the beautiful details of real leaves in a craft project. And you totally can! I just recommend doing this craft project while the leaves are still on the trees—if they're too dried up, this doesn't work as well. But this is a perfect craft project for early fall and easy enough that kids can do it too!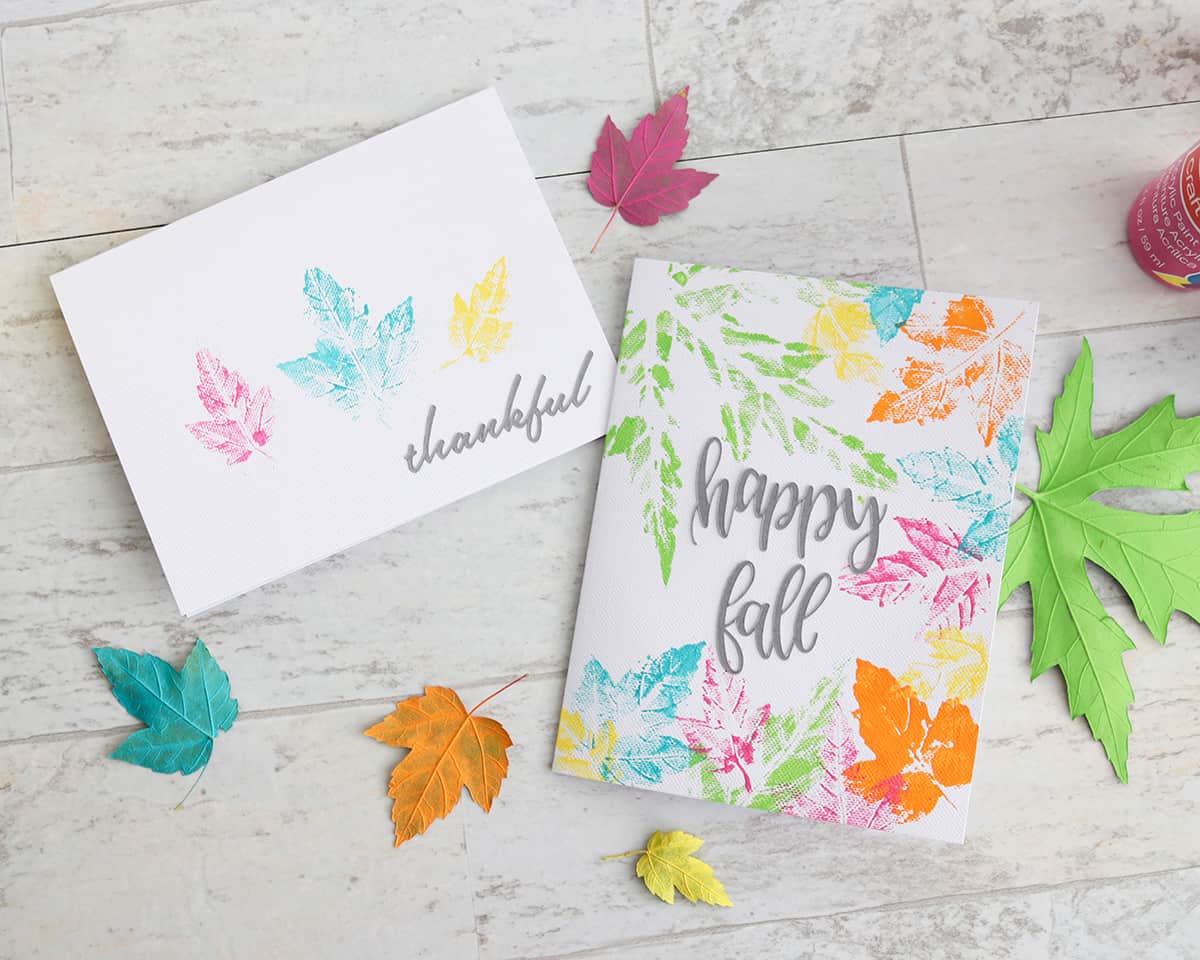 This post contains affiliate links. For more information, see my disclosures here.
Supplies You Need to Stamp with Leaves
leaves*
paint brushes (regular acrylic brushes or foam brushes both work)
something to stamp onto: paper, wood, fabric, etc. (see more ideas below)
*You can use real or faux leaves. I recommend real for the most realistic details, but faux will still give you the basic shape/outline of a leaf. When using real leaves, you want to find leaves that are still alive—if they're dead and dried out, they'll just crumble and fall apart. So, if possible, find leaves that have freshly fallen or even pick them off of trees/plants yourself (which is what I did). And then try to use the leaves immediately or soon after so they don't dry out before you get a chance to paint stamp with them.
What Can You Make With Stamped Leaves?
You have so many craft project options with stamped leaves, so get creative! You could stamp:
cards: I used this textured cardstock for my cards (which added even more fun detail to the stamped leaves), cut the sentiments with my Cricut Maker, and used this glue to glue them down (which I highly recommend for detailed papercrafting like this!)
scrapbook page
notebook cover
canvas art
wood art
t-shirt
tote bag
makeup bag: I found the little blue makeup bag at Dollar Tree
throw pillow
table runner (could be fabric or poster paper/kraft paper)
placemats (could be fabric or paper)
pumpkins
and…probably a million other things
Basically, you can stamp onto anything that will take craft paint or fabric paint.
If you're stamping onto any kind of fabric that will get washed or handled regularly, I recommend using fabric paint and following the instructions for how to heat-set it so it's permanent. I have used regular craft paint on fabric before, let it dry, and heat-set it with an iron and didn't have any problems with the paint washing out…but I can't guarantee you'll have the same experience, so…I'd go with fabric paint to be safe.
How to Paint Stamp with Leaves
Before you get started painting, lay out a disposable plastic tablecloth or some scrap paper (I like to keep paper that comes in packaging for this) to protect your work surface. You'll also probably want a cup of water to wash out brushes and some paper towels for potential messes.
If you're stamping a card like I did, you can put a piece of scrap paper in between the front and back of the card so you don't get paint on the back.
For the best stamped details, I recommend painting the backside of leaves if you're using real. For fake leaves, it kind of depends on your leaf—try it both ways and see what you like better.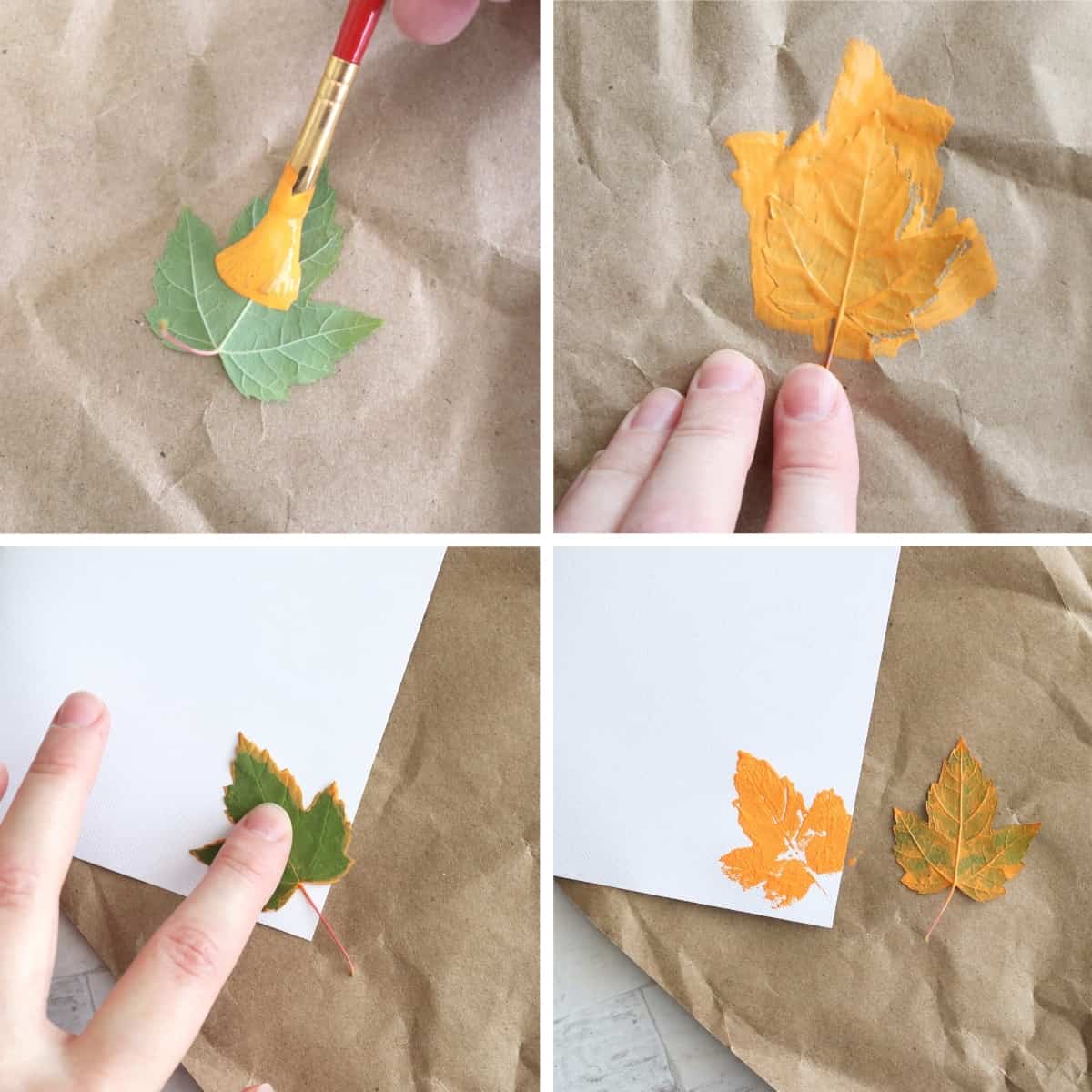 Brush on enough paint to coat the leaves lightly, but too much paint will make your print blotchy and take away from the detail of the leaves (you can see what I mean with the blotchy orange leaf, my first attempt). Paint the stem, too, if you want.
Working quickly so the paint doesn't dry, flip your leaf over and stamp it to your base, pressing all over the leaf, especially along the veins (you can see that I forgot to do that in a few places and the middle lines didn't transfer). Don't forget to press along the stems, too.
Here you can see the difference between a stamped faux leaf and a stamped real leaf: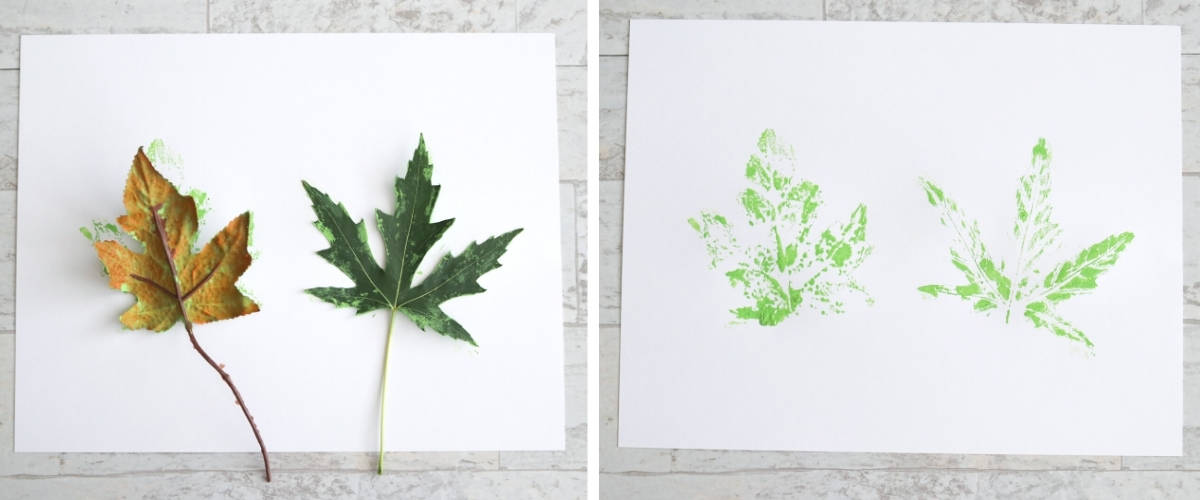 Both are fun, but I definitely prefer the detail of the real leaf.
Continue stamping leaves until you're happy with your design.
Feel free to add in any details you may have missed with a small paint brush or toothpick afterwards.
Can you stamp a leaf more than once?
Yes! You can use a leaf at least a few times and still get good stamped results the subsequent times. I recommend re-applying paint in between, and using the same paint color (unless mixing colors is what you're going for).
Also, after picking leaves, they'll eventually dry out and become too brittle to use so keep that in mind when planning this project (I wouldn't pick leaves in advance. I think I was okay using mine for an hour or so, but they were definitely dried up by the next day).
Easy Paint Stamped Leaves Craft Project
I hope you enjoy this fun fall craft project! I think it would be so fun with kids…but…I don't think I'll be attempting it with my toddler just yet—we're still in a crayon-eating stage so paint might be a small disaster. 😜
Go collect your leaves and get stamping!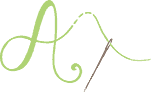 Don't forget to pin and save for later!