Wondering what to do with those bride and groom skeletons you see around Halloween? Turn them into a fun and not-too-spooky DIY wreath!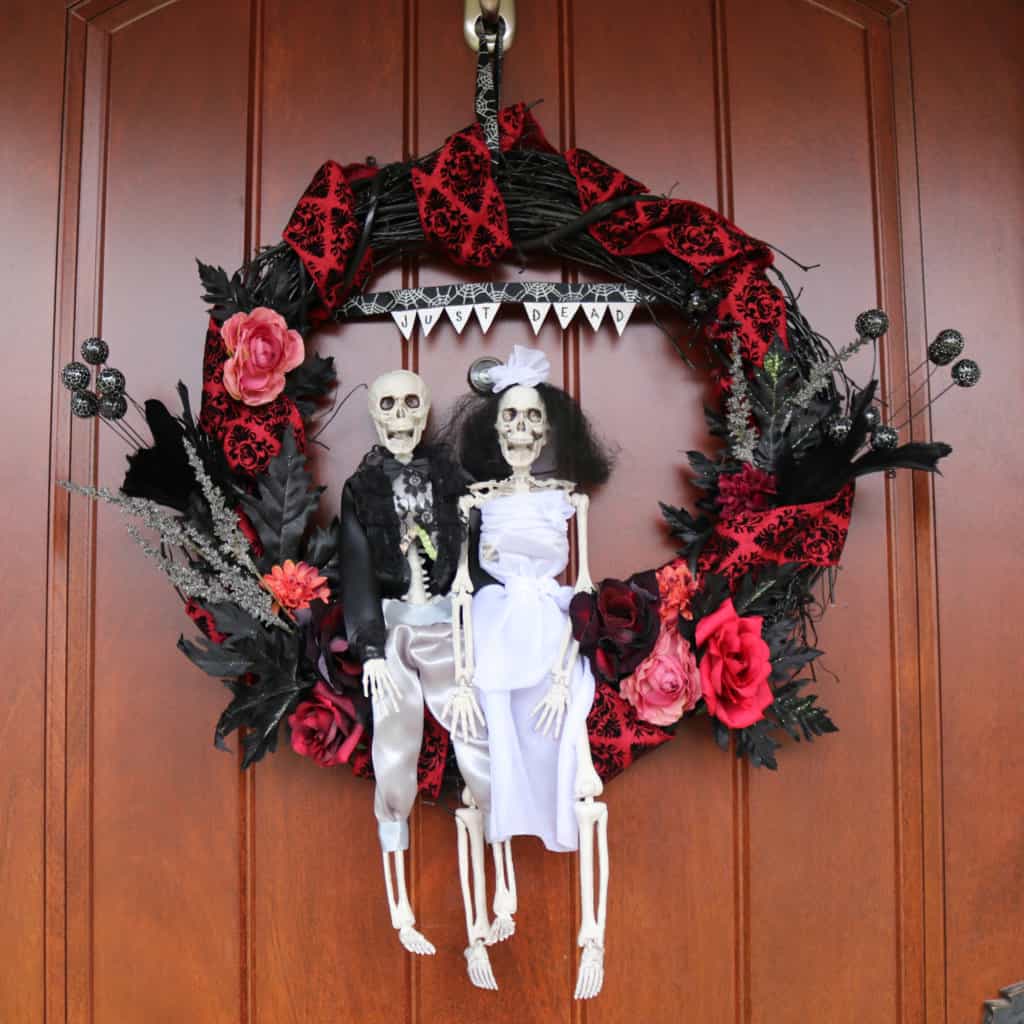 I told Jared last week that we might need an entire storage room in our next house, just for holiday wreaths. (He responded "Why? You only have one front door." Silly Jared.) Luckily for Jared (and our ever-diminishing storage space), I didn't make this DIY Halloween wreath for us–though, I was really tempted to keep it when I saw it finished. Instead, I made this wreath for my brother-in-law as a wedding gift. It may be a little macabre for some, but I think it turned out pretty cute. But you could just as easily swap out the bride and groom for a generic skeleton, pumpkin, crow, or any focal point you'd like. In fact, I used this same process to create this Halloween wreath a few years ago: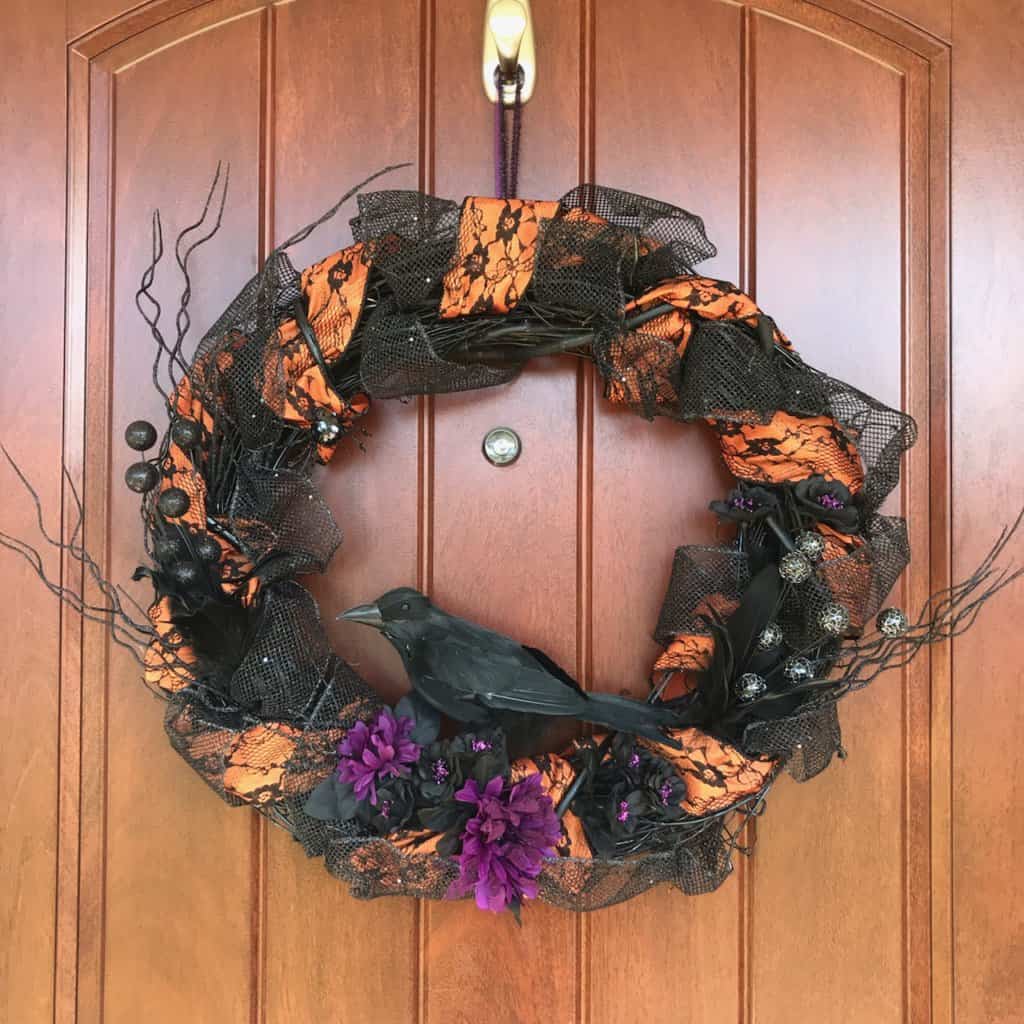 I love the traditional orange and purple in this crow wreath, but decided on a romantic "haunted mansion" feel for the skeleton wreath (mostly because that's the ribbon I liked best at Michaels this year 😂). These wreaths may look complicated, but are actually super simple! It's definitely my go-to wreath-making style.
This post contains affiliate links. For more information, see my disclosures here.
What you need to make a bride and groom skeleton wreath
18 inch grapevine wreath form*
Halloween or fall ribbon (this is my favorite place to buy ribbon for wreaths!)
bride and groom skeleton
various Halloween or fall floral picks
fabric scraps and thread for sewing
fabric marker

(this is similar to the one I used, but there are many different brand and color options)

Fray Check

(this is also available at Joann)

hot glue
pipe cleaners or wire
fishing line or invisible wire
clip-on spider (optional)
*you can often find these regular price at Michaels (which is great, because then you can use a 40% off coupon). (Coupons are always available online and many craft stores accept competitors' coupons. The last time I was at Michaels, I was able to get 25% off my entire purchase with a Joann coupon! Don't ever shop without coupons!)
How to make a Halloween skeleton wreath
Spray paint the wreath form black. I did this outside on a tarp. Grapevine wreath forms take multiple coats to get in all the cracks and spaces–be sure to paint from all angles.
Begin wrapping the ribbon around the wreath. Choose a starting point on the back, tuck the end of the ribbon under some of the branches, and hot glue in place.

Continue wrapping the ribbon around the wreath, pulling the ribbon in and out of the center of the wreath form, making it as tight or loose as you'd like. Every once in a while, I like to slip the ribbon underneath some branches–both to secure the ribbon more and to keep it from looking too uniform. Crumple and pinch the ribbon as you go to add texture and fullness. Add a bead of hot glue every few inches or so, just enough to secure the ribbon in the design you want. When you are done wrapping, trim and glue the ribbon to the back of the wreath form (in the same way as the start).

Once the ribbon is wrapped, lay out the skeletons and florals where you'd like them (before gluing!). If it helps, take a picture at this stage to remember where to place each flower when you do start gluing.



Glue everything down with hot glue. Be careful to avoid burns and use gloves or a tool to hold the hot glue as needed (in the places where it might seep out and burn your fingers). I like to glue longer floral picks first, sticking them halfway through the wreath form (or as much as possible) and gluing in places that will later be covered by other florals. For flowers, I like to trim the stems short and glue them down flat, wherever they make contact with the wreath form.
The skeletons are a bit trickier to glue down and keep stabilized. I glued the bride's pelvis to the wreath form, but it wasn't holding, so I used pipe cleaner to wrap her leg around a branch. I also wrapped the groom's hand in place at the back of the wreath form with pipe cleaner. To further stabilize the cute couple, I hot glued the groom's jacket to the bride's back, keeping them from falling sideways. Finally, I used a piece of clear thread to attach the tops of the skeletons to the top of the wreath form, making sure they'd stay upright (I think fishing line or invisible wire might be a better, stronger option here). Each wreath is going to be different, so you kind of have to play with it (using a mix of glue and wire) to hold the skeletons in place.
To make the "Just Dead" banner, cut 8 triangles from white fabric scraps and write the letters with a fabric marker (one letter per triangle). Lightly coat the edges in Fray Check to protect them from fraying and allow to dry. Once dry, pin each triangle in place along a piece of ribbon (long enough to stretch across the wreath form) and sew across the top. Secure the banner to the back of the wreath form by wrapping the ribbon ends and securing with hot glue.
Finally, make a door hanger by looping a piece of ribbon through the branches at the top of the wreath form. Make a strong knot and then glue the knot to the back of the wreath form with hot glue.
And there you go! Not so bad, huh?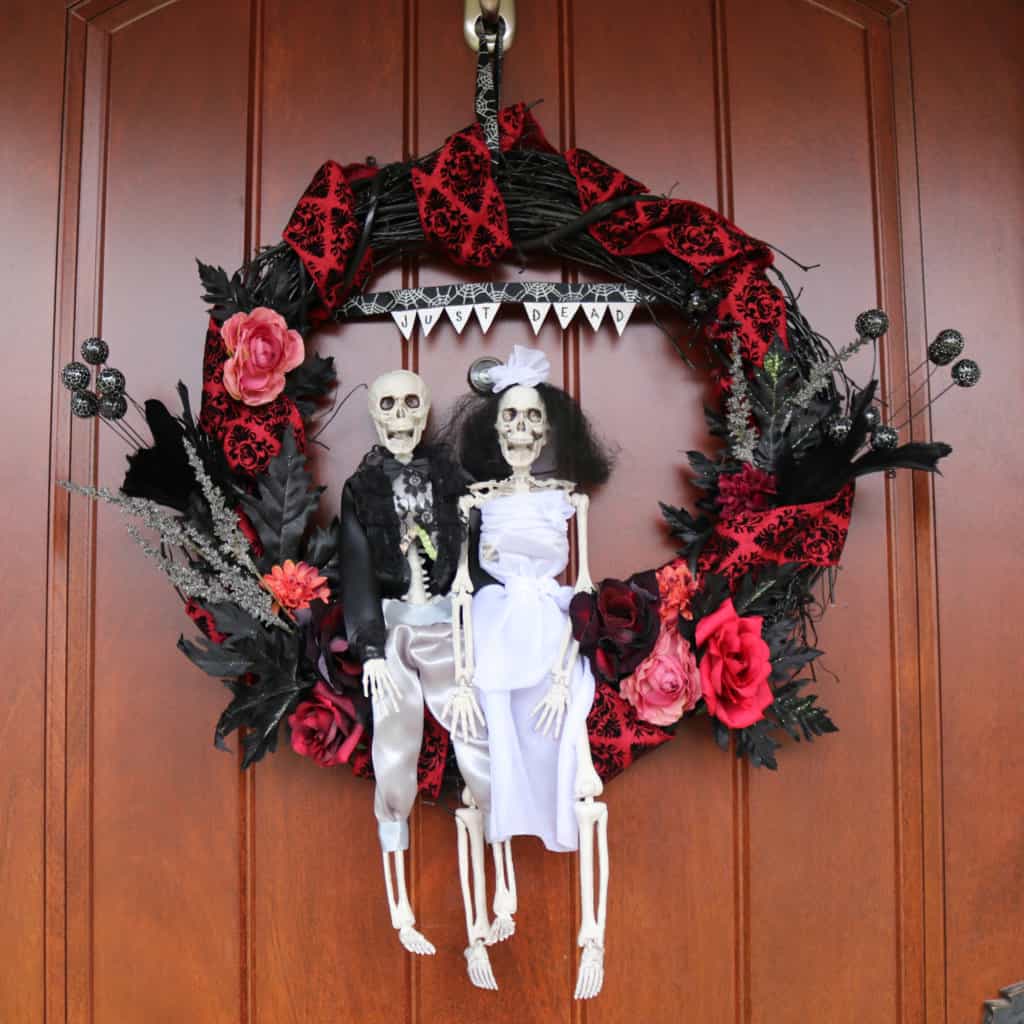 And who wouldn't want to be greeted at the front door by this adorable couple?!

You've still got plenty of time to make your own wreath before Halloween! Can't wait to see what you come up with!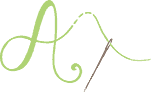 Don't forget to pin and save for later!