A small thank you card is the perfect finishing touch before you package up your products to send to Etsy customers. Learn how to make simple thank you cards with your Cricut using Print Then Cut! Plus, check out the ideas below for what to write in an Etsy thank you card.
This is a sponsored post written by me on behalf of Cricut. All thoughts and opinions are my own.
This post contains affiliate links. For more information, see my disclosures here.
I love making handmade cards! There's just something about the personal touch that makes them way better than store-bought. But when you're running a small business, every minute and every dollar counts. Thankfully, with a Cricut machine, a printer, and a little cardstock you can make thank you cards for your Etsy customers quickly and cheaply.
There are so many ways to make thank you cards with Cricut, but this post will be all about using Print Then Cut images for your cards. This is my favorite way to mass-produce cute cards for a business, and I think you'll see why! You don't have to mess with tons of cardstock layers or gluing all the elements on—just plain white cardstock and some printer ink. Plus, it's so easy to add your logo to the back of the card with Print Then Cut!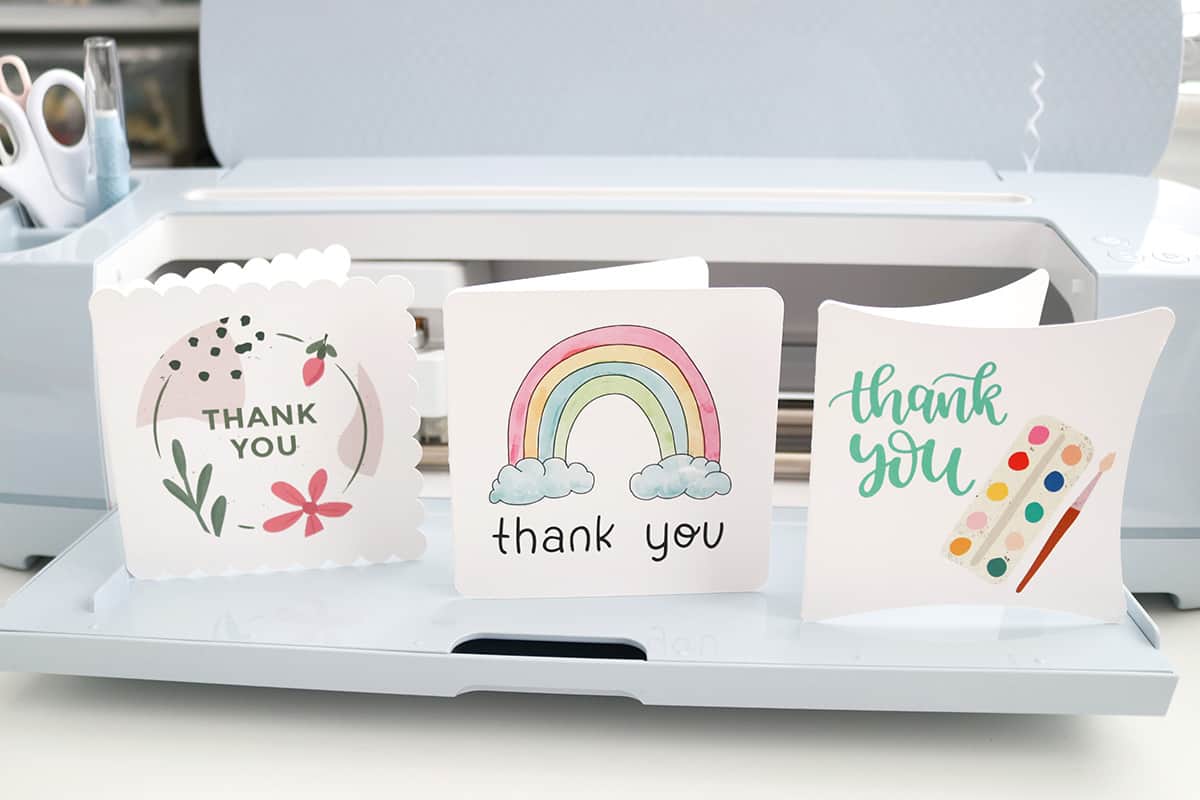 If you've never used Print Then Cut before, don't be intimidated! It's so fun and I'll walk you through all the steps!
What You Need to Make Cricut Print Then Cut Cards
Cricut machine: Both the Explore and Maker machines work with Print Then Cut (but not the Joy). I have a Maker and Maker 3 and love both!
an inkjet printer
scoring wheel: I purchased this in the QuickSwap Tools Everything Bundle, but you can also buy the tip separately if you already have the housing
double scoring wheel: If you are using heavy cardstock, Design Space will prompt you to use this instead of the single scoring wheel. The double scoring wheel scores two lines with a tiny space in between which allows the heavy cardstock to fold easier (think of it like a teeny tiny book spine).
8.5″ x 11″ white cardstock: This is the preferred size for Print Then Cut. I use a smooth, untextured cardstock but feel free to use whatever works well with your printer.
Cricut Access subscription: optional but I will ALWAYS recommend this! Having all those images available right there in Design Space, free for use anytime I want, is so convenient! Check out my post on Cricut Access for more details.
my card designs (pictured in Design Space below). I used all Cricut Access images and fonts for the cards, so you'll need Access if you want to make these exact designs.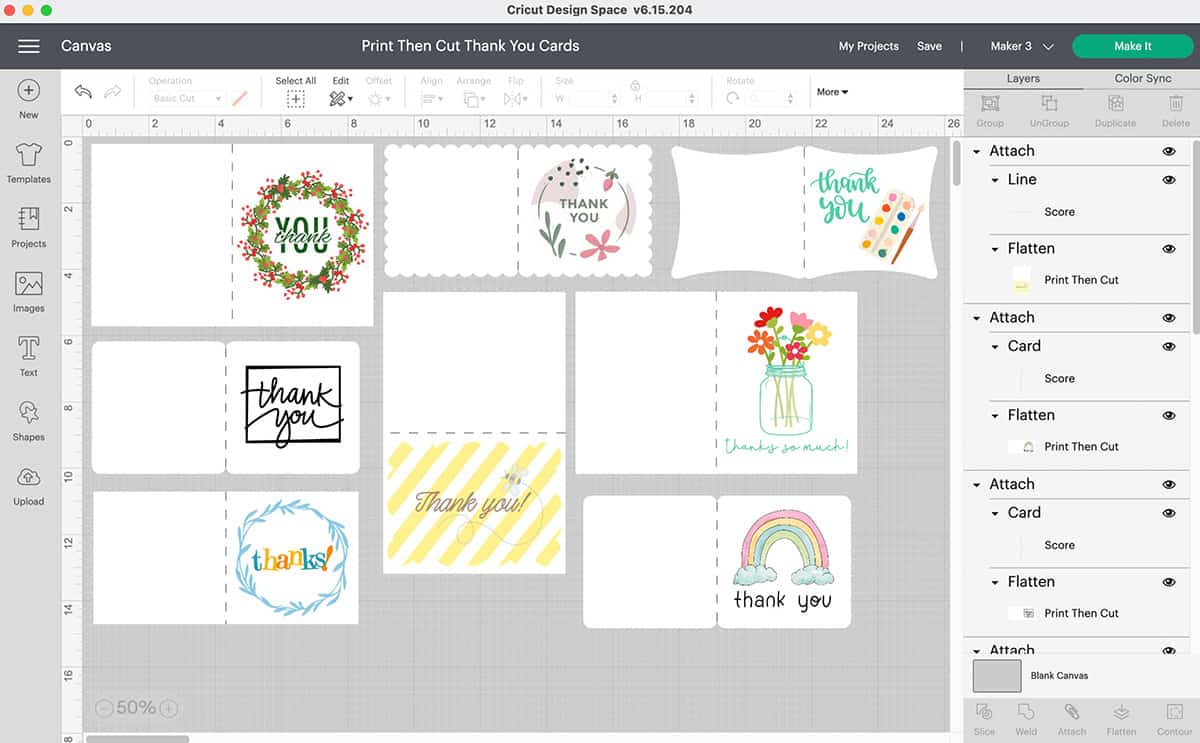 Purchasing a Cricut machine or heat press? Use coupon code AUBREE10 for an additional 10% off!
How to Make Print Then Cut Thank You Cards
First, we'll create our card background. For a standard A2-sized card, create a rectangle on the canvas that is 8.5″ x 5.5″ (unlock the size proportions and enter the dimensions at the top of the canvas). Because I'm printing on white cardstock, I always change the color of this rectangle to white.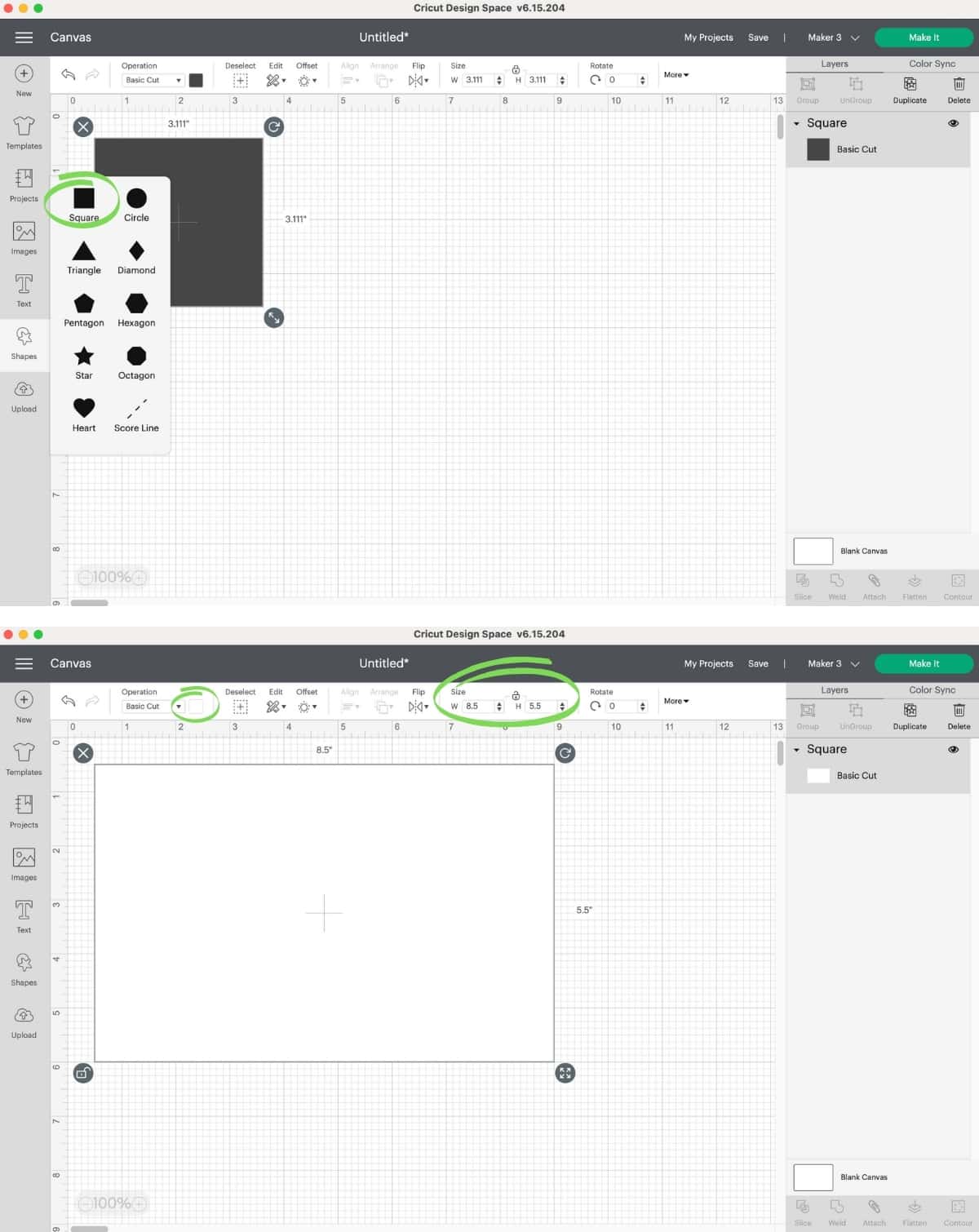 Next, add a score line by selecting the dotted score line from the shapes. (A score line helps give your card a clean, crisp fold for a professional finish.) Resize the score line to the size of the fold (5.5″ for this card).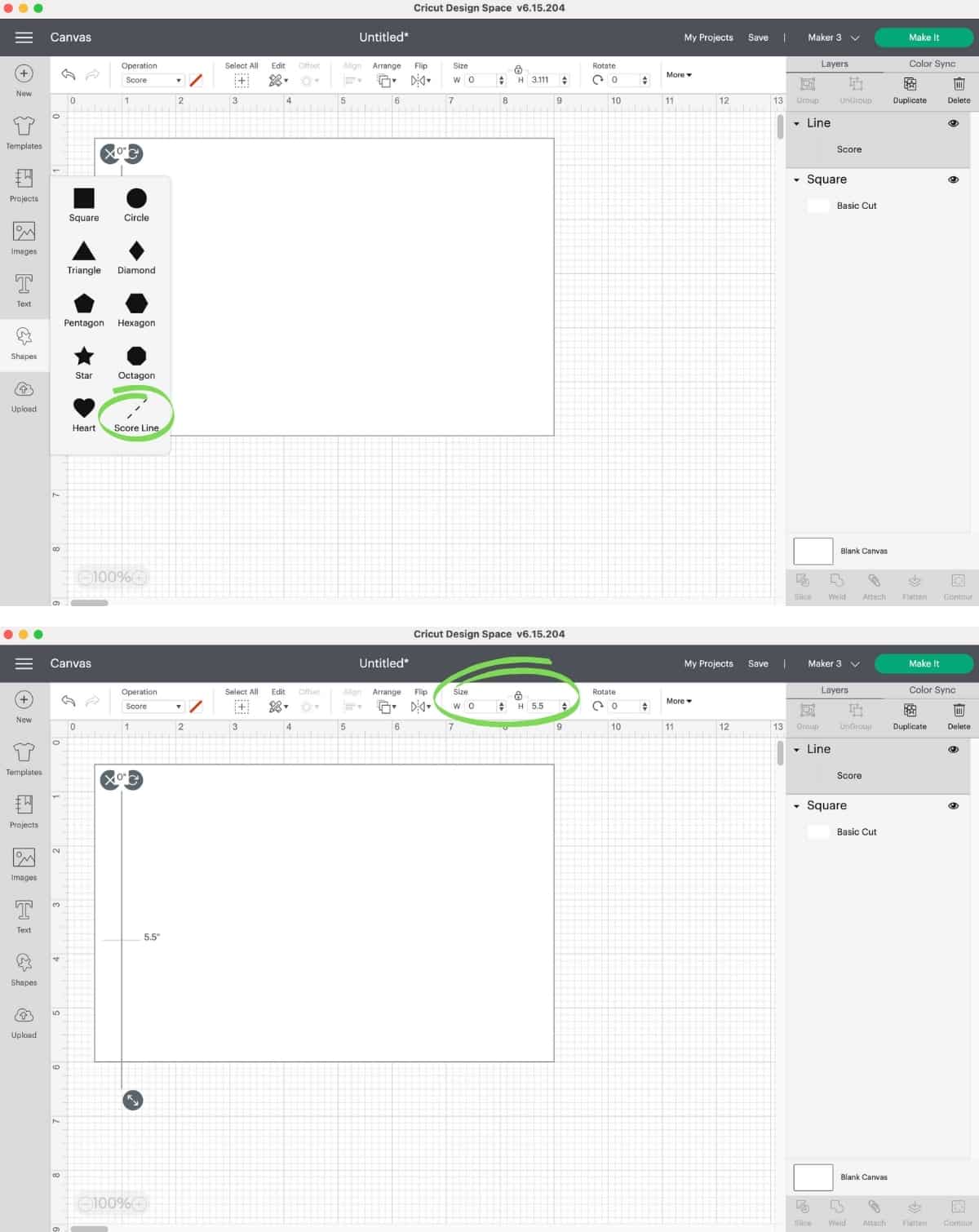 Align the score line to the rectangle by selecting both and "align–center." (We need to attach the score line to the card for Cricut to know where we want it scored, but that will be the last step after we add images and flatten them. If you want to wait until later to add the score line at all, you can, I just think it's helpful while designing to visualize where the card is going to be folded.)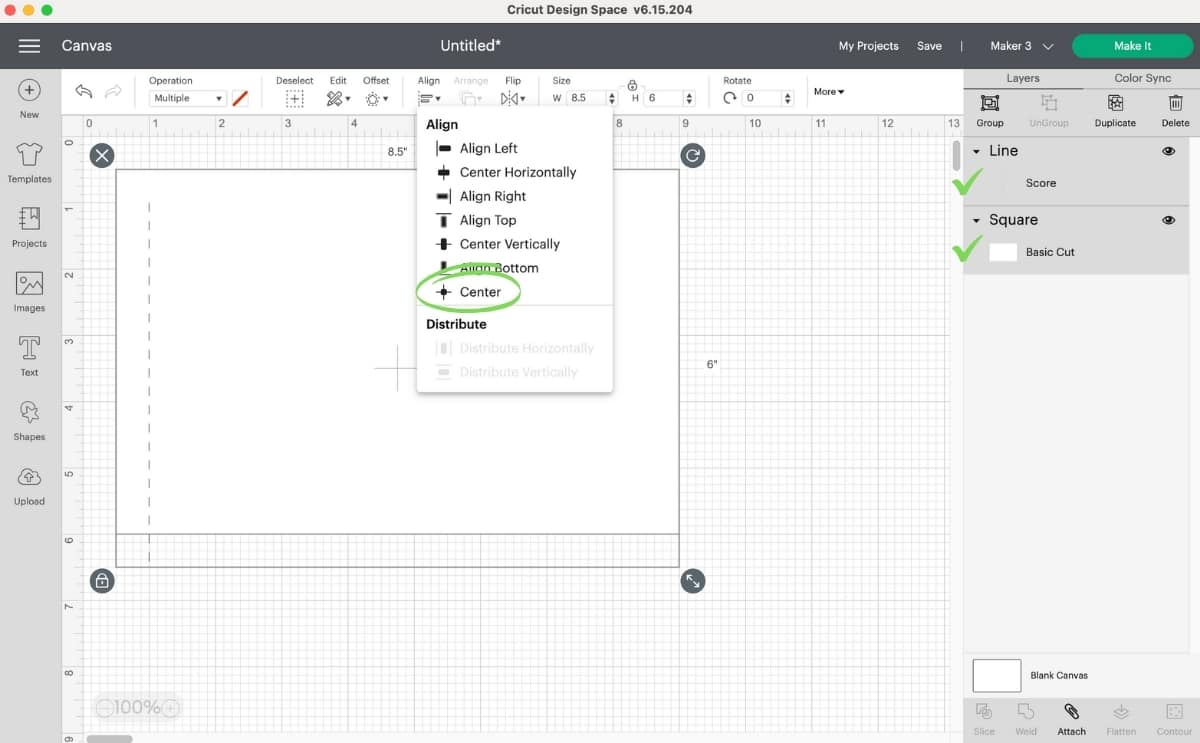 If you want to use a pre-made card template, you can search the image library. I searched "square card" and found #M3EC81 (rounded square), #M3EE1A (scalloped square), and #M3EDE8 (flared square), which I used in my designs (you can also search those numbers specifically, just be sure to include the #).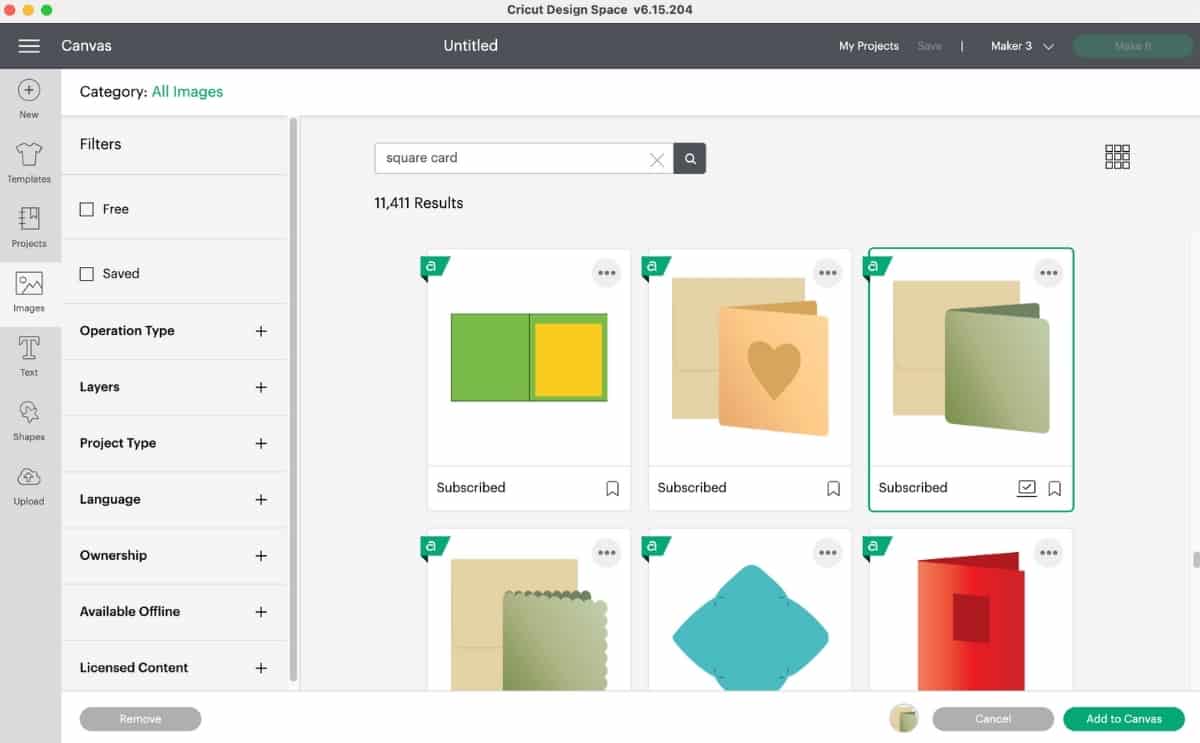 These cards already have a score line attached, so you will need to detach that before flattening your images to the card (but I recommend resizing the card while it's attached, just to make it easier on yourself, so do that first). Also, to change the background color of the card, make sure you're only selecting the card (just click on "basic cut" in the layers panel)—if you have the score line selected, it won't let you change the color.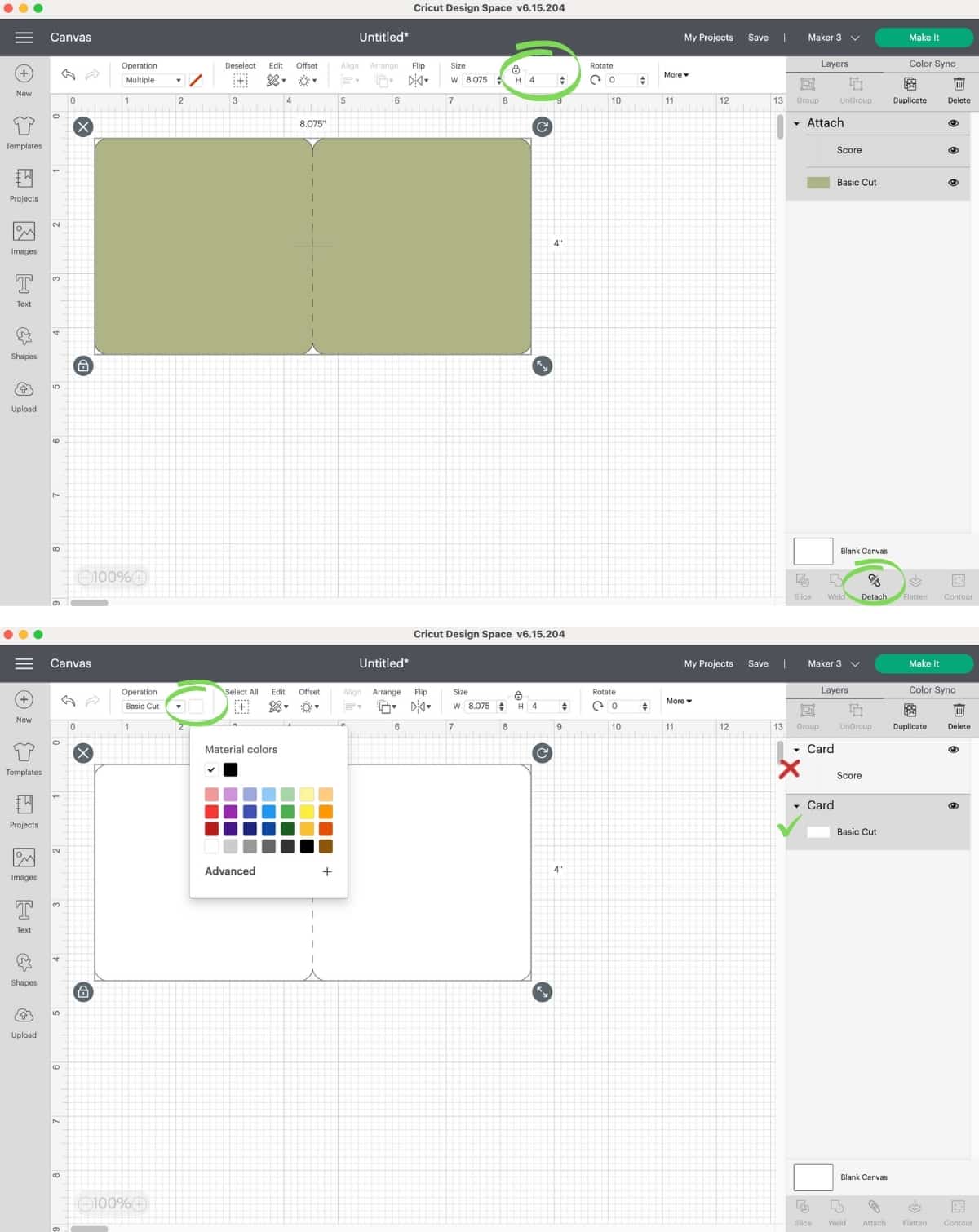 Now we're ready to design the rest of the card. Click on images, then filter by "operation type–Print Then Cut". These images are specifically designed with Print Then Cut in mind—you'll see how fun and detailed they are. Search by keywords (for example: "thanks" or "rainbow") to find the exact Print Then Cut images you'd like.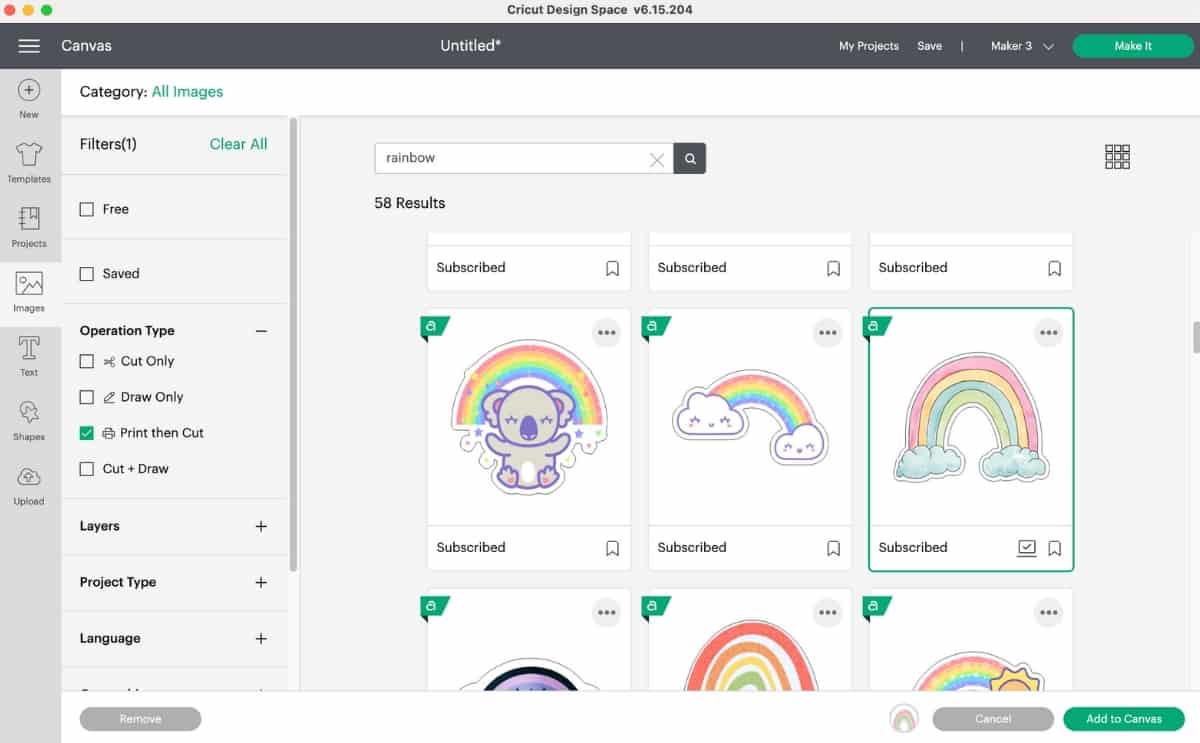 Now for the exciting part: Print Then Cut actually works with any image in Design Space! Regular cut images and svgs might not be as colorful and fancy as the Print Then Cut images, but this just expands your options (by a ton!). And I'll show you how I use both.
Once you've chosen your image, add it to your canvas and resize as needed to fit your card. If you want to center your image, you'll have to eye it between the edge of the card and the score line, but you can use the alignment tool to center it the other direction (select both the image and the card and "align–center vertically" or "align–center horizontally", depending how you've oriented your card).
If you want to add regular cut images, resize and position them the same way you did the Print Then Cut ones. The only difference now is that you have the option to change the color(s) of the cut images to anything you'd like. (You won't be able to adjust the colors after flattening, so be sure to make any changes now.) When you click on the colors panel, click "advanced", then you'll be able to move the slider and circle around to find the perfect shade, or you can also type in a specific HEX code. If your image has multiple layers/colors, select them individually in the layers panel to make each one a different color.
If you want to add text with a font, it's a similar process to the cut images: adjust the color, as well as the spacing, before flattening. You don't need to worry about welding the letters or anything like that since this will be a flattened print image in just a second.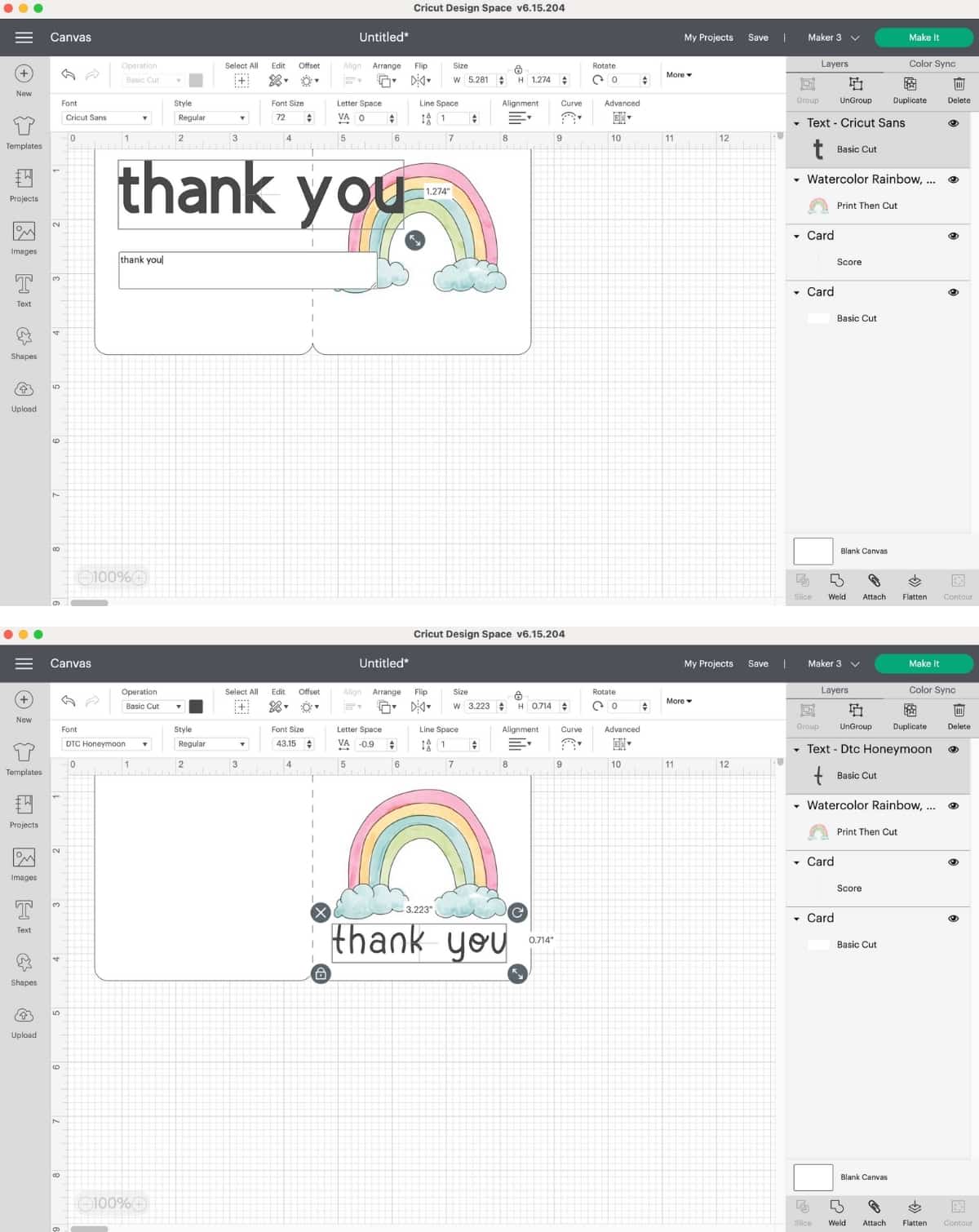 If you want to add a logo to the back of the card, now is when you'd want to do it—refer to those instructions below.
Once your design is complete and everything is positioned over the top of the card where you want it, we need to flatten everything into one Print Then Cut image. (Right now, without flattening, your Cricut thinks you want it to cut directly around each image, and around each individual color of the cut images. Attaching would keep the images positioned correctly to the card, but that's still not enough.) Select everything except the score line (either highlight everything up until the score line, or manually select each item in the layers panel) and click "flatten".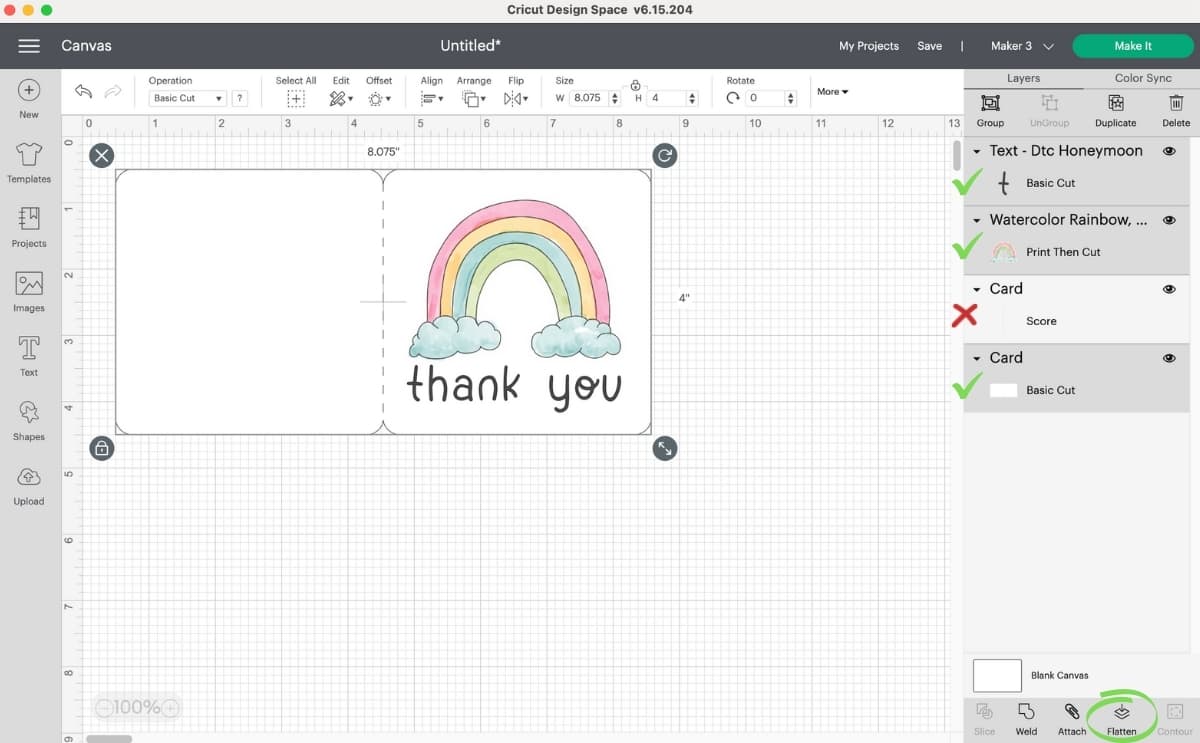 Now we have one Print Then Cut layer and your Cricut understands that you only want it to cut around the card.
You'll notice that the score line disappeared behind the card, so select the card, right click, and "send to back". Now, select both the card and the score line and click "attach".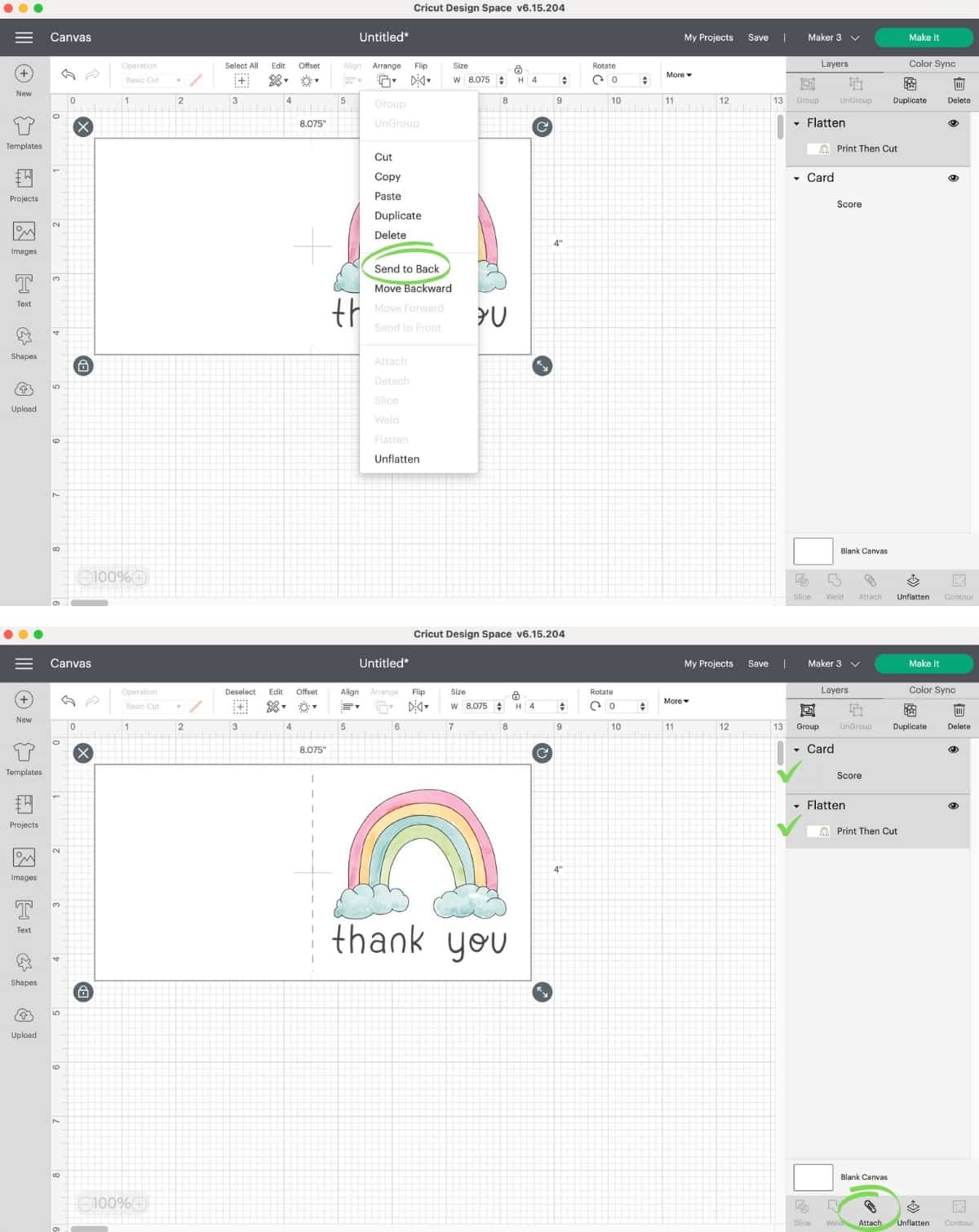 Wahoo! Now you're ready to print!
Click Make It. If you have multiple cards, each card (at least the sizes of the ones I made) will be on its own sheet of cardstock. (If you want to save paper and print 2 cards per page, you'll need to size your cards smaller—about 3.25″ for a square card.)
The black rectangle you see are registration marks that tell your Cricut where your printed design is on the page and where it should cut. Because of these marks, Print Then Cut only works for images less than 9.25″ x 6.75″.
Adjust the project copies if you need to, then click Continue. Send it to your printer. Remove the bleed (you won't need it for this type of Print Then Cut), then choose Use System Dialog to be able to adjust your printer settings. (If you don't see the print screen, you may have to minimize Design Space or other applications you have open.) Print the card.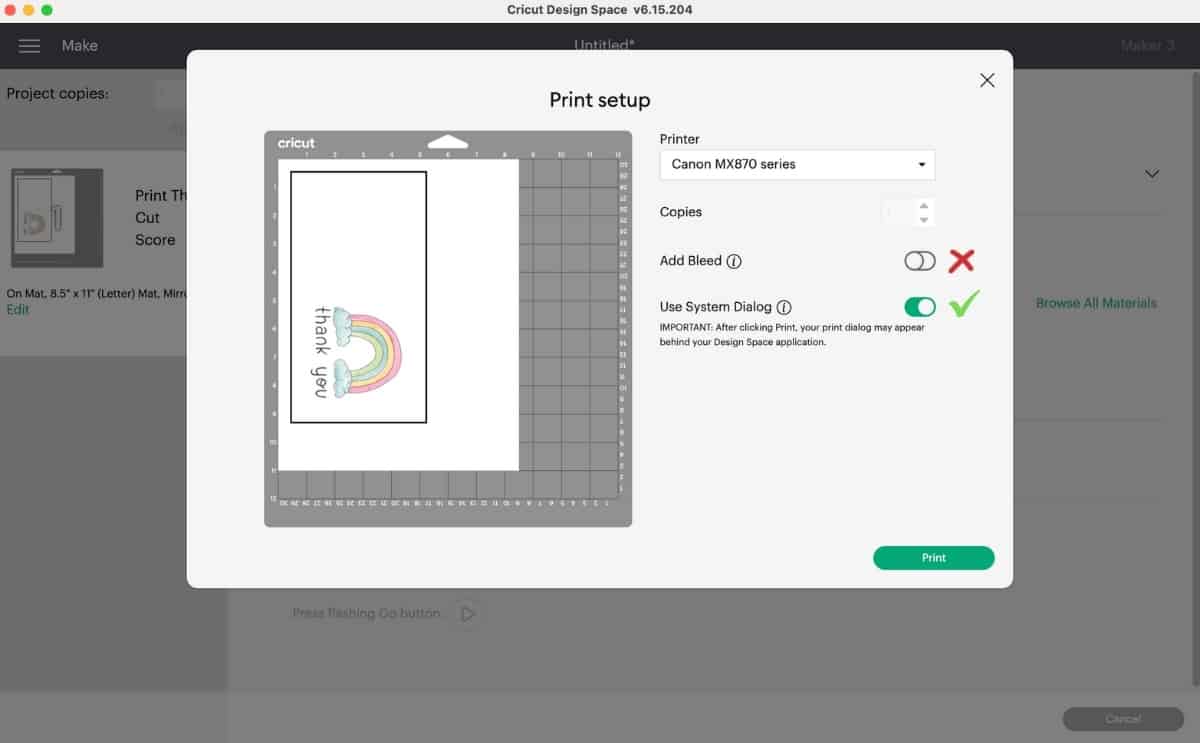 Once printed, load your cardstock onto your mat. I always press my materials down with the brayer tool.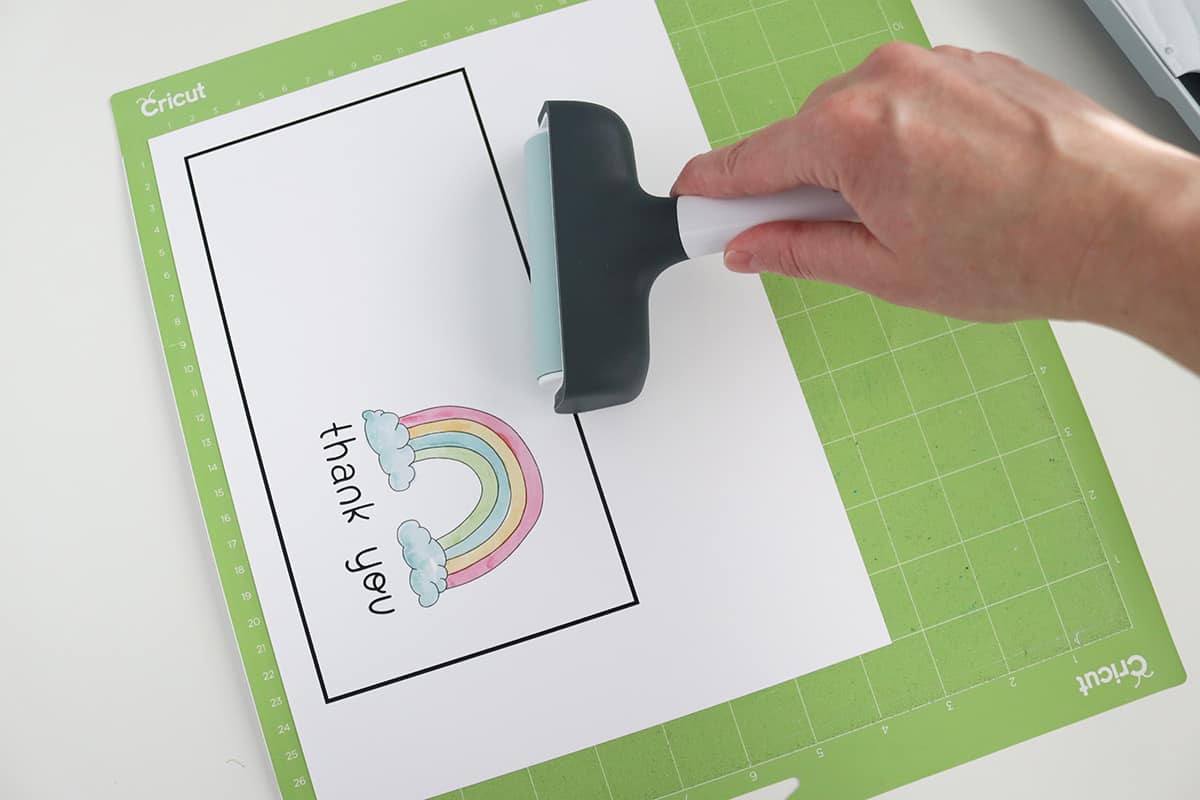 Choose your material settings and load the scoring wheel in clamp B as Design Space directs. Load your mat into your machine and press start.
Design Space will say "scanning" and "detecting" while it reads the registration marks. Then, it will score and cut (you'll have to switch out the scoring wheel for the fine point blade in between—just follow the prompts in Design Space).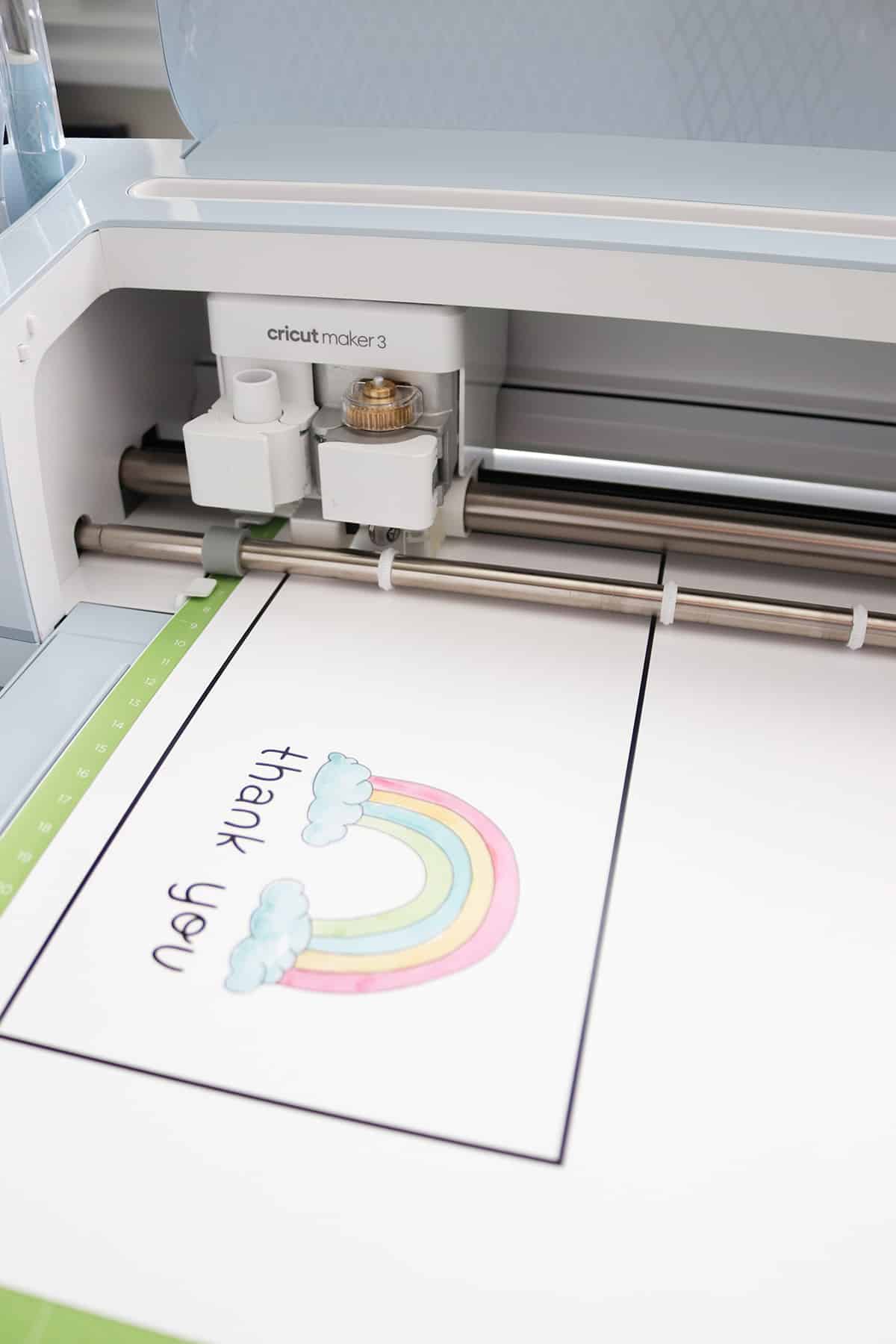 And there you go! Super easy thank you cards that look professionally made!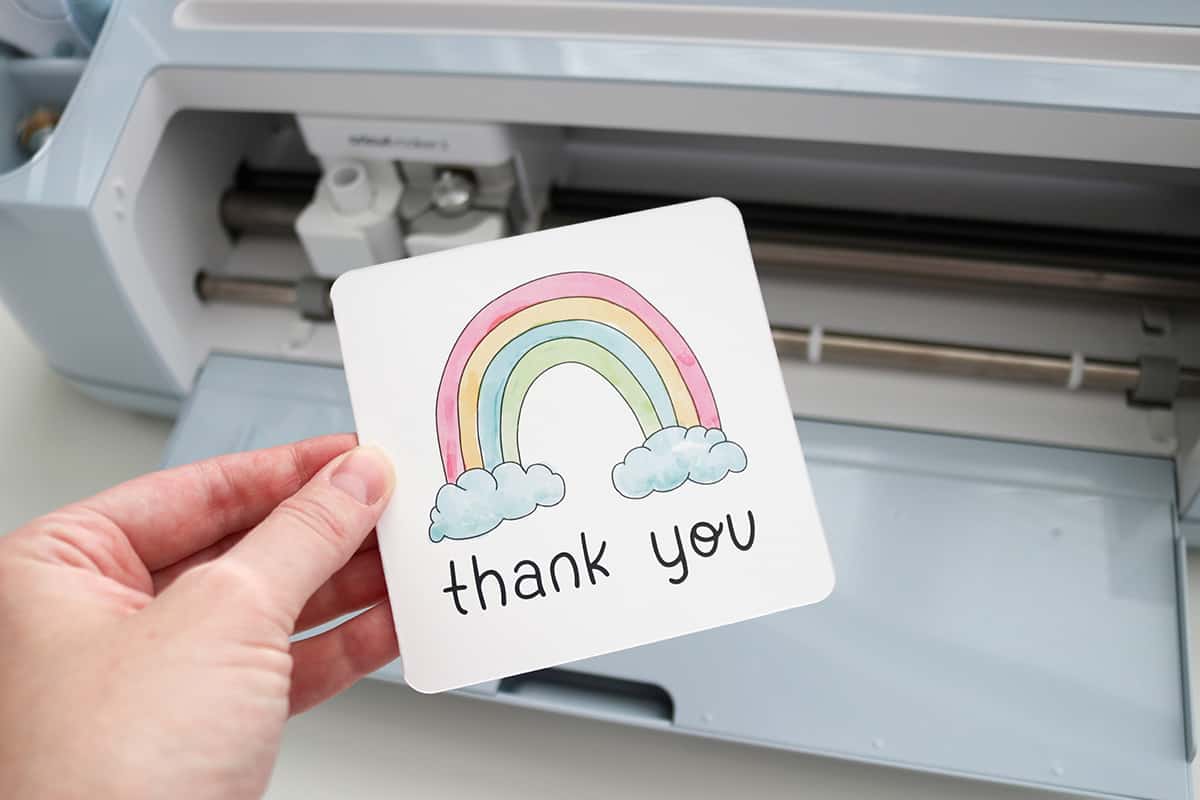 If you still have questions about Print Then Cut, Cricut has a great Print Then Cut guide that I recommend you read through. I actually use their help pages all the time when I need a refresher on something I haven't done in awhile—super handy!
How to Add Your Logo to Cricut Cards With Print Then Cut
To add a logo to the back of the card, upload your logo image to Design Space (make sure it's one of the compatible file types) and choose Complex. Erase the background if you need to. Then choose "Print Then Cut Image" on the next screen. Add a name and/or tags so you can find the file easily in Design Space later and hit Upload.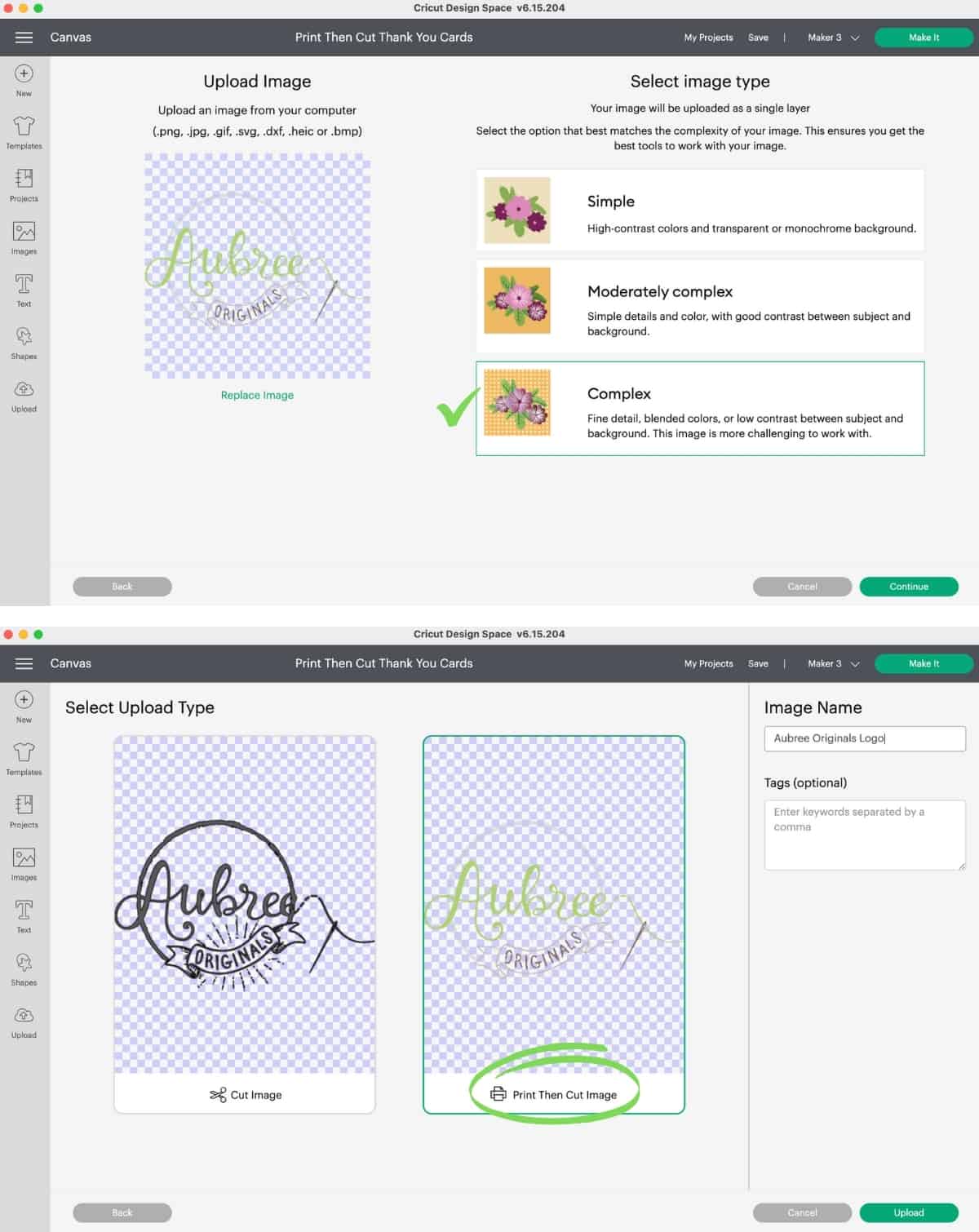 (This is actually the same upload process you would use if you wanted to use non-Cricut images for your cards. On the off chance that Design Space doesn't have what I'm looking for or if I need something really specific, I use Canva to create my designs.)
Add your logo image to the canvas, resize it, and position it to the back of the card where you'd like it to be. Now you can select all your Print Then Cut images, the logo image, and the card and flatten them (remember that you have to flatten all Print Then Cut images and the card together at the same time, and then you can attach the score line after—if you've done it out of order, just detach or unflatten as needed). Without moving the card, send it to the back (to keep the score line centered). Select both the flattened card and the score line and attach them.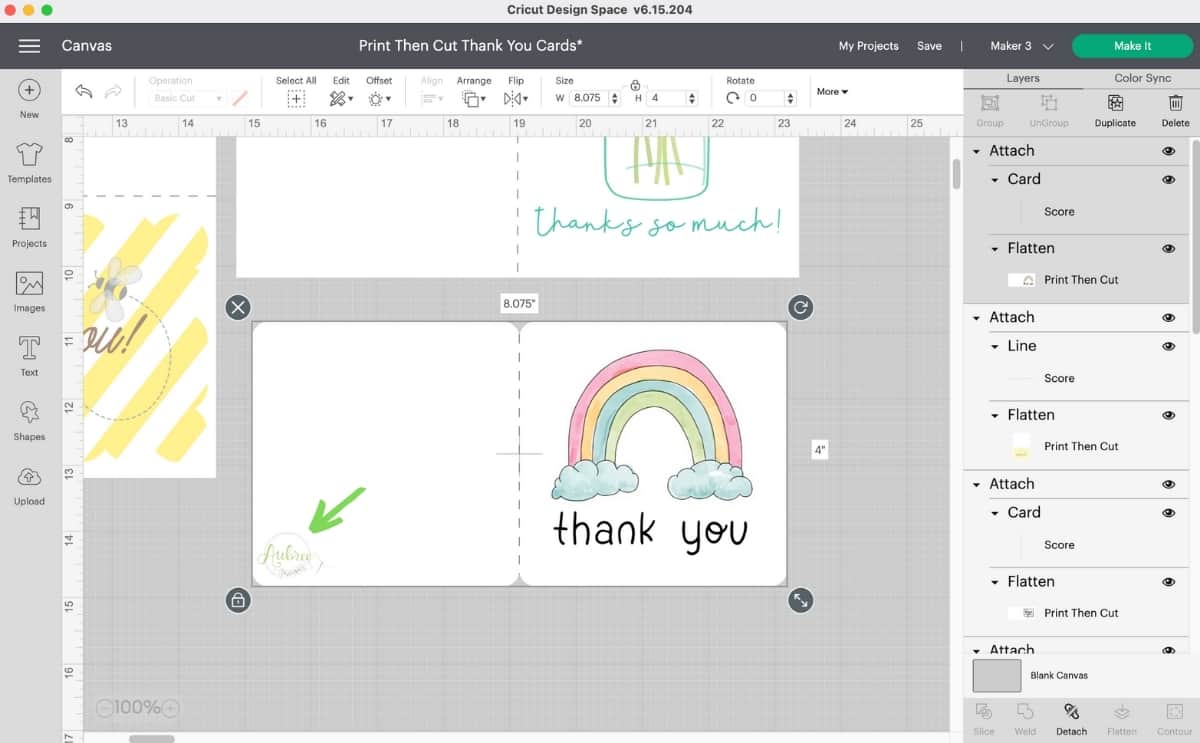 Follow the rest of the instructions above to finish your Print Then Cut card.
More Tips For Making Etsy Thank You Cards With Cricut
To avoid curling your cards, remove the cardstock from the mat by flipping the mat over and curling the mat away from the cardstock, keeping the cardstock flat against your table.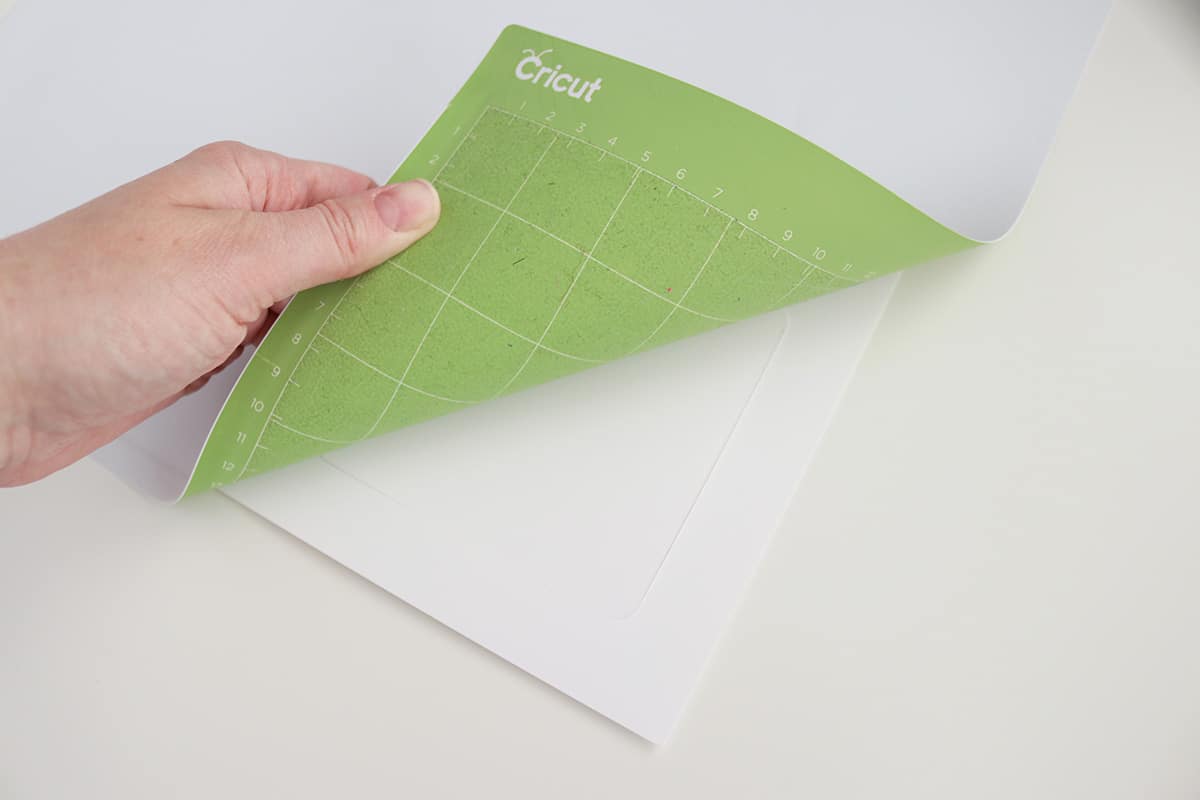 Use your scraper tool to fold the edge of the card where you scored it for a nice, crisp fold.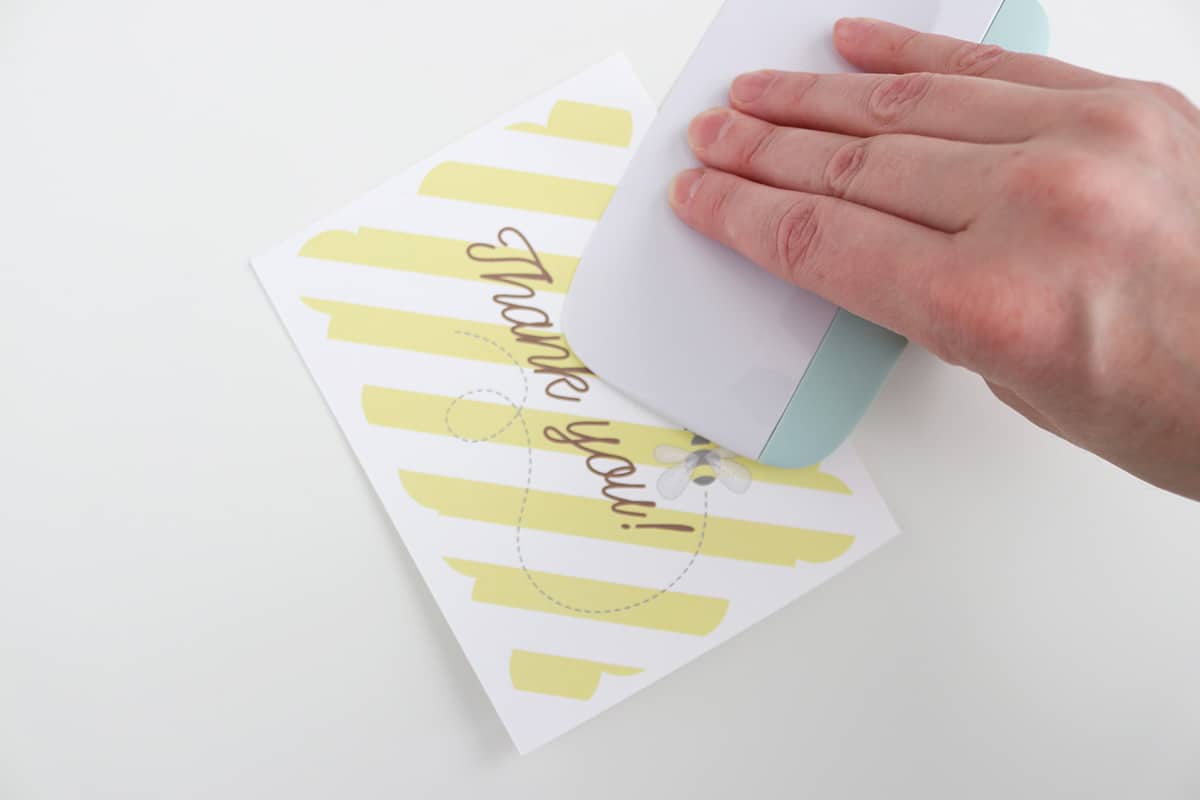 You don't have to go with a folded card design if you don't want to: postcard-style cards with a design on the front and a sentiment on the back are just as great and save on cardstock!
Store ready-to-go cards in a designated bin next to your shipping supplies.
It's up to you if you want to include an envelope with your card or not. I generally opt not to include the envelope, simply to save on time and cost.
Keep multiple card designs on hand for different recipients or holidays. I think it'd be fun to change up your thank you cards every season or quarter—and it would be so easy to do with all the images included with an Access subscription! Plus, if you have a repeat customer, they might enjoy seeing something new.
What Should You Write in Etsy Thank You Cards?
I'm sure there's a whole psychology of what to say and what not to say in a business thank you card, but here are some basic pointers:
1. Start by addressing the customer by name: you could say something like "Hey [name]!" or just [Name,] by itself is fine.
2. Say thank you: share your genuine appreciation, but consider avoiding impersonal words like "business" or "order." So, instead of "thank you for your business," you could say "thank you for supporting my business" (I realize the difference is small here, but do your best to word it so the customer feels like a friend versus "just another order"—we want to grow that relationship). Other ideas here: "thank you for choosing my shop", "your support means so much to me", or jump right into the next step by saying "thank you for purchasing [specific product]"
3. Get specific/personal: comment about the specific product the customer is ordering so they know you're paying attention to them individually.
4. Offer a coupon code for their next purchase: some people say this is a no-no (they think you should leave the thank you at just that), but I'm going to leave it up to you. As a customer, I really like receiving a coupon code, especially if it's a business I might purchase from again.
5. Ask for a review: optional, but positive reviews are always welcome for Etsy shop owners. Something like "If you love [product], please leave my shop a kind review!"
6. Offer contact information: "Please reach out to [contact info] should you have any issues with this order."
5. Close with your name: "Thanks again, [my name]" or "I can't wait to see you again! [name]"
Here's an example of a thank you note I might write for my wreath business:
Hey Jane,

Thank you so much for choosing my wreath shop! I hope you love your new fall wreath–it's one of my favorites, too!

As an extra thank you, you can use coupon code SAVE for 10% off your next purchase.

If you love your wreath, please leave my shop a kind review! And don't hesitate to reach out if you have any issues.

Thanks again,

Aubree
If you wanted, you could write your thank you message on a sticky note (or attach a note with washi tape) so your customer could reuse the handmade card—a fun surprise freebie for them!
How to Make Print Then Cut Thank You Cards With Cricut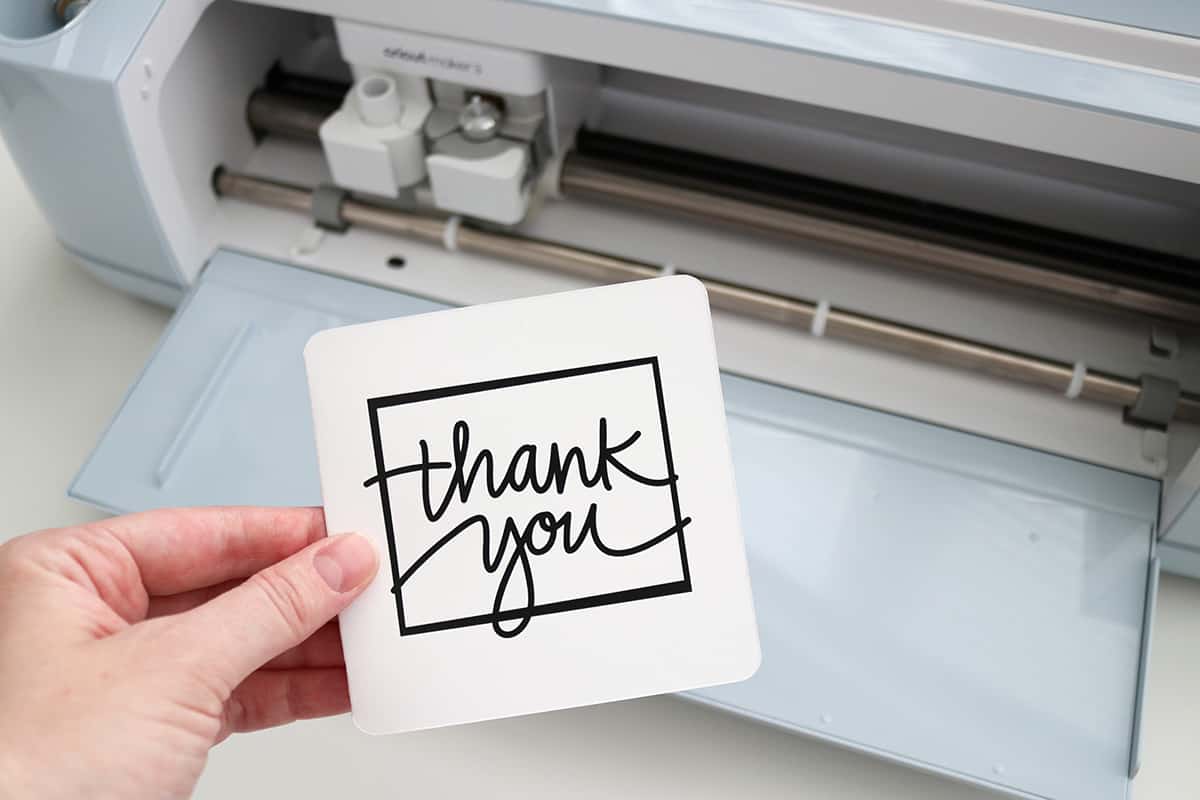 I hope you found this tutorial helpful. Cricut's Print Then Cut feature makes these thank you cards so easy to whip up! It's just one more extra touch to help your Etsy customers feel appreciated and grow that relationship with them.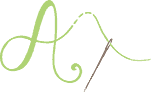 Don't forget to pin and save for later!