A vacation to Disneyland or Disney World can be highly enjoyable while being pregnant! These must-read tips will ensure you don't leave anything out!
Jared and I took a trip to Disneyland over Memorial Day with his mom and our niece. It was a blast! Even being 15 weeks pregnant. Actually, it was the perfect time for me to go: my nausea started to ease up around week 12 or 13 and I was finally getting some energy back. Plus, the weather was perfect and crowds were fairly mild (probably thanks to a lot of people waiting to come the following week when the new Star Wars land would be open–which, yes, we really want to go back for).
My plan to enjoy Disneyland to the fullest, even if I couldn't go on any roller coasters, was to eat lots of food, take lots of breaks, people watch, and eat more food. Which I highly recommend, it was amazing and so relaxing! Besides the food, a couple more things made this Disney trip a super enjoyable experience while being pregnant, so read on for my top 5 tips!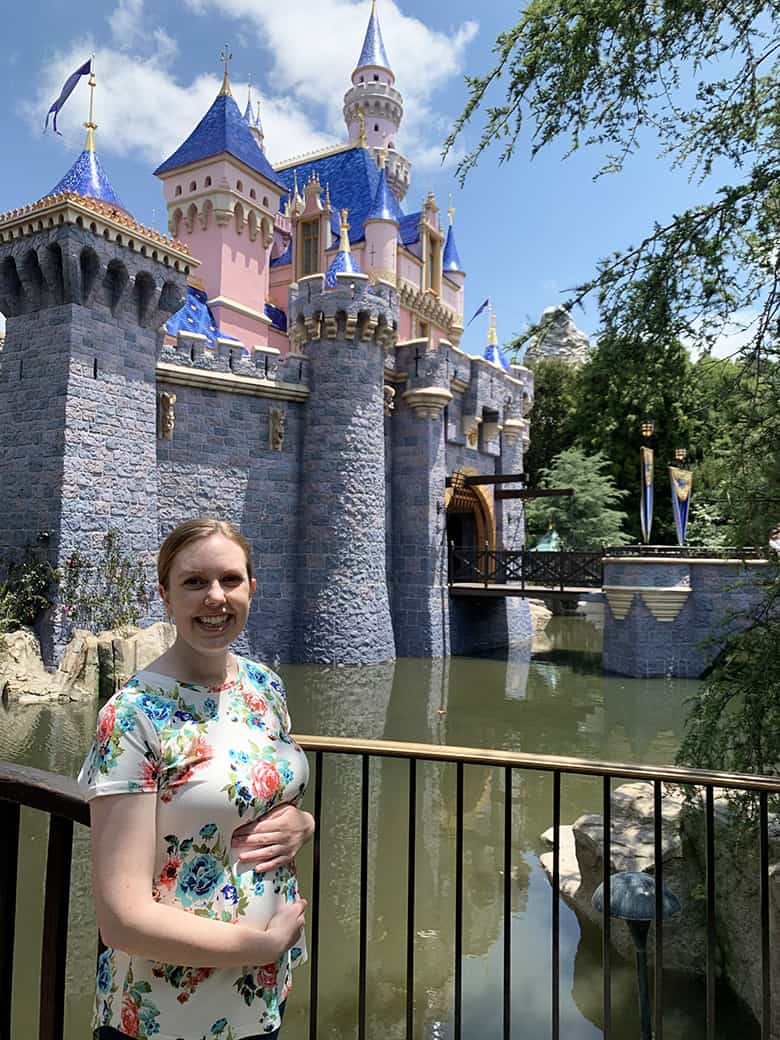 ---
Looking for a fun craft project to get ready for your next trip to Disney? This post has some great ideas:
Disney Crafts to Make Before Your Next Disney Vacation
---
Things to consider when planning a Disney trip while pregnant
Obviously, not every month during pregnancy is going to be ideal for a full-on Disney trip. Before booking travel dates, you should consider the following:
How far along you are in your pregnancy
Most people recommend traveling in the second trimester, which I would agree with. If you're one of the lucky ones like me and can leave morning sickness in the first trimester–and can wait to travel until that period is passed–you'll be so much happier. The first trimester is exhausting, and even though my morning sickness was mild compared to some, it still makes you miserable. And just plain wiped out–long days walking around a theme park in the sun would've been impossible at that time.
Some doctors put travel limits on pregnant patients once they're so far along in the third trimester. But, I can imagine not wanting to travel after a certain point anyway. A maxed-out Disney trip at 15 weeks was exhausting enough (though, worth it).
If you do want to take a Disney vacation later on in your pregnancy (and get the okay from your doctor), you'll probably just want to go at a slower pace with more frequent breaks. Having any larger of a bump and all the fun pains that go with that would have definitely slowed us down. Something to consider.
What time of year you'd be in the parks
This is probably something you're considering, whether you're pregnant or not, as time of year can make all the difference in an enjoyable Disney trip–mostly in terms of weather and crowds.
I feel like crowds are pretty much inevitable with Disney, but there are peak times that are going to be worse–such as holiday weekends or holidays in general. And…a couple rare times that might lighten your crowds, such as when a new land is about to open but you're going right before it does (ahem, Galaxy's Edge).
Weather can actually also change crowd levels. Jared and I personally love when it's rainy, in both Disneyland and Disney World. It scares a lot of people away from rides and staying late in the parks (though, it can potentially close some rides, too).
And, for probably obvious reasons, weather is something you want to consider when being pregnant. Heat and humidity have a way of draining even the average person, but can be amplified when you're carrying around a little human in your belly. If you are going at a hot time, be sure to hydrate, stay cool, and take it easy at the first signs of heat exhaustion!
The financial side of a Disney vacation
Um, if you haven't noticed, Disney tickets are ridiculously expensive. This may seem like an obvious point, but it's worth remembering that you're about to have a baby…and all the expenses associated with having a baby, especially if it's your first and you're starting from scratch with all the baby things.
When Jared called me up during his workday to ask if I wanted to go to Disneyland in a week (and told me it was for real going to be possible for us financially and timing-wise), I about cried. No, no…I did cry (pregnancy hormones, and, well, that's just how much I'd been dying for another Disney vacation).
As much as I love Disney, though…no vacation is worth the headaches of being in a tight spot later on, especially with baby on the way. (And…we may have bought a few too many Mickey pretzels that are going to cut in our baby clothes/toy budget. But I'm having a really hard time regretting that part. 😉)
If riding all the rides is a super important part of a Disney trip for you
The Disney website (and app) have a list of all the rides that have a pregnancy advisory on them–basically, any of the big roller coasters. When asking my doctor about riding rides, they said stay away from anything that might make me motion sick, as well as anything jerky (and of course avoid anything on Disney's advisory list). Some people may feel differently, but not knowing how my body does with pregnancy, I erred on the side of very cautious.
If roller coasters are your favorite part of Disney and there's no way you could see yourself enjoying a more laid-back trip this time around, that's definitely something you want to be honest with yourself about beforehand. There's no shame in wanting to get your money's worth, whatever that means for you.
I, on the other hand, knew I'd be just fine not going on all the rides this time, having done them lots before. Plus, I'm way more prone to motion-sickness in my "old age," not even just because of the dizziness that comes with pregnancy. So I wasn't feeling like I was missing out.
Even if you do love roller coasters, I'm confident you can have a highly enjoyable Disney vacation without them! Keep reading for some fun ideas of how to max this trip, all while rocking that cute baby bump and pregnancy glow!
5 things you need to do on a Disney vacation if you're pregnant
Okay, now that you've decided on a Disney trip and have finalized your travel dates, it's time to make the most of this adventure! My #1 tip is my favorite, and something we actually didn't plan on beforehand, it just kind of happened. And it ended up being our favorite part of this whole experience!
1. Interact with the characters, especially if you have yet to find out your baby's gender!
It was kind of torture being in Disneyland only one week before we'd find out our baby's gender. But…we probably saved a lot of money by not being able to buy all the baby clothes and souvenirs.
And then we started playing this game to meet as many characters as possible with the intent of getting their "gender votes." We had been asking family members for awhile whether they thought our baby would be a boy or girl, but why not extend that to the lovable Disney characters?!
If you want to do this, first tell the character you're pregnant. Unless you have a noticeable bump, they may not say anything, and even then, probably won't out of politeness. Then tell them you need their help/advice/have a question for them–however you want to word it. For the non-speaking characters (the ones in masks), we would tell them to point to Jared if they thought it was a boy, or to me if they thought it was a girl. And later, we made sure to specify that we wanted them to pose that way for the picture.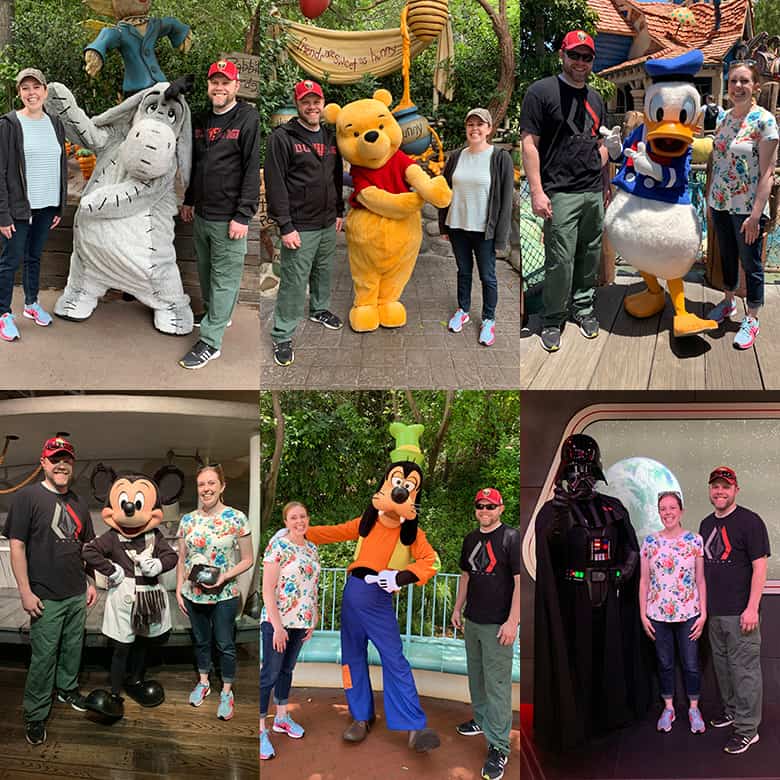 This was such a fun experience! Something we'll never forget. The characters are so sweet when you tell them you're expecting. And then some got way into deciding whether it was a boy or girl–consulting their cast members, playing eeny meeny miny mo, or stepping back to size up my little bump.
I had so many favorite interactions: Darth Vader just flat out telling us "No," that he didn't have an opinion, Olaf immediately picking girl before we even finished the question (I think he heard us in the other room with Anna)…but I think my favorite was Eeyore. He was so sweet, and after we were done with pictures, came up to my bump and waved goodbye to the baby. Aww, Disney is so magical.
2. Take an announcement photo! Or have a maternity photoshoot!
There are some super cute photo ops while you're in the Disney parks, especially if you're sporting a cute bump. And you can totally get a "1st Visit" pin for your bump!
I knew before going that I wanted to do some sort of announcement photo, too, maybe with Disney pins and Mickey ears like I've seen some people do. But then we decided to make it a gender reveal photo that we could put on social media after we found out the gender.
So, on the first day (when we mixed up Magic Morning with Extra Magic Hour and had some time to kill) I grabbed some celebration pins from the super nice guest relations in California Adventure and had her write "It's a boy!" and "It's a girl!" on two separate pins. Then, we found the adorable Mickey and Minnie babies and staged these super cute shots in front of the castle: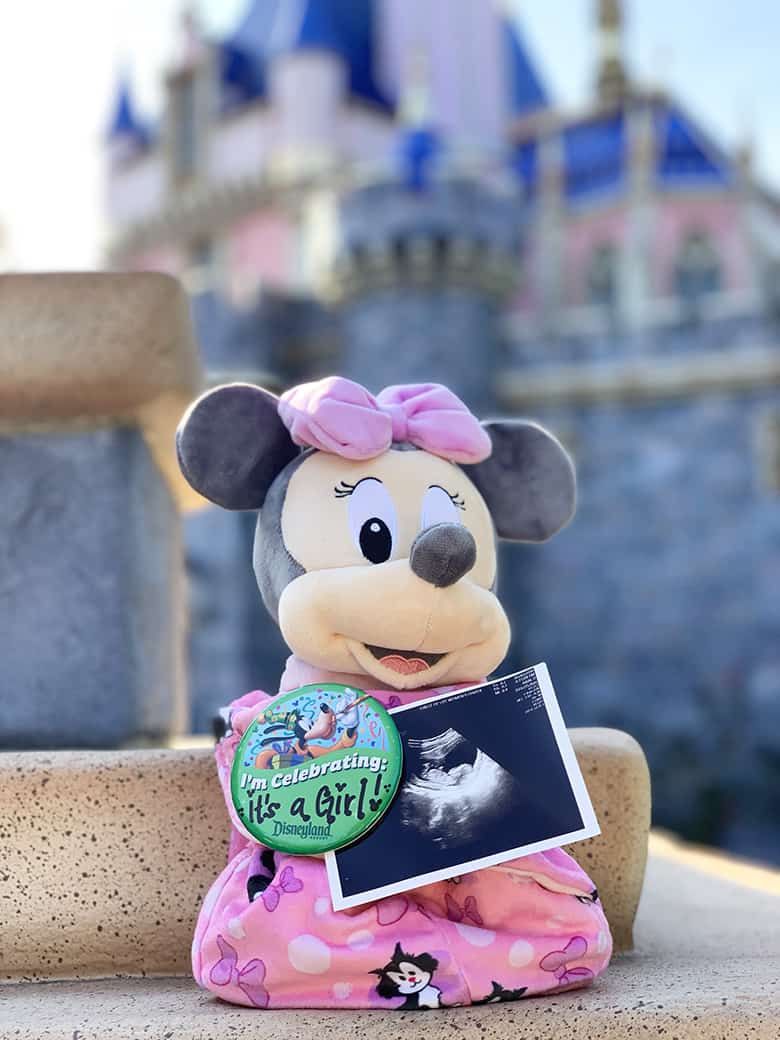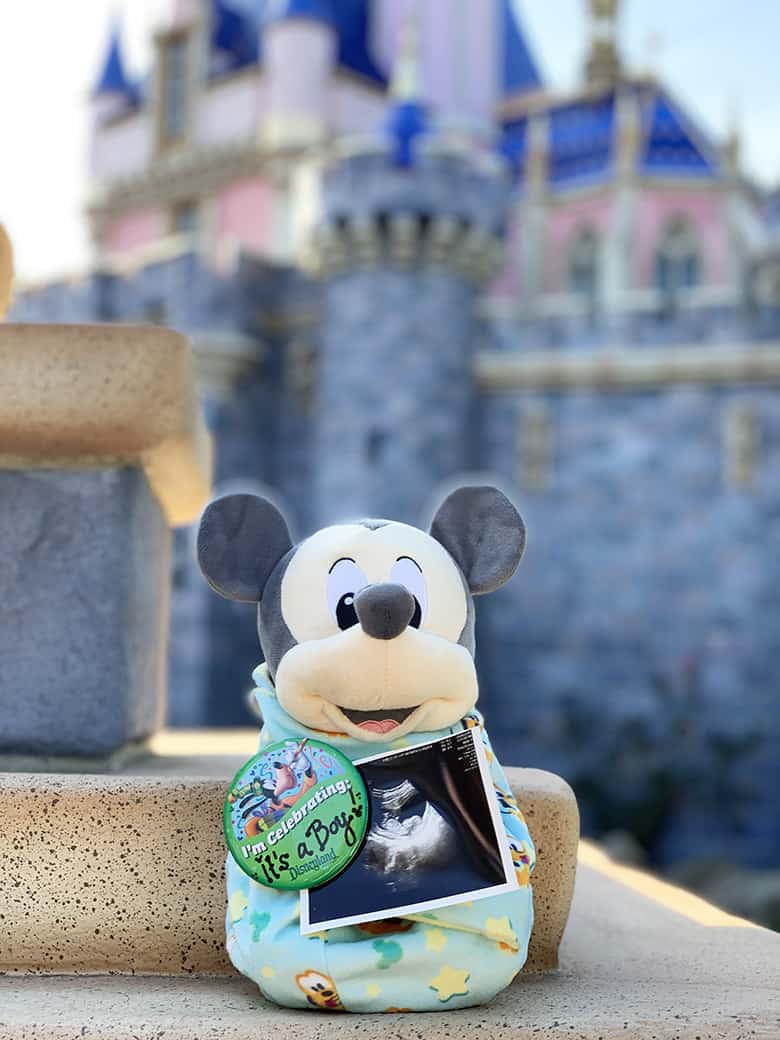 Tip: to get castle pictures without anyone in them, go from the side!
And yes, we knew half these shots would be useless when it turned out to be the other gender. But we couldn't resist having a Disney-themed announcement!
If you're interested in doing a maternity shoot or baby announcement, don't forget to bring your ultrasound photos!
3. Go with your kids, or bring relatives with kids to make your park experience more magical.
It was so fun to have my mother-in-law and niece with us. And my niece was a brave little thing, riding single-rider on roller coasters that I couldn't and Jared didn't want to go on!
And speaking of Brave…my niece was dying to meet Merida on this trip. We finally found her the second day and Merida walked through half the park holding my niece's hand!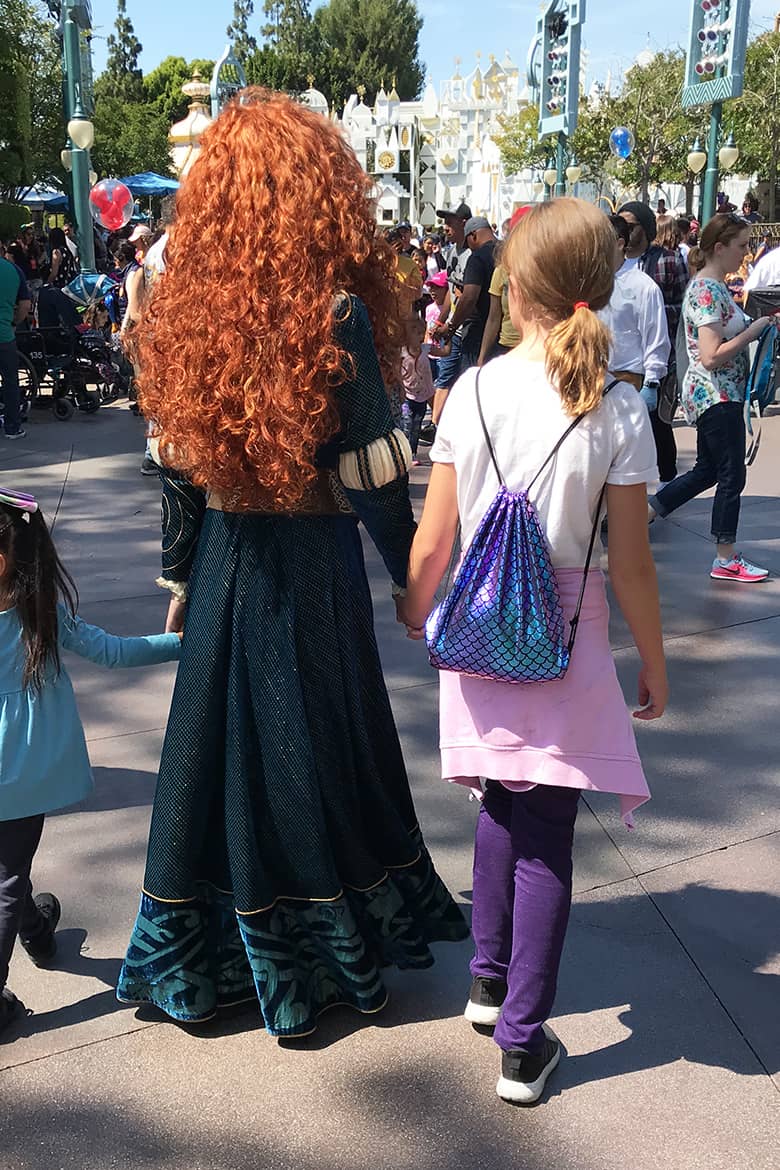 Getting to enjoy those kind of experiences vicariously through children makes Disney that much more fun as an adult, especially a pregnant one!
4. Eat. Obviously.
Oh my goodness. Eat all the things. This is my new favorite thing about going to Disneyland (and especially Epcot in Disney World! Have you tried the egg rolls from China?). And Disney has something for everyone–and something for every pregnant woman. I wouldn't say I've had crazy cravings with my pregnancy, but certain things definitely taste better. Specifically, salt…mmm. 😋 Those Mickey pretzels with super-salty cheese dipping sauce? And giant dill pickles? Yeah, I could go for two of each right now, just thinking about it.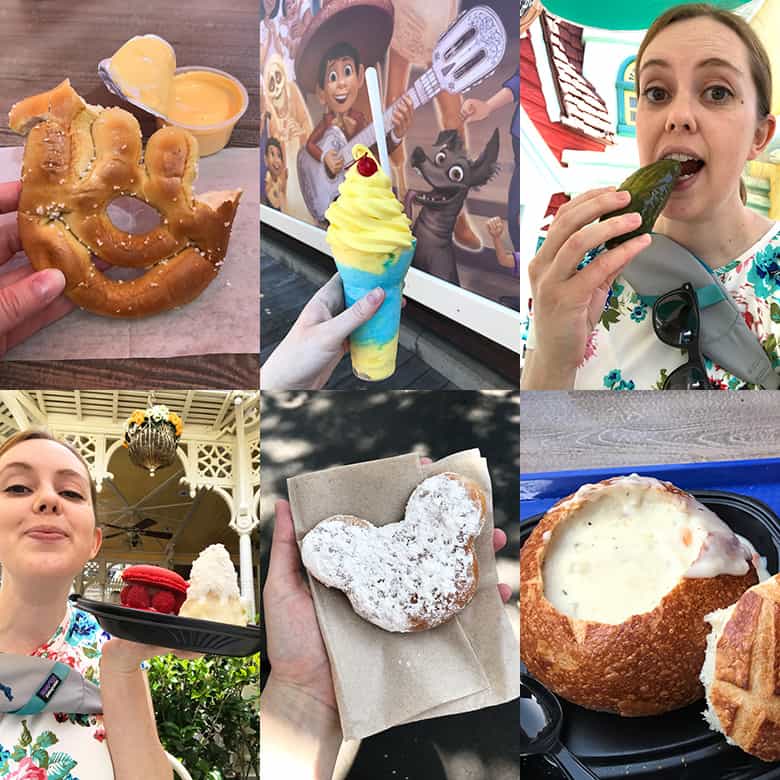 But, if you're on a super responsible pregnancy diet (good for you, I'm jealous of your willpower!), Disney has tons of healthier snacking options, too. Mm, like all the fresh fruit carts. I could also go for a fresh pineapple skewer right now. Or a Dole Whip (which is still fruit, right? 😉). Um, I think we can safely say that I'm just hungry all the time now…
P.S. I totally recommend using the app for finding all the food you want! I did some research a few days prior to our trip (priorities), made note of a few must-haves, and used the app to remember where I could find them in the park.
5. Relax and rest often!
Since when do you ever just get to sit back and have a relaxing Disney vacation?! There's always so much pressure to go, go, go. But this time you have an awesome excuse, so milk it! Take your time, avoid the crowded lines, find a bench in the shade, and don't be scared to split from your family from time to time.
FYI, wait times for meeting characters are much nicer than for rides, and the line is often indoors or shaded! Take advantage of that this trip! Also, consider going to the shows and maybe a dining experience (read reviews first, because, unfortunately, I don't recommend the Frozen dining experience we did in California Adventure–even if it was nice to be seated indoors for awhile and have second row seats for the Frozen play).
Ah, Disney vacations are the best. And I firmly believe you can have just as much fun while pregnant as all those times you've been when you're not–maybe more-so, when you realize it'll just be a different kind of Disney experience.
(But seriously, the snacks and the food: I still dream of this. It's a pregnant woman's paradise. You just can't go wrong.)
Have you been to the Disney parks while pregnant? What are your tips? Share in the comments!