If you're just getting started with quilting, the list of necessary tools and supplies can seem daunting. But I'm here to tell you only the most basic essentials you need as a beginner quilter–and the 3 must-have tools I recommend above all others!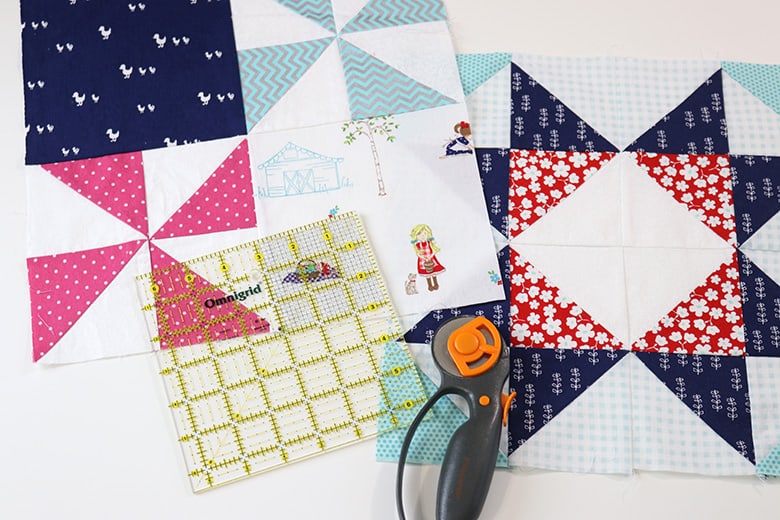 I made my first quilt in middle school and fell in love with quilting–even though I had no idea what I was doing. But I decided it was something I wanted to keep doing, so I asked my parents for some quilting supplies for my birthday that year. That's how long I've had some of these tools, and I use them in just about every sewing project I do–quilt project or not!
If you're just learning how to quilt, there's a lot of information out there on the right way to do things and what tools you must have to get started. It might even be what's keeping you from learning how to quilt.
But you know what? Only three of those tools are what I would actually call "quilting essentials." Invest in those and you're halfway there to creating your very first quilt!
This post contains affiliate links. For more information, see my disclosures here.
The 3 Must-Have Quilting Tools
For your first quilt, you will need:
Well…that was easy! But there's a little more to it, which I'll get into. And this is assuming you already have some basic sewing supplies (which, you probably do if you feel ready to tackle a quilting project). But let's chat a little more about this…
1. The cutting mat
You want one that is self-healing and at least 18 x 24″ in size. (I feel like a mat any smaller than this would make cutting full yards of fabric difficult.) I linked to a 24 x 36″ mat above, simply because I now feel like that would be the perfect size for me–it'll probably be what I get when I finally upgrade from my current mat (which is the original I got in middle school!).
Actually, my dream craft room would have a giant cutting mat that sits on a permanent cutting table–like I had in my middle and high school sewing rooms and like they have in quilt shops. One day.
As for small cutting mats, I'm sure they can be useful in certain situations–perhaps if your craft space is small or if you take your supplies to quilting classes or clubs. This fold-away cutting mat even has a pressing surface and convenient carrying handles, which could be nice.
Now that I've given my opinion (because I love my Olfa cutting mat!–but I know I'm biased), I'll let you decide what's going to be best for you.
Again, if you're getting this primarily for quilting I recommend at least an 18 x 24″ mat. But, if you plan on making one quilt and then using the cutting mat for other crafts, you may find another size suits your needs better.
Here are some other cutting mat options that might be worth looking into, depending on what you're looking for:
2. The ruler(s)
Next, you're going to want to find a basic quilt ruler. And wouldn't you know, there's a million options again. But I'll help narrow it down.
I started with a 6 x 24″ Omnigrid ruler and it's definitely still my most-used quilting ruler–and the one I recommend you start with! I like this ruler particularly for its length, which is nice for cutting large pieces of fabric.
The most similar Omnigrid ruler to mine on Amazon is this 6.5 x 24″ ruler, so if you're purchasing from Amazon, I'd recommend getting this one (you're not going to notice a huge difference in the extra half inch, and in fact might come to love your rulers that go to the half inch for seam allowance purposes).
The reason I don't recommend the 6 x 24″ ruler on Amazon is that I don't like the look of the dot markings quite as well–I feel like it wouldn't be as easy to read for some reason. (I know, I'm picky! But at least I'm telling you honestly!)
If you're looking for more of a variety pack when starting out, this set has some nice options:
Then there are square rulers, which are super handy when squaring up square quilt blocks. I'd also recommend a variety pack for this:
Finally, I'll mention that there are triangle rulers, which are fun for certain quilt patterns (though, you might want to save those quilt patterns for later, unless it's designed for beginners).
Besides those rulers, there are tons more that are made for specific quilt blocks and patterns. Feel free to grow your quilting supplies later on, but all you need to start is one good and versatile quilting ruler! While it can be useful to have a variety of rulers, I can still perform 95% of quilting/cutting tasks with this one ruler!
3. The rotary cutter
Finally, the super important rotary cutter. This, in combination with a quality cutting mat and ruler, is what gives you perfect, straight cuts that are so essential when piecing a quilt. Hobby Lobby has a basic video tutorial that can give you at least an overview of how to use these 3 quilting tools together:
A rotary cutter with a sharp, quality blade is important for safety (and you can easily purchase replacement blades when needed). Also for safety, you want to make sure your rotary cutter has a safety button that allows you to retract the blade, because these blades are super sharp! (Ask me how I know…)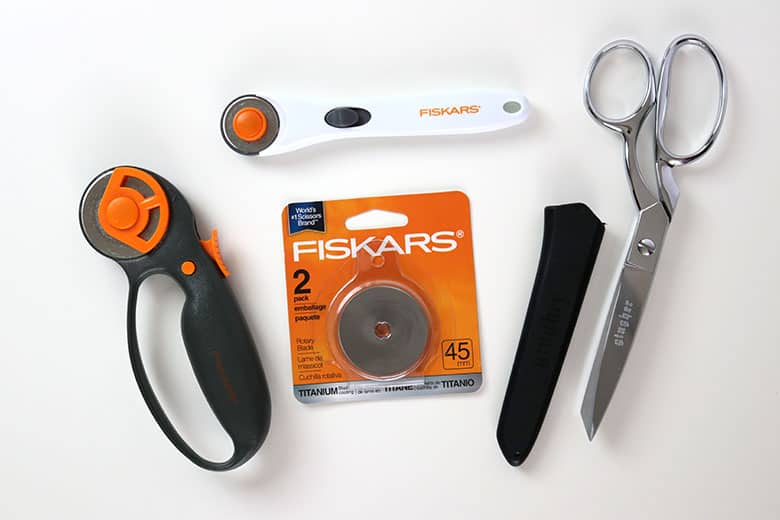 I personally use a 45 mm Fiskars rotary cutter. I recommend 45 mm to start, as it's the most versatile size.
A 60 mm rotary cutter is useful for cutting thicker fabric but you lose a little bit of control with the larger diameter. I have a small 28 mm rotary cutter that I bought for detail cuts, but I rarely use it, to be honest.
Olfa is another great brand of rotary cutters and they have several different style options:
That last one comes in aqua, pink, or purple. (Cue the heart eyes!)

Okay, there you go! The three most essential quilting supplies. If you want to make it super easy on yourself, you could get this starter kit that comes with all three:
But now maybe you're wondering…
Why are these the 3 quilting tools I couldn't live without?
I use these for every sewing project, not just my quilts! When I'm making a pillow cover (which could arguably be called a mini quilt sometimes), I use these tools. When I need to cut fabric straight for any reason, I use these tools. Sometimes I even cut out patterns with the mat and rotary cutter.
Basically, even if you don't have plans to quilt regularly, these three tools are going to get plenty of use with other sewing projects and crafts!
Ah, I love them. Seriously couldn't live without them.
Other quilting essentials
Like I said before, I'm assuming you already have some sewing essentials if you're contemplating a quilting project. Here's a quick list of other supplies that will come in handy when sewing a quilt (in no particular order):
steam iron and ironing board: I've heard amazing things about

this iron

–it's definitely on my wish list! If you're short on space in your craft room,

this ironing board

would be a great option.
sewing scissors: I love my

Gingher sewing scissors

! You definitely need a pair if you're doing any kind of crafts that require cutting fabric. (If they start to get dull, ask your local fabric or quilting store if they can sharpen them for you.) I also keep a fine pair of scissors on hand–I love

these ones

for detail work!
sewing machine
sewing machine needles: There are ones

like these specifically designed for quilting

, which is what I use when I'm sewing a "quilt sandwich" or the binding.
1/4″ sewing machine presser foot: Many, if not all, of the quilt patterns I've come across require 1/4″ seams. I made an entire quilt in high school with the wrong presser foot and it still bothers me.
pincushion:

This magnetic pincushion

is available in lots of cute colors, or there's always the

traditional pincushion

you see at your craft store.
seam ripper: If you're prone to losing small things, you might as well get

this bulk pack

for the same price as one! But

this looks like a really fun kit

…that I now need to add to my wish list. 🤣
measuring tape: A

retractable measuring tape

is handy, but my go-to is

one like this

.
marking pens: I use both

water-soluble pencils

and my favorite

disappearing ink pen

.

quilting gloves

: I've actually never used these, but I hear they're great for maneuvering your quilt in your machine, especially for free-motion quilting. I need to try them…but gloves never fit me right because my fingers are super long… #truestory
I know that looks like kind of a long list, but most are pretty basic supplies you probably already have on hand. Start with the basics and don't overwhelm yourself! I seriously hope you give quilting a try!