Envelope closures are the easiest way to make your own DIY pillow covers! I use this for all my throw pillows and love how quickly they come together. This is a great tutorial for easily customizing your decor on a budget.
When asked what my favorite craft is, I usually respond with "sewing." And then people ask what I like to sew and for some reason I never know what to say.
"Um…I just sew…things…"
"Not clothes! No, no, I'm terrible at clothes."
"Unless it's an apron. I can make aprons."
"Um, sometimes I quilt. My craft closet has at least 5 unfinished ones at any given time…"
"Um…I collect fabric? Does that count?"
And…I feel like that's how the conversation always goes. And yet, sewing really is my favorite! I love the feel of the fabric going through my machine and being able to make something awesome from a few scraps of fabric.
Maybe I don't know how to respond because I really do just like to sew a lot of little, different things! I've made bags, little embellishments for holiday decor, quilts, stuffed animals, curtains, tea towels, and random gifts for friends.
But when I really think about it, my favorite thing to sew–by far–is pillows! And technically, they're pillow covers. I don't know why I always forget to mention that I love to sew pillows.
Why do I love sewing pillow covers? Because they're like mini canvases that can be switched out for any holiday! I love designing them, making them (because they can be made in a day or less), and then seeing that pop of color and holiday cheer on my living room couch.
One year for Christmas, I made a set of monthly pillow covers for my parents and another set for my brother and sister-in-law. 24 pillow covers! That was a lot of work, but so fun! And I love going home and seeing that pillow still in my parents' front room.
Pillow covers are a great sewing project for beginners, and this is a super simple method of making them! There are definitely fancier ways of sewing pillows, but an envelope closure is still my go-to. It's quick, easy, and inexpensive–all of my favorite things!

This post contains affiliate links. For more information, see my disclosures here.
What you need to make an envelope pillow cover
a

pillow form

*–I recommend going to a craft store to look at sizes/quality if you're new to this, but I'm totally buying this bulk option next time!
fabric–how much depends on your pillow size, but I'd say at least a 1/2 yard (keep reading for exact measurements)
sewing machine
*I primarily use 16″ pillow forms, but 14″ is fun too, so I'll give measurements for both in this tutorial (if you have a different size pillow form and are struggling to figure out the measurements, leave a comment below and I'd love to help!)
Tip: If you plan on sewing more than a few times in your lifetime, I highly recommend investing in a cutting mat, ruler, and rotary cutter. I use these in almost every sewing project I make!
---
Learn more in my Essential Quilting Tools post!
---
How to make an envelope pillow cover
1. Measure your pillow form
Even if I already know the size of my pillow, I still like to measure it myself because different brands and fills can yield slightly different measurements. I especially measure pillow forms that I've had for awhile (that might have flattened since I first bought them).
To measure, I like to wrap my sewing tape measure all the way around the middle of the pillow form and divide that number by two.
2. Determine your fabric measurements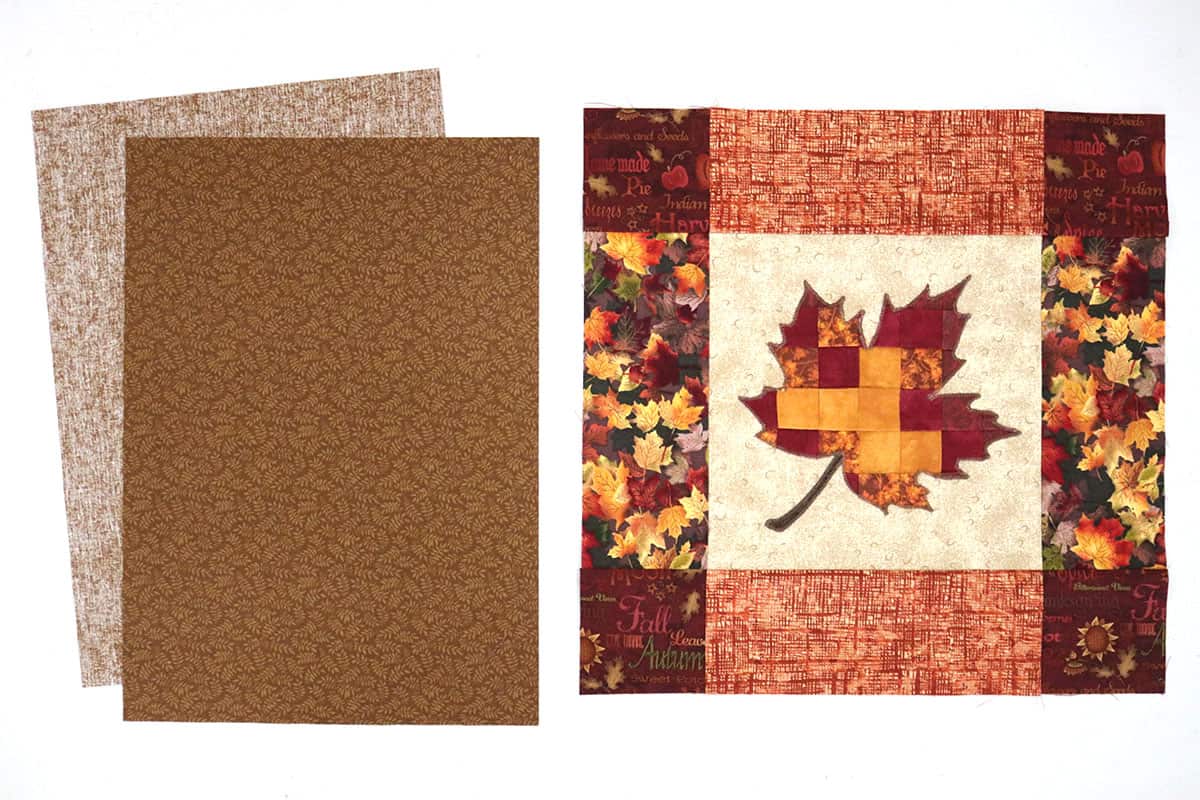 For this type of envelope closure, you need one front panel and two back panels. The back panels overlap to create the envelope closure.
Front panel measurements
If you want a snug pillow cover, make your front panel the same length and width as your pillow form. So, if my pillow form is 16×16, a snug front panel should measure 16″ x 16″.
However, I usually cut my fabric to allow for seams, so I would add 1/2 inch to that measurement (because I use 1/4 inch seam allowances, and you want to account for both sides). So, I would cut my fabric to be 16.5″ x 16.5″ for a 16×16 pillow form. This is totally personal preference!
Back panel measurements
The length/height of your back panels will be the same as the length/height of your front panel. So, this would be 16″ or 16.5″ for a 16×16 pillow form, depending how snug I'm making the pillow cover.
To determine how wide each back panel should be, you want to divide your pillow form size by 2, add 1/2 of your desired overlap width, and add 1 inch for seam allowances and to finish the edge.
For a 16×16 pillow form, I know that I like to have a 5 inch overlap of the back panels. So this is how I do the math:
16 divided by 2 = 8″
8 + (1/2 times 5 inch overlap) = 10.5″
10.5 + 1 inch seam allowances = 11.5″
So I will need two panels, each measuring 16.5″ x 11.5″. Fairly simple math, yeah?
To make it even easier for you, here are some quick measurements to reference for 14″ and 16″ pillow forms:
14″ pillow form
regular front: 14.5 x 14.5
regular back: 14.5 x 10 (this is a 4 inch overlap, which I think is perfect)
snug front: 14 x 14
snug back: 14 x 9.5
16″ pillow form
regular front: 16.5 x 16.5
regular back: 16.5 x 11.5 (this is a 5 inch overlap)
snug front: 16×16
snug back: 16 x 11

Keep in mind that these measurements are not hard, fast rules, but more of a guideline. Practice with them and see what you prefer, as far as snugness and overlap, and then make your own notes to reference.
3. Wash, iron, and cut your fabric
You always want to wash fabric before sewing with it, to test for shrinkage and to prevent colors from transferring to other fabrics (or to your clothing or couch, in this instance).
Once washed, iron and cut according to measurement guidelines above.
4. Finish one edge of each back panel
The finished edge will be on one of the long sides. This is what will show on the back of the pillow once it's complete, so you want to make sure it's finished for a neat look and to prevent fraying.
I use a simple "turn and turn again" method to hide the raw edge.
First, I fold over the edge (wrong sides together) with a 1/4″ turn. A seam gauge comes in handy for this. Press with your iron, measuring as you go.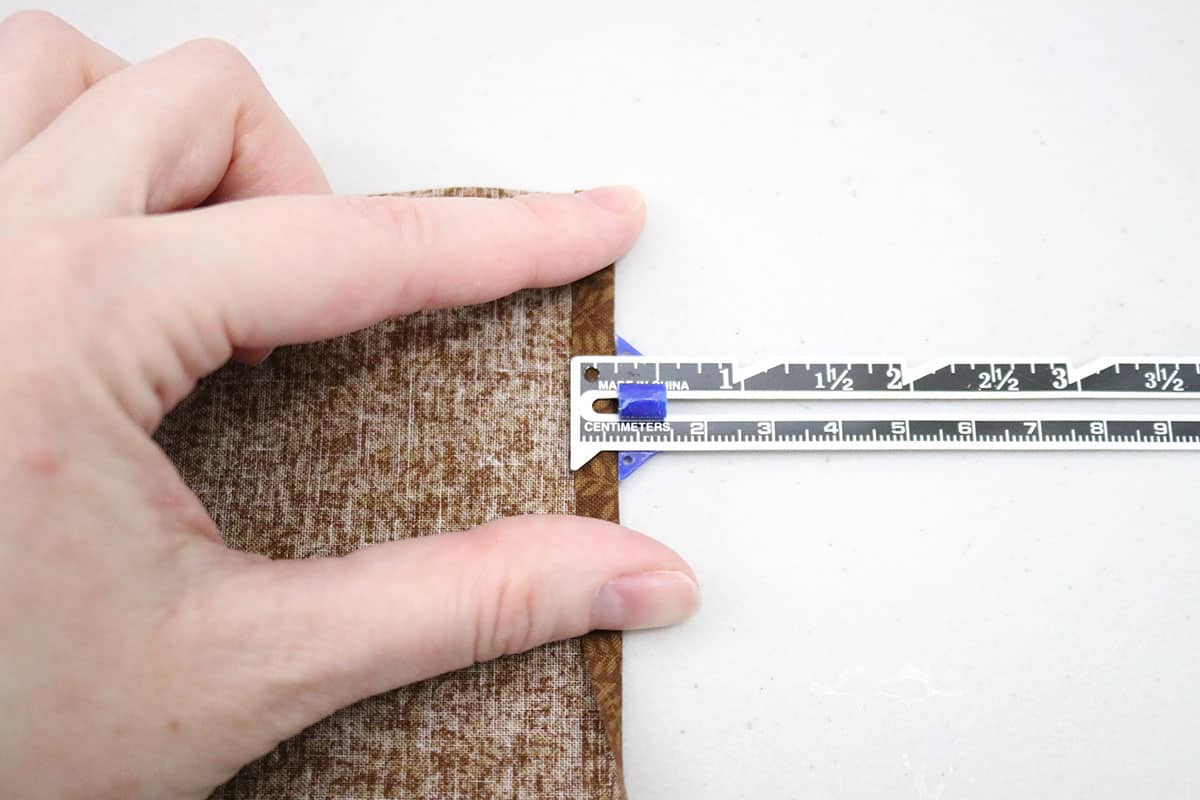 Fold the edge over again, this time 3/8″. Press with your iron, all the way down the long side of your back panel. Repeat with the second panel.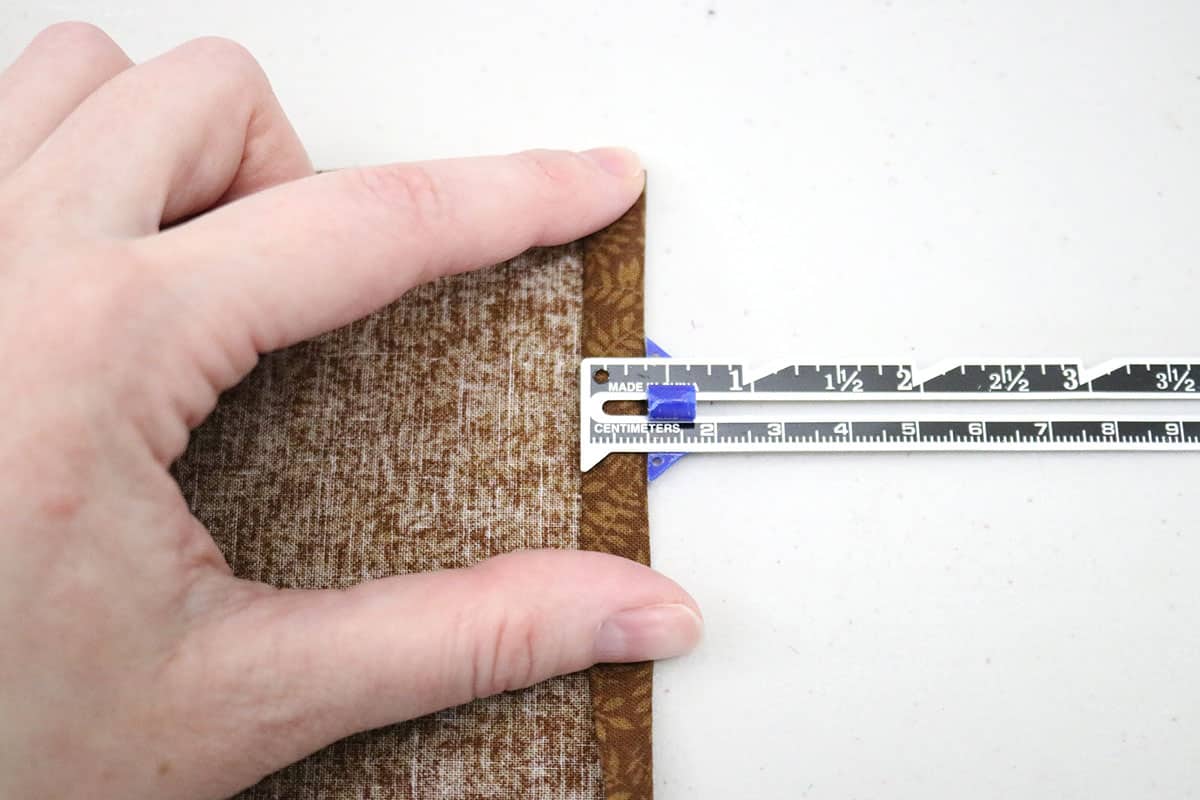 To complete the edge, sew a straight line all the way down the folded side.
I like to sew on the right side of the fabric so that my bobbin thread is underneath (because I don't think it looks as nice as the top thread). If you sew yours this way, just make sure your stitches are catching all layers of the fold. I use a 5/16″ seam allowance, which is what my basic presser foot is and it's just right for this.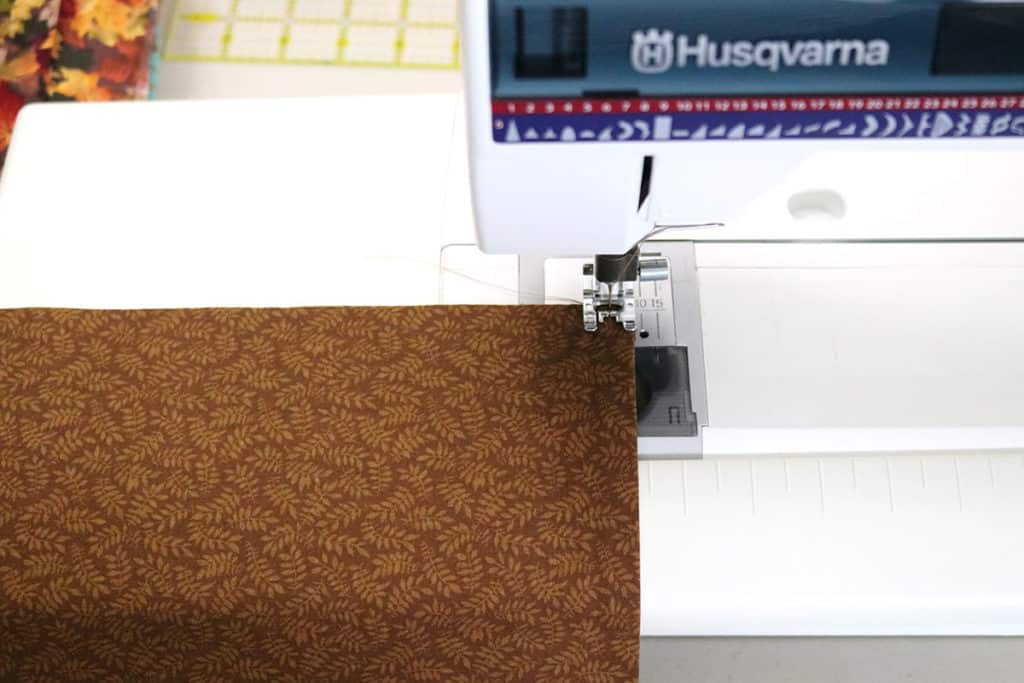 5. Lay out your back panels and front panel and pin
Okay, I'm making this its own step because this can be easy to mess up. It's simple…but…I have done it wrong more than once because I wasn't thinking and had to unpick my seams. (face palm)
Lay your first back panel on top of your front panel RIGHT SIDES TOGETHER. This back panel (whichever one is in direct contact with the front panel) will end up ON TOP, overlapping the other back panel.
The back panel that you lay down on the left side will become the RIGHT panel of the back of the pillow. (I kind of forgot about that when I was making this pillow, because I usually prefer the left back panel to be the one overlapping the right…oh well, not a huge deal.)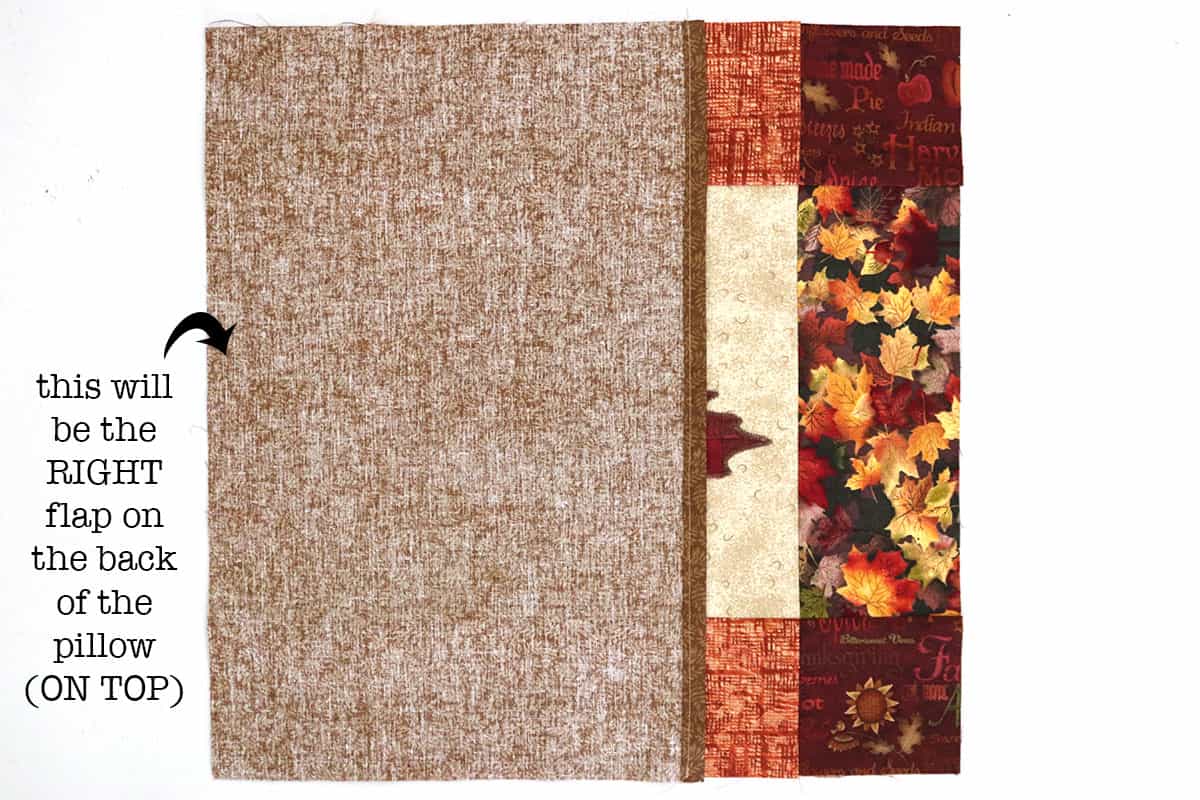 Lay down your second panel and pin the edges. Make sure that your finished edges are in the middle of the pillow, as shown!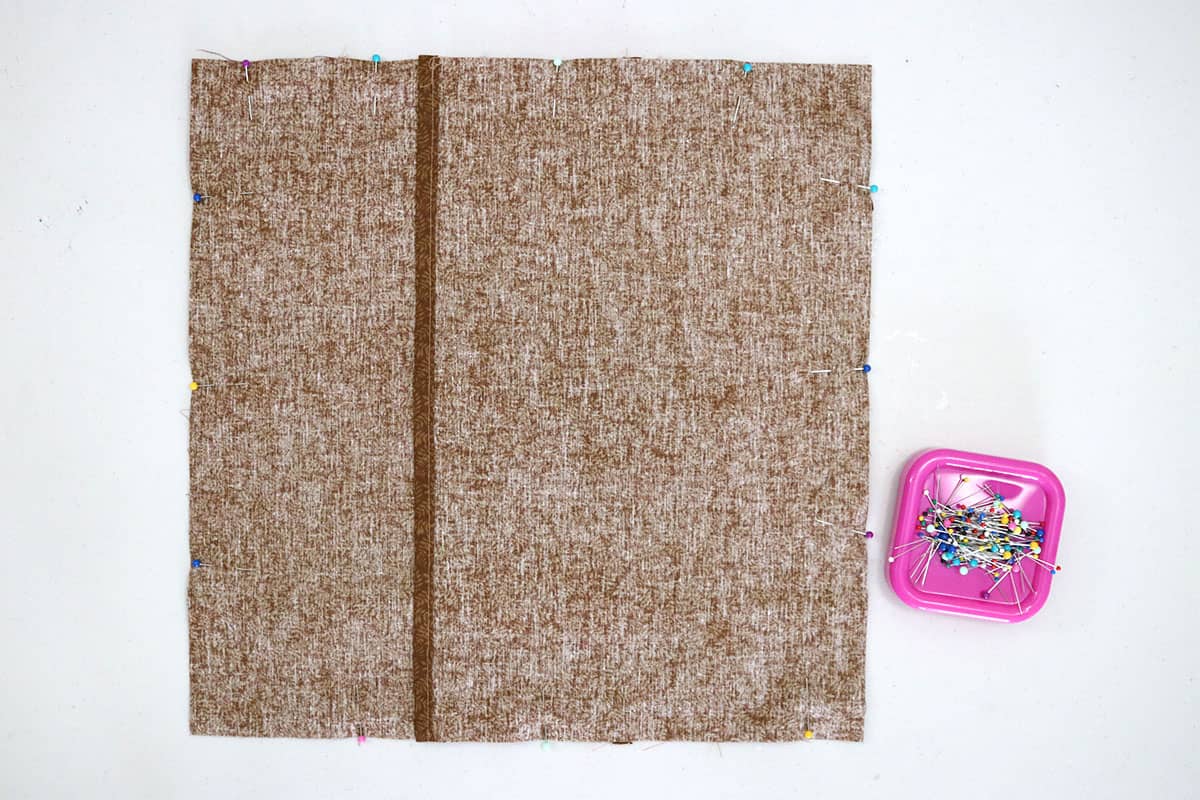 Note: If you want your envelope closure to open top to bottom, you're welcome to adjust the direction of the panels accordingly. I just always do side-to-side because that's what I prefer.
6. Sew around the edges of the pillow cover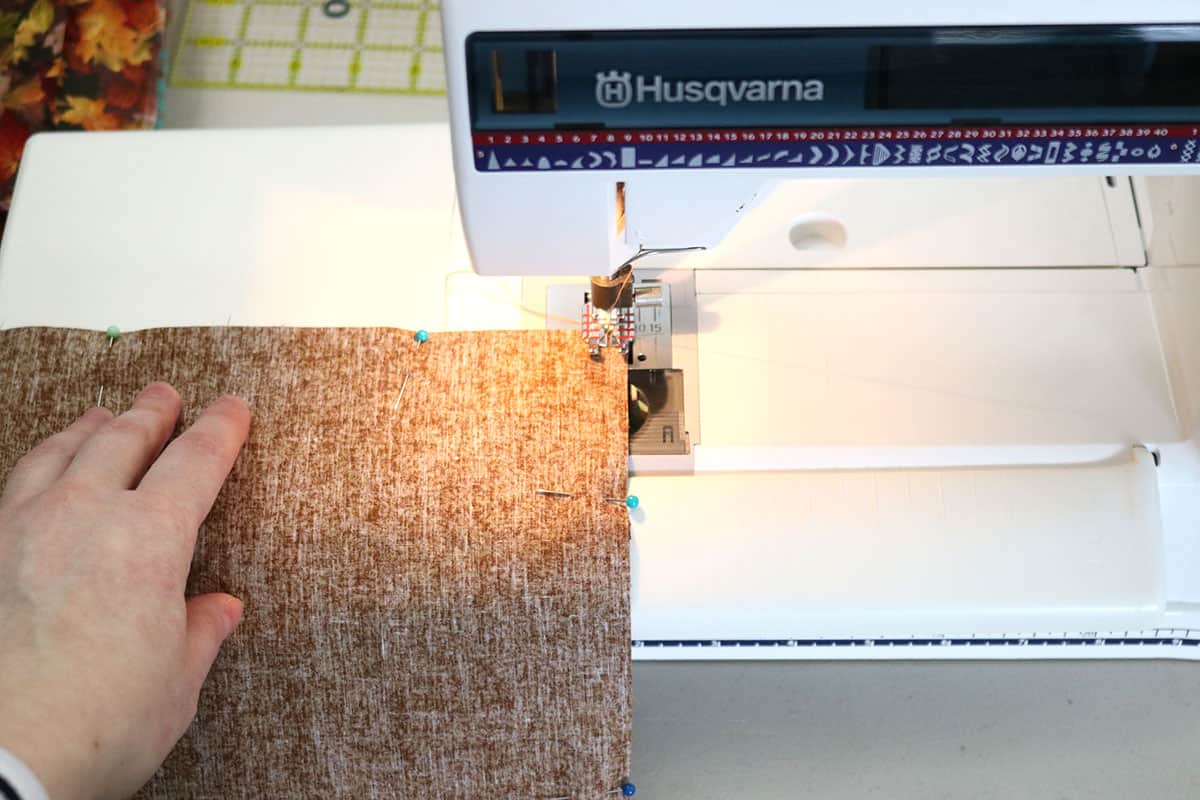 Sew around the edges with 1/4″ seam allowance (if you look closely, you'll see I changed my presser foot to my 1/4″ presser foot). Remove pins as you go, and backstitch at the start and finish.
If you want to serge or zigzag the sewn edges to prevent fraying, go for it. I usually don't, though, unless I know it's a pillow cover that will get a lot of wear and will need frequent washing.
And you're done!
Turn the cover right side out, pull the corners out with a pin, and put it on your pillow form. I told you that would be quick and easy!
The front: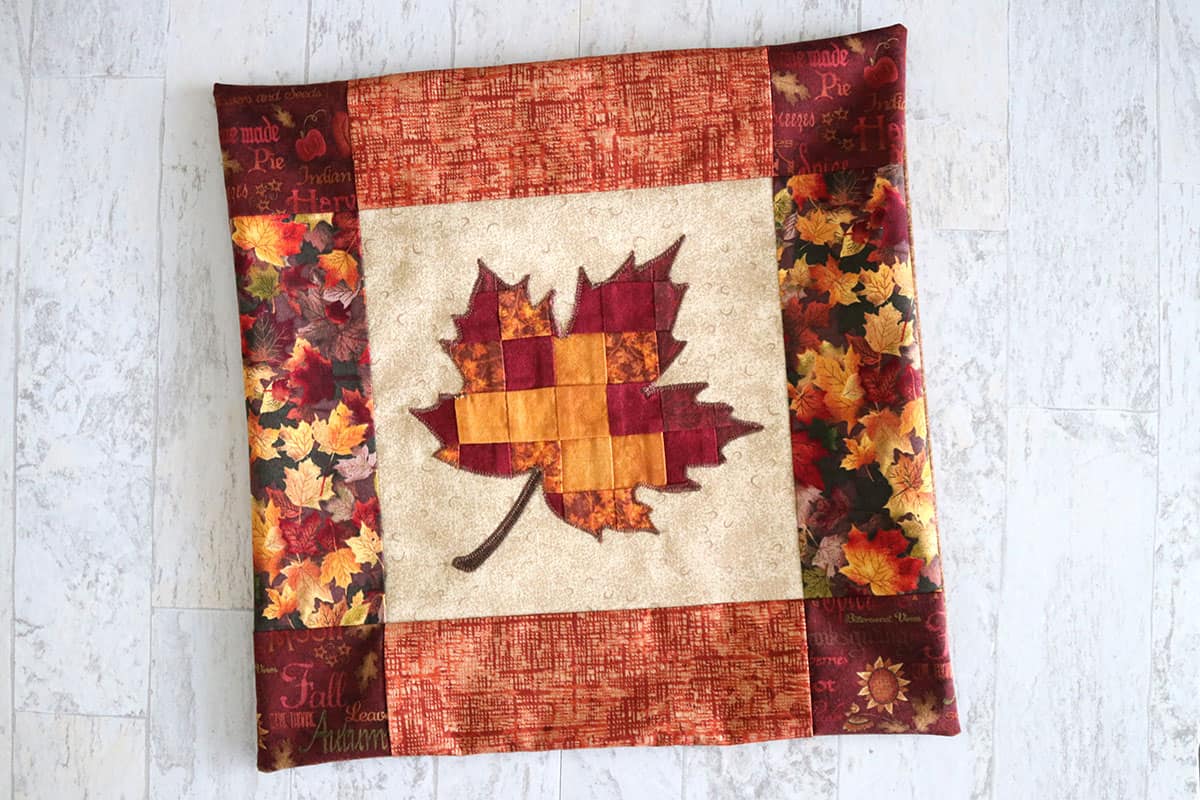 And the back: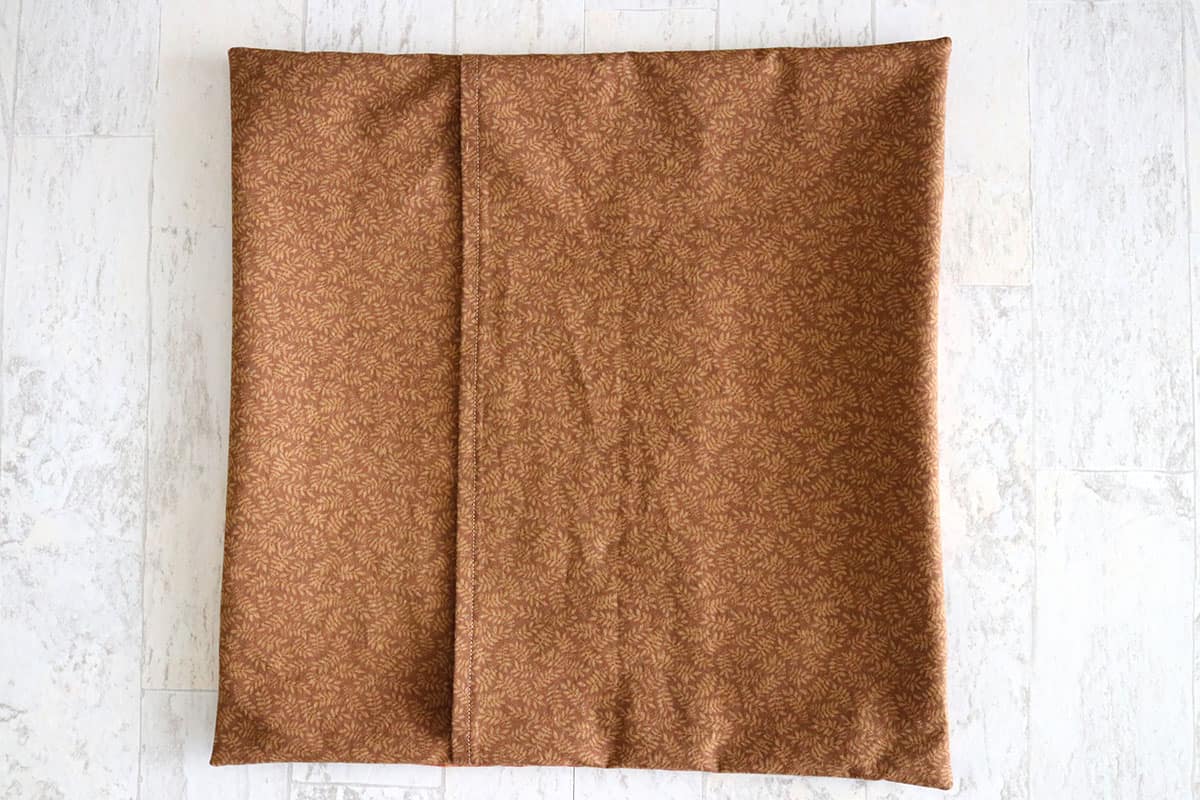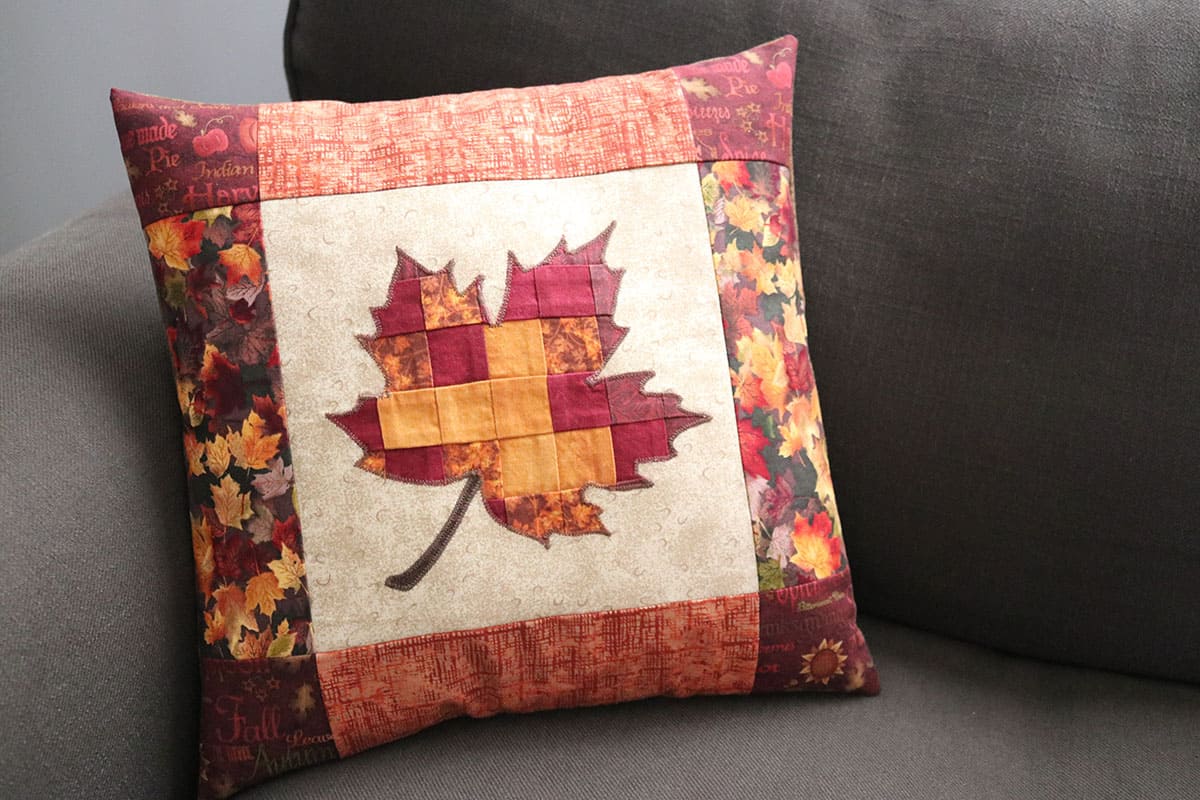 Ahh! I love how this pillow turned out! And it took me hardly any time at all to complete that envelope closure!
If you're curious how I made the front with the fun patchwork leaf appliqué, I use the same method in my Shamrock Patchwork Appliqué Pillow, so go check it out!

I hope this has been a helpful tutorial. I can't wait for you to save money by creating your own interchangeable pillow covers, not to mention the space you'll save from not having to store tons of pillow!
If you have questions, leave me a comment below! I'd love to hear your thoughts.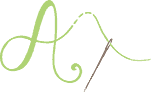 Don't forget to pin and save for later!