Make an easy keepsake craft, card, or scrapbook page with ghost footprints! This is a fun Halloween craft for kids–and parents and grandparents will love it too!
I love little hand and footprints. But if you know babies, getting a handprint is nearly impossible–I learned that last Christmas when I tried to make a handprint ornament with my newborn son!
This year, I wanted to do something fun for the grandparents for Halloween, so my son and I made these adorable ghost footprint cards for them! Footprints are way easier to get than hands (though chances are they'll still be imperfect if your child is little, but that's ok–it will still be adorable!).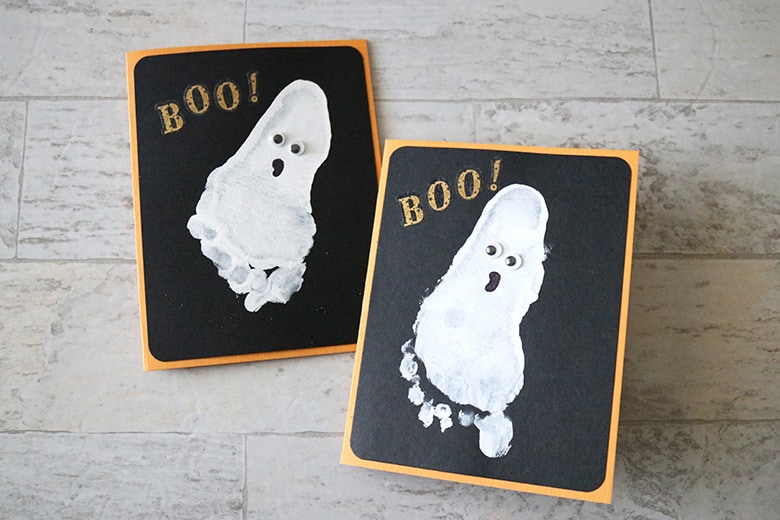 This post contains affiliate links. For more information, see my disclosures here.
How to Make Ghost Footprints with Kids
To do this craft, you will need:
black cardstock (a black-painted canvas would be fun, too, if you want to make a more permanent piece of art)
a foam brush
black Sharpie
baby wipes or wet paper towels close by for quick cleanup!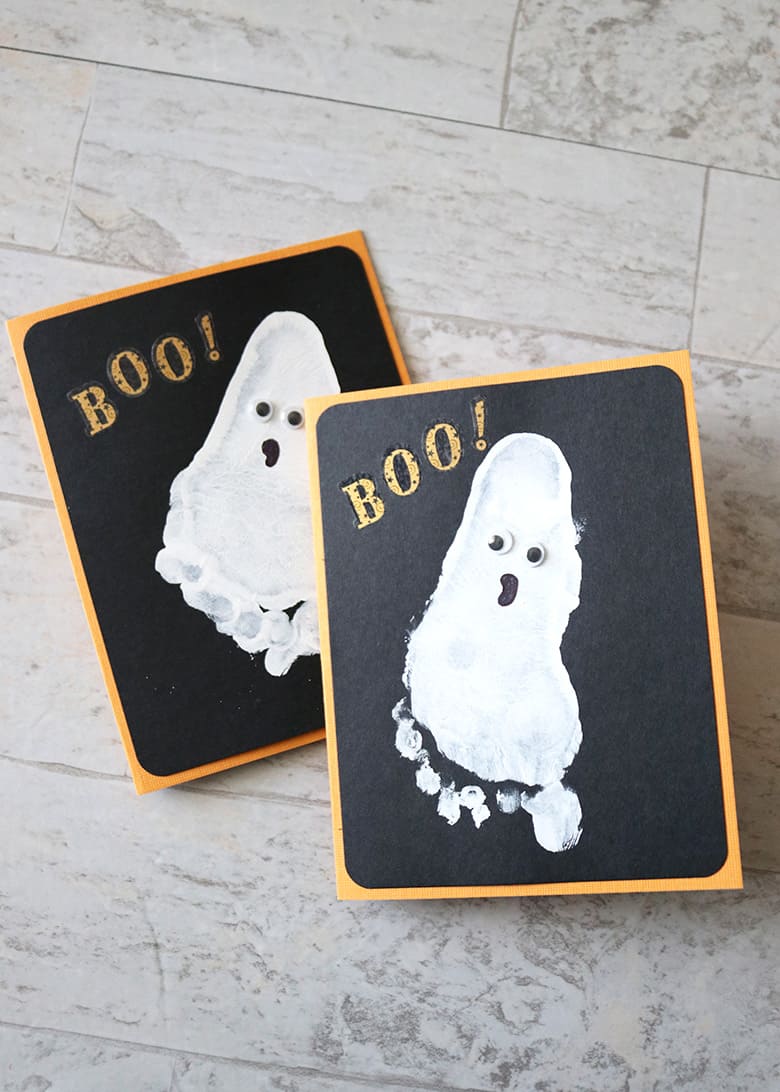 Place a sheet of black cardstock on the floor (or a table if you'll be lifting a baby). Working quickly so the paint doesn't dry, brush paint onto your child's foot with a foam brush. Stamp their foot onto the cardstock, keeping them as still as possible, making sure to press all their toes to the paper. Lift their foot up as straight as possible to avoid smudging. And then quickly wipe their foot clean with baby wipes!
If the footprint didn't transfer as neat as you would've liked, feel free to repeat this process. Or, you can take a paint brush and carefully fill in some of the missing spots (which I did).
If you're doing multiple feet, only do one at a time and wipe clean in between to keep paint from getting anywhere else. If you're stamping the same foot more than once, reapply paint in between.
If your child is really young or extra wiggly, an extra pair of hands wouldn't hurt for this painting process!
Once the paint is completely dry, draw a mouth: kidney bean shapes or o's work well for ghost mouths. Stick on two googly eyes (these ones linked here have adhesive backing already, but you can also use glue dots).
To finish, crop the cardstock and mount it to a card. Add a "Boo!" sentiment with letter stickers. You can see more card-making tips in this post: How to Make Handmade Cards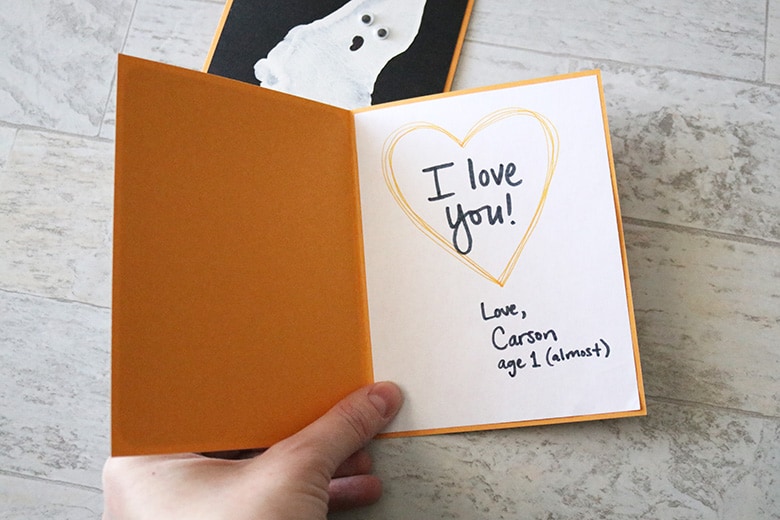 I even made a "Carson Original" logo sticker for the back of his cards…I thought it was funny. 😉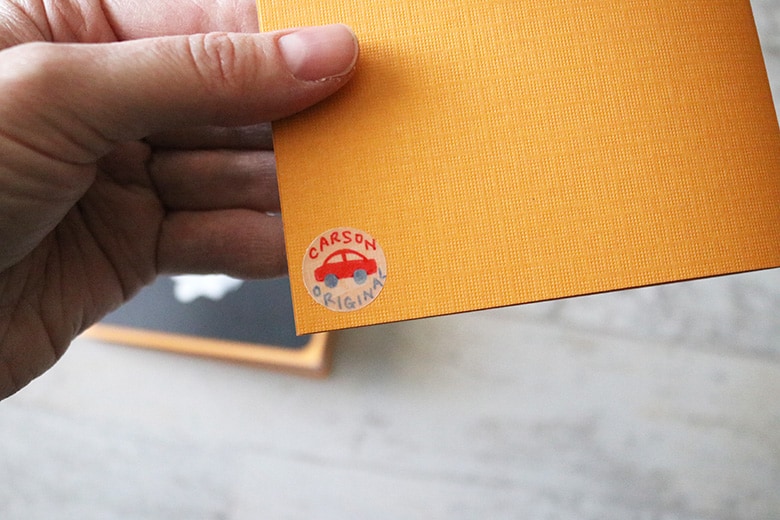 And because I wanted to have my own set of ghost feet, I stamped my son's feet to another blank sheet of cardstock to make a Halloween scrapbook page later on.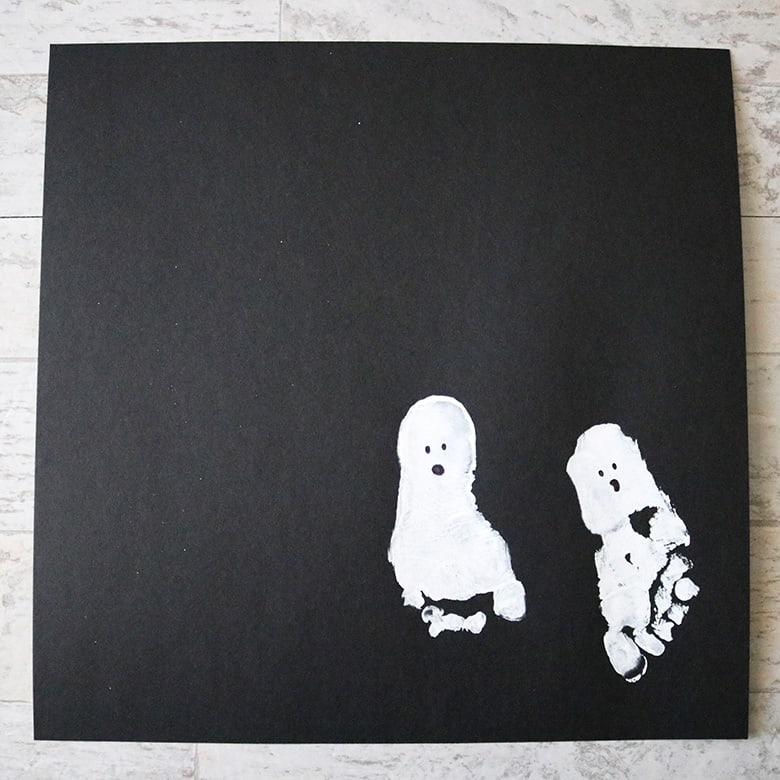 I mean, come on: those little ghosts are adorable! I had to have my own keepsake from this craft project!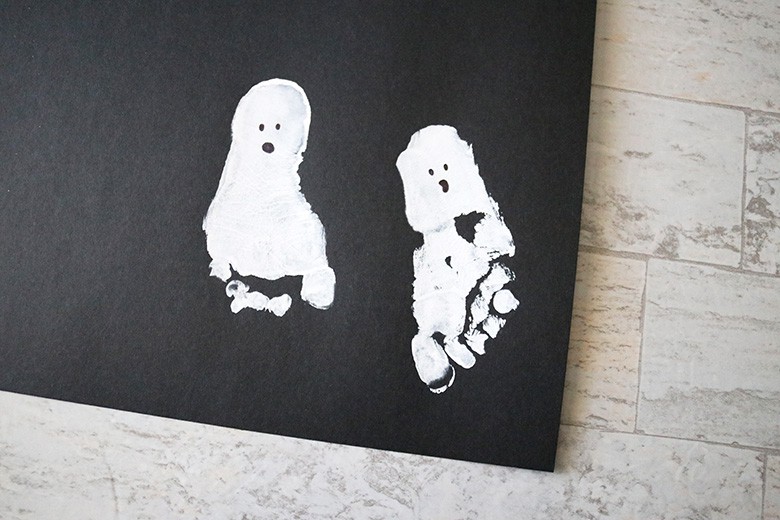 Easy Ghost Footprint Kids Craft
And there you go! Such a fun way to document your child's growing feet in a fun, Halloween-themed craft project!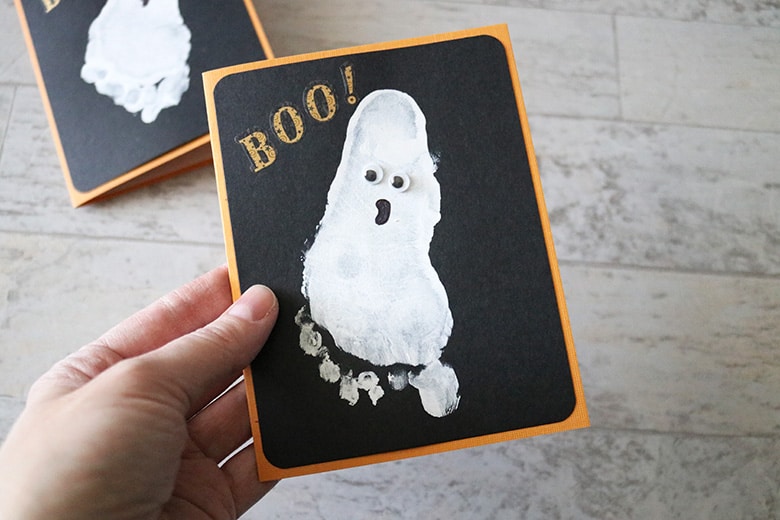 I hope you love doing this with your child. Aaand…hopefully the mess is minimal! 😉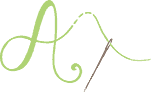 Don't forget to pin and save for later!