Make an easy floral centerpiece for fall in a faux pumpkin! This is a beautiful way to incorporate florals into your fall home decor!
This pumpkin floral arrangement is so gorgeous! I'm kind of in love with it, and especially with how easy it was to make.
I've actually had all the materials for this project since last year but I was too intimidated by it to start. Don't be like me! It's seriously the easiest craft I've made in awhile. And the best part is it only takes about a half hour to complete.
This pumpkin arrangement looks awesome on my entry table but would also make a great fall centerpiece on a dining table—it would be perfect for Thanksgiving!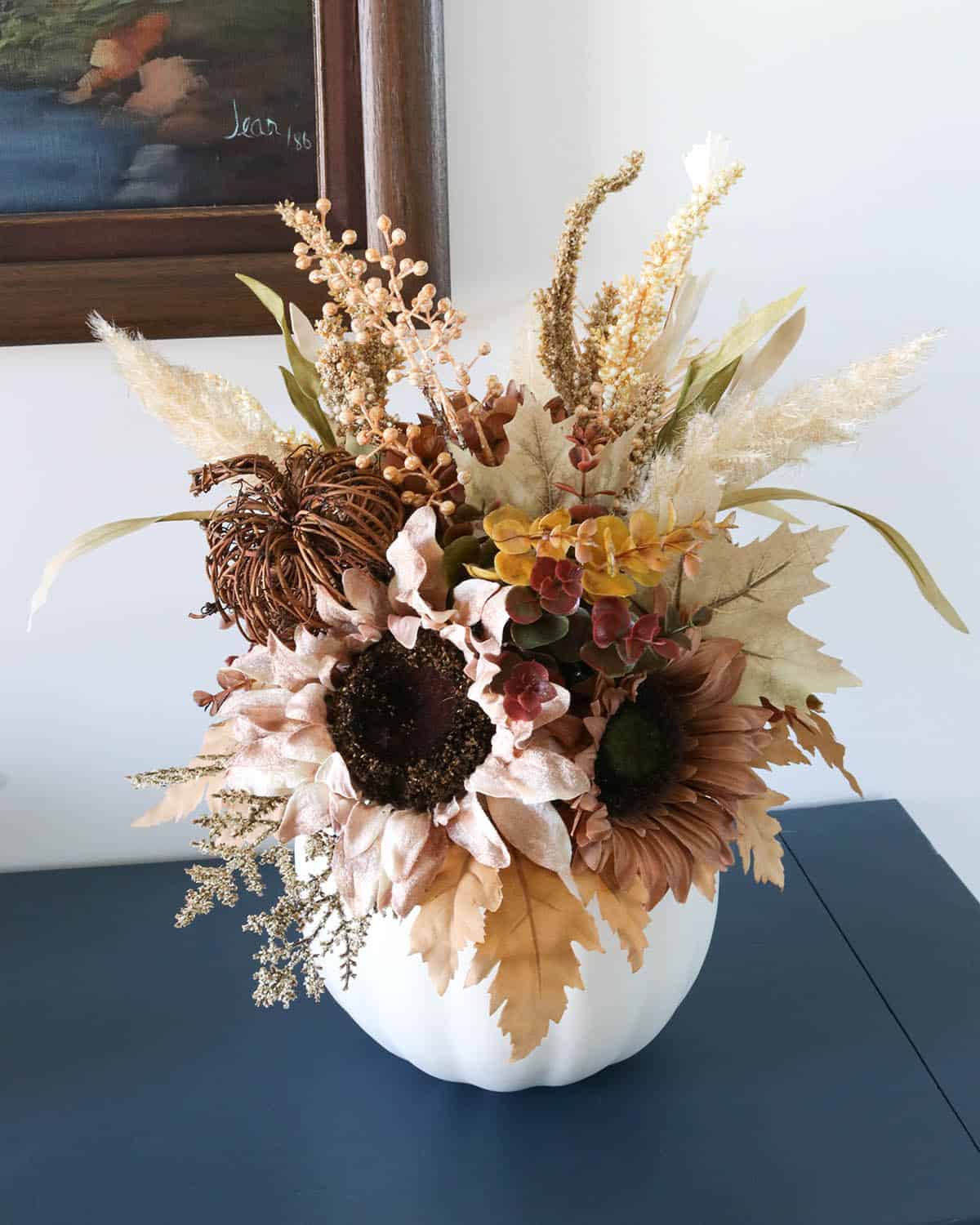 This post contains affiliate links. For more information, see my disclosures here.
---
More posts you'll like: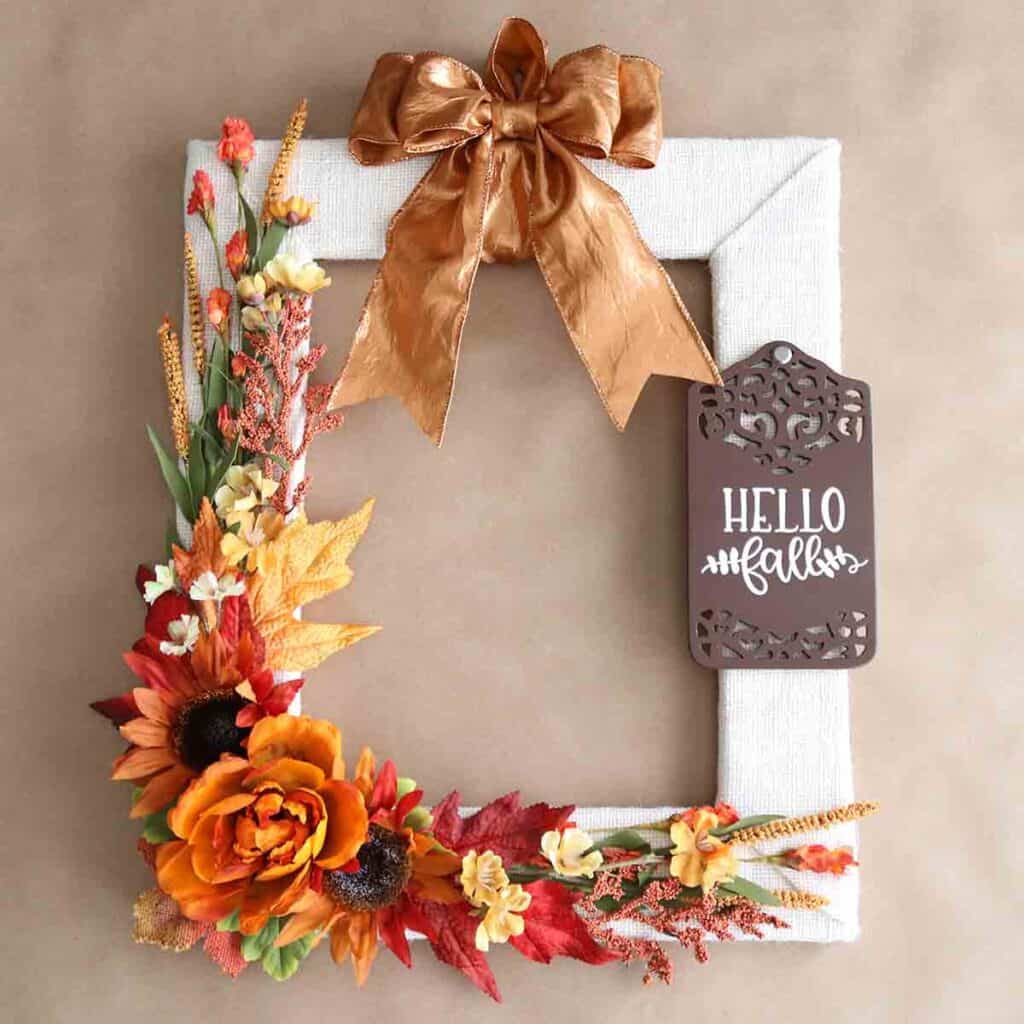 ---
Craft supplies needed for a DIY pumpkin flower arrangement
8-9″ faux pumpkin: I chose a white pumpkin that's entirely foam (this is the easiest option). If you can't find a foam pumpkin, a hollow craft pumpkin will also work but you will need floral foam and hot glue as well. You could also make a similar arrangement in a small pumpkin, you just won't use quite as many florals.
faux florals: You want a variety of fall florals for this arrangement. I used two large sunflowers as focal points, eucalyptus sprays, hydrangeas, taller wispy sprays for different heights, fall leaves, and a pumpkin pick. I love the muted blush and brown tones of the florals I used (I feel like it's neutral enough for the whole season), but you can also go with more traditional fall colors.
wire cutters and/or scissors
I spend a lot of time in the Hobby Lobby floral department during fall. It's my favorite time of year to buy faux florals, because there's always tons of variety. I recommend waiting until they're at least 40% off, and if you're shopping at the end of the season, you can often still get some picks at 75-90% off (that's the best time to stock up!).
Can you make a fall flower arrangement in a real pumpkin?
Yes! You can even use fresh flowers if you want. If using real flowers, you will have to carve and hollow out your pumpkin so you can put a vase inside the pumpkin to keep your flowers watered and looking fresh. Keep in mind that the pumpkin and flowers won't last nearly as long as a faux arrangement, but it would still be great for something like a party or wedding. (White roses or peach roses in a pumpkin would look so gorgeous for a fall wedding!)
If you want to use faux flowers, carving the pumpkin isn't necessary. Simply remove the stem and attach a block of floral foam to the top of the pumpkin (you can use tape or hot glue). Then you can create an arrangement similar to the one I have here, sticking your faux flower stems into the foam. This will last through the fall season but you will have to discard the pumpkin afterwards (or use it for pumpkin pie if it's edible!).
If you're looking for an even easier option, you could always purchase a pumpkin vase for your fresh flower arrangement!
How to make beautiful pumpkin flower arrangements
If you're a visual learner, definitely watch the video tutorial—it's not long, I promise! I think it'll help explain things a little better, but you can also read the instructions below.
Prep your pumpkin
If you're using a solid foam pumpkin, all you have to do to remove the stem is twist and pull on it and it'll pop right out. Easy peasy.
Carvable pumpkins will require a little more work to get ready: you'll have to carve the pumpkin top off with a sharp knife and then hot glue a block of floral foam inside of the pumpkin. Only remove as much of the pumpkin as you need to be able to insert the foam—if you make the hole too large, you'll have to use more florals later to hide it (and you can always carve the foam down a little to fit).
At first I didn't realize that my pumpkin was solid foam so I attempted to carve it, which is why you see cut marks. This wasn't the worst thing, though, because it gave me a line that I kind of used as a guide for where to place everything (you don't have to do that, though).
Add faux florals
This part is so satisfying, especially if you're using a pumpkin like mine. Basically, just start placing the floral picks in a circle around the top of your pumpkin, sticking them into the foam. Feel free to use my exact arrangement as inspiration for where to place your picks.
If you're struggling to get the entire pick through the foam, pull it back out and trim the end with wire cutters. I trimmed a lot of my picks down, but don't trim any of the tall ones yet because you're going to want the extra height!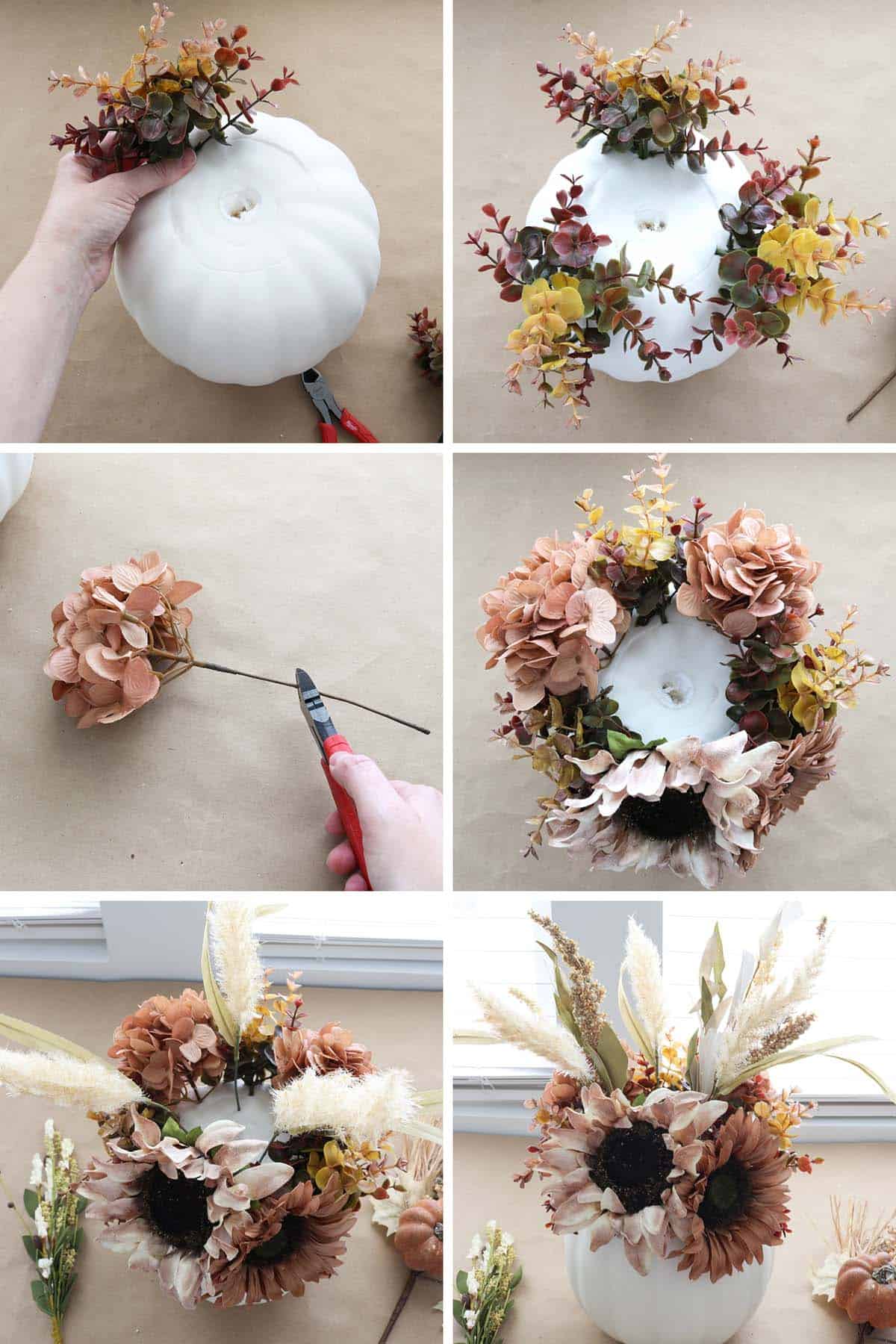 I honestly didn't know what I was doing yet, but you're kind of working in three sections: filling in the base of the arrangement (it'll look like a ring of flowers on the top of the pumpkin), then filling in the middle with both short and tall picks, and finally adding a "collar" of leaves and delicate picks underneath the base of the arrangement.
Fill in the base
I figured the eucalyptus fillers would look good at the base of the arrangement so I spaced three out evenly.
And then I chose a front* for my pumpkin and placed my two large sunflowers for the focal point. I used hydrangea picks to fill in the gaps at the base.
*Your arrangement may or may not have a front like mine. I designed this knowing it would go on my entry table, but if you're creating a centerpiece you may want to make your arrangement a little more symmetrical. (That being said, mine still looks good from any angle really—you really can't go wrong here.)
Fill in the middle
I put some fluffy grass pieces in the middle (which I separated), along with some other tall picks to give my arrangement some height variation.
I used a bigger floral spray to fill in the middle but later on separated all the pieces to use individually. If you're using pre-made bushes or sprays and they're looking too flat in the arrangement, you may also want to separate them.
Fill in any big gaps at the top of the pumpkin with more picks: I used hydrangea picks and an extra sunflower.
Feel free to add a non-floral embellishment, like the little stick pumpkin I used.
At this point, I wasn't loving the position of everything yet, so I played around with it a bunch. The foam pumpkin makes it super easy to make changes and swap things out. Keep playing with it until it looks good to you.
Add a "collar"
Next, you'll want to add some picks around the base, kind of like a collar. Delicate, wispy picks look great here, as well as fall leaves. Add as many as you want to complete your pumpkin.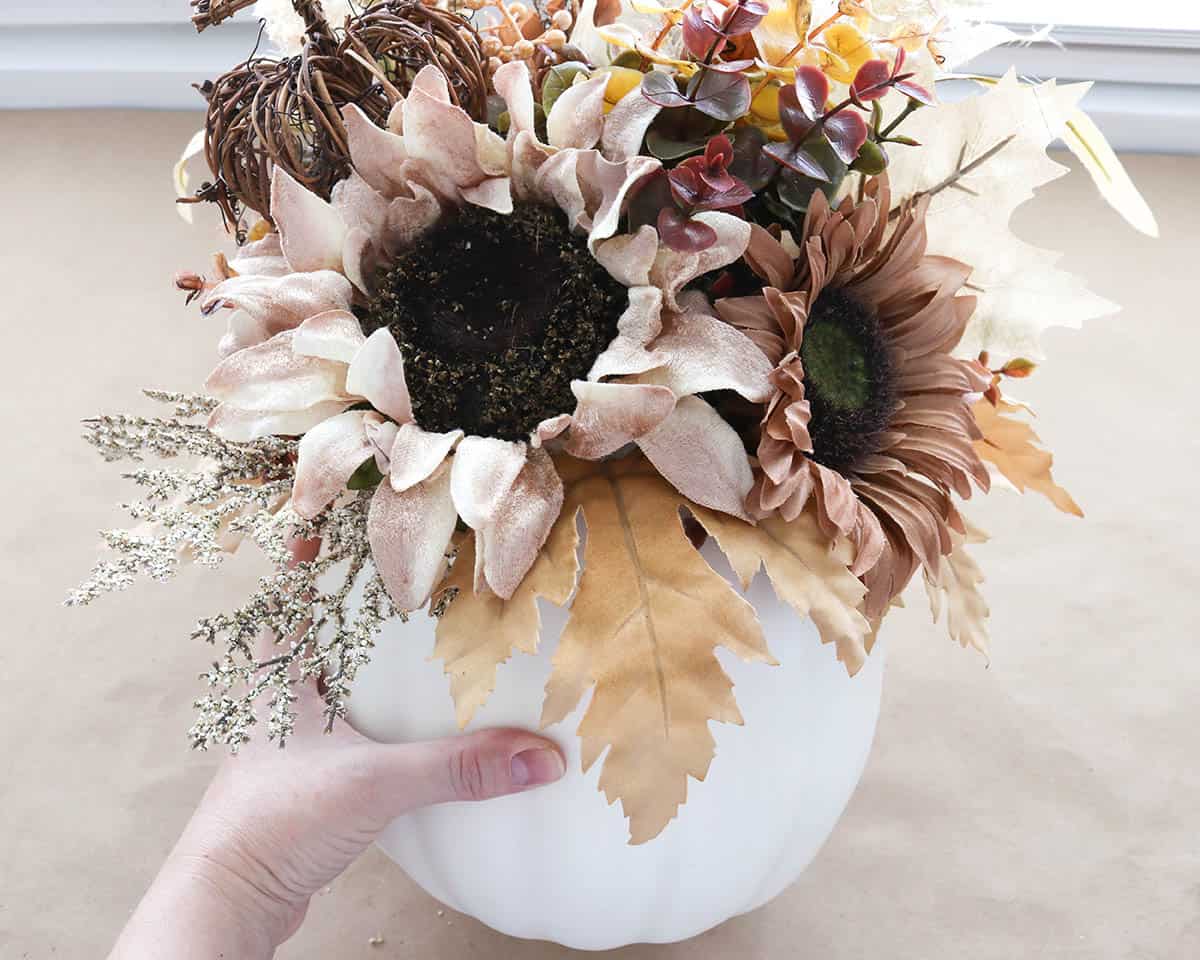 My leaves actually came attached together on a bush, but I had previously separated them, so I didn't really have a pick to stick into the pumpkin, just the little plastic end of the leaf. I used a discarded pick end to poke a hole in the pumpkin before pushing the end of the leaf into that and that worked great. If you absolutely need to, you could use some hot glue, but use it sparingly so you don't squish your florals and lose the natural "fluffiness" of the arrangement.
Yay, and you're all done! Not too bad for my first time making a pumpkin flower arrangement! I'm excited to make another one—maybe I'll try some smaller pumpkins to accompany this one.
Here is a view from the back, since I know you're wondering:
How to make gorgeous pumpkin flower arrangements
Fall floral arrangements in pumpkins are so much fun! I hope you're running to the store right now to grab materials to make your own.
This is a beautiful way to use florals in your fall home decor and it's the perfect addition to your fall tablescape. (But don't be surprised if it outshines your prize-winning turkey at Thanksgiving dinner…sorry, not sorry.)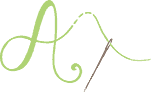 Don't forget to pin and save for later!