Learn how to make a winter pom pom wreath with this easy DIY pom pom wreath tutorial! This wreath will look great on your front door all winter long and is a great neutral wreath through the holiday season.
Remember that time I taught you how to make super easy yarn pom poms? Well, now do you want a kind of time-consuming but "oh, so worth it!" craft project to put those pom poms to good use?
I knew you would.
Check out how cute this pom pom wreath is: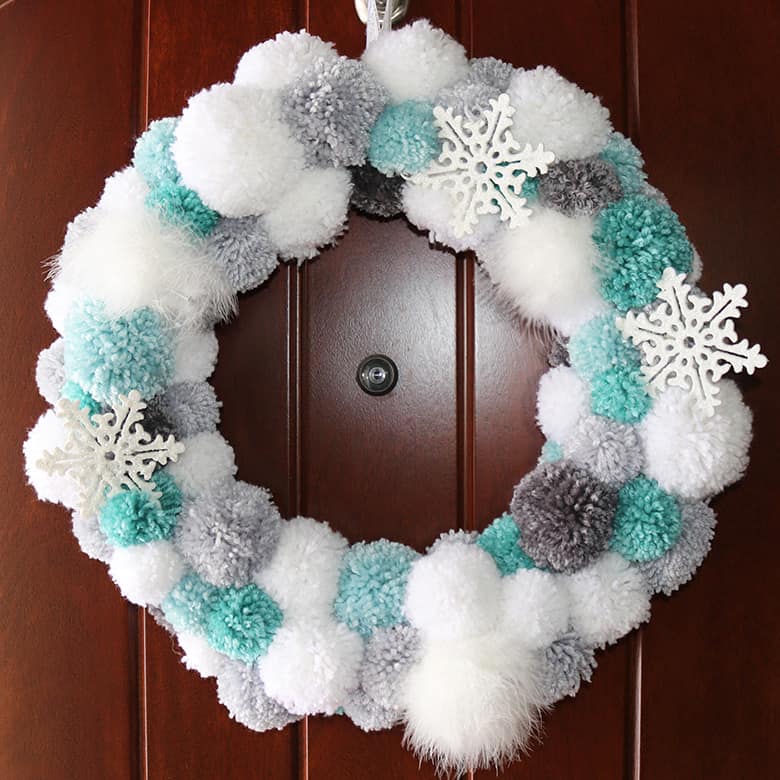 Isn't it so fun and wintery?! I love how it turned out. Even if it's only going to ever be on my front door for the split second between Christmas and Valentine's.
Keep reading for the easy tutorial!
This post contains affiliate links. For more information, see my disclosures here.
What Do You Need to Make a Pom Pom Wreath?
*always use a coupon at the craft store for the best price on wreath forms! Walmart and Amazon also carry them.
How Many Pom Poms Do You Need to Make a Pom Pom Wreath?
Depending on the size of your wreath form and the size of your pom poms, a pom pom wreath will use anywhere from 50 to 90 pom poms.
Yes, I know…it's kind of time-consuming. But I promise it's worth it! Just binge-watch Disney+ while you make them, or make a few in your free time here and there until you have enough. Or do what my sister-in-law did and recruit your kids and all their friends to help you make them!
For reference, my 16″ styrofoam wreath uses roughly 80 pom poms of all different sizes. I also used three feather balls (Christmas picks I bought on clearance), each essentially the size of a large pom pom.
Note: Because my wreath was made to hang flat on a door, I did not put any pom poms on the back of the wreath form. If you plan on hanging your wreath somewhere where you'll want to see both sides of the wreath (say a window or the back of a chair), you will need additional pom poms for the other side.
Because this craft requires so many pom poms, I highly recommend you invest in actual pom pom makers. I think it's the easiest way to make pom poms and it's so convenient having the multiple size options! (Plus, they're a cheap investment!)
How to Make a Pom Pom Wreath
There are two different methods for making pom pom wreaths. The first, which I used, uses a styrofoam wreath form. The second, which I didn't even think about as a possibility at first, would use a wire wreath form.
Steps
First, you'll want to make a ribbon door hanger. Tie a loop of ribbon around the wreath form and make a knot at the ends. Hot glue the knot, as well as the ends, to the "front" of the wreath form. This will eventually be covered with pom poms so it won't be visible.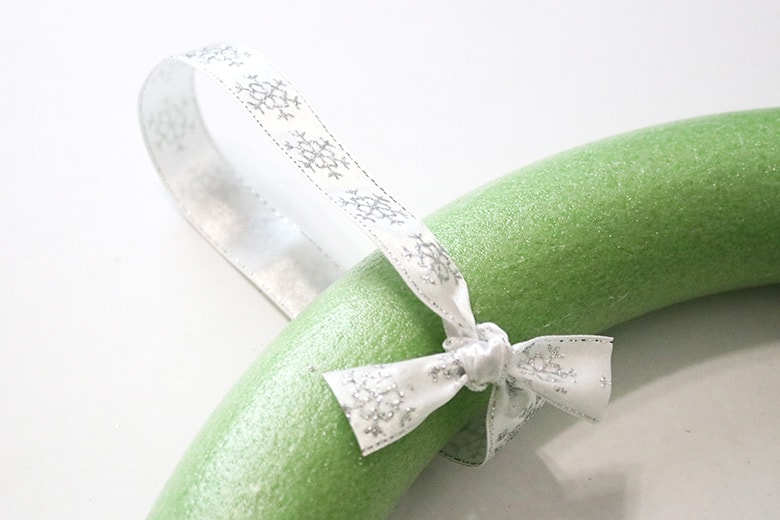 To keep the door hanger from twisting funny, hot glue the ribbon together at the top of the wreath form.
Since I only had three feather picks, I added them to the wreath form first. Simply trim the wire end with wire cutters so it's about an inch long and stick it into the styrofoam (you can add a bead of hot glue underneath if you're worried about it falling out).
Next, add your pom poms!
For extra security, I found the middle of each pom pom and hot glued them to the wreath there. (That way your glob of hot glue catches as many yarn strands as possible.)
You can start by spacing out your largest pom poms around the wreath form and then fill in with smaller ones. I kind of worked in small sections until the entire wreath form was filled, alternating sizes and colors as I went.
You'll want to periodically lay your wreath flat and view it from the side to make sure your pom poms extend far enough around the wreath form. Fill in any gaps with small pom poms.
Once all my pom poms were glued to the wreath, I decided to add a few glittery snowflake picks to solidify the winter theme.
And voila! Hang your super gorgeous pom pom wreath and make all your neighbors jealous.
How to Make a Pom Pom Wreath for Winter
I hope you give this tutorial a try and make your own pom pom wreath! It's the perfect statement decor piece to brighten up your front door (and looks so cozy and cheerful when the ground is covered in freshly-fallen snow).
Have you made a pom pom wreath before? Leave a comment below!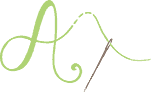 Don't forget to pin and save for later!