Learn how to make a cheap and easy fall wreath from a Dollar Tree pizza pan! Check out the step-by-step video tutorial for this diy project.
I love simple crafts that end up looking amazing (and bonus points if they're cheap!). This DIY fall sign from a Dollar Tree pizza pan is definitely one of those kinds of crafts! Who knew pizza pan crafts could be so fun?
This wreath uses simple supplies, mostly dollar store items. There are so many creative ways to turn a dollar store pizza pan into a unique wreath, but I love the simplicity of this fall one!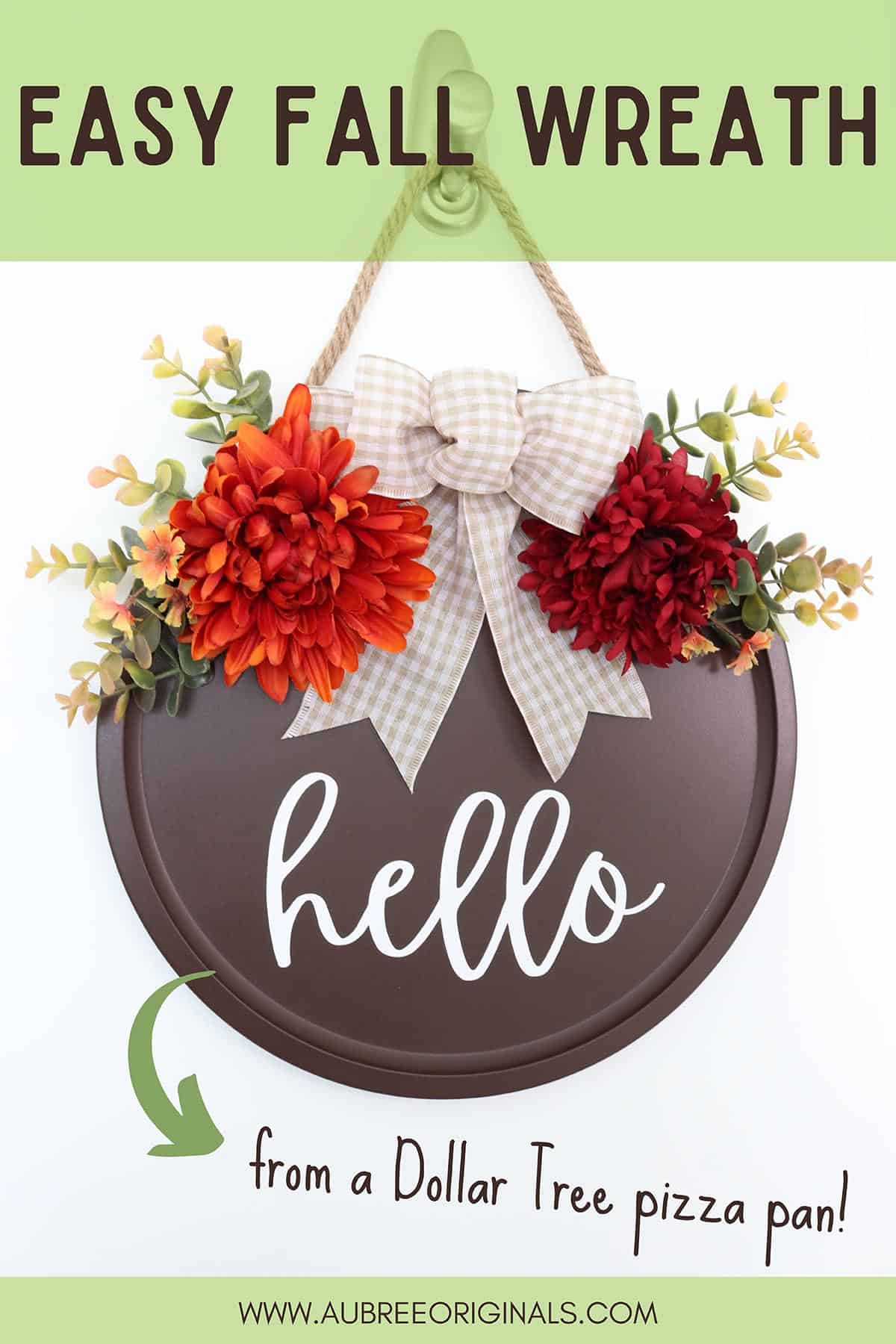 This post contains affiliate links. For more information, see my disclosures here.
---
More posts you'll like: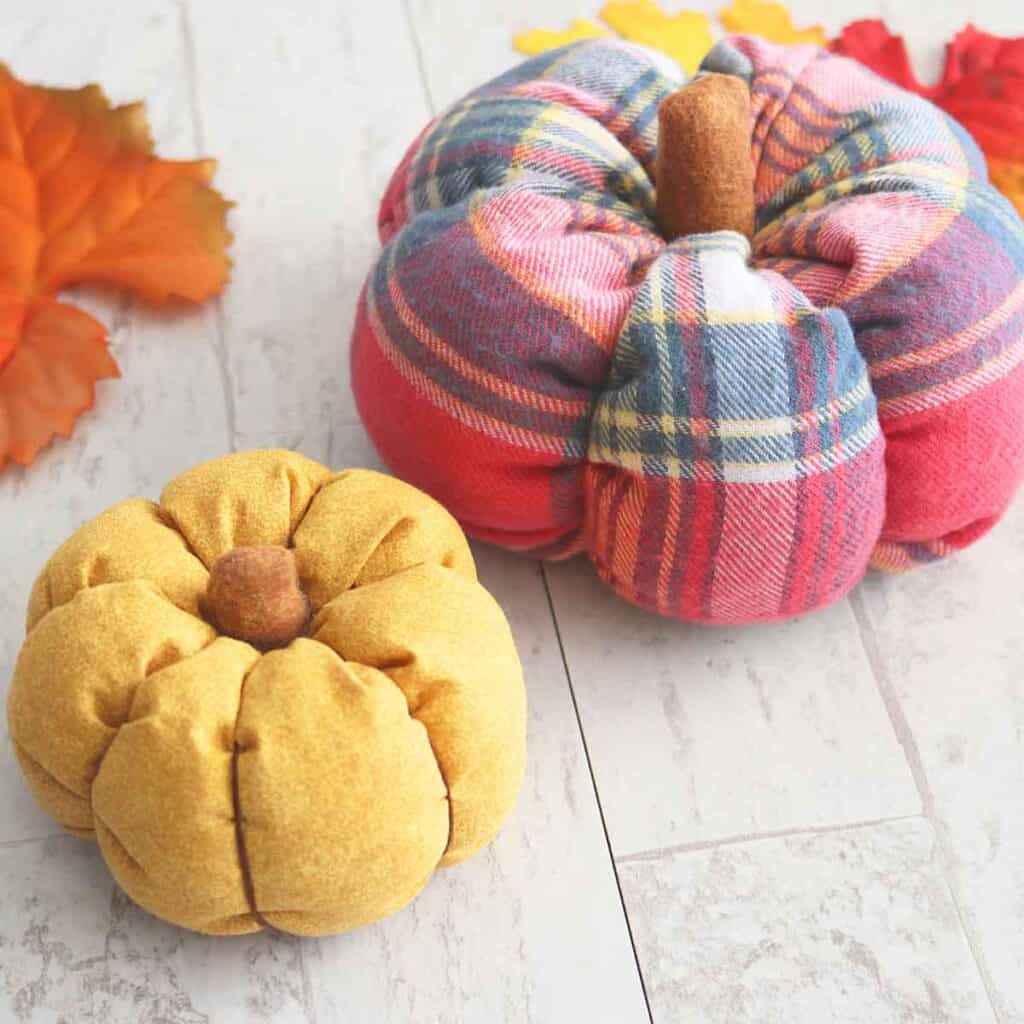 ---
Supply list: what you need to make a DIY fall pizza pan wreath
a pizza pan from Dollar Tree
spray paint: I used Rustoleum spray paint in dark brown
faux flowers: mine came from Hobby Lobby, you'll want two large ones for focal points as well as some smaller filler flowers
faux greenery: I found a wreath in the dollar spot at Target and pulled a few pieces of greenery off that
wired ribbon and half a chenille stem
nautical rope from Dollar Tree (you need about 18 inches)
a vinyl saying: I cut a piece of permanent vinyl with my Cricut, but you could also use a stencil or hand paint a phrase
E6000 glue (I used Power-Tac in the video, but I actually prefer E6000)
hot glue gun and hot glue finger protectors (you can find these at Dollar Tree as well)
How to make a fall pizza pan sign
I've been trying hard to make more video tutorials lately! Hopefully this one is helpful. If you prefer, you can also read the written steps below.
Paint the pizza pan
The first thing you want to do is paint the pizza pan. Prop the pizza pan up on something small (I used an empty ribbon spool). Spray paint several coats of paint (light coats are best) until it's covered. Make sure to get the edges, but there's not really any need to paint the back of the pan.
Make a wreath hanger from rope
Next, glue your rope to the back of the pizza pan using E6000 glue (I glued about a 2-inch section on either end). Let it dry overnight. If you want to, you can put a layer of parchment paper over the rope and put a 5 pound weight on each side so that the rope doesn't pop off the pan while drying.
While the spray paint and/or glue are drying, you can prep your vinyl saying and a bow.
Cut a vinyl saying
If you have a Cricut, you can easily cut a phrase or image for your sign from permanent vinyl. I chose a simple cursive "hello" but you could easily turn this into a welcome sign with a "welcome" instead.
If you don't have a Cricut, you could also use a stencil and paint to make your saying.
Make a ribbon bow
There's lots of ways to make ribbon bows, but this is how I made this one (definitely watch the video for this part):
Grab the end of your wired ribbon and make a small loop, pinching the end at the back. This will be the middle of your bow.
Make another loop to the right side, pinch it together, holding this and the middle loop at the back.
Make a loop on the left side that's the same size as the one on the right and pinch it. Back to the right side, make another loop that's just a little bigger than your first, pinch it together, and make your final loop on the left side.
Now we're going to make tails, so make a large loop that's twice the size you want your tails to be (if you want 6″ tails, you'll need a 12″ loop roughly). Loop this back up to where you're holding everything else and pinch all those pieces together.
Grab your chenille stem and thread it through the center loop and all the way around everything. Twist a few times to secure it.
Cut the tail piece in half to make two tails and dovetail them. Trim the chenille stem short and push the ends to the sides (don't worry, they'll be hidden on your wreath).
Assemble the pizza pan sign
Once your pizza pan is dried (the spray paint and rope hanger), you're ready to move on to the next step and put everything together.
Arrange everything on the pan so you know where to position things. Hot glue the bow to the center, just below the rim of the pizza pan. Glue the greenery down by the stems and then add some dabs of hot glue to a couple of the leaves to secure everything really well (this is where those fingers protectors come in handy).
Then you can glue a big flower down on both sides of the bow. Add some little filler flowers. Check your sign for anything that's really loose and add more glue to those small pieces if needed.
To add your vinyl saying, apply transfer tape to it and burnish well. Stick the vinyl in the center of the pizza pan and burnish it down, being careful not to scrape the paint. Remove the transfer tape carefully (I didn't have any issues with it peeling up the paint but go slowly just in case).
And voilà, you have a beautiful wreath to hang on your front door!
Fun Pizza Pan Wreath DIY For Fall
I hope you love this easy pizza pan wreath idea for fall! These make the best door hangers, and you'd never know it started out as a pan from the dollar store….except for maybe us dollar store crafters. 😉
This is such a great budget-friendly way to make holiday decor—I might be making one for each new season!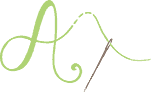 Don't forget to pin and save for later!