Not sure what to do with those Halloween miniatures you see at the craft store? I'll show you how to make a DIY Halloween fairy garden in 5 easy steps! This haunted house makes the cutest decor piece!
Like the craft pumpkin I used for my hand lettered pumpkin craft, this Halloween fairy garden house is one of those things that's been sitting in my craft closet for a couple years…classic Aubree hoarding and procrastinating. I'm so happy I finally got around to doing something with it!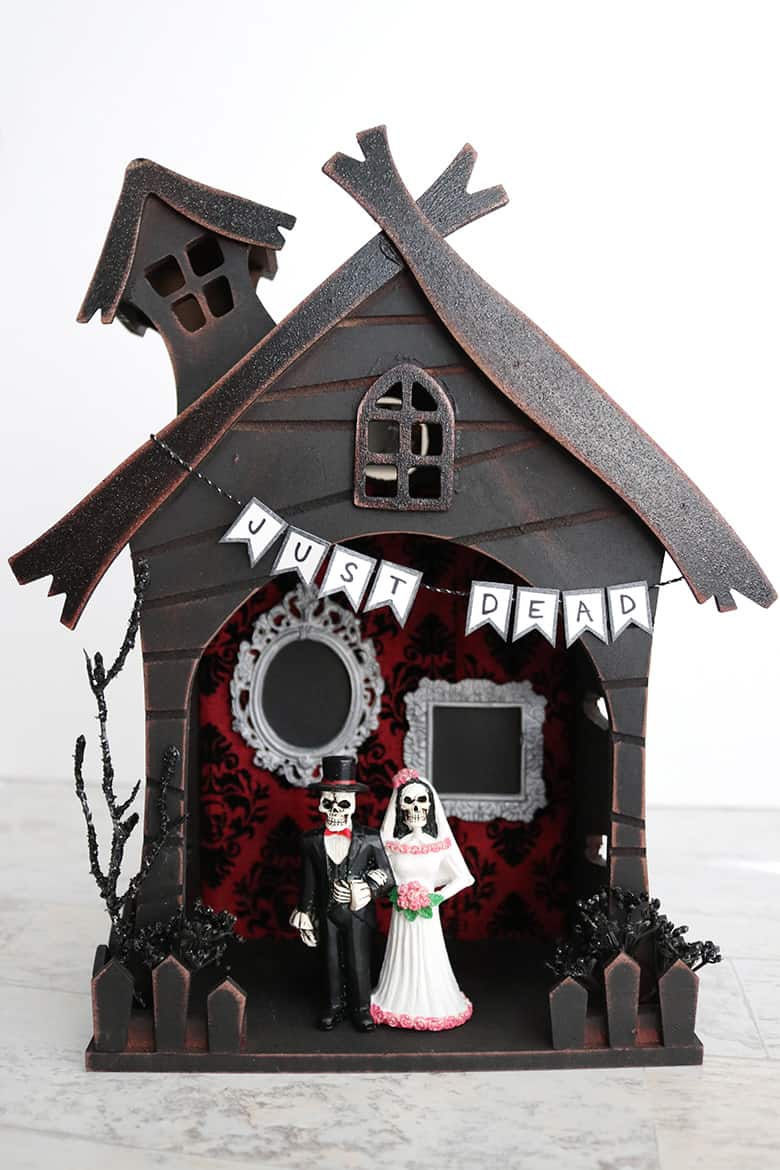 If you've been wanting to make a fairy garden but aren't sure how or where to start, I've got some great tips for you! They're surprisingly easy, cheaper than you might think (if you follow my advice), and make the cutest seasonal decor!
This post contains affiliate links. For more information, see my disclosures here.
What you need to make a Halloween fairy garden
a craft house or fairy garden "base"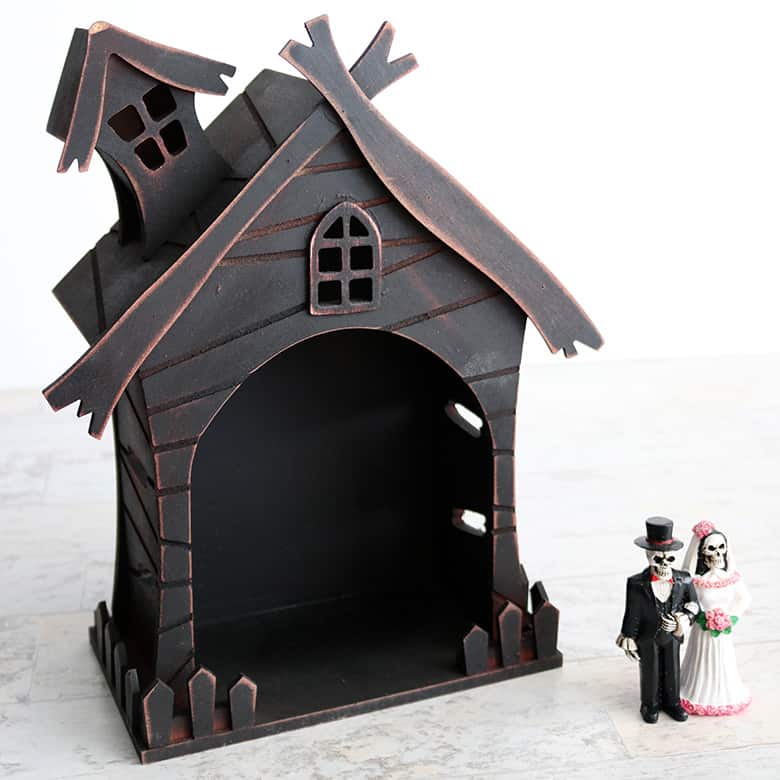 I purchased my house a couple years ago from Michaels and it's unfortunately no longer available (this is what I get for waiting so long to finish this project).
Michaels usually has a pretty good selection of fairy garden supplies, but they're seasonal so you'll have to do some hunting at your local store to see what's currently available.
If you want a haunted house fairy garden like mine, search your local craft store for unfinished wood houses–or build your own from unfinished wood shapes or even popsicle sticks!
I've seen some adorable fairy gardens made from hollowed-out craft pumpkins–you can sometimes find them already hollow, or you can hollow out a regular craft pumpkin with a knife.
Glass cloches can make a fun fairy garden base. I actually found a Halloween cloche at Target one year, now that I think about it, so that might be another store you could search for fairy garden supplies.
Finally, I found these coffins on Amazon that could make for a really fun Halloween fairy garden–and then you could use the smaller sizes for gift boxes!
faux florals, moss, and trees
I mean…is it really a fairy garden without a little nature? Layer your base with moss, plant some "trees" from Halloween floral picks, and finish with some black floral accents. (Search your local craft store for Halloween picks when they go on sale and use your imagination!)
miniature figurines
I created my entire fairy garden theme around the little bride and groom skeleton figurine I found at Michaels the same time I purchased the house. I recommend finding a figurine you love and start there.
You can go with as many or as little figurines as you want (I only chose one to keep costs low–though, originally, I had half the store in my cart 😆).
paper, fabric, paint, and glitter
Personalize your fairy garden with anything else you can think of! The best part: you probably have most of these "extras" on hand already!
How to make a haunted house fairy garden for your Halloween decor
1. Add "wallpaper" and wall decor
First, we need to give our basic and drab house a makeover. Add paint, paper, fabric, or ribbon to give your house some color. I had some scraps of Halloween damask ribbon that were perfect for that "wallpaper" feel, so I simply trimmed them to the right size, layered them on top of each other, and made a makeshift backdrop for my house. A little hot glue and I was good to go.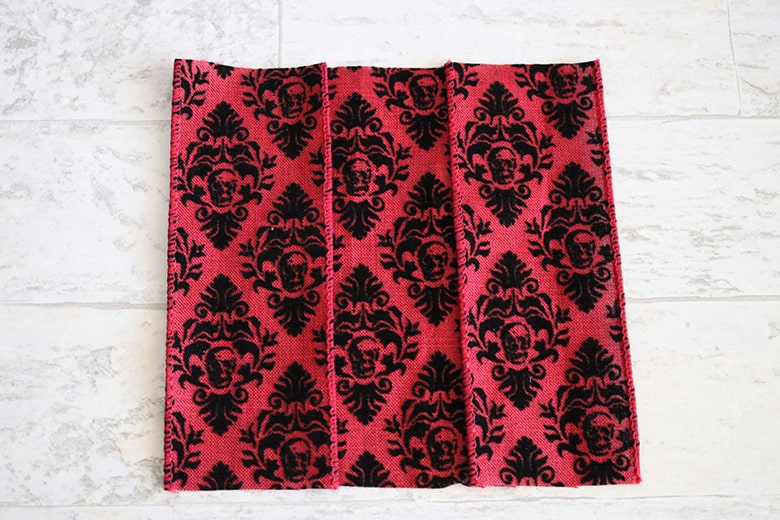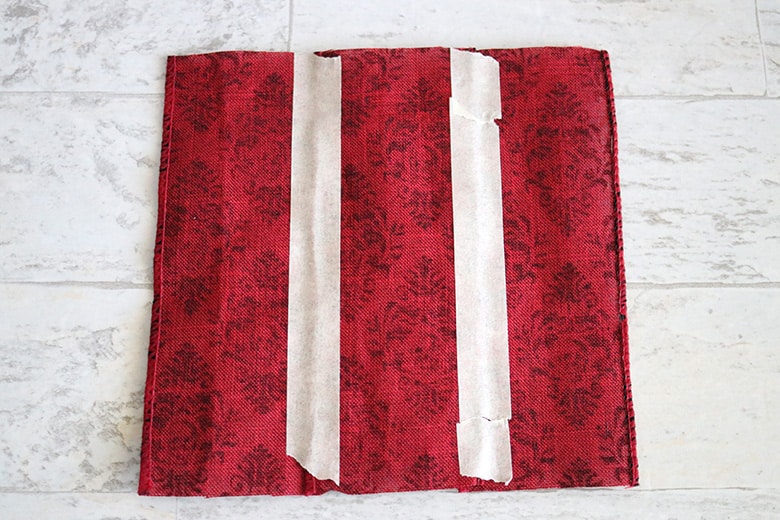 ---
See how I used the same ribbon in my Skeleton Wreath Tutorial!
---
I also found some small frames in the scrapbook section of Hobby Lobby, backed them with black cardstock, and hot glued them to my "wall."
2. Add floral accents
Your local craft store will be full of spooky floral picks around Halloween time, so snag a few that have some smaller accents on them (unless you want to use the full blooms, then feel free!). Most of these pieces pop off easily, but you can also use wire cutters to shorten them to the size you want. Again, use hot glue to attach these.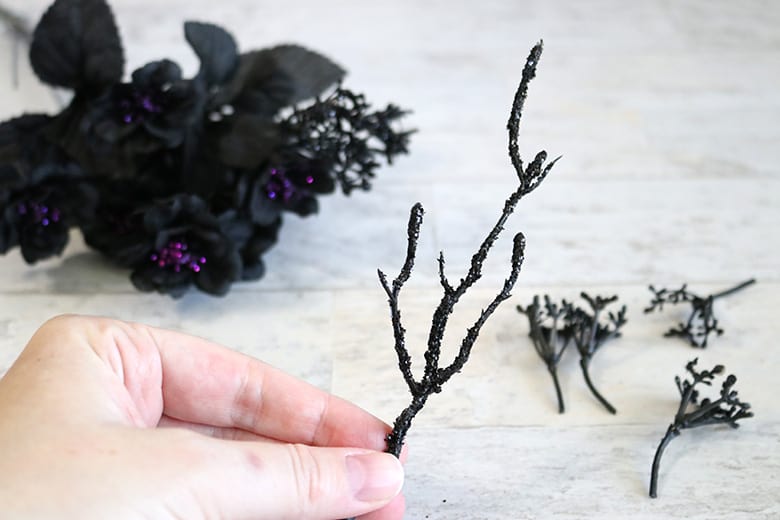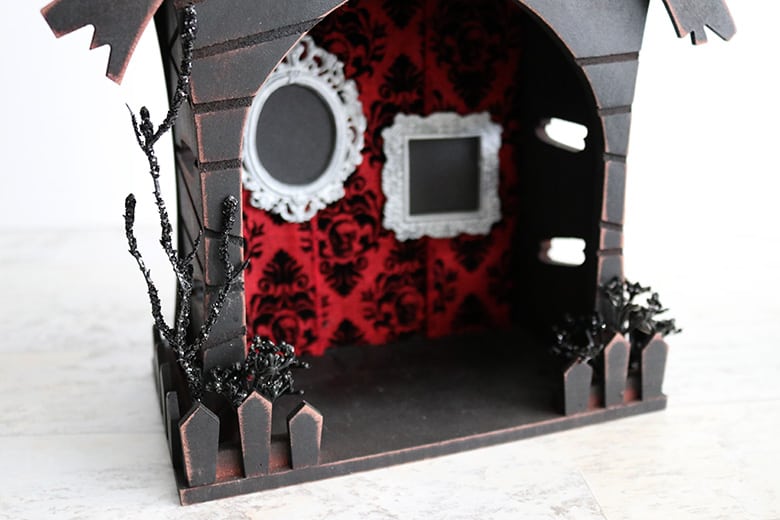 3. Add miniature figurines
Once you've finished your walls and floor (if you chose to use moss or other ground cover in the previous step), you can now hot glue your figurines to your fairy garden house.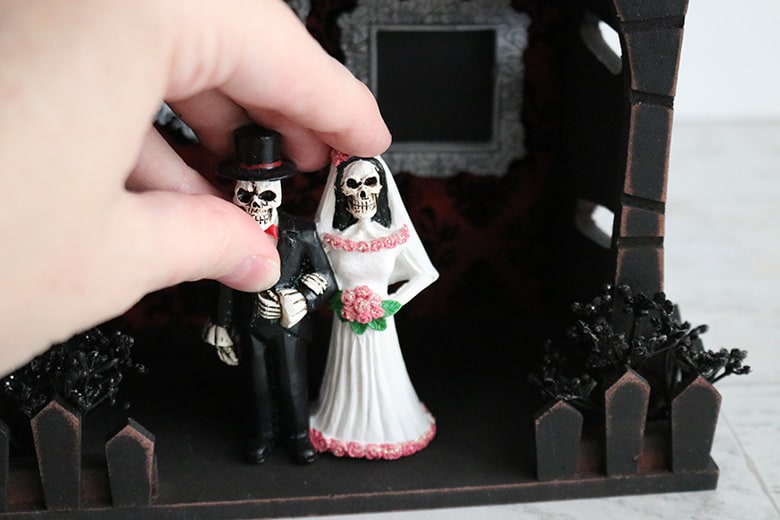 4. Add a banner and/or lights
To stick with my bride and groom skeleton theme, I made a simple "just dead" banner from a stamp, white cardstock, and a Sharpie. I was too impatient to wait for regular glue to dry, so I attached a string with small pieces of tape and then super-glued the ends of the string to attach it to the house.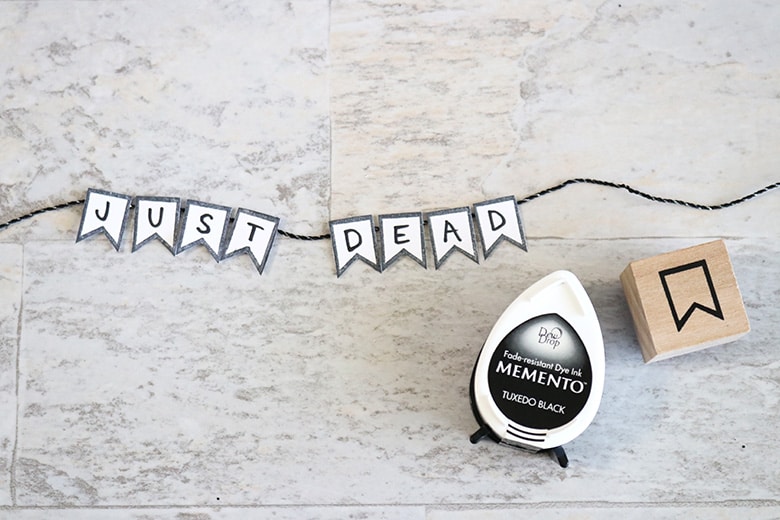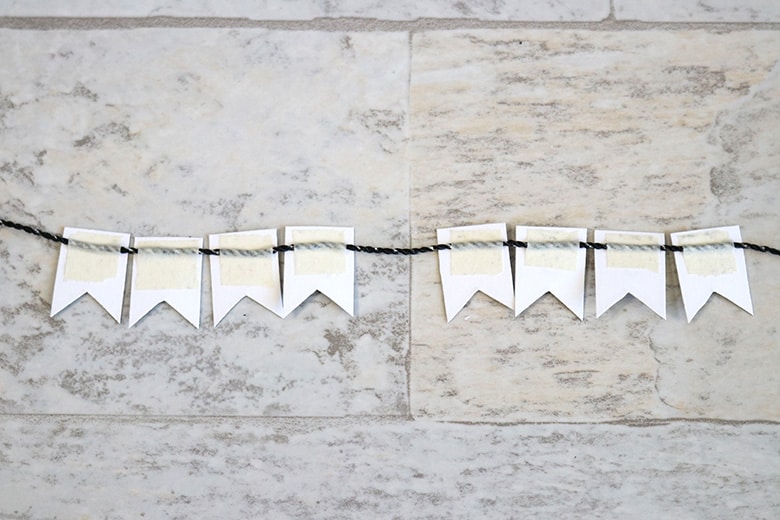 Last time I looked at Michaels for Halloween fairy garden supplies, they had mini light strands that would be another fun option…so let's hope they have them again this season.
5. Add glitter
Glitter just makes everything better, right?! (Unless it's all over your craft room table and floor…and then you'll just need this super high-tech glitter removing tool that I've recently discovered. 😆)
I opted for a glitter paint to add a little shimmer to my haunted house. I love how it turned out (and it was so easy to apply!) but I might choose something even sparklier next time (the "extreme" was a little misleading).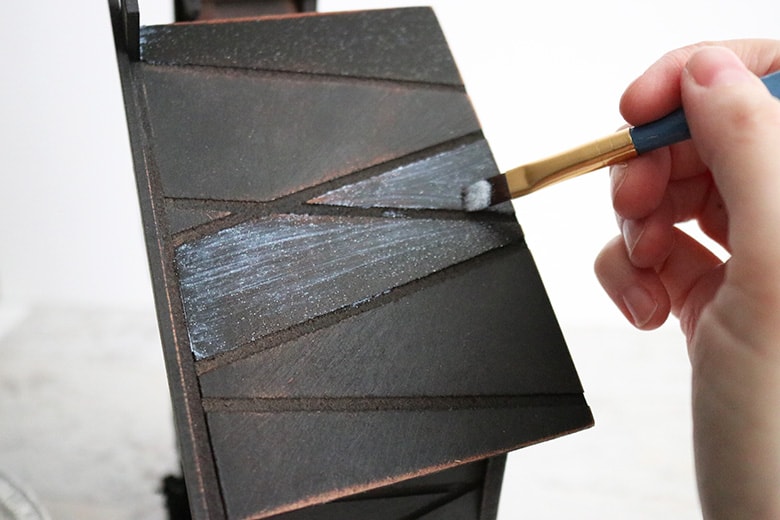 How to Make a Haunted House Fairy Garden
And there you go! 5 easy steps and you've got yourself a spooky haunted house fairy garden for Halloween!
What do you think? Would you make this? Tell me in the comments below!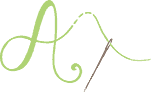 Don't forget to pin and save for later!