What better way to show off my "Mummy to be" costume than with an Egyptian Pharaoh and little Sphinx by my side? These DIY Halloween family costumes were cheap and so fun to make!
These Egyptian family Halloween costumes were so fun to make! And yes, I'm counting the baby in my belly and the dog as members of our family (as opposed to this being just a couple's costume).
Of course, being pregnant added a few challenges to making this costume: primarily, my physical exhaustion and lack of any motivation. And I wasn't quite sure how things would come together or if I'd have time to complete all three costumes. In classic Aubree fashion, I did everything the week of–and finished the final parts the night before Halloween.
But, also in classic Aubree fashion, I do my best work under pressure and I was so pleased with the final result!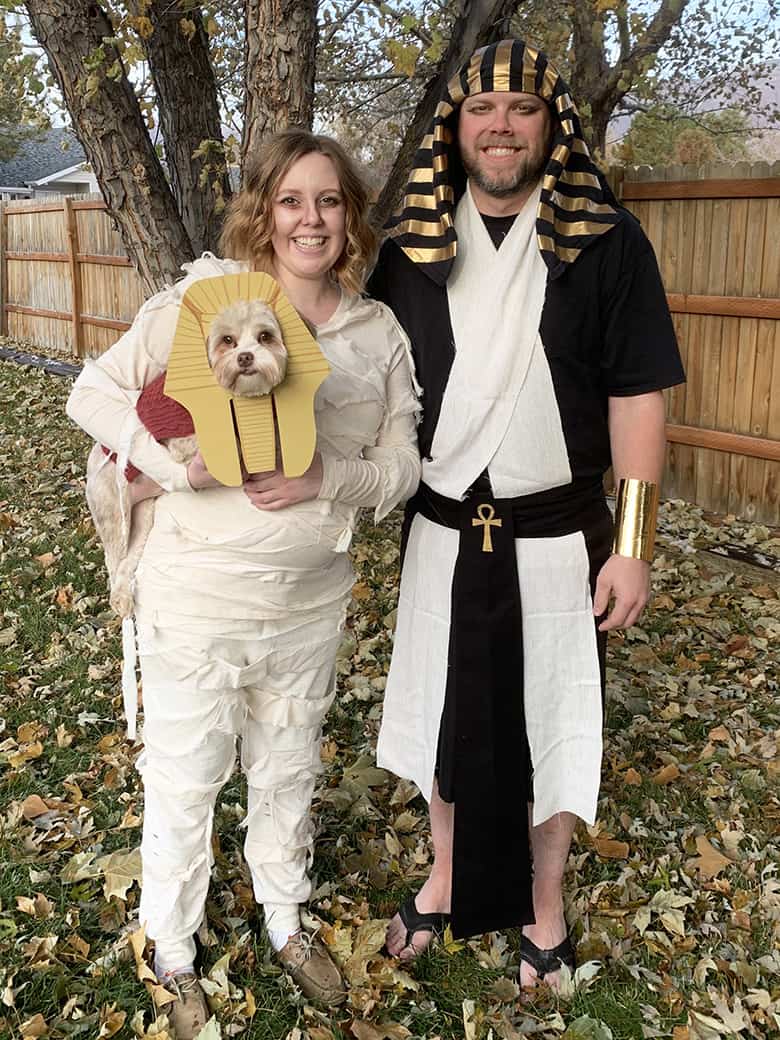 Now, let's get to the how-to for making your own Egyptian costumes!
This post contains affiliate links. For more information, see my disclosures here.
How to Make a DIY Mummy Costume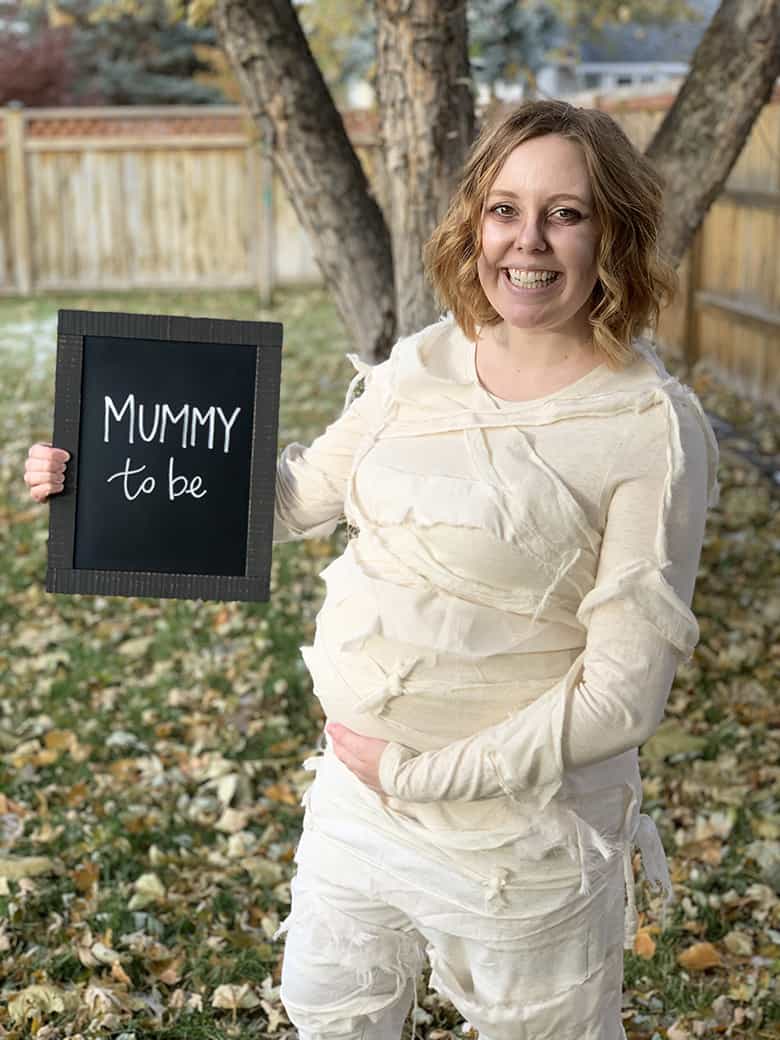 To make the mummy-to-be costume, you will need:
Shirt and Pants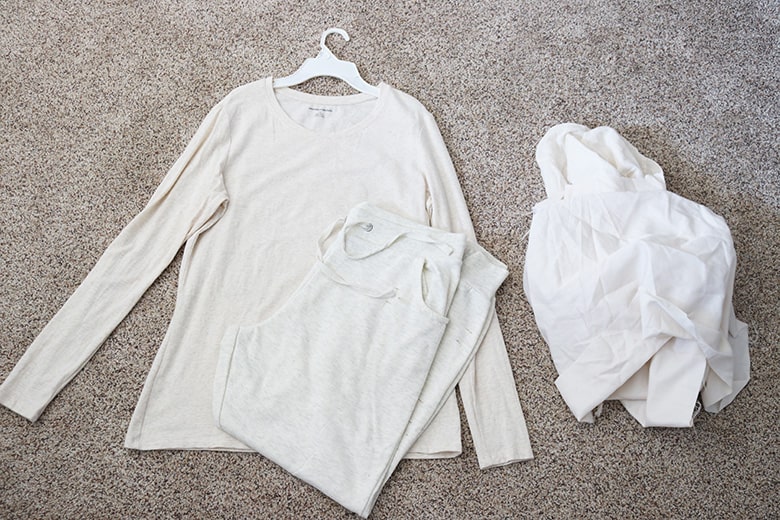 You'll want a long-sleeved shirt and pants in either white or off-white fabric. I went for the off-white/almost taupe color for a more "realistic" mummy. And, obviously sweatpants and a stretchy top for comfort (and to fit my belly).
This shirt is the exact one I purchased from Amazon (in a size large for reference).
I bought the sweatpants on clearance from Walmart so I don't believe they're still available. However, Amazon has what looks like perfectly-matching joggers to the shirt linked above!
Strips of Fabric
You will also need strips of fabric in a coordinating color for the mummy wrappings…bandages…whatever you'd like to call them. I happened to have part of an old threadbare sheet on hand that was the perfect color (and texture), as well as an old linen shirt. But you can just as easily buy some fabric (I'd guesstimate at least a half yard) and even distress it yourself if you'd like.
How to make the mummy bandages
First, tear strips of fabric between 1 and 3 inches wide (vary your widths for variety). Tearing (versus cutting) will give you that imperfect texture you're going for. To make it easier to tear, you can first make a small cut (about 1/2″ or 1″ long) in the fabric along the grain and then tear along the grain (in the direction of the fabric threads).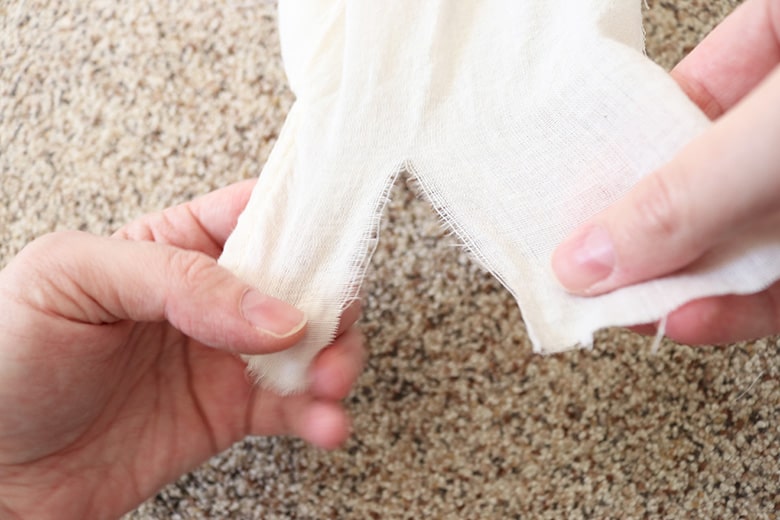 To further distress your strips of fabric, you can cut holes, make additional tears within the strips, or make any other distress marks you'd like. The more "shredded" you can make your fabric look, the better!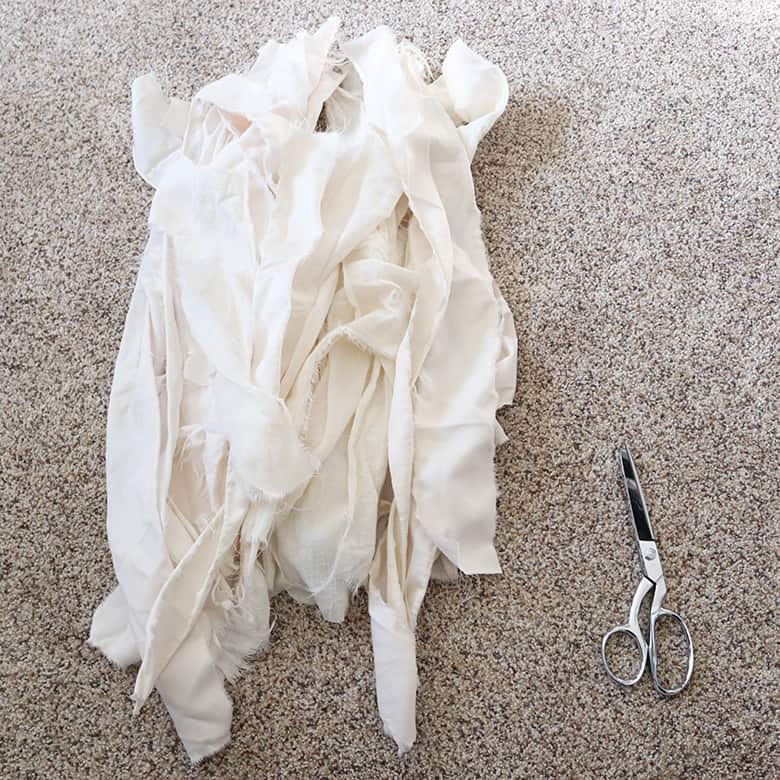 If you wanted to, you could even go above and beyond to make the bandages look old by mixing some brown paint with water and "watercoloring" the edges. Brown makeup would work too, but it might rub off or get on other clothing.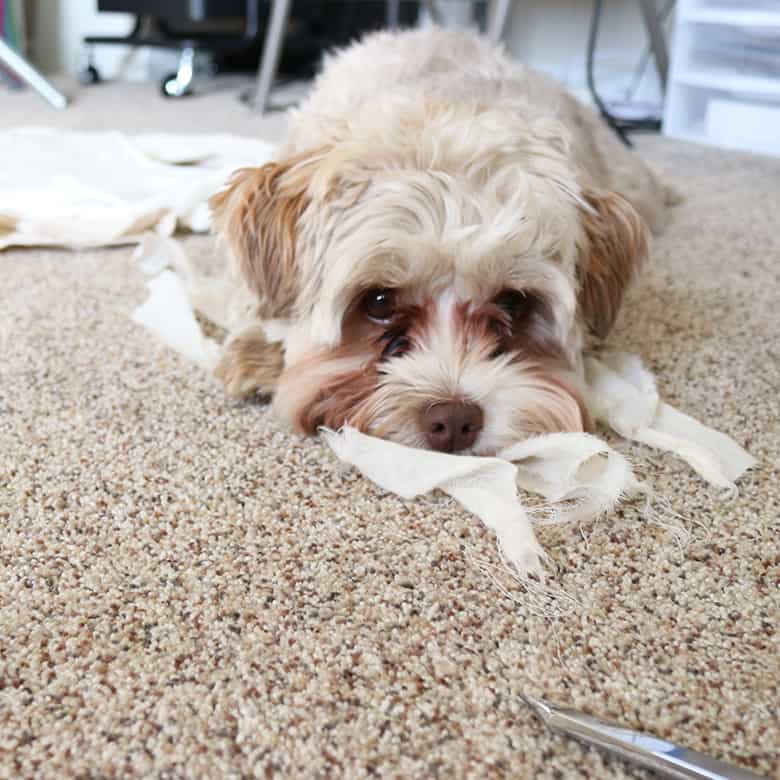 How to sew the mummy bandages
Okay, I'll be honest…this part gets a little tricky. Especially if you're pregnant and trying to make this for yourself. It helps to have an extra pair of hands (or a dress form would have been amazing if you have one!).
I think the hardest part of this (and the important thing to remember if you're pregnant like me and using similar materials) is that the shirt is stretchy and needs to remain stretchy in order to fit over your belly, but the fabric strips most likely aren't made of stretchy material. So, give yourself extra length when wrapping the shirt and make everything looser than you think you need.
First, try on your shirt to see how it lays against you. (Note: I always, always prewash any clothing and materials so they won't shrink if I end up washing them later on).
Begin pinning strips to the shirt in alternating directions–using safety pins if you're smart, or regular pins if you're dumb and lazy like me 😜. (If you do use regular pins, which is probably what you have more of on hand, just be super careful taking the shirt on and off. And know that you'll most likely knock some out and have to repin certain sections, so safety pins really are the better option all around.)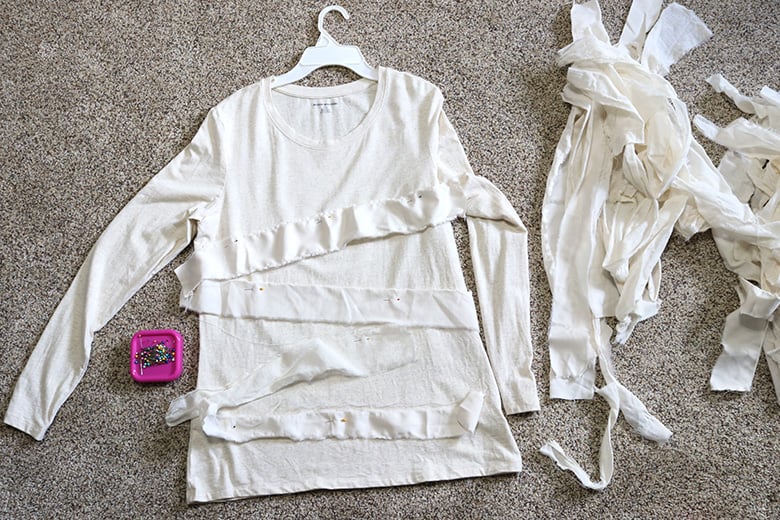 This is where it helps to have extra hands, especially for pinning the strips wrapping around your back (I started some of the strips with my shirt laying flat on the floor, but to know how things are going to sit you really have to be wearing the shirt). I would hold a strip of fabric where I wanted it and have my husband pin it to the shirt for me…and then tell him it was too high or low and to try again. 😂 This was the most time-consuming part of these costumes for sure.
If your strips aren't long enough, you can easily sew or tie them together to make them longer (no need to finish edges or hide seams!).
Once you know where you want a few strips, you can sew them into place with a few "tacking" stitches. You probably don't want to sew along the whole strip, again to preserve stretchiness, but also because loose and hanging strips will look more mummy-like. So just sew a straight line here and there (not more than 1″ long), sewing your strip to the shirt. As you're pinning, it helps to put a pin exactly where you'd like a tacking stitch and only remove it when it's under your sewing machine ready to sew.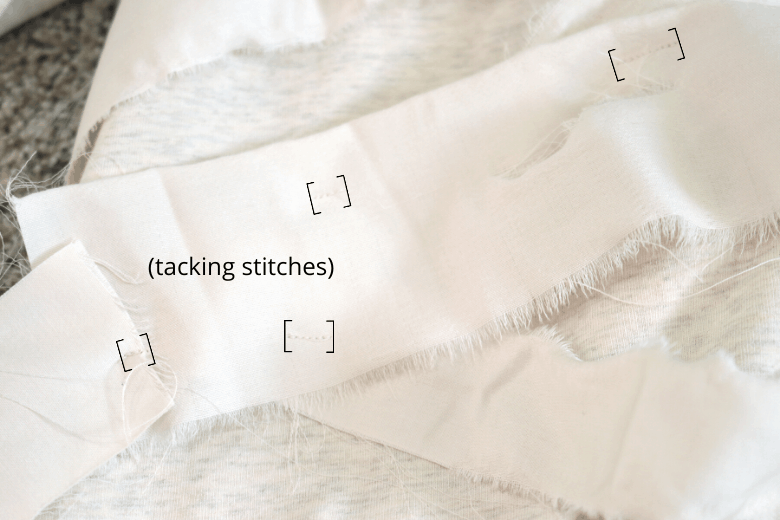 In the photo above, you can see where I've put a few tacking stitches, sometimes overlapping strips (to keep the amount of sewing to a minimum), and sometimes using the stitches to join two strips together (the one on the far left). Also, you can see the lengths of stitches aren't all the same which is perfectly fine.
As you're sewing, be sure to use the arm on your sewing machine to put your shirt around so you don't sew through both sides of the shirt!
Once you've sewn a few tacking stitches and removed all your pins, try on your shirt again to see if it still fits well or if you need more tacking stitches anywhere. I added more where the strips were drooping and unpicked a few where the strips got too tight.
Continue this back-and-forth process (as tedious as it is) until all your strips are sewn in place how you'd like.
You can also add strips to your sleeves, hips, and pant legs.
In some places, to add more interest and texture, I tied some strips from the already-sewn-on strips and let them hang down. I personally thought small, skinny strips worked best for this.
How to Do Mummy Makeup
I promise, I am no makeup artist. So if I can do costume makeup, so can you! I suggest watching a few tutorials on YouTube to get an idea of what you'd like to do. And then use what you have on hand to make up your own thing (I actually prefer using regular makeup and skipping the Halloween face paints).
The great thing about mummy makeup (and most Halloween makeup in general) is it can be totally imperfect and still look amazing!
If you want to copy my look, here are some general steps to follow:
Start with a super pale face–the lighter the foundation, the better. You could even add a white powder (like white eye shadow) over the top.
Next, use a primer over your eyelids and under your eyes. Use a white (or really light) eye shadow over your lids.
Now is the fun part: Apply dark eyeshadow colors (almost like an upside-down smoky eye) under your eyes and at the corners. Blend browns, purples, and pinks to get that "we're not quite sure if she's living" look. I used a combination of my

Urban Decay Naked3 palette

and my

Mac Burgundy Times Nine palette

. Use a dark brown or purple to highlight your "tired eye" lines, as well as the sides of your nose and around the base of your nose. Apply more dark shadow under your cheekbones and on your chin.
To help take some color out of your lips, dab a light-colored eyeshadow primer or foundation on your lips.
Add eyeliner and mascara if you want. Because glamour mummies are all the rage. Or something.
And if those instructions were totally unhelpful, here is the video I loosely followed: