Looking for a great gift to deliver to a sick friend? These ideas will help you design the perfect DIY get-well gift basket that includes all the essentials they'll need to fight their cold and get feeling better. Plus, download a free printable gift tag to go with your gift!
I've just gotten over a nasty cold. That Jared lovingly gave to me. (Kisses might pass germs? You don't say…)
But I think I kind of deserved it. It turns out that I'm not very compassionate or sympathetic when it comes to being sick. I guess I was just raised to put on my big girl pants and take care of myself.
So…I wasn't exactly dishing out the love when Jared was acting so run-down with a common cold (psh, and obviously it was an act, because, hello, no cold can knock you down that much).
And then I got sick…and it completely wiped me out. So…maybe it was a little worse than the common cold… Flu, maybe?
Lucky for me, I was able to sleep for a whole week and recovered fairly quickly (unlike Jared, who has a full-time manual labor job that he wakes up at 3 or 4 am every day for, and is going on three weeks of exhaustion).
So…I'm learning a much-needed lesson in the value of sympathy. Especially because, even after my initial utter lack of sympathy for Jared, he pampered me with the strong cold meds, meals out, and the go-ahead for all the rest and relaxation I needed. What can I say? Seriously, I found a gem. I love him. And I'll just keep eating this humble pie over here.
So…don't be like me. Be a nice person and have sympathy. Got it? Okay. Now let me tell you exactly what a sick person wants and needs this flu season, because this is everything I needed (and got, thanks to a very amazing husband).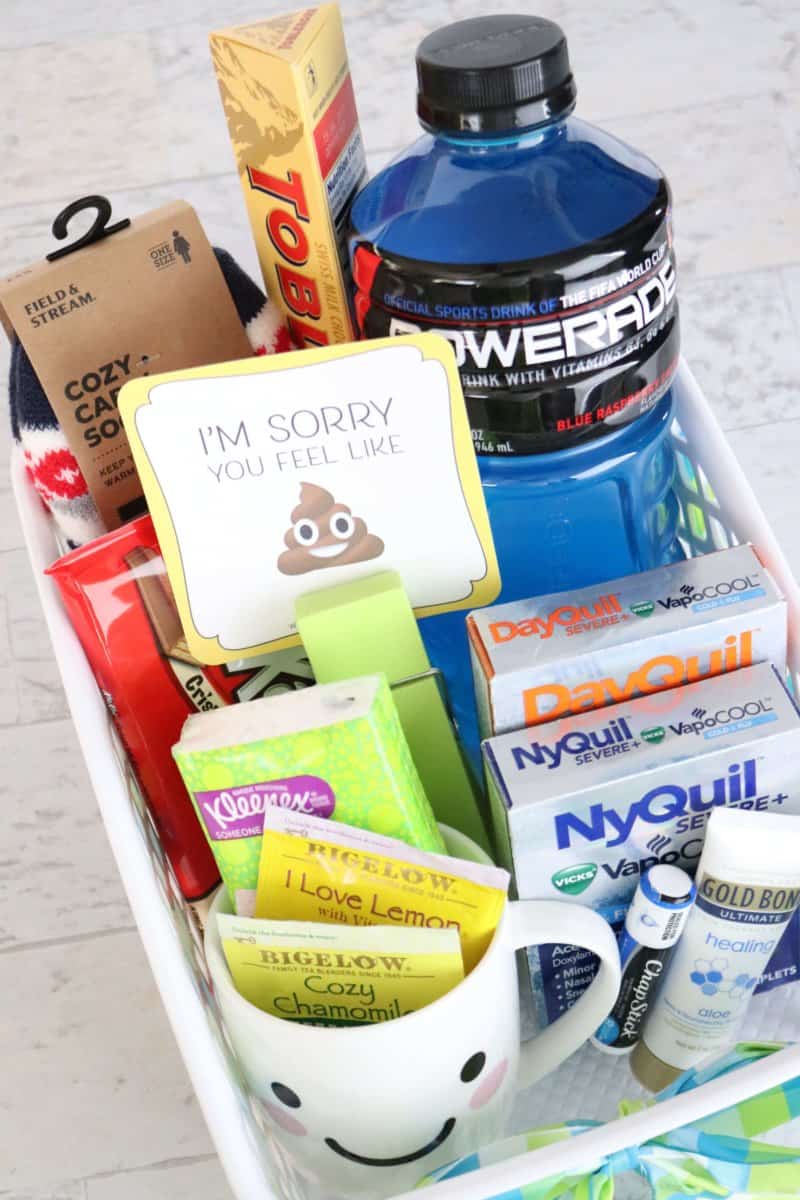 Plus, don't forget to snag a FREE PRINTABLE gift tag near the bottom of this post!
This post contains affiliate links. For more information, see my disclosures here.
What to put in a DIY get-well gift basket
Okay, yeah, everyone's idea of a "perfect" gift basket is going to be a little different. So I won't tell you the exact items you need to include. But I'll give you the formula for the essentials. Include these six things, and you're bound to get a giant hug from your sick friend (but…maybe take a raincheck for when they're not full of snot).
1. Something to Ease Symptoms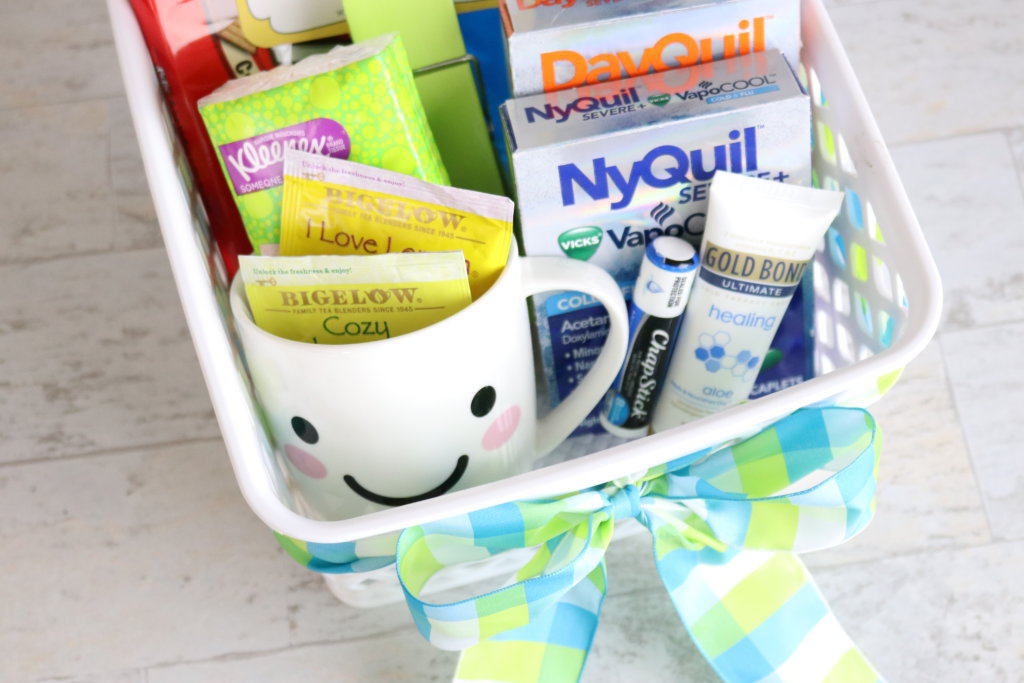 These are the obvious items: cold medicine, tissues, and vitamin C supplements. And, yes, your recipient may already have these things. But then again, I went through loads of tissues last week, so I know an extra pack to throw on a nightstand or in a coat pocket wouldn't hurt. Lotion and chapstick are also nice additions here. As my nephew would say, I was "so sneezy!" After all that nose-blowing, your skin could definitely use a little extra care.
2. Something to Drink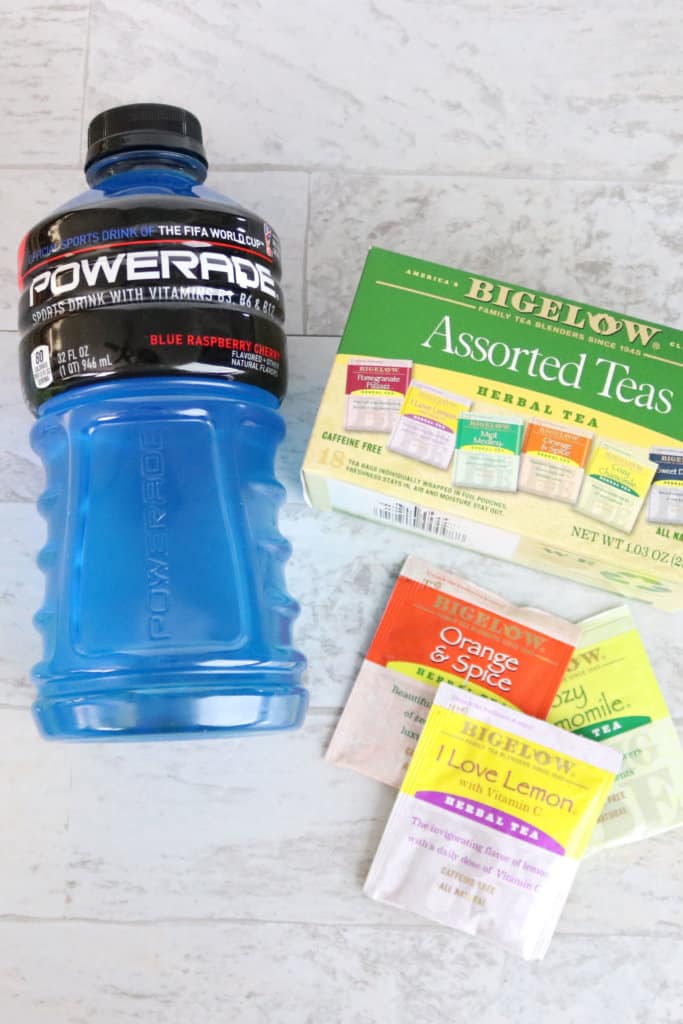 Hydration, hydration, hydration. Something to flush all the bad germs out, something to throw back those happy pills (NyQuil) with, or something to luxuriously sip while lying in bed with that old friend, Netflix. Or all of the above. My choices would be Powerade, Bigelow herbal tea, Simply Orange Juice, or a gift card to a soda place (because "dirty" sodas are my weakness). Bonus points for a cute mug, teacup, or insulated water bottle.
3. Something to Eat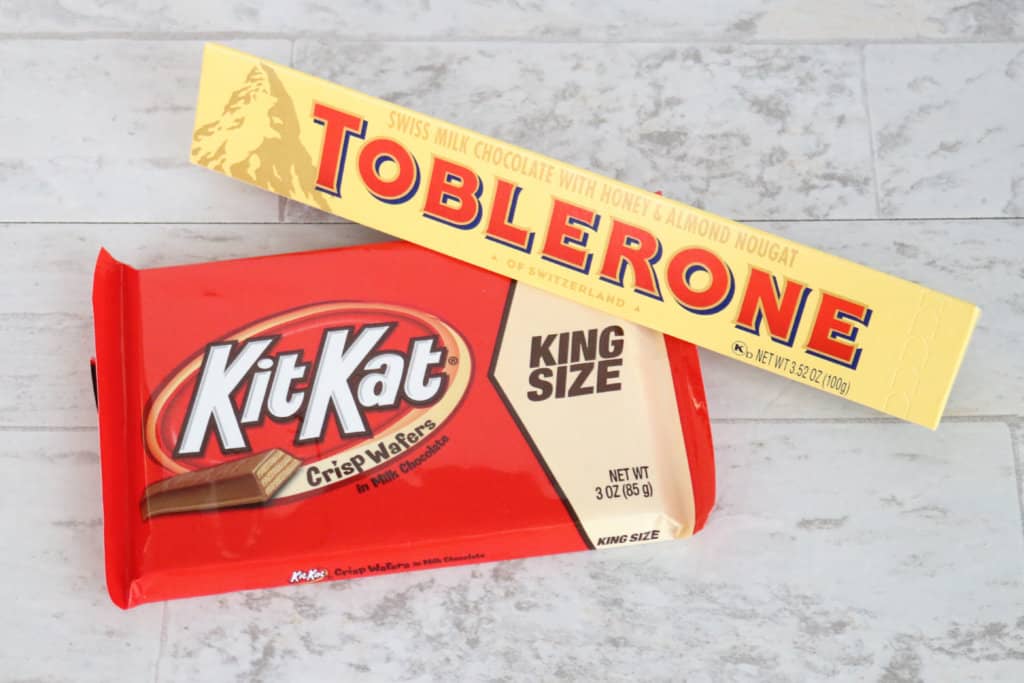 Colds often steal your appetite. Until, all of a sudden, you're starving. Quick meals are the best: a can of chicken noodle soup, a box of Kraft mac-n-cheese (lately I crave this even when I'm not sick), or a gift card for takeout. Movie-watching treats are also welcome: numerous* studies have shown that sick people love popcorn, chocolates, and potato chips. [*I'd imagine…]
4. Something Comfy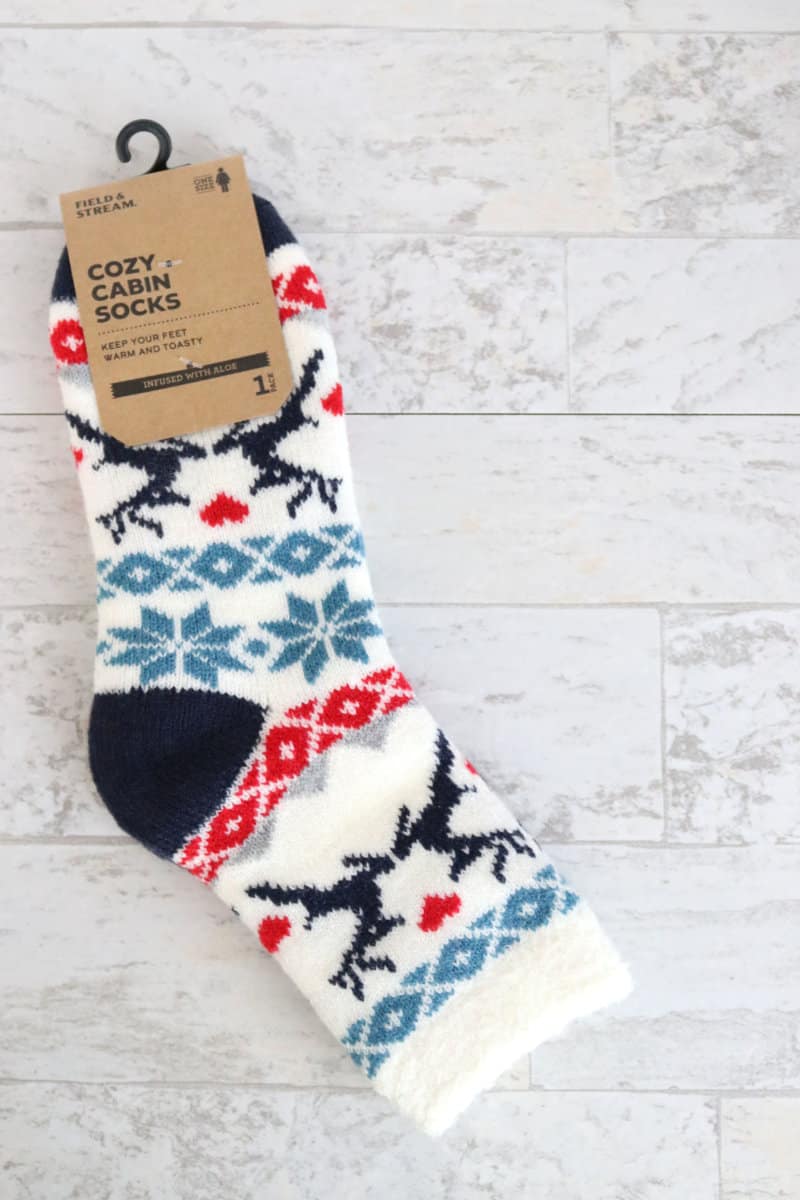 And how are those sickly, movie-watching individuals going to survive without a mermaid tail blanket, aloe-infused pair of socks, or these adorable slippers? I agree, they probably won't.
5. Something To Do
When sleeping gets old, a Redbox rental, iTunes gift card, or crossword puzzle can be a nice change of pace. The right person might even enjoy this coloring book and set of crayons. (I'm the right person.)
6. A Cute Presentation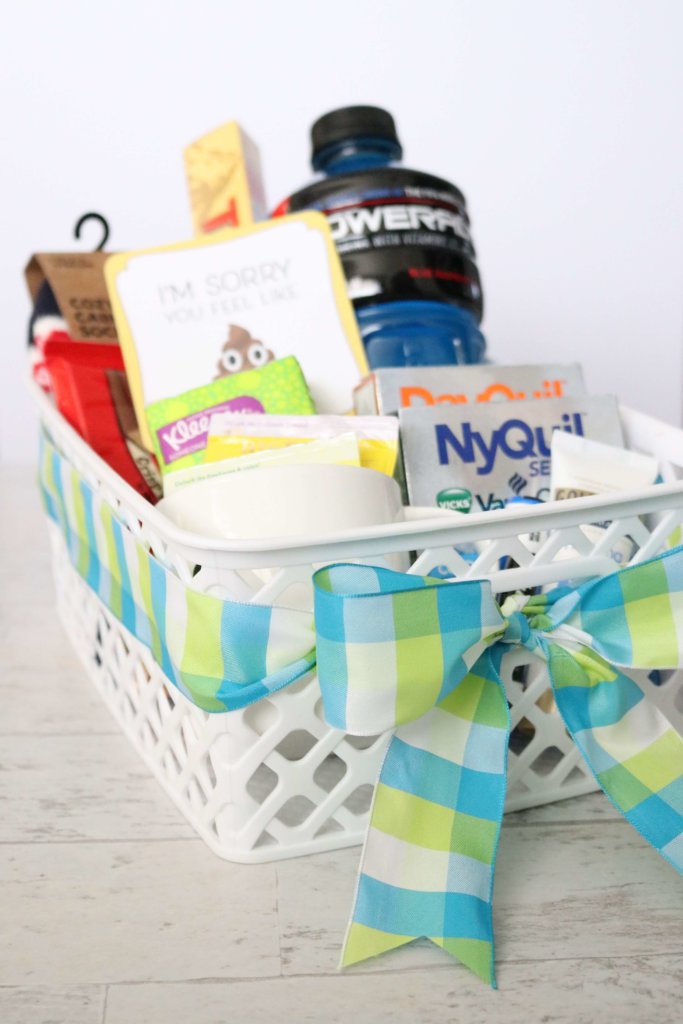 Last but not least, toss all those fun gifts in a cute basket and finish it off with a colorful ribbon bow. I used a cheap bin from Walmart for my gift basket, but this wire basket caught my eye and these small fabric bins are adorable. My favorite part about an actual gift basket? Reusable storage!
Need a fun printable tag for your gift basket? I whipped up this one for you guys–it's not exactly like the one I used in the images, but I think I like it better. 🙂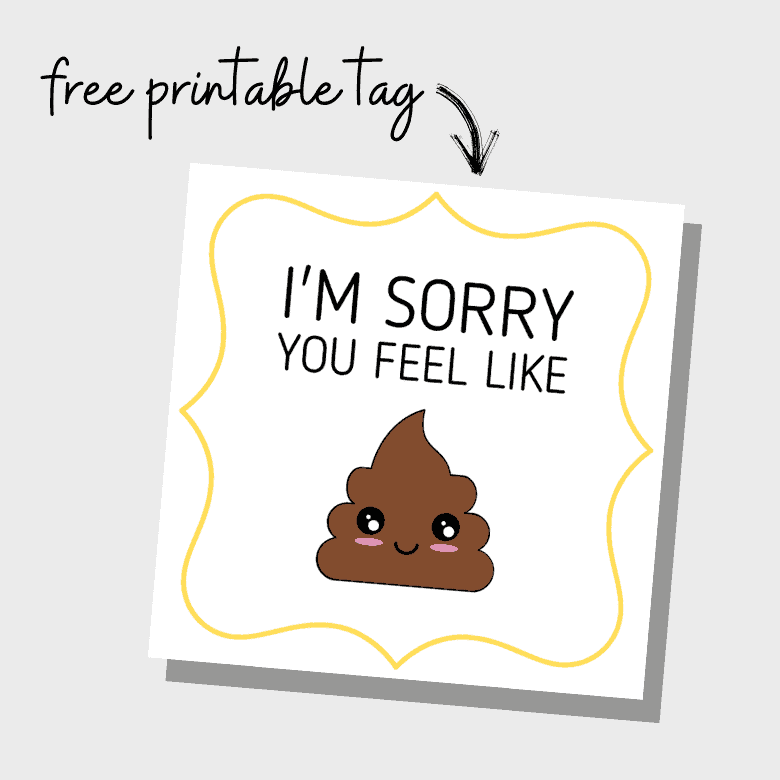 (You can use the crop marks to cut it down to a square, or free-hand cut around the border if you want.)
---
Want to make your own printables? You can use the free version of Canva here, but I am a huge fan of Canva Pro! I use it for everything!
---
And finally…
Why You Should DIY Your Own Gift Basket
That's easy:
You can customize it for the recipient
Include high-quality products you know they'll love (because, tbh, a lot of store-bought gift baskets are kind of junky), and
You get the added satisfaction of designing and arranging a cute basket (crafting therapy for you). Win, win…and win.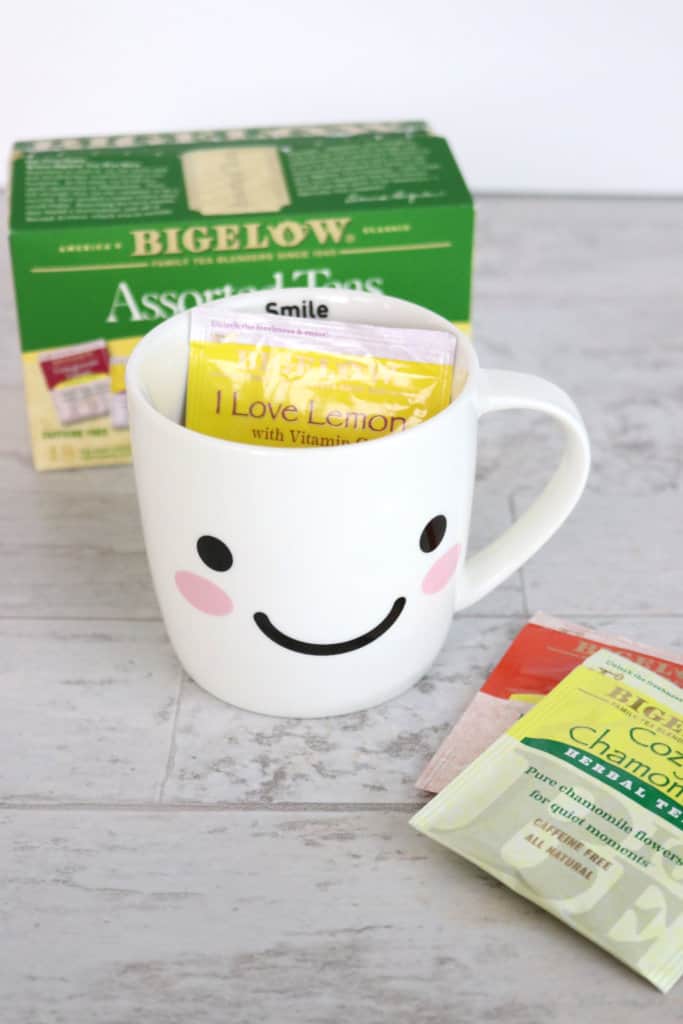 What if you're short on time or money?
Totally okay. Someone who's bed-ridden with a terrible cold is going to welcome any gift, of any size–I promise. Even a couple of things on this list would be a nice gesture. Bundle them up with a ribbon and you're good to go!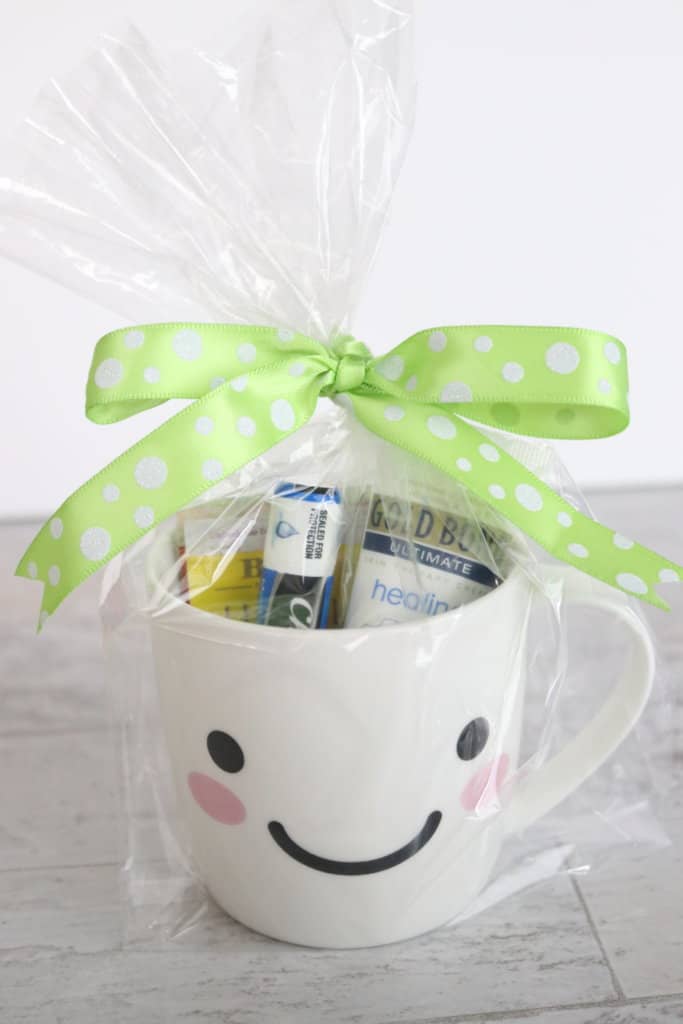 6 Things to Include in a Get-Well Gift Basket
Someone you know is bound to be or get sick this flu season, so go gather these essentials and arrange them for a cute gift, all ready to go when you need it!
(Or maybe you're looking at all these awesome products and feeling your own sniffles coming on. It's ok, you deserve some retail therapy and your own awesome get-well basket, too.)
Want more gift-giving inspiration? Check out these sunshine gift ideas that are sure to cheer up a sick friend!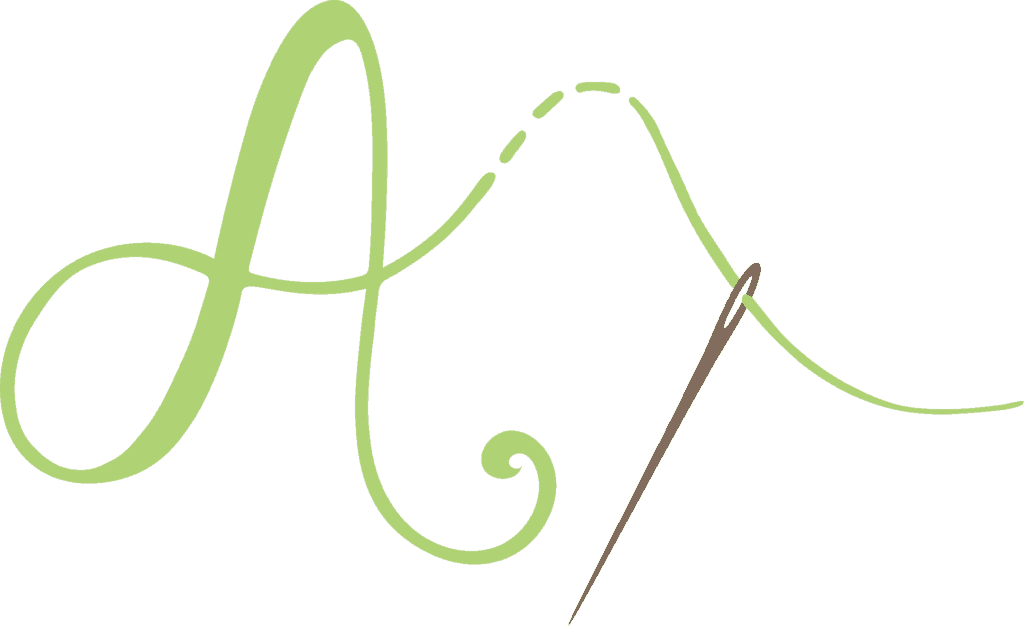 Don't forget to pin and save for later!