All the blue gift basket ideas to make an "out of the blue" or "blue-tiful birthday" gift! Plus, free printable blue-themed gift tags!
Color-themed gift baskets are becoming some of my new favorite (and easy!) gifts to create. I'm just working my way through the rainbow to give you all the ideas, as well as printable tags to go with!
All you have to do for this DIY gift is scan your grocery store or Walmart for items that are blue! There are tons of options (food/candy/drinks or other) to customize this for a friend, boyfriend, girlfriend, spouse, ministering sister, or neighbor. Check out the ultimate list of blue ideas below!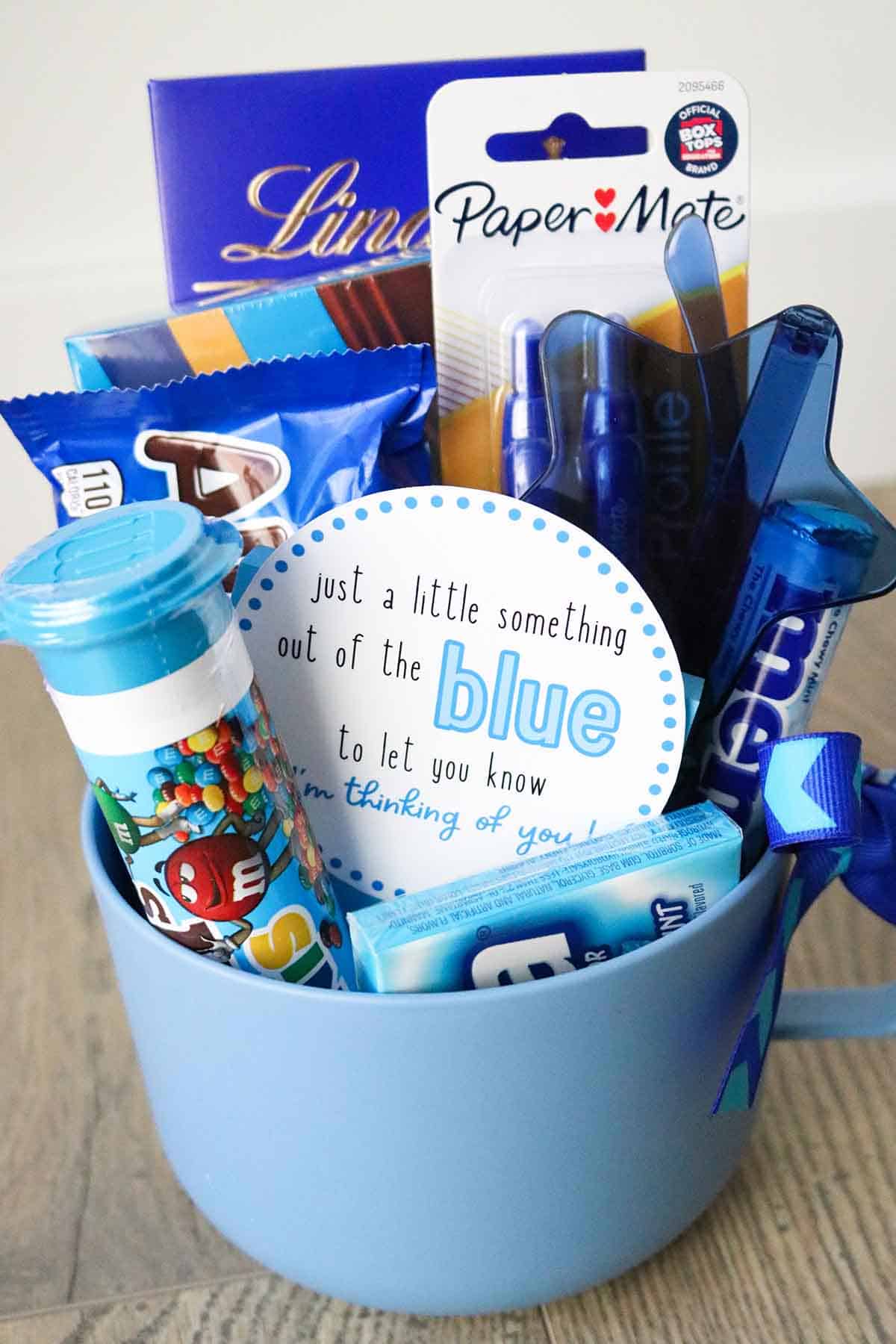 This post contains affiliate links. For more information, see my disclosures here.
---
More posts you'll like: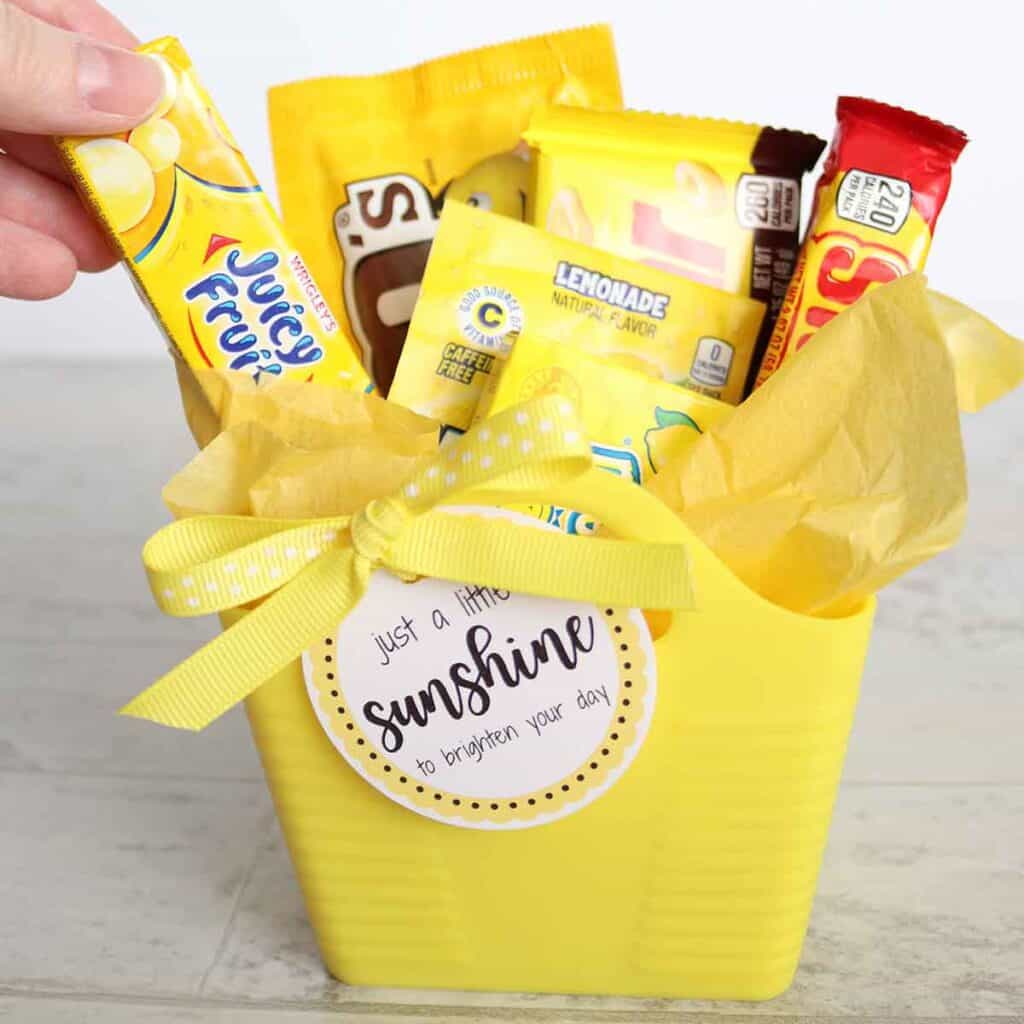 ---
Blue items to include in a blue-themed gift: the ultimate list!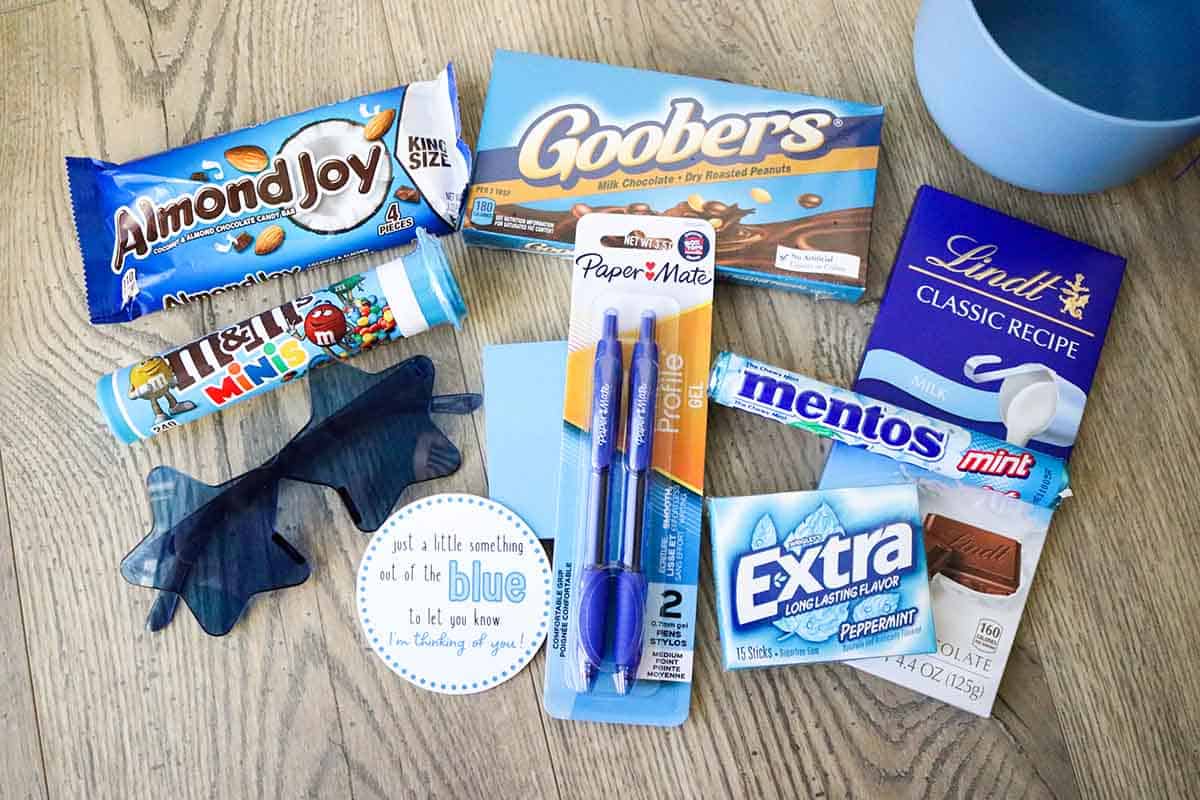 Blue candy ideas
Crunch bar
Almond Joy
Baby Ruth
Lindt chocolate bar
Lindt Lindor dark chocolate truffles
Blue raspberry Airheads
Tropical Skittles
Pretzel M&Ms
Crunchy Cookie M&Ms
Mini M&Ms
Twix Cookies & Creme
Berry Blast Mike and Ike
Rips sour licorice
Jolly Rancher
Ring Pop
Blue raspberry Sour Punch Bites
Blue raspberry Sour Patch Kids
Nerds gummy clusters
Smart Sweets sweet fish
Blue raspberry Fruities or saltwater taffy (I can usually find these in the bulk section of my grocery store)
Blue raspberry Laffy Taffy
Vanilla Tootsie Roll Midgees
Cookies 'n' creme Hershey's Kisses
Mentos
Intense Mint or Frosty Mint Tic Tacs
Ice Breakers Ice Cubes peppermint
Peppermint gum (almost any brand is blue)
Blue food ideas
Chex Mix
White cheddar PopCorners
Pretzel Crisps
Ruffles chips
Doritos Cool Ranch chips
Lay's salt & vinegar chips
Lay's lightly salted chips
Tostitos
Pirate's Booty
Ranch Bugles
Oreo cookies (lots of flavors have the blue packaging)
Chips Ahoy!
Thinsters Toasted Coconut CookieThins
Teddy Grahams
Flipz chocolate pretzels
Rice Krispie Treats
Mott's or Welch's fruit snacks
Poptarts
Frosted Flakes
Blueberry Cheerios
Frosted Cheerios
Rice Krispies
Rice Chex
Cookie Crisp
Cap'n Crunch Oops! All Berries
Crispix
Act II popcorn
Planters peanuts
Blue raspberry Jell-o
Kraft macaroni & cheese
Pasta Roni
Blue drinks and drink mixes
(if I don't specify a flavor, it's because there are multiple blue options)
Gatorade or Powerade
Hawaiian Punch
Berry Blue Kool-Aid Bursts
Jones Berry Lemonade soda
Pepsi
Dr. Pepper Dark Berry
Mountain Dew
Dasani water
Blue non-food ideas
Chapstick
Eos lip balm
Nivea chapstick, lotion
Neutrogena makeup remover
Hand soap
Soaps, lotions, etc. from Bath and Body Works
Socks
Hair accessories, hair brush
Nail polish, nail polish remover, pedicure kit
Face masks
Kleenex travel pack
Flip-flops
Loofah
Sunglasses (it was summer when I shopped for this gift, so I found star-shaped sunglasses in the 4th of July section at Target)
Notebook, pens
Post-it notes
Tumbler, mug, water bottle
Play-doh
Gift cards: try Best Buy, Sam's Club, Walmart, etc. for blue gift cards
Blue container & basket ideas
I had the hardest time finding blue containers this time around! Maybe it's just the time of year I was looking but blue was not a popular color!
I first purchased the larger blue basket from Dollar Tree but it was a little large (they had other styles as well but all of them are larger—but these would be great if you're making a large gift! Then I found the small blue soup mug from Target which was kind of a funky shade of blue but, hey, it worked.
Usually Hobby Lobby has fun containers in their Spring shop but no blue this year, sadly. You can usually find clear Sterilite containers with blue latches from Walmart, which could be great for a college care package. And here are a couple ideas on Amazon:
How cute would this mug be for a camping-themed blue gift basket?! Or anyone really. Plus, it's cheap! (you might only be able to stick a few candy bars in it, but that might be perfect!)
If you're doing multiple small blue gifts, these treat bags would be fun. Fill them with something like the cookies 'n' creme Hershey's Kisses!
If you're making a care package for a college student or a housewarming gift, consider containers that would also be useful later on, like a storage basket or even a trash can. Of course, you can also save money and simply decorate a shipping box with blue paper or paint.
Blue decor ideas
Blue flowers (faux or real)
Paper or felt pinwheels (attach to a straw or wood dowel, or tape/tie to the container)
Ribbon
Blue tissue paper for filler
Blue cellophane or wrapping paper
A gift tag–like the free printables below!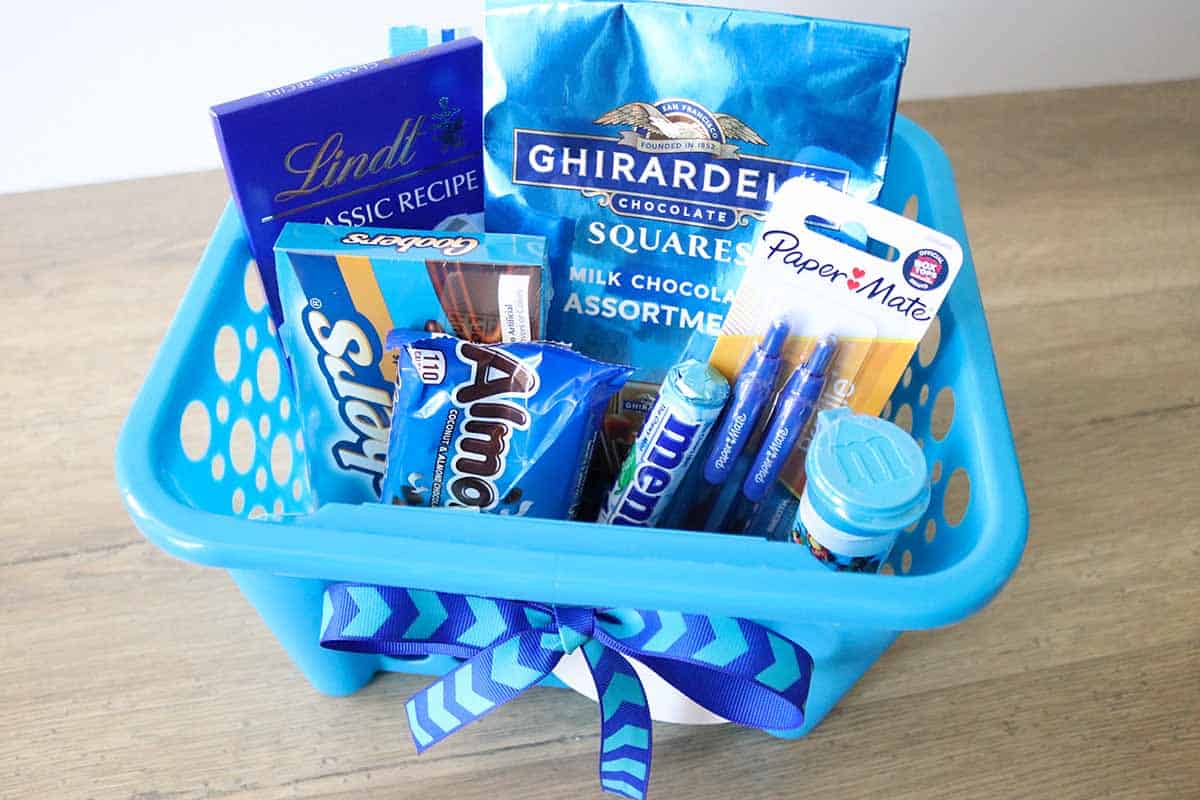 FREE printable "out of the blue" thinking of you gift tag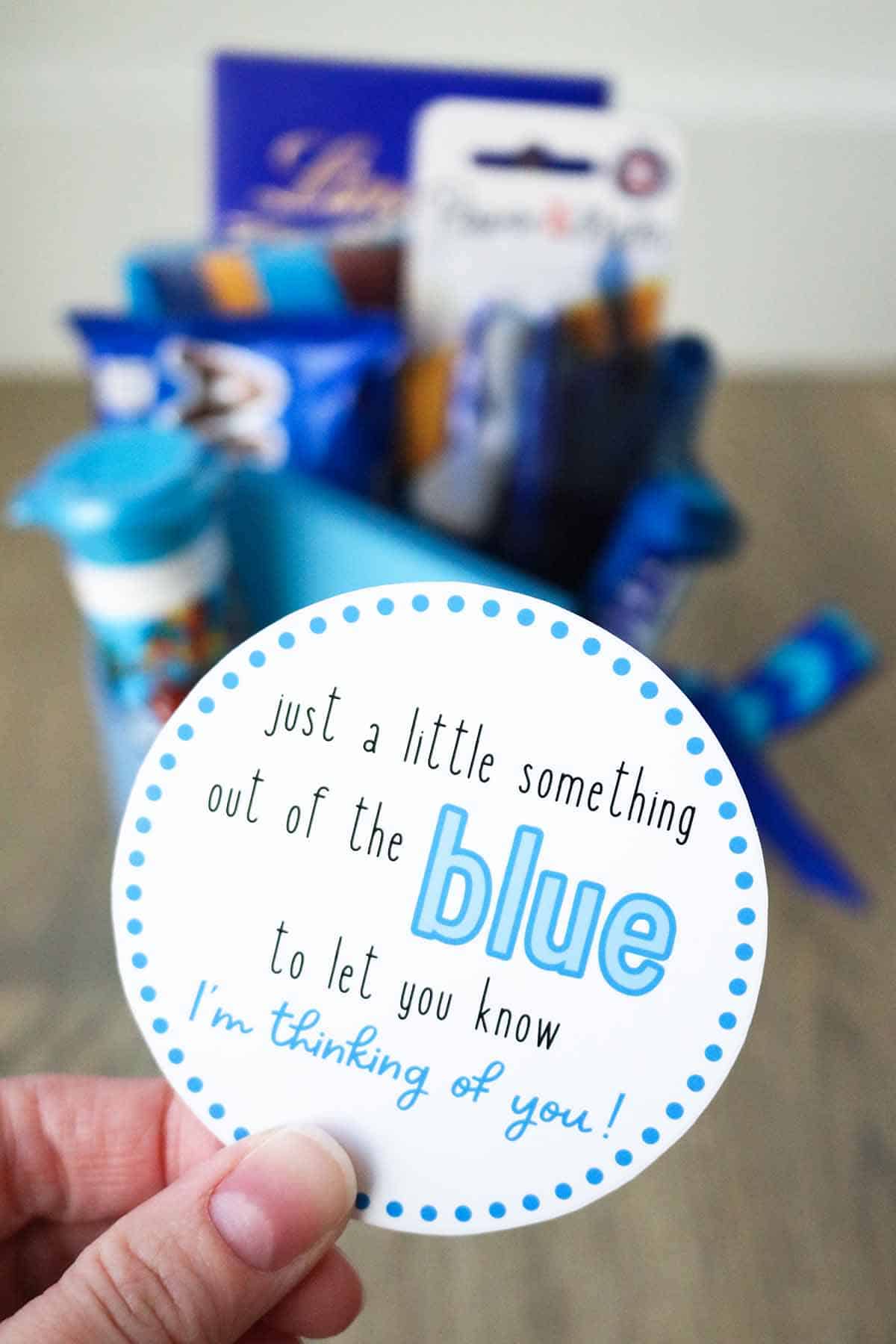 This free printable tag is perfect for just about anyone (because who doesn't like knowing you're thinking about them?!). It says "just a little something out of the blue to let you know I'm thinking of you!". It's a circle and measures just about 3 inches wide, which is a great size for most gifts.
FREE printable "blue-tiful birthday" gift tag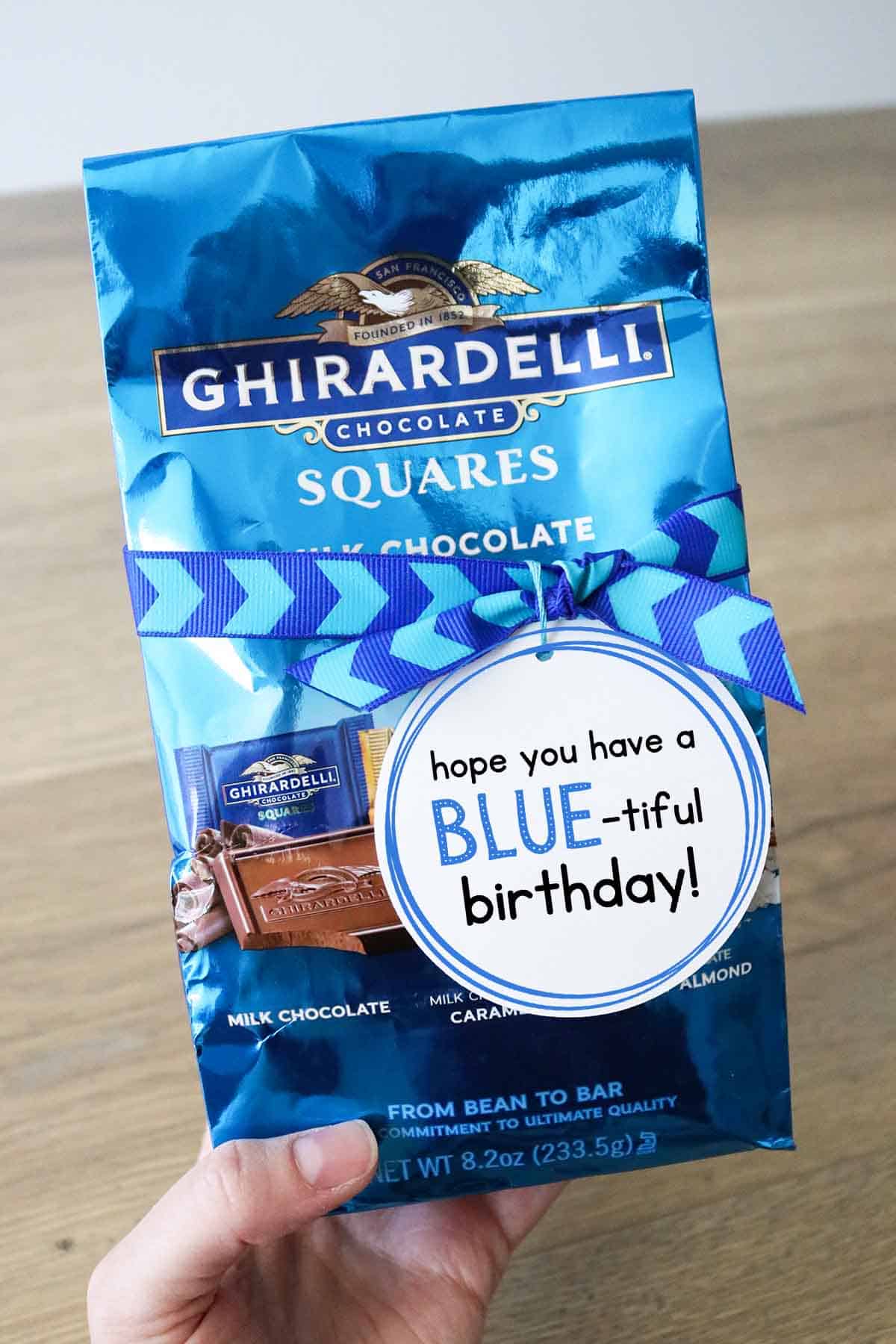 This gift tag is a play on the word "beautiful" (in case you didn't catch that 😜). It says "hope you have a blue-tiful birthday!". It measures about 3 inches again, also in a circle shape, but I also included a square option in case you prefer that.
Tips for printing
Print at 100% scale. Colors may vary, but for best results, set your printer settings to the correct paper you're using (on my computer, I go to "Quality and Media" and "Media Type"). Feel free to contact me or leave a comment below if you have any issues!
Each tag will print on its own page. If you want to print multiple tags on a single page for multiple gifts (this was requested on my yellow sunshine gift post), leave a comment below and I can create an inexpensive listing in my Etsy shop for you to download!
DIY Blue Themed Gift Basket Ideas
I hope you liked these blue themed gift basket ideas and printables! Now go make an easy, thoughtful gift for someone! Enjoy!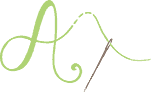 Don't forget to pin and save for later!