Make a green "lucky" gift basket with this ultimate list of green ideas! This is great year-round, but especially perfect for St. Patrick's Day. Plus, free printable lucky gift tags to complete your gift!
I had so much fun creating yellow sunshine gifts last year, so I wanted to continue the color theme and make a green gift for St. Patrick's Day!
There are so many things you can put in these themed gift baskets! Keep reading for all the green items you'll want to include, and don't forget to grab your free printable gift tags at the end!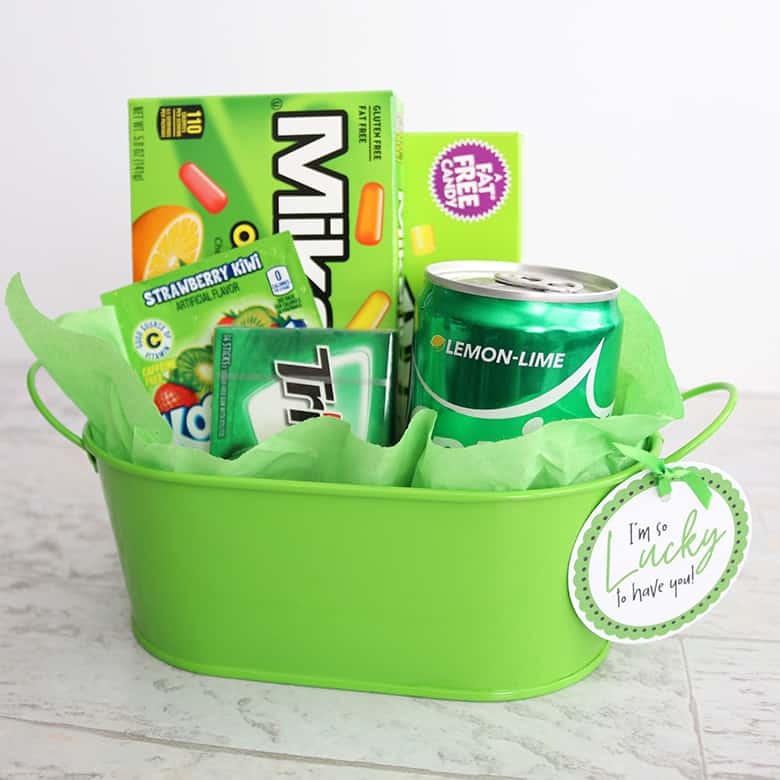 This post contains affiliate links. For more information, see my disclosures here.
---
More posts you'll like: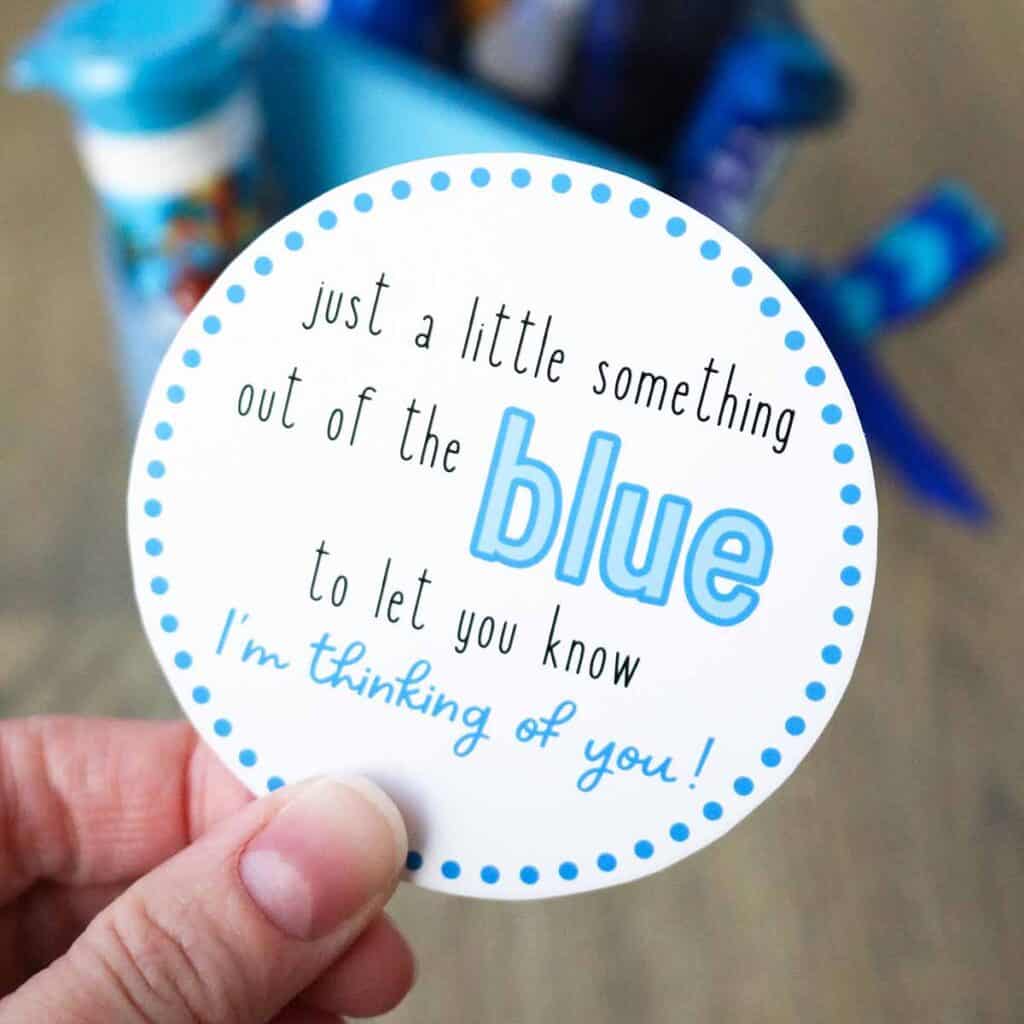 ---
Green Lucky DIY Gift
Having a theme makes it so easy to put together DIY gifts–even if you don't consider yourself the DIY type! They don't have to be super fancy–just a few items from the grocery store can make a surprisingly cute and thoughtful gift. Plus, the printable tags in this post make your work even easier!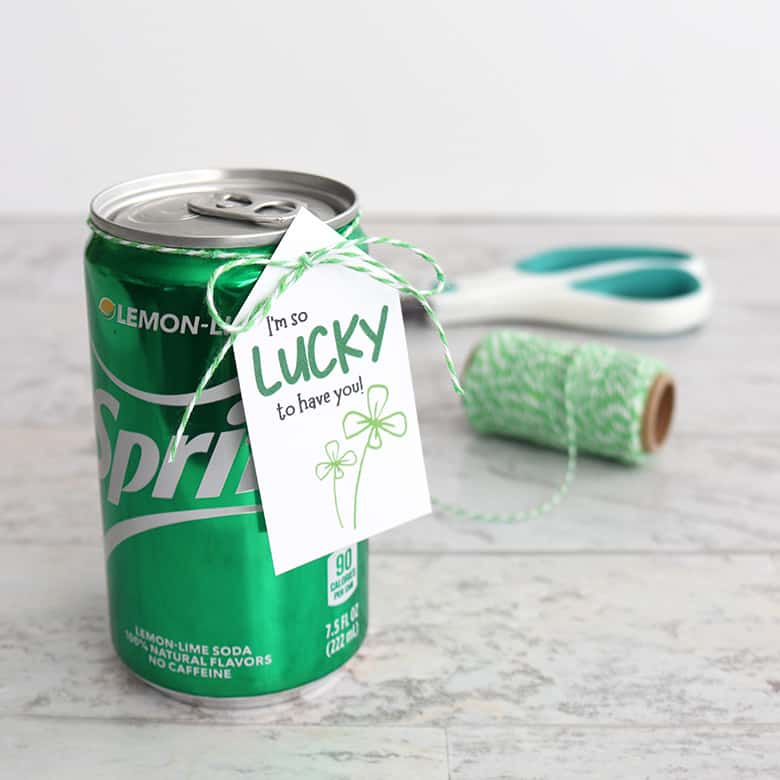 Now, for all the green ideas (there's a lot!):
Green Items to Include in a Lucky Gift Basket: the Ultimate List!
For the most cohesive green gift, you're going to want your items to have mostly green packaging. I would just scan the aisles of your grocery store (or Walmart) for anything green that's the right size for your basket or container (I believe the container I'm using came from Hobby Lobby in the spring section, but you could also check your local dollar store).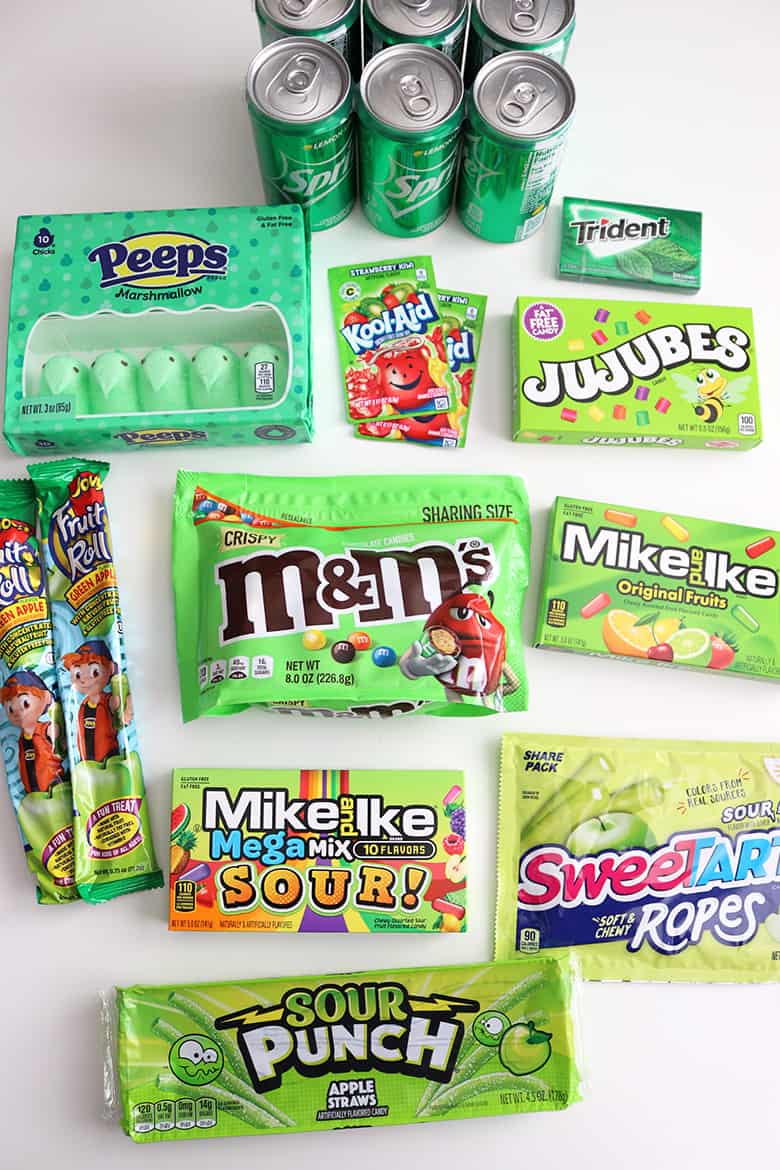 Obviously, any of these brands could change their packaging at any time, but this list should give you some good ideas (I called my yellow sunshine gift ideas the ultimate list, but I think I've one-upped that list here!).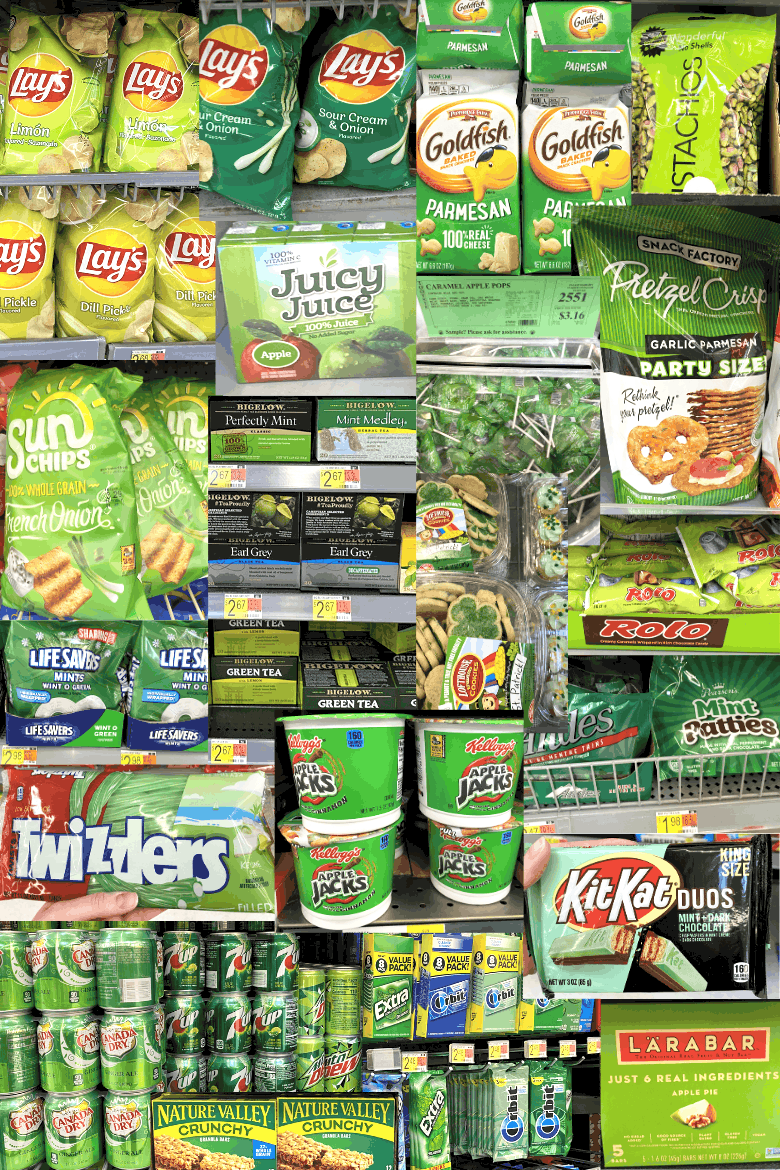 *Note: I am not affiliated with any of these brand names
Green Candy Ideas
Crispy M&Ms
Mint M&Ms
M&Ms Minis (These come in a tube, find a green one. I happen to be inhaling these while I work on this post, but they're mini so they don't count.)
Mike and Ike
Sour Mike and Ike
Sour Skittles
Apple Sour Punch Straws
Sour apple Sweetarts Ropes
Green apple gummy rings (Trolli or off-brand)
Green apple Hi-Chew
Warheads
Sour apple Laffy Taffy
Green apple or watermelon Airheads
Caramel apple pops (the suckers that were always leftover in your elementary school teacher's candy jar…)
Applehead candy
Key lime pie Twizzlers (never tried them, but I'm skeptical)
Green apple or spearmint Mentos
Green apple, spearmint, or wintergreen Tic Tacs
Spearmint Ice Breakers or Ice Breakers Sours
Kiwi watermelon, spearmint, or wintergreen Ice Breakers Ice Cubes
Andes Mints
Mint Patties (that will forever remind me of sitting in auto shops as a kid)
Wint O Green Lifesavers
Green peppermints
Gum, in a variety of green flavors: Orbit, Trident, Extra, Eclipse, Doublemint
Green Peeps (seasonal)
Hershey's Kisses (may be seasonal for them to have green foil wrappers)
Green apple fruit roll-up
Jujubes (I'm putting these on the list because they come in a green box…but ew, they're like eating soap-flavored wax. This was my first–and last–time ever trying them.😆)
Candy with partially-green packaging: Fun Dip, Milky Way, Junior Mints, Kit Kat Duos (mint), Sour Patch Kids, Rips, green apple or watermelon Pop Rocks, Airheads Xtreme, Haribo and Great Value brand candies
Bulk candy ideas (if your grocery store has a bulk section): green Starbursts, gummy bears, gummy worms, jelly beans, Sixlets
You may be able to find additional candy with green packaging around Easter or Christmas (for example, mini Kit Kats).
Green Food Ideas
Sour cream and onion potato chips (multiple brands including Lay's, Sun Chips, Pringles, Ruffles)
Lay's limón, chile limón, or dill pickle chips
Jalapeño potato chips
Emerald snack packs
Pistachio packs
Apple pie Larabar
Apple cinnamon Nature's Bakery fig bars
Nature Valley Oats 'n Honey granola bars
Garlic parmesan Pretzel Crisps
Parmesan Goldfish
Club crackers
Keebler animal crackers (sometimes has green packaging)
Apple cinnamon Quaker Rice Crisps
Apple Jacks cereal
Lucky Charms (probably seasonal for green box)
Apple cinnamon Cheerios
Corn Chex
Apple cinnamon KIND cereal
Lime or strawberry kiwi Jell-o
Green candy melts (this would be an odd thing to gift unless you know your recipient loves to bake)
Popcorn (occasionally has green package, Skinny Pop isn't all-the-way green but would work)
St. Patrick's Day cookies from your grocery store bakery (just tie a ribbon and a printable tag around it and you'd be set!)
Green Drinks and Drink Mixes
Juicy Juice apple juice
Sprite
7-Up
Canada Dry (ginger ale)
Mtn Dew
Green apple Fanta
Lime Bubly
Perrier
La Croix
Sparkling Ice
Gatorade/Powerade
Kool-Aid: green apple, lemon-lime, strawberry kiwi
Bigelow green tea or Mint Medley
Green Non-Food Ideas
Nail polish
Spearmint ChapStick
eos lip balm
Loofah
Sunglasses
Flip-flops
Working Hands lotion
Mrs. Meyer's soap*
Irish Spring soap*
Green shampoo (like Garnier)*
Green toothpaste
Pack of Kleenex
Hand sanitizer*
Wet Ones wipes
Play-doh
Small toys (yo-yo, dinosaur, etc.)
Subway, Olive Garden, Barnes & Noble, or Starbucks gift card
Post-it notes
Notebook
Green tumbler like this one
*I probably wouldn't mix any strong-smelling items with food items as it could affect the taste
Green Container & Basket Ideas
Again, you can usually find a bunch of fun (and cheap!) containers at a craft store or dollar store, but these are some other ideas:
Also, don't feel like a container is a requirement to make a lucky gift! Simply tying one of the printable tags below onto a candy bar or can of soda would be the perfect small gift!
Green Decor Ideas
Faux greenery (green floral picks–you can usually pop off smaller sections or use wire cutters to trim them down smaller)
Paper or felt pinwheels (attach to a straw or wood dowel, or tape/tie to the container)
Green tissue paper for filler
A gift tag–like the free printable below!
Free Lucky Gift Tag Printables
There's a variety of sentiments you can use to go along with this theme, but I chose "lucky," "I'm so lucky to have you," and "good luck." And yes, I made printables for all of them because I couldn't pick just one. So, lucky you! (See what I did there?)
The circle gift tags measure about 2″ by 2″. If you have a circle scrapbooking punch, that will be perfect for cutting these out! Or, you can cut them out with scissors or use your fancy Cricut if you have one.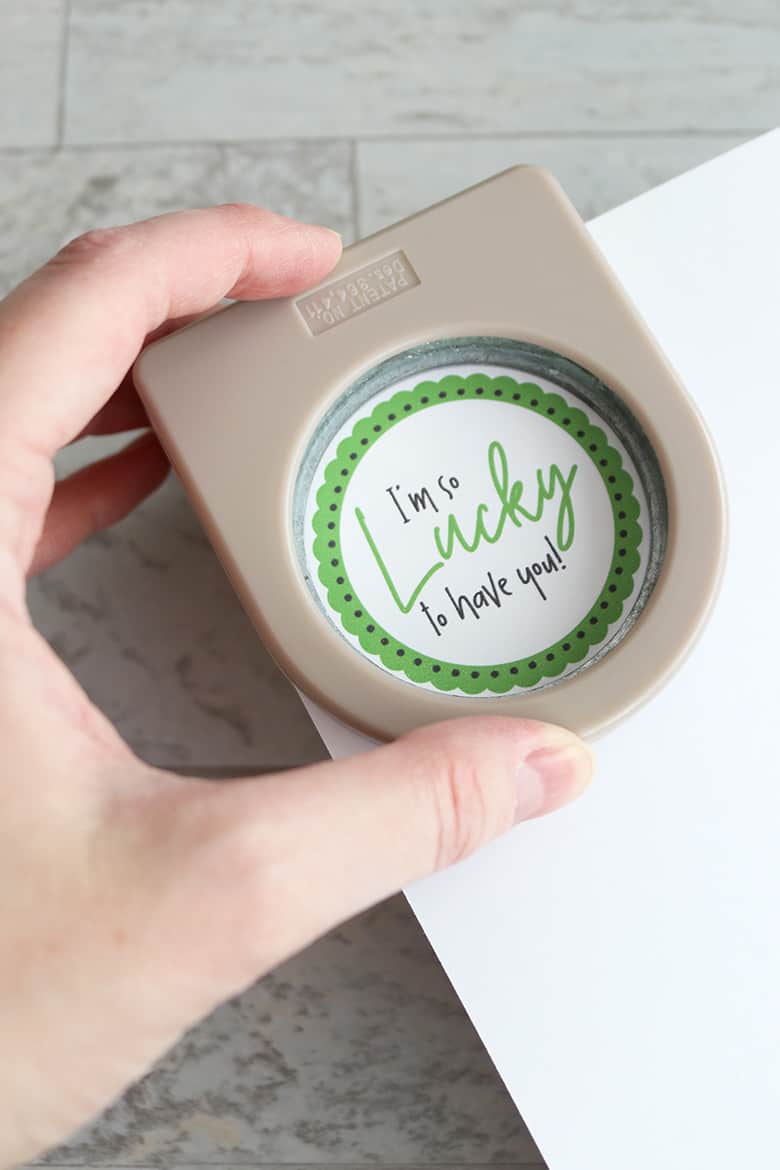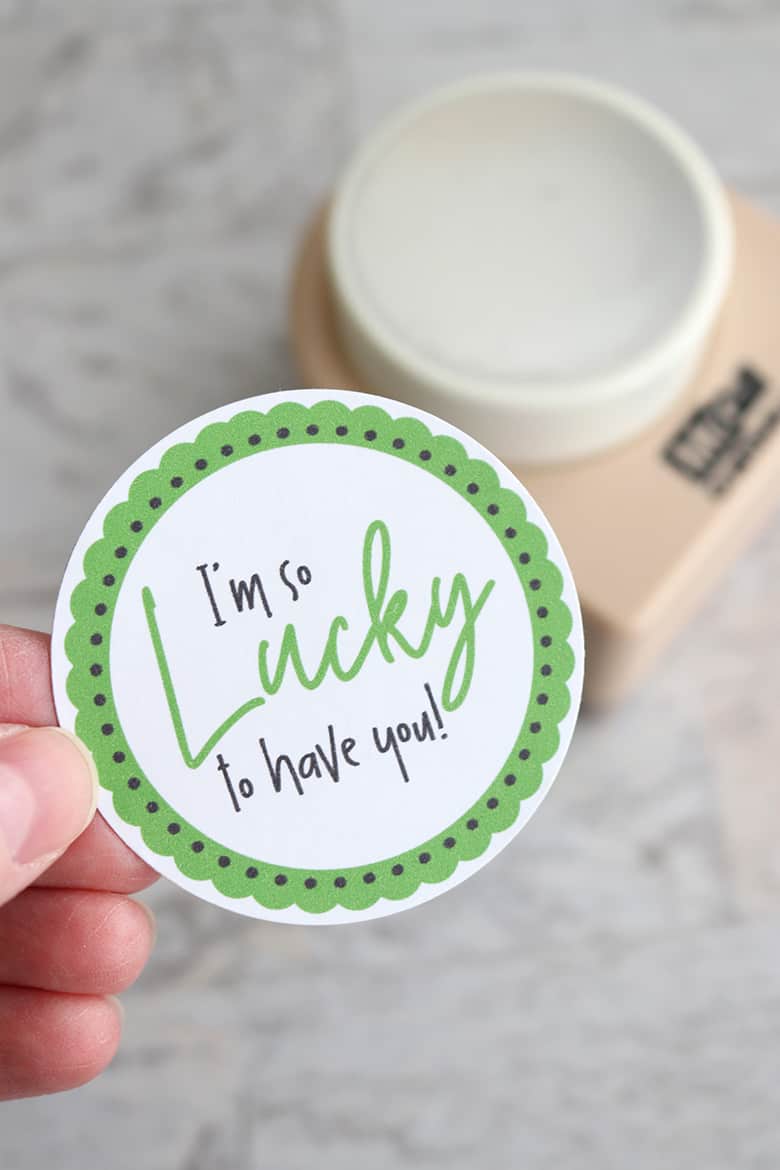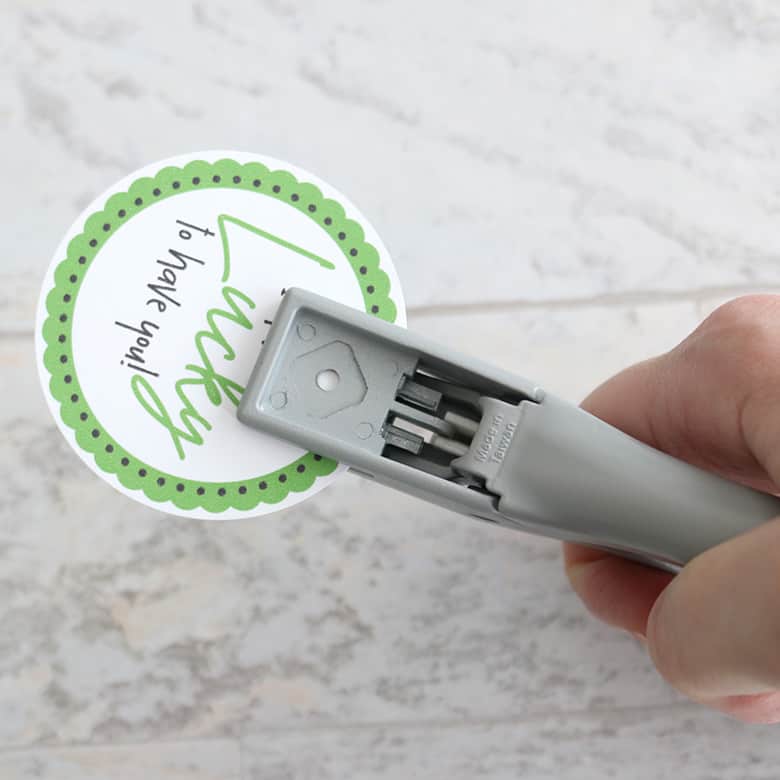 I love this hole punch for tags! It's the perfect tiny-sized hole and it's heavy duty!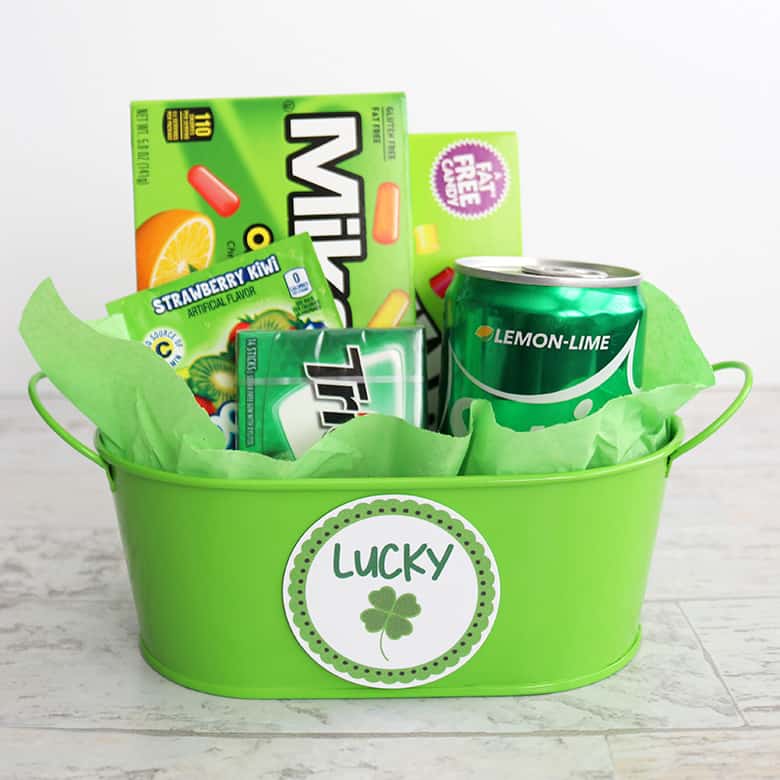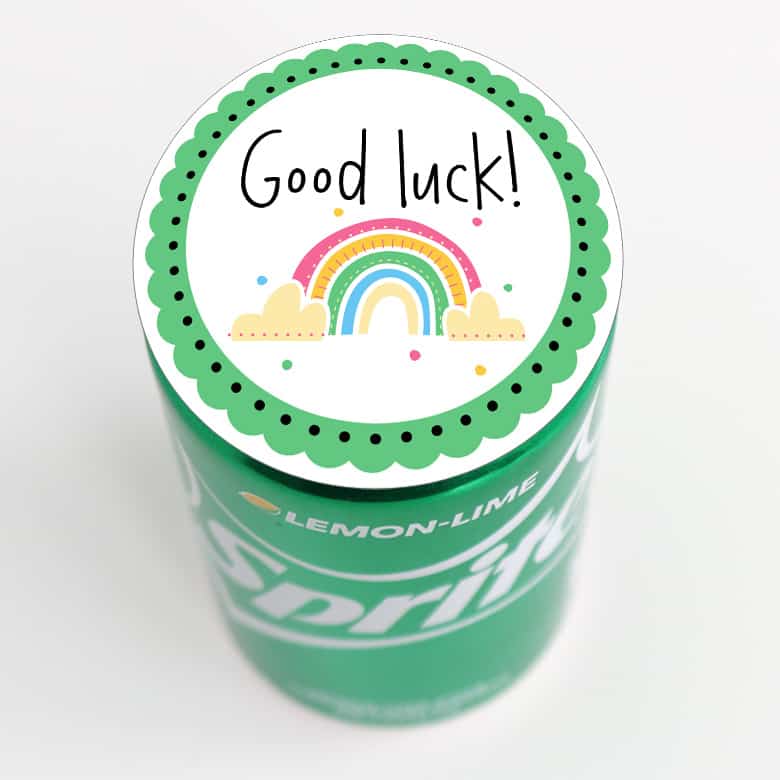 (I photoshopped the tag in the picture above, so that's why it looks a little different than the others. I was too lazy to print it for a picture. 😜)
So…I did it again…thanks to mom brain, I took pictures of multiple drafts of my tags before I officially chose the designs…so there's a second version of the "I'm so lucky to have you" sentiment. Wow, you're extra lucky with all these options. 🤪 This last one is pretty small but actually makes the perfect tag for a mini can of Sprite (or you can tape one of the circle tags to the top, that works too)!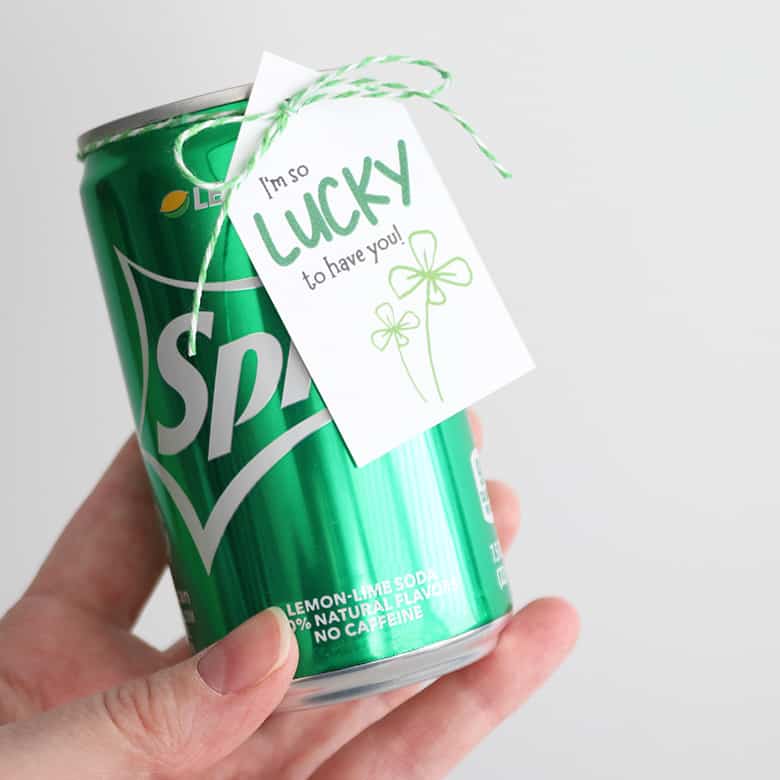 Tips for printing: Print at 100% scale. Each tag will print on its own page, so feel free to select "custom" pages in your printer settings and type in the page number(s) you want to print. Colors may vary, but for best results, set your printer settings to the correct paper you're using (on my computer, I go to "Quality and Media" and "Media Type". Feel free to contact me or leave a comment below if you have any issues!
How to Make a DIY Lucky Gift for St. Patrick's Day
Easy peasy! These lucky gifts are sure to brighten someone's day…and they'll probably feel pretty lucky to have you as a friend, too!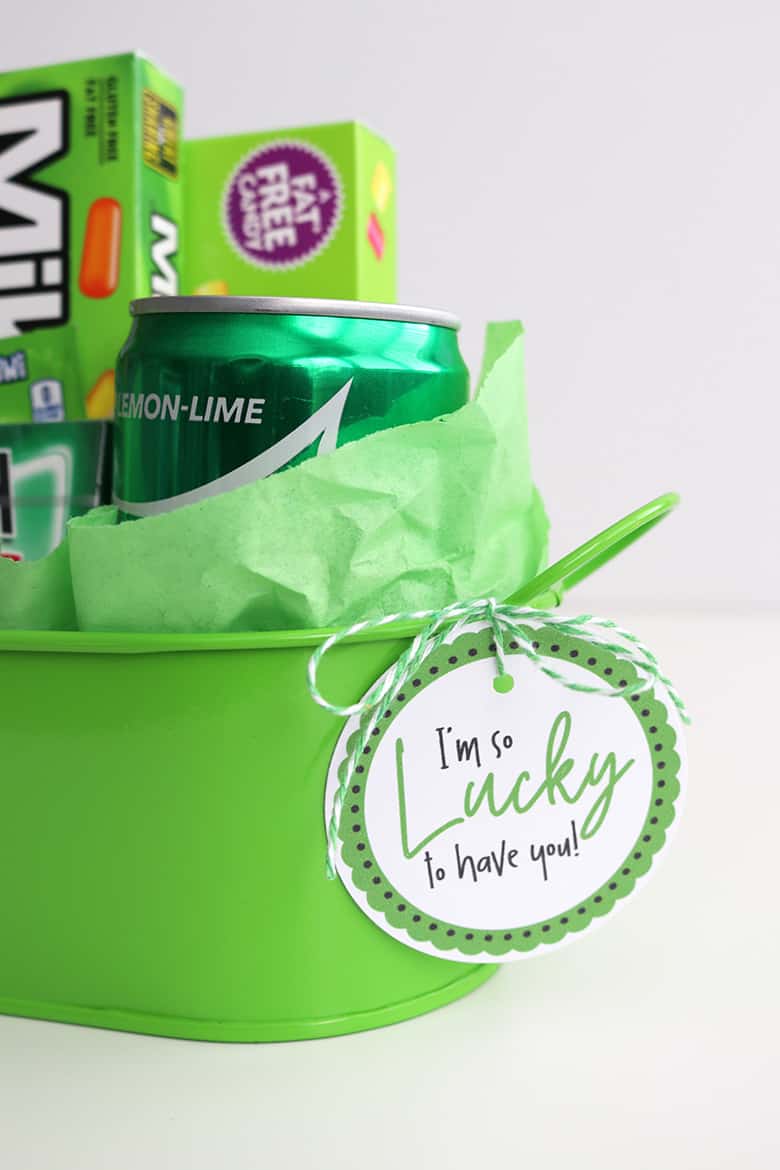 What do you think? Did I miss any green items on my list? Tell me in the comments below!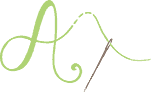 Don't forget to pin and save for later!