Make an easy sunshine gift basket or box of sunshine with these fun (and yellow!) ideas. Plus, a free printable sunshine gift tag and a "sending you sunshine" greeting card!
I've been a little absorbed in my own world lately, so I thought I'd make a couple gifts to send some "sunshine" to a few friends and neighbors that I haven't seen or talked to in awhile.
These gifts are the perfect little pick-me-up for a friend who might need some extra cheer or simply a hello from you!
Keep reading for all the yellow items you'll want to include, and don't forget to grab your free printables (either a gift tag or card) below!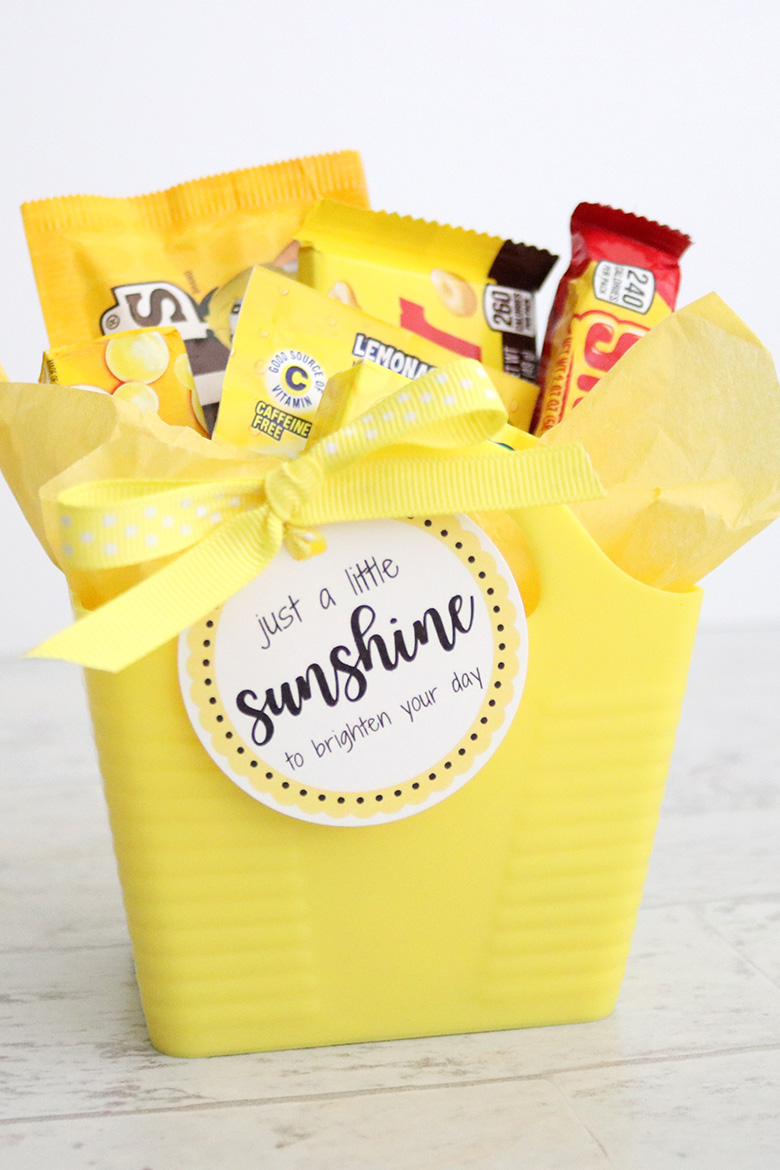 This post contains affiliate links. For more information, see my disclosures here.
---
More posts you'll like: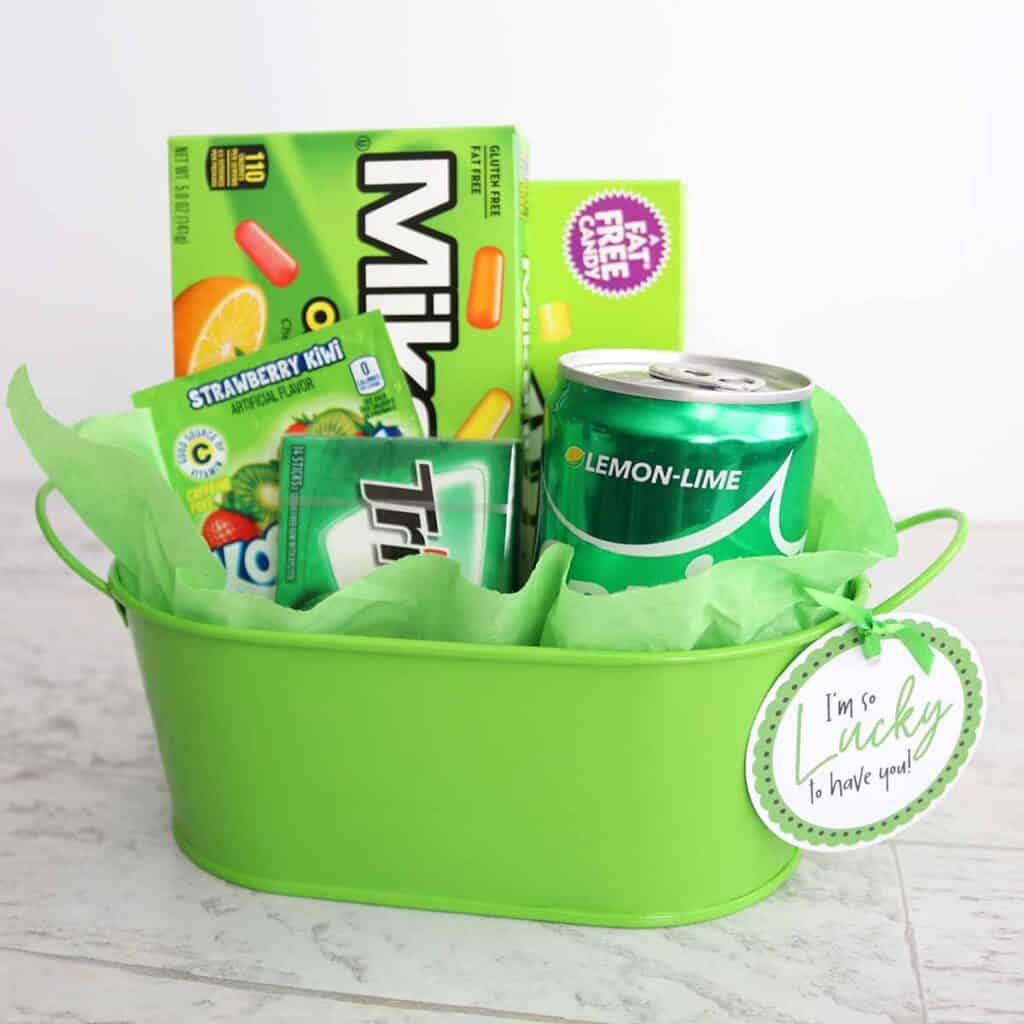 ---
Box of Sunshine Gift Ideas
I love putting together themed gifts! Having a theme actually makes this super easy to do, even if you think you're not very crafty.
These DIY gifts don't have to be terribly fancy or expensive–just snag a couple items in the checkout line of the grocery store and tie on the printable tag below for a fun gift! Or, if you want to go even simpler, just print out the card and mail a quick message to someone instead.
If you're looking for a more elaborate gift box or care package, just search "sunshine gift" on Pinterest for about a million more ideas–there's some really cute ways you can decorate a "box of sunshine."
Yellow Items to Include in a Sunshine Gift Basket: the Ultimate List!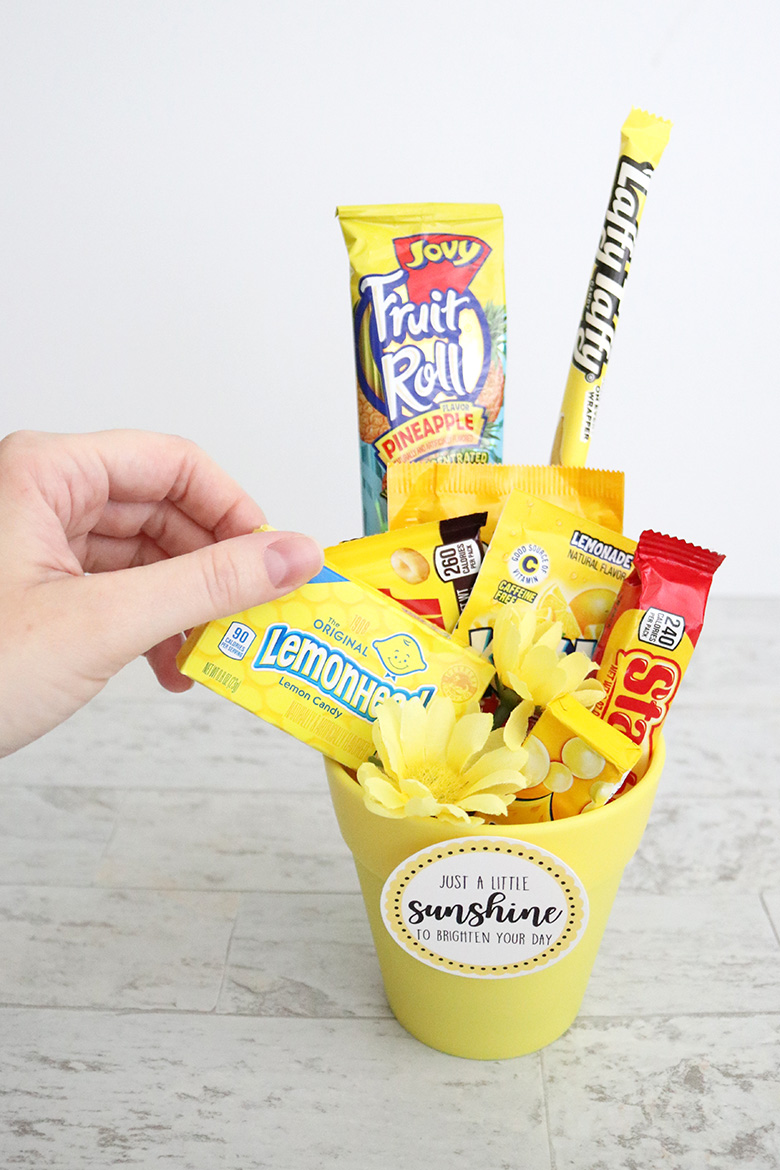 For the brightest, happiest sunshine gift, you're going to want your items to have mostly yellow packaging. I would just scan the aisles of your grocery store (or Walmart) for any yellow things that are the right size for your basket or container (I found my containers at Hobby Lobby in the spring clearance section for just a few dollars, but scroll down for more ideas).
If you're stumped for yellow ideas, I've compiled the super handy list below.
*Note: I am not affiliated with any of these brand names
Yellow Candy Ideas
Starburst
Peanut M&Ms
Butterfinger
Mr. Goodbar
Brightside Skittles
Raisinets
Juicy Fruit gum
Pineapple Twist Trident gum
Cool Lemon Ice Breakers Ice Cubes
Banana Laffy Taffy
Ferrero Rocher
Swedish Fish
Lemonheads or lemon drops
Lindt Lindor white chocolate truffles
Fruit Gushers
Pineapple Fruit Roll-Up
Yellow Peeps (seasonal)
Whoppers Robin Eggs (seasonal)
Yellow Food Ideas
Lay's potato chips (or any other yellow bag of chips)
Funyuns
Golden Oreos
Lorna Doone
Vanilla Wafers
Wheat Thins
Keebler cookies
Lemon Jell-O
Corn Pops cereal
Cheerios
Velveeta shells & cheese
Popcorn
Lemon/yellow cake or muffin mix (see my tips below if you're making a housewarming gift)
Yellow Drinks and Drink Mixes
Lemonade
Crystal Light
Kool-Aid
Sparkling Ice
Pineapple Fanta
Gatorade/Powerade
Herbal tea (see my tips below if you're making a get-well gift)
Yellow Non-Food Ideas
Yellow nail polish
Burt's Bees chapstick
Carmex lip balm
eos lip balm
Hand cream
Loofah
Sunglasses
Flip-flops
Fuzzy socks
Mrs. Meyer's honeysuckle hand soap
Pack of Kleenex
Hand sanitizer
Wet Ones wipes
Play-doh
Smiley-face stress ball (I've found them at Dollar Tree before)
Small toys
Subway gift card
Post-it notes
Notebook
Yellow Decor Ideas
Sunflowers, daisies, or other yellow flowers (I just popped a few buds off a cheap bunch of flowers I got at Michael's on sale)
Paper or felt pinwheels (attach to a straw or wood dowel, or tape/tie to the container)
Yellow tissue paper for filler
A gift tag–like the free printable below!
Yellow Container and Basket Ideas For a Sunshine Gift
The first places I usually look for simple gift containers are Hobby Lobby, Michaels, and Dollar Tree (you could also try Joann, Walmart, or Amazon). You may have better luck finding bright yellow containers in the spring/summer as they're sometimes a seasonal item, and of course it totally depends on what type of container you're looking for and what size.
Here are a few ideas I've found:
And if none of those ideas are working for you and you can't find anything local, try these ideas:
Recycle a kitchen container (oatmeal canisters, cookie tins, original flavor Pringles cans, etc.) by washing and drying it, and Mod Podging yellow paper or fabric to the outside. Then, tie a yellow ribbon around it or put a yellow gift bow on the lid. Or Mod Podge any other container, like the plain ones from Dollar Tree I mentioned above. (Now that I think about it, a yellow Nesquik container would be perfect for a sunshine gift! My DIY gratitude jar was made from an old Nesquik container!)
Spray paint a wicker basket yellow, or even keep it the original color and weave a yellow ribbon through it and tie a bow (check out how I quickly dressed up my get-well gift basket with ribbon).
Decorate a simple cardboard box with scrapbook paper and embellishments (or even yellow wrapping paper), then line it with yellow tissue paper for a box of sunshine care package.
Add more pops of yellow to any container by adding stickers or vinyl, flowers, tissue paper, or ribbon.
Think outside the box for your gift container (no pun intended). You may find that a purse, beach bag, storage cube, or even tumbler is the perfect way to gift all the yellow goodies to your recipient.
Free Sunshine Printables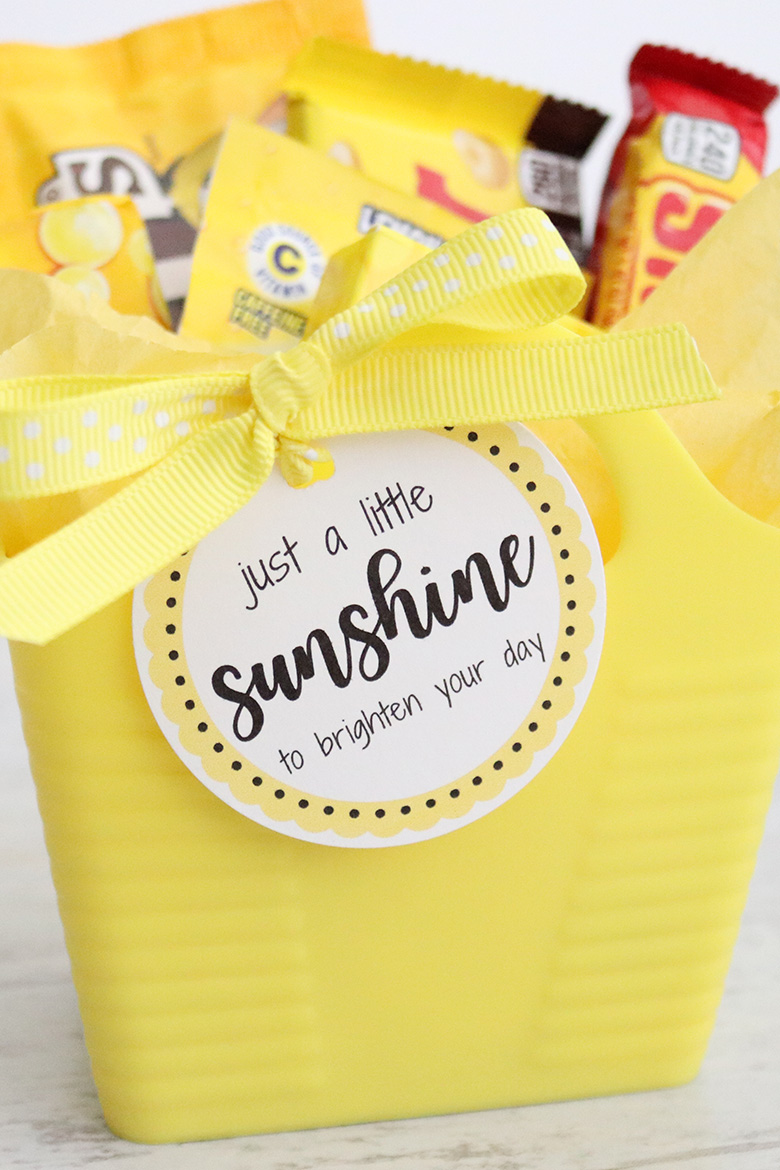 This gift tag measures about 2″ by 2″. If you have a circle scrapbooking punch, that will be perfect for cutting this out! Or, you can cut it out with scissors or use your fancy Cricut if you have one.
If you want/need to print out a whole sheet of tags, here is a page of 12 tags (thanks to the readers who suggested this!):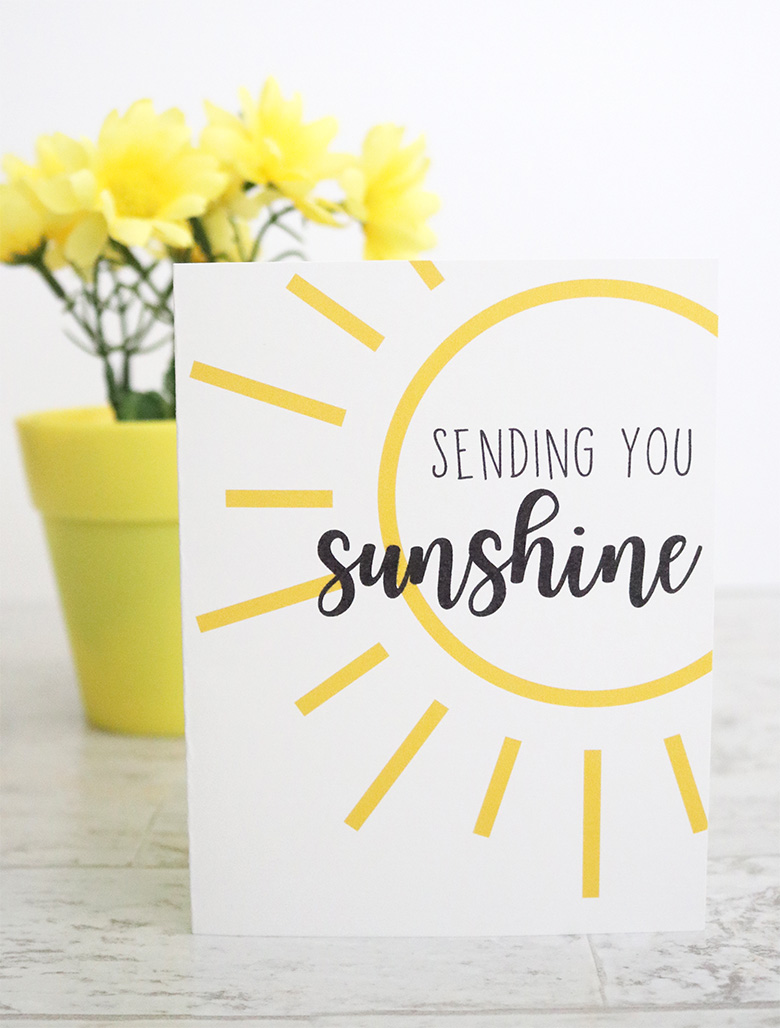 This "sending you sunshine" greeting card measures 8.5″ x 5.5″ unfolded (half of a regular sheet of paper) so once it's printed, you'll need to crop it down to those dimensions with a paper trimmer. This card fits in an A2 size envelope.
Tips for printing: make sure your printer is set to borderless printing and scale 100%. Feel free to contact me or leave a comment below if you have any issues!
---
Want to make your own printables? You can use the free version of Canva here, but I am a huge fan of Canva Pro! I use it for everything!
---
Ideas to Personalize Your Sunshine Gift
This gift is great for just about any recipient–it's the perfect gift for a best friend, family member, college care package, and can be customized for any special occasion! I've also listed a few ideas below to personalize this even further. You can include any items you want (I would honestly just go to that department in Walmart and search for anything yellow I might want to include), but these are some ideas to get you started.
If I don't specify that the item is yellow, just assume that it is!
For a get-well gift:
tissue pack, hand sanitizer, Lysol or Wet Ones wipes, herbal tea, lemons (real), honey, cough drops, this mug or this mug, lip balm, fuzzy socks
For a housewarming gift:
cleaning supplies (lemon-scented options often have yellow packaging), sponges, Dawn lemon dish soap, dish towels or cleaning cloths, citrus squeezer, silicone whisk, silicone spatula set, yellow/lemon cake or muffin mix, oven mitts
For a baby gift:
baby shampoo, baby outfits, these adorable shoes, banana teether, or this teether (my baby would love this one!), this perfect board book
For the gardener:
seed packets (sunflowers or other yellow flowers), hand trowel, gloves like these, this yellow storage bag, pruning shears
For the crafter:
a half yard of fabric (or even remnants), thread to match, yarn, Mod Podge, paint, stickers (extra points for suns or sunflowers), cardstock or paper pad, washi tape, ribbon, these scissors
How to Make a DIY Sunshine Gift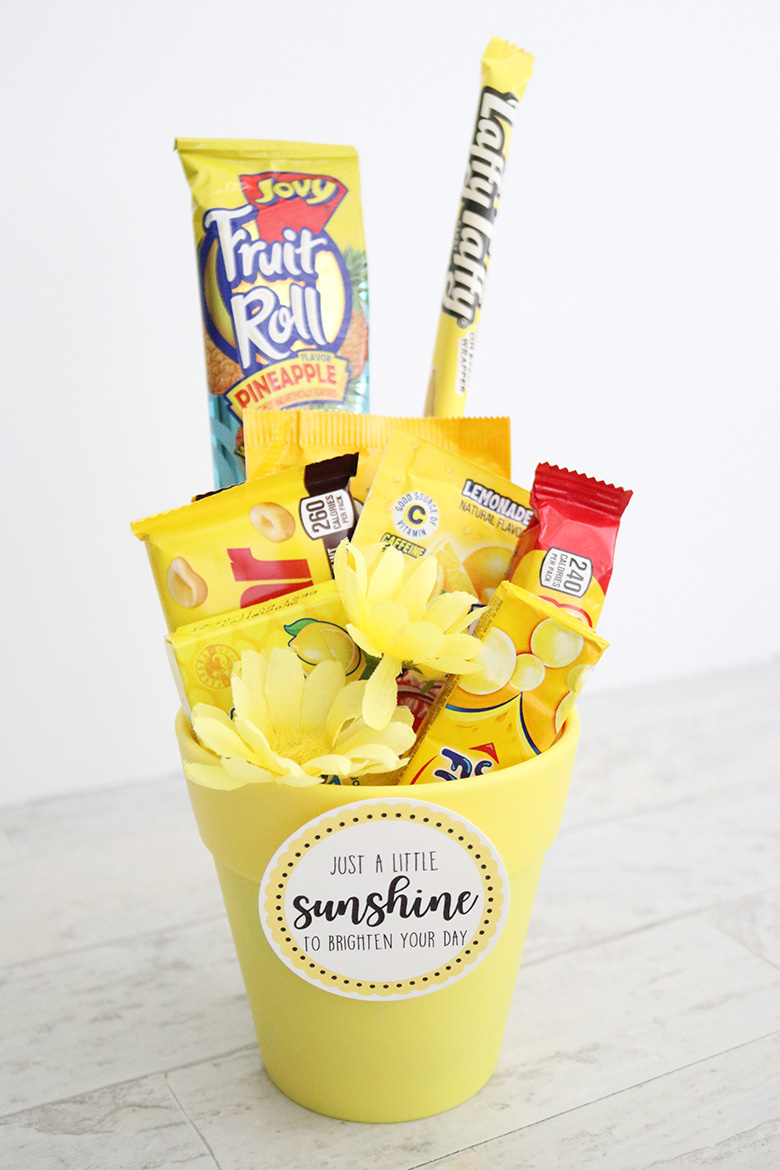 And there you go! These sunshine gifts are so much fun to put together and are a thoughtful, cheerful surprise for any lucky recipient!
Now you can go make your own yellow gift boxes and spread a little sunshine around!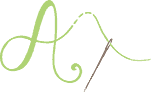 Don't forget to pin and save for later!