This post contains everything you need to know about the Cricut BrightPad and BrightPad Go. See the differences between both and examples of what you can do with the BrightPad, and then decide if it's something you need!
I have had my eye on the Cricut BrightPad Go since it came out a year ago. There have been so many instances where a light pad would've been so helpful for weeding vinyl or other times I could've used a tracing pad! Since using the BrightPad, I don't think I'll go back to weeding any other way. Even for certain vinyls that don't necessarily benefit from the light, it makes a great work surface that's durable and scratch-resistant and I'm kind of just in love with it now.
If you're new to Cricut BrightPad or have been thinking about purchasing one, this post will tell you everything you need to know so you can decide if it's something you need for your own crafts and hobbies!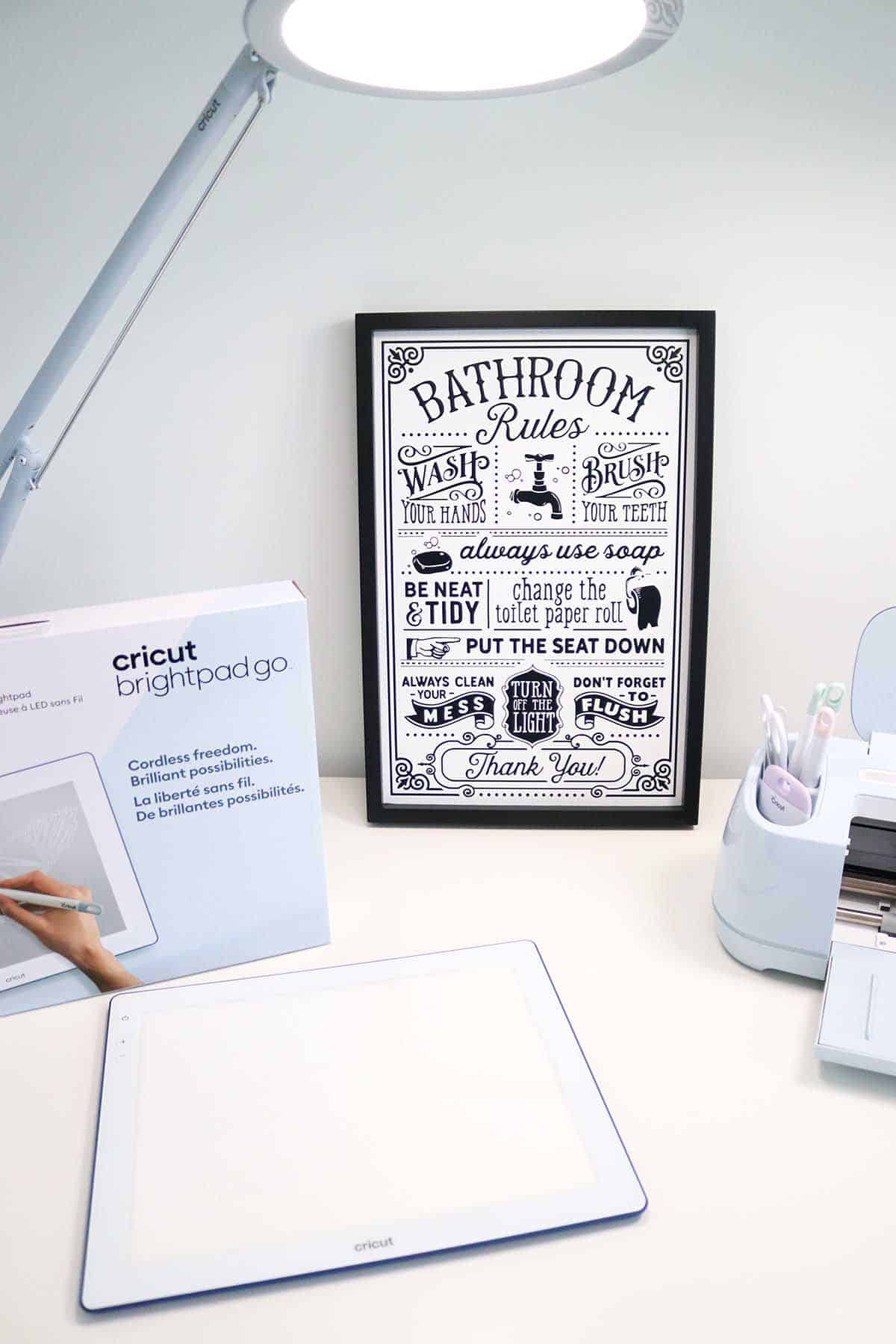 This is a sponsored post written by me on behalf of Cricut. All thoughts and opinions are my own.
This post contains affiliate links. For more information, see my disclosures here.
How to brighten your craft room with Cricut
Cricut currently offers two types of lighting products: BrightPads (the BrightPad and BrightPad Go) and Bright 360 Ultimate LED Lamps (in table and floor styles and two color options).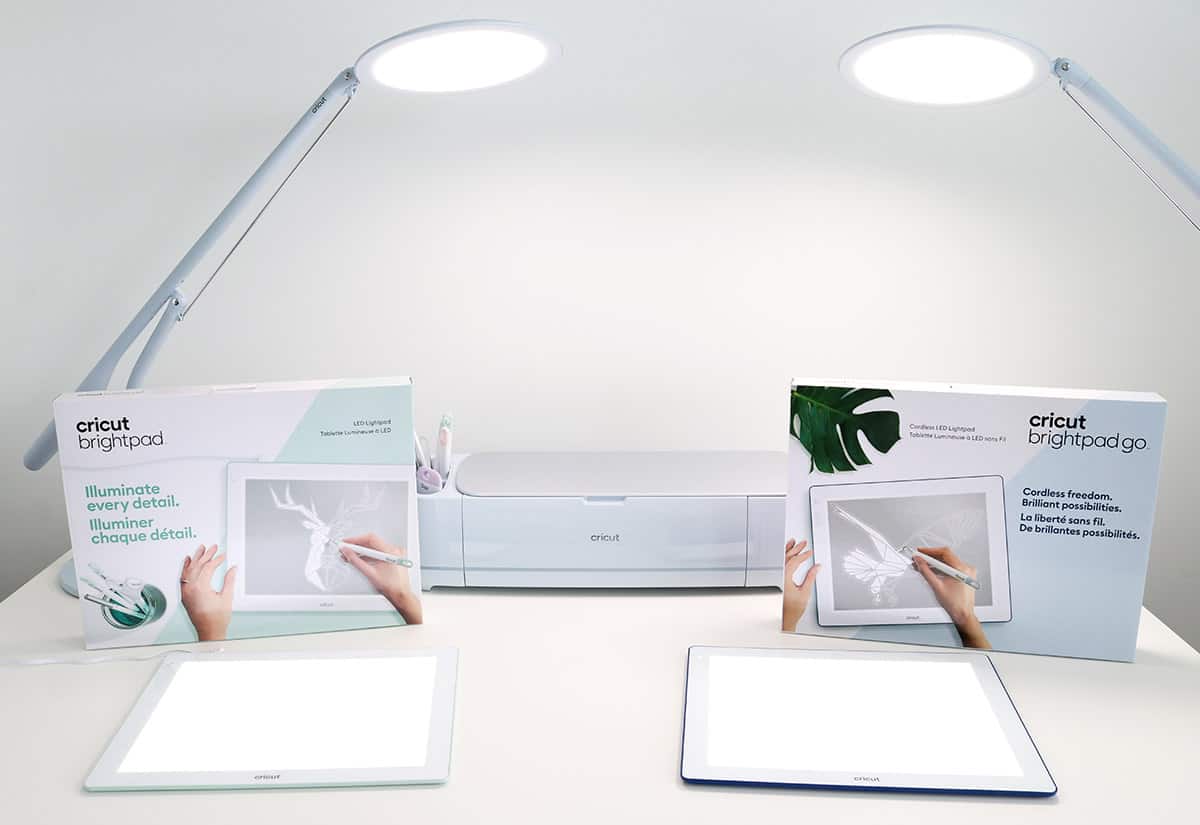 Both these products are fantastic for brightening your craft room! The BrightPads are awesome for backlighting your work and illuminating from behind, while the lamps provide amazing overhead lighting. I love having both options available, and will often use the BrightPad and lamps at the same time for maximum lighting.
What is Cricut BrightPad?
The Cricut BrightPad is a thin, tablet-like pad that has a lighted LED screen that provides an illuminated work surface for whatever you lay on top of it. You may have heard it called a light pad or light box. Because it provides backlighting, it is great for tracing, weeding vinyl, and a variety of other crafts and hobbies.
The Cricut BrightPad is an excellent companion to Cricut machines but operates on its own and does not require the use of a Cricut machine, Cricut Design Space, or any other Cricut product.
What is Cricut BrightPad Go?
The Cricut BrightPad Go is essentially the same thing as the BrightPad (they're very similar in size and weight and provide almost the same level of lighting), but the BrightPad Go has a couple upgraded features, which I'll go into next.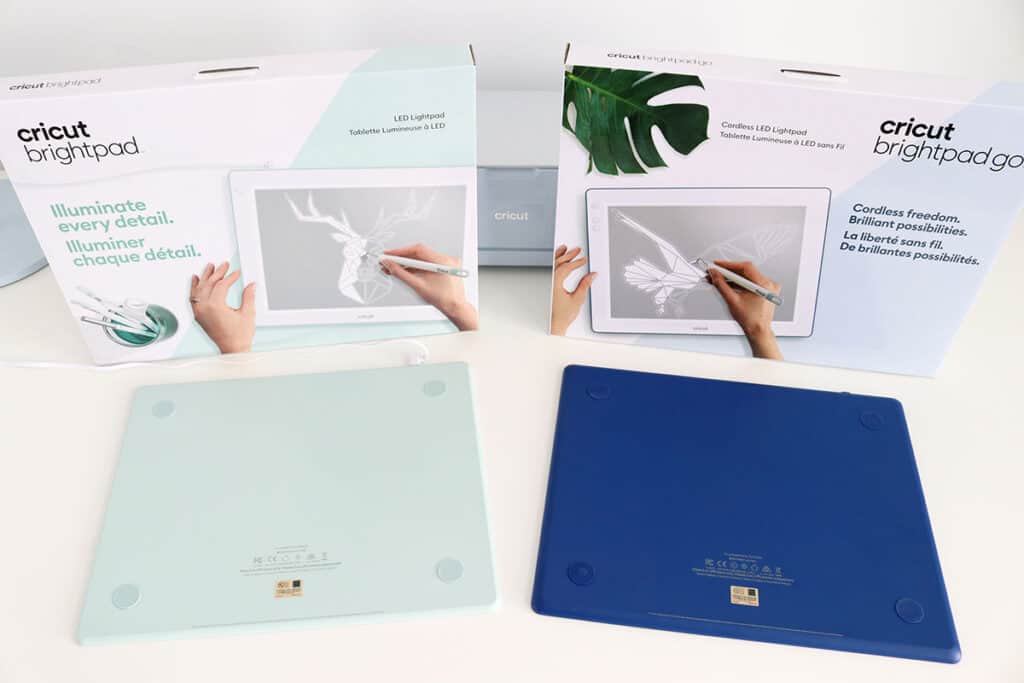 What's the difference between Cricut BrightPad and BrightPad Go?
Cricut BrightPad and Cricut BrightPad Go have several important differences. The most important in my opinion is that the BrightPad must be plugged in while in use whereas the BrightPad Go is rechargeable and can be used without being plugged in. There is also a difference in price point, color, brightness, number of brightness settings, hardness, and what's included with them in the box. Check out this simple graphic for a breakdown of their features: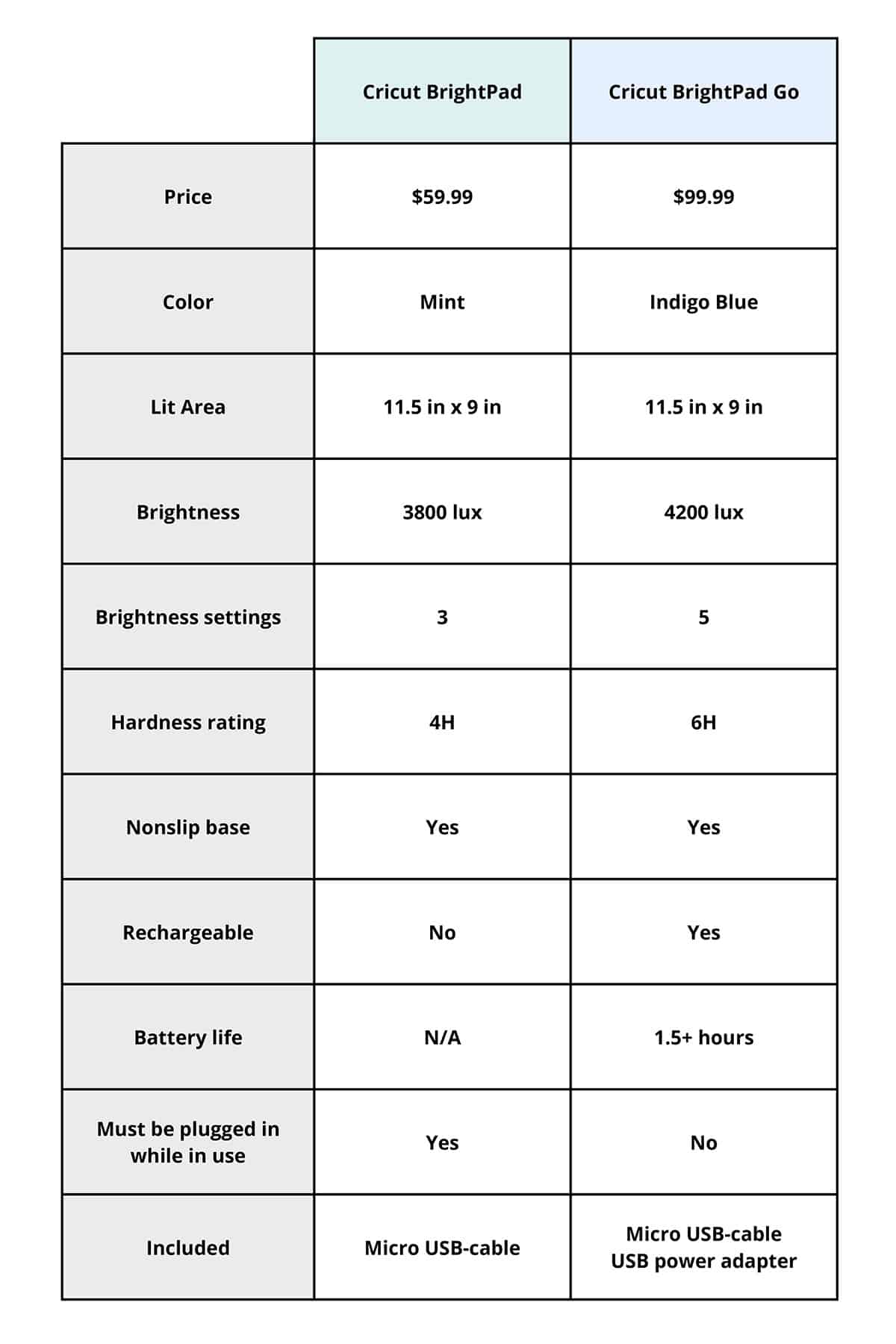 Another difference is that the BrightPad has only a single power button that also serves as the brightness settings, and the BrightPad Go has both a power button and individual up and down brightness buttons.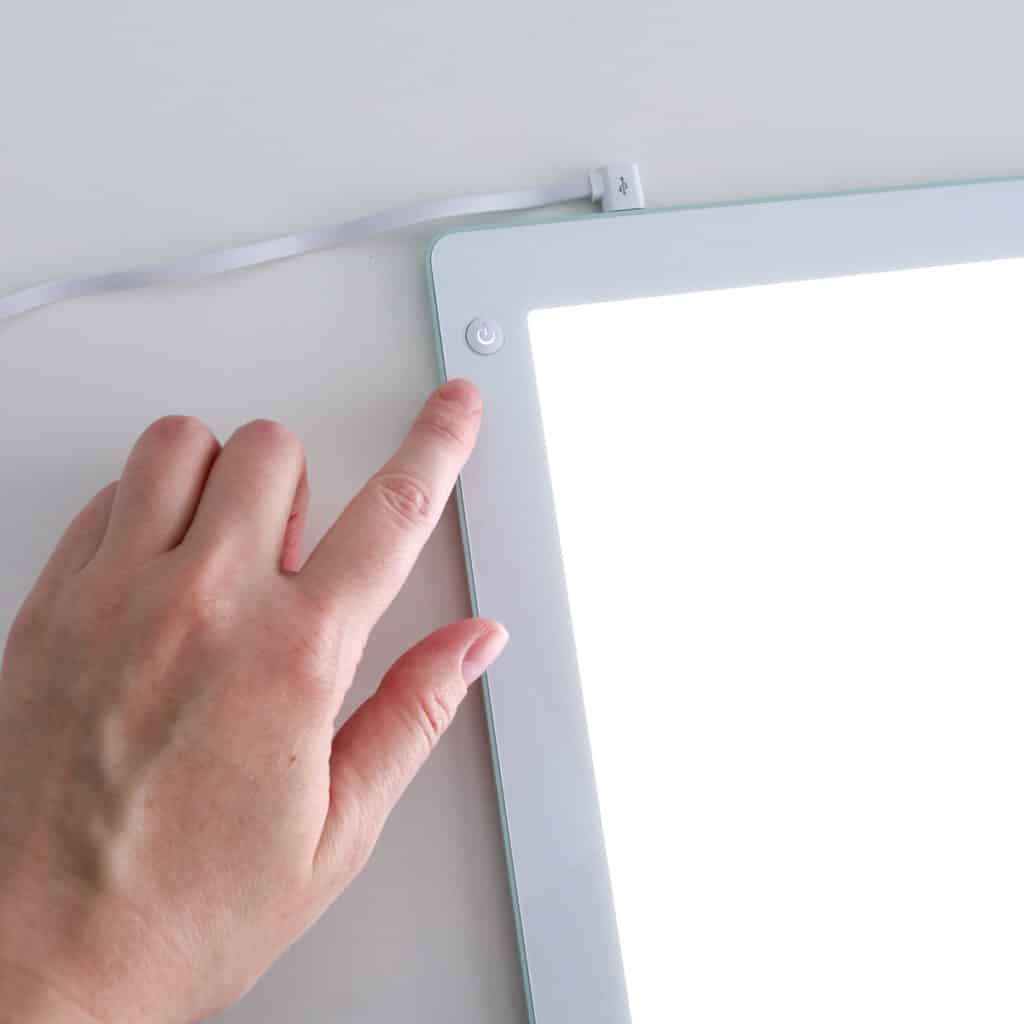 How much is the Cricut BrightPad? How much is the Cricut BrightPad Go?
The Cricut BrightPad is $59.99. The Cricut BrightPad Go is $99.99. If you have a Cricut Access subscription, you get an extra 10% off all Cricut.com purchases, so it comes out to $53.99 and $89.99, respectively (plus tax).
---
Not sure if Cricut Access is right for you? Read this post:
---
Cricut BrightPad vs. BrightPad Go – which one should I get?
If you're on the fence about which BrightPad to get (BrightPad or BrightPad Go), I think it really just comes down to cost and what you can afford. (Well, and maybe what color you want if you have a strong preference—the BrightPad has a mint back and the BrightPad Go has an indigo blue back.)
I would absolutely recommend the Cricut BrightPad Go for the freedom of not having to plug it in while you're using it—definitely worth the extra $40 in my opinion. It also comes with a USB power adapter, which the regular one does not (I hate when those aren't included because then that means I'm usually stealing one from somewhere else in the house!). Also, the Cricut BrightPad Go has a higher hardness rating (6H vs. 4H), is brighter (4200 lux vs. 3800 lux), and has 5 brightness settings instead of only 3. Overall, it's the nicer option and not that much more expensive.
How does the Cricut BrightPad work?
To turn the Cricut BrightPad on, you must first plug it in using the included micro USB-cable and a power adapter (not included). Then, push the power button to turn it on and push it up to two more times to increase the brightness (there are 3 brightness settings). Push the power button a fourth time to turn the BrightPad off.
The Cricut BrightPad Go has a rechargeable battery and does not need to be plugged in while using it (though you can use it while it's plugged in and charge it at the same time if needed). Push the power button to turn it on or off. Push the + or – buttons to adjust the brightness settings (there are 5 brightness settings). Plug it in using the micro USB-cable and power adapter (both included) to charge it. The power button will "breathe" white while charging and will flash red when battery is low. Cricut recommends recharging the battery at least every 3 months for best battery life.
Once you've turned the BrightPad on, you can use it to trace, weed, or work on any project needing illumination from behind.
Note: Though there are key differences between the BrightPad and BrightPad go, for simplicity throughout the rest of this post, I will often refer to both BrightPads as just "BrightPad" since they function basically the same and provide the same illumination purposes.
Do you need a Cricut machine to use the Cricut BrightPad?
Nope! The Cricut BrightPad is a great companion tool to a Cricut machine, but it works by itself and does not require a Cricut machine to function—which is why so many other hobbyists (not just Cricut crafters) love the BrightPad!
But, if you feel like leveling up your crafting, I highly recommend investing in a Cricut machine and a heat press if you haven't already! Use coupon code AUBREE10 for an additional 10% off!
What is the Cricut BrightPad used for?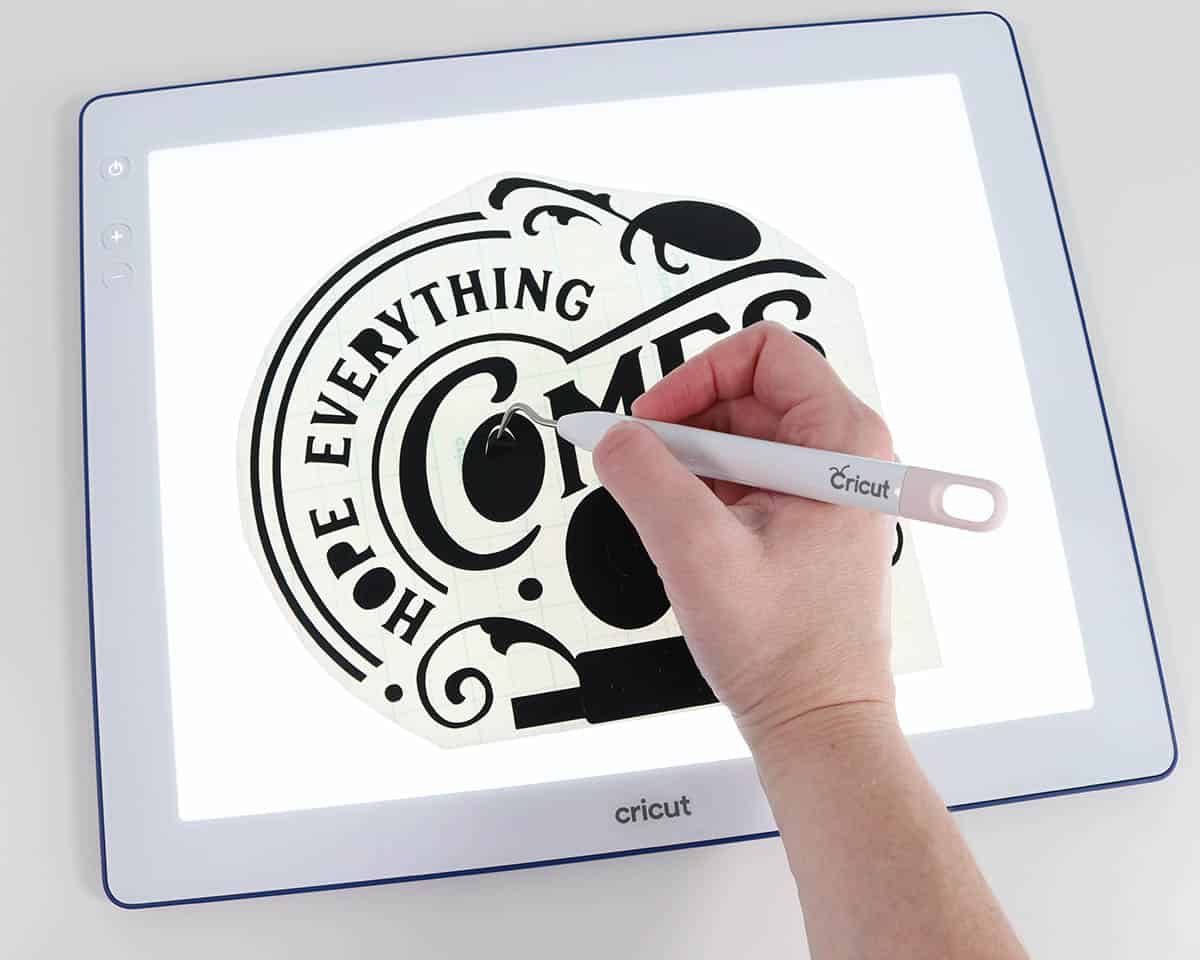 You can use the Cricut BrightPad for so many awesome things, like:
Weeding vinyl and iron-on: this is one of the most popular uses for the BrightPad. It illuminates cut lines, making weeding easier (yay!). I find this especially helpful with dark vinyl colors, detailed cuts, and certain types of glitter iron-on (not all).
Tracing: you can trace so many things, even through thicker materials like cardstock and fabric!
Drawing: man, would this have been handy in my college interior design drawing classes!
Drafting and design
Embroidery, cross stitch, and quilting: you can trace patterns or backlight your work (p.s. I've been really liking the Cricut washable fabric pens for patterns)
Diamond painting: the BrightPad is so amazing for these! Plus, it'd be a great way to trace patterns if you do freestyle diamond paintings.
Jewelry making: great for seeing tiny beads and gems so you don't lose them
Assembling paper craft projects
Lettering/calligraphy
Paper quilling
A portable task light: some people like to use their BrightPad propped up to help illuminate small handiwork
Children's lettering practice, homework, crafts, etc. (maybe when my son's older…like a whole lot older 😉)
how do you make Cricut weeding easier?
If you're struggling with weeding vinyl, check out my vinyl weeding tips in my DIY Bathroom Sign tutorial. I chose a very tricky design for that project, but ultimately, one of the biggest helps was having both the Cricut BrightPad Go and the Bright 360 lamps to illuminate everything.
Does the Cricut BrightPad help with weeding glitter iron-on?
Yes and no—it depends on the glitter iron-on. I have some glitter iron-on that has a white backing which made it super easy to see the cut lines even without the BrightPad. Other glitter iron-on, like the gold iron-on in the image below really benefited by the lighting of the BrightPad.
Play with the brightness settings to see if one is better than another for illuminating your vinyl. If you're still having a hard time seeing the cut lines in your glitter vinyl, try stretching the vinyl side to side or rolling it and your lines should appear—you can do this over the BrightPad as well so its light shines through the cut lines as they become visible.
Is the Cricut BrightPad only for Cricut crafts?
No! While it is definitely awesome for Cricut crafts, you can use the BrightPad for any application that needs a light box or tracing pad, including but not limited to all the uses above!
Can you cut on the Cricut BrightPad?
The Cricut BrightPad has a hardness rating of 4H and the BrightPad Go has a hardness rating of 6H. This means they are both very durable and resistant to scratches and scrapes (which is awesome for weeding tools*). However, I DO NOT recommend using something like the TrueControl knife directly on either BrightPad—those blades are sharp and will most likely scratch it! A better option would be to use a self-healing mat to cut on instead (and you can use overhead lighting like the Cricut Bright 360 Lamp if you need additional light while cutting).
*Some weeding tools can still scratch your BrightPad, but you'll almost always have a sheet of vinyl backing between the tool and the BrightPad's surface so I wouldn't worry about them too much—you'd have to dig pretty hard to leave a mark.
Cricut BrightPad vs. light box
The Cricut BrightPad is a light box, just made and branded by Cricut and designed with Cricut crafters in mind. If you were to compare the Cricut BrightPad to other light boxes out there, I think you'll find that the Cricut BrightPad is a superior product in a lot of areas (and also so much prettier!).
I haven't personally tested other light boxes, but you're welcome to do your own research—use the graphic above to compare specs! If you're anything like me, I think you'll come back to the Cricut BrightPad Go for its cordless-ness, brightness, and durability.
Do you need the Cricut BrightPad?
I mean…it depends. If you're asking, "do you need the Cricut BrightPad in order to do Cricut crafts", then, no, it's not necessary like a Cricut machine is. But if you struggle with weeding, do any kind of intricate projects, or have poor vision or poor lighting in your craft room, then I'd say this becomes more of a need.
If you're an artist or hobbyist who frequently needs to do any kind of tracing, I would say a Cricut BrightPad would be invaluable to you.
If you do diamond paintings, you absolutely need a light pad! (Funny story…I got a diamond painting as a prop for this post but then I actually really liked doing it so now I have a new hobby…because I needed one more. 😆 And yes, the BrightPad is SO helpful for diamond paintings, I would never work on one without it.)
If you're asking this question with the intent to know what to purchase for or as a new Cricut crafter, I would say absolutely go for it if it's comfortably in your budget—there's no doubt you'll find some good uses for it. But you could also just as easily get started with the basics and then decide if you need a BrightPad later on: start with a good Cricut machine (though I recommend you purchase it as a bundle), essential tools, weeding tools, an EasyPress, and some basic materials like permanent vinyl, removable vinyl, and iron-on vinyl (and again, purchasing some of those things in a bundle will save you some money…or wait and get your materials in Cricut Mystery Boxes…that's also a very fun way to shop and collect new materials to try).
If you're asking me personally if the Cricut BrightPad is a need now that I've had a chance to use it for awhile, my answer is yes…I now need this in my life and in my craft room. 😄 It's that handy.
Is Cricut BrightPad worth it?
Yes! In my opinion, the Cricut BrightPad is definitely worth it (and I really do recommend the BrightPad Go)! I think you'll find a ton of uses for it in your craft room, especially if you do any of the crafts listed above.
If you're a Cricut crafter, I think the BrightPad will become your new best friend for weeding! I would've been so much more intimidated by my DIY bathroom sign project without the BrightPad.
Yes, there are other light pads on the market (some cheaper and some more expensive), but most won't be nearly as nice or bright as the Cricut BrightPads. Also, they won't have the same hardness rating—Cricut BrightPads are specifically designed to be scratch resistant, making them your best option for a weeding surface! You also get a gorgeous non-slip backing and multiple brightness settings. All-around, I think this is an awesome product and my new favorite addition to my craft room (well, after the Bright 360 lamps because those are also uh-mazing—cue heart eyes).
Everything you need to know about Cricut BrightPad and BrightPad Go
A huge thank you to Cricut for their generosity in sending me product to use and review for this post! I'm absolutely in love with the new lighting upgrades to my craft room!
If you regularly find yourself needing better backlighting for artwork, weeding vinyl, or could benefit from a tracing light pad, the Cricut BrightPad is going to be your new best friend! And if you're a Cricut crafter wondering if you should add this to your craft room, my answer would be yes, go for it! You won't be disappointed.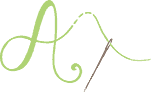 Don't forget to pin and save for later!