If you're a crafter, you probably keep a few of these regular household items in your craft room. But do you have all 13 on this list? If not, you should, because they're super handy!
I realized the other day that I keep some very random items on hand in my craft room.
As my husband was asking me about one of them, I wondered how many other crafters keep the exact same items in their own craft rooms–probably for the same uses. And if you don't, you should! Because these regular household items make certain tasks so much easier!
Just looking around my craft room, I found 13 items that wouldn't necessarily qualify as a craft supply. And yet I use all 13 all the time for craft projects!
When writing this post, it was hard to remember all the odd uses I have for these items. But trust me, you'll find plenty of uses for them! I seriously grab for one or two of them almost every time I craft.
After you read through my list, you'll have to comment and let me know if you use any of the same!
This post contains affiliate links. For more information, see my disclosures here.
13 Items to Keep in Your Craft Room (that aren't necessarily craft supplies)
1. Lint Roller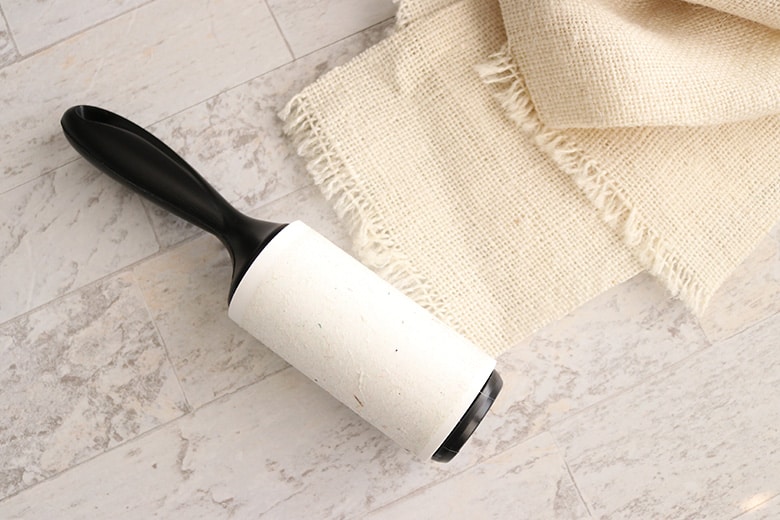 Keeping a lint roller in my craft room is probably my favorite crafting hack! I use this for so many things, but mostly for keeping my craft space clean.
It works great for picking up stray threads and fuzzies (especially when I make yarn pom poms or when I'm sewing with minky fabric). I also use it to pick up the dust/fuzzies from burlap, and it's my very favorite way to clean up glitter (if you're a crafter, you know the love/hate relationship with glitter!).
Some people use lint rollers when they weed their Cricut vinyl cuts. Also, lint-rolling t-shirts and other fabric items before applying iron-on vinyl is an important step to achieve smooth transfers.
If your lint roller is too sticky for your intended use (say you want to pick up some stray glitter from a piece of paper but don't want to tear the paper), just roll the lint roller up and down your clothes once or twice to remove some of the stickiness.
2. Pie Tins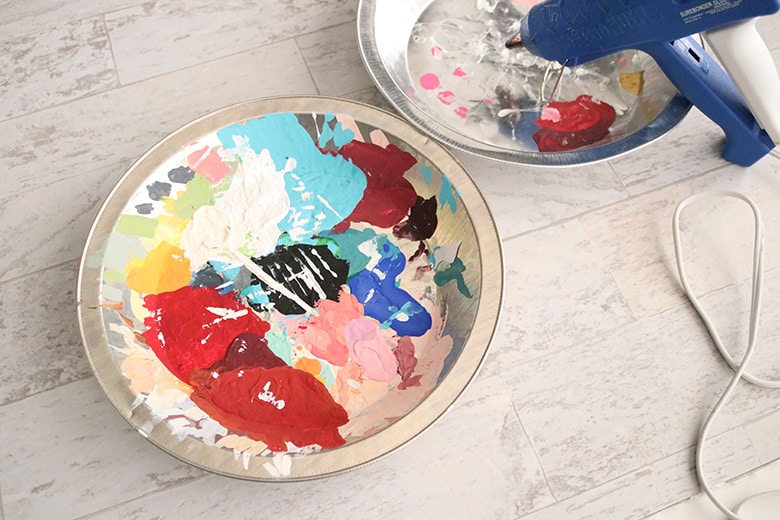 You know all those pre-made pie crusts and pies you enjoy at Thanksgiving? Wash the tins and save them to use in your craft room! They make great paint palettes, containers for glitter overflow, and a safe surface to rest your hot glue gun in case it drips.
If you don't have any pie tins laying around, you might just have to "sacrifice" and go get a Marie Callender's double cream lemon (it's for your craft room, after all).
3. Masking Tape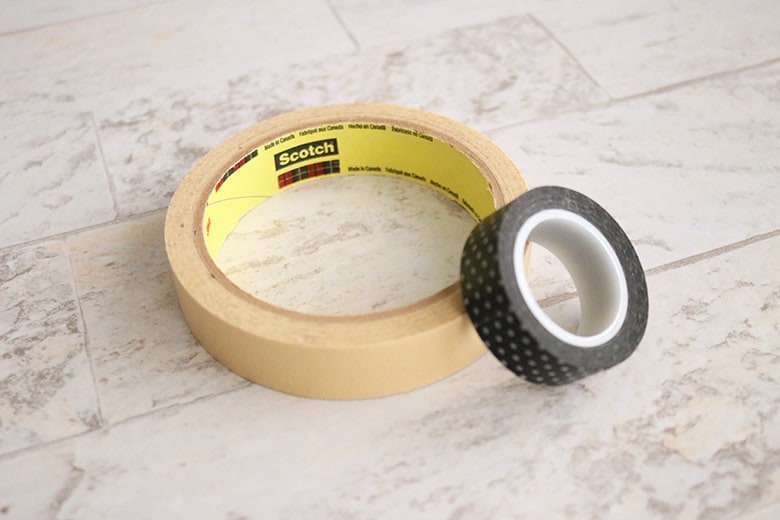 You can find a lot of uses for masking tape (unsurprisingly). It's super handy for masking off projects or temporarily taping things together. I also seem to use it regularly to remove sticker residue from things and to clean gunk from my scissor blades–just stick the masking tape to the residue and pull away, it usually does a pretty good job of removing it!
If you're looking for something a little less sticky, washi tape can serve a lot of the same purposes.
4. Pliers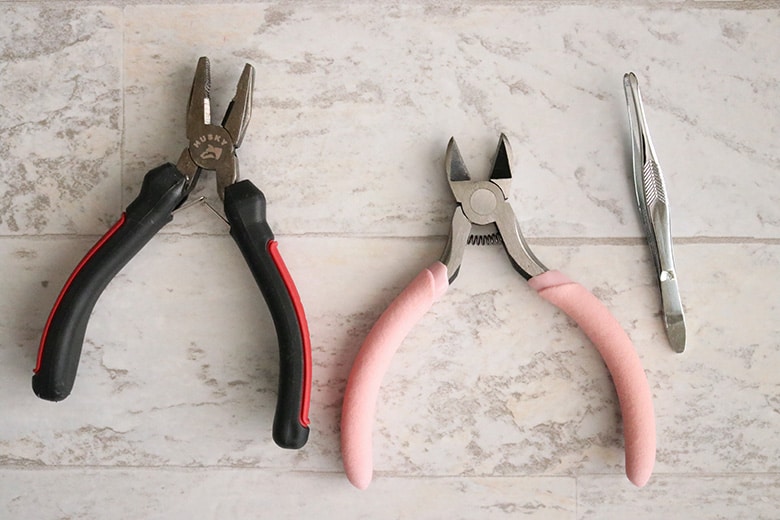 While I don't use pliers all the time, when I do come across a need for them, I'm very glad I don't have to go searching in the garage for a pair of my husband's. I use pliers to pull stubborn needles through thick fabric (or when reinforcing yarn pom poms), for twisting floral wire, and for removing wire and staples (such as from pre-made wood signs that I use in wreaths).
5. Wire Cutters
Wire cutters are in the same category as pliers: I use them just frequently enough that I don't want to go to the garage every time I need them. Wire cutters are great to keep on hand to cut floral picks, pipe cleaners, and anything else that could possibly dull your regular scissors.
6. Tweezers
Okay, this is one of those items that I can't recall all the exact odd uses for…but it's nice to have them handy in my craft room! Tweezers are great for gripping and pinching small things, so just translate that convenience to craft projects–maybe grabbing threads or placing detailed items in paper crafts. (I promise, I'm not making it up, I really do use tweezers in my craft room!)
7. Paper Towels
I go through a lot of paper towels in my craft room, especially when I'm working with paints or Mod Podge. Or even scrapbook stamps and inks. Honestly, they're so handy I'm not sure why I don't just have a paper towel holder on my pegboard.
8. Old T-Shirt or Towel
I suppose I could have split this into two items, but they're very similar. I use an old t-shirt as a press cloth (when I'm ironing delicate fabric or appliquéing with Wonder-Under), either one works well to quickly wipe up spills, and Cricut recommends using a towel under your Easy Press if you don't have a mat.
9. Baby Wipes
Baby wipes are for more than wiping bums and sticky fingers. Use them to clean stamps, wipe down your craft table, remove sticky residues, clean up acrylic paint, and more.
I personally use Kirkland brand wipes from Costco since that's what I use for my baby, but, if you're looking for a "wetter" wipe, try Huggies.
10. Chopsticks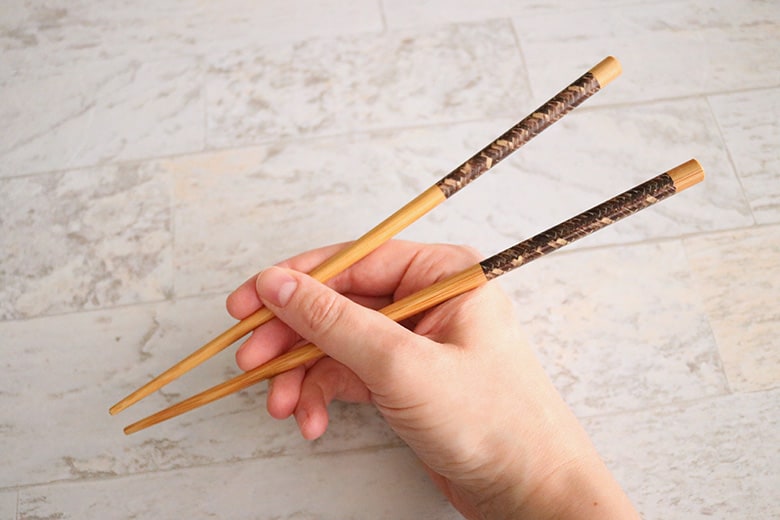 Okay, this might be the strangest item on this list, but you'd be surprised how handy it is! I use a chopstick all the time when sewing—it's great for pushing out corners (like in my envelope pillow tutorial) or for making tubes or narrow items that need to be turned inside out. I know there are actual tools for this purpose…but if you have chopsticks on hand, why not?
I recommend using a plastic or smooth wooden chopstick with rounded ends (as opposed to the rough wooden ones you get with takeout).
(And no, I don't hold my crafting chopsticks like I am in the picture…but fun story, I learned how to properly hold chopsticks when I was an English teacher in South Korea! One of the school employees even complimented me on my good form once–*cue smug look* 😆)
11. Pet Brush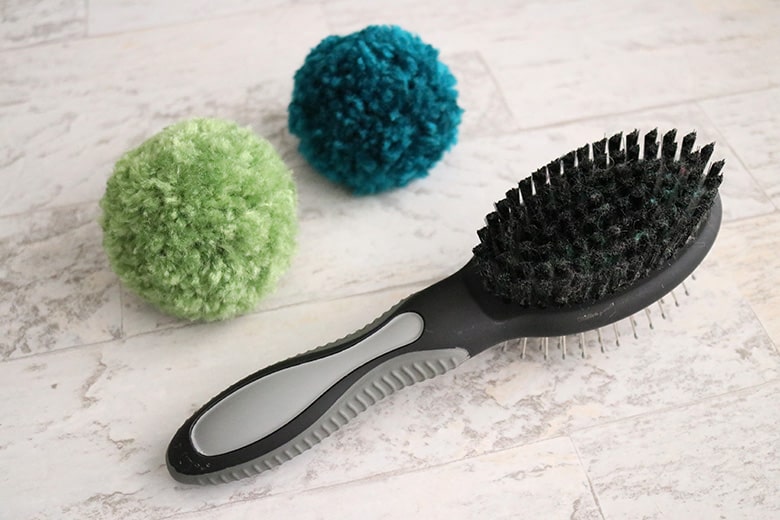 Or…maybe this is the strangest item on this list. I actually only have one use for a pet brush in my craft room and it's for making extra fluffy pom poms (but I make pom poms enough that I thought I'd include it in this list). You can head to that post for all the details (and video!).
12. Measuring Tape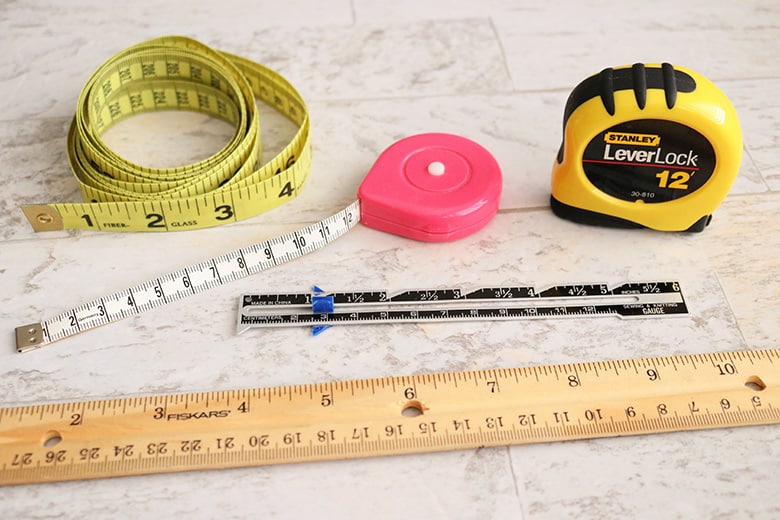 I have so many forms of measuring tapes in my craft room: soft measuring tapes, my quilting rulers, a mini rigid measuring tape, a seam gauge, and even a regular school ruler. I use all of them regularly, and not just for their intended uses. I love the variety of sizes and materials, but if I had to pick just one that was the most versatile, I'd say get yourself a good (in other words, accurate!) soft measuring tape (like what tailors use).
13. Paper Clips
Paper clips are perfect for unplugging glue and glitter glue bottles–just bend one end out so you can poke the top of the bottle. I've also used paper clips anytime I just need something small and sharp. Similarly, floral wire or a sewing pin can come in handy, too, if you need something with an even smaller tip.
Bonus tip: I've seen someone use a paper clip as a wreath hanger by sticking it through some felt, hot gluing the felt to the back of their wreath, and then hanging it on a nail! Smart and cheap!
13 Surprisingly Useful Items to Keep in Your Craft Room
And there you go! Those are some of my favorite go-to craft supplies…that aren't really craft supplies. And my bet is that I'm not alone on at least a few of them!
What are the unexpected items you keep in your craft room? Share in the comments below so we can all benefit from the genius!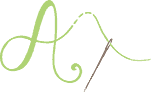 Don't forget to pin and save for later!