Who knew that making a clothespin wreath could be so easy and turn out so cute?! I love the patriotic colors in this one, but can't wait to try other holidays and themes. Follow my tips for a sturdy, gorgeous clothespin wreath that will wow your friends!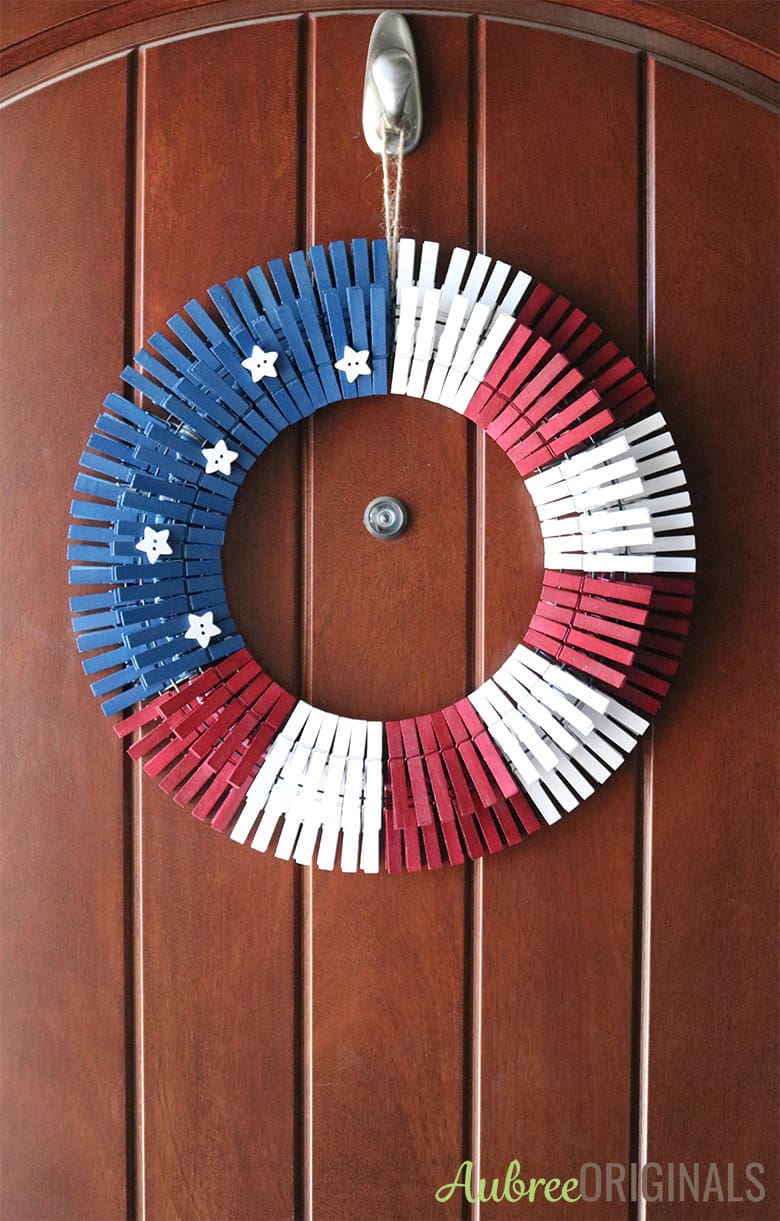 I can't believe it's already July! That caught up to me fast. I've been meaning to make this clothespin wreath and post a tutorial for months…but then, pregnancy…it kinda slowed everything down for a minute there.
But, even if I'm throwing this at you last minute, the good news is that it is so easy and fun to make! You could totally have this finished in time for the 4th (or even display your patriotism !
This post contains affiliate links. For more information, see my disclosures here.
---
Looking for more DIY wreath inspiration? Check out these posts:
How to Make a Deco Mesh Wreath
Easy Halloween Skeleton Wreath
Simple Fall Wreath from a Picture Frame
---
What you need to make a clothespin wreath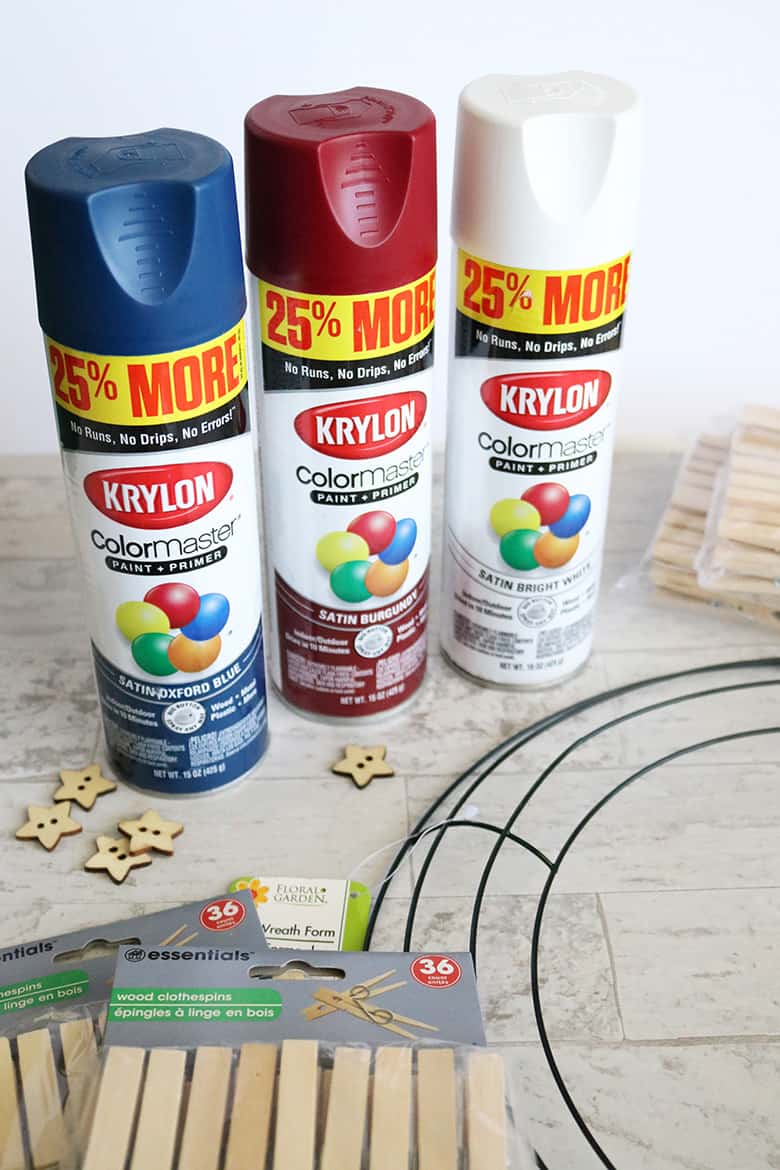 clothespins

: buy these at

Dollar Tree

! They come in a pack of 36 for $1, which is the cheapest I found anywhere. Plus, they're actually really great quality. I used 154 clothespins total for my wreath. I recommend getting extra–in case some come imperfect or if you need to replace any later on. Just get 5 packs and you'll be golden.

a wire wreath form

: I used a 14″ wreath form (also from

Dollar Tree

). You just want to make sure that the wreath form has at least 3 rings, preferably 4.
paint: you can use craft paint or spray paint. I prefer spray paint, just for the even coverage and ease, but that does add some cost to this project (I purchased mine at

Walmart

for about $4 each).

wooden stars

or other decorations (

this variety pack of stars

is a great deal!)
twine or ribbon for hanging
materials for painting, especially if using spray paint: twine or string, cardboard or plastic
paper or cardboard to protect your work surface when assembling the wreath
How to make a DIY clothespin wreath
First of all, don't be intimidated by clothespin wreaths! It was probably one of the easiest wreaths I've done. And you'll love the result.
In these instructions, I'll be referring to the specifics of my red, white, and blue flag-themed wreath. But remember, you can apply this to so many different themes and uses! I've seen some adorable sunflower and watermelon clothespin wreaths.
---
Follow my wreath board on Pinterest for more ideas!
---
Paint the clothespins (and stars, if you choose)
As I said above, you can use craft paint or spray paint. Though craft paint is cheaper, I imagined it being a tedious process involving me getting paint all over my hands and everything else…
I opted for spray paint, which goes much faster. There are a couple different ways you can spray paint the clothespins:
The first is to clip all your clothespins on a string and suspend your string between two posts (I used two trees in my yard–just be careful not to accidentally spray paint anything else, like your fence).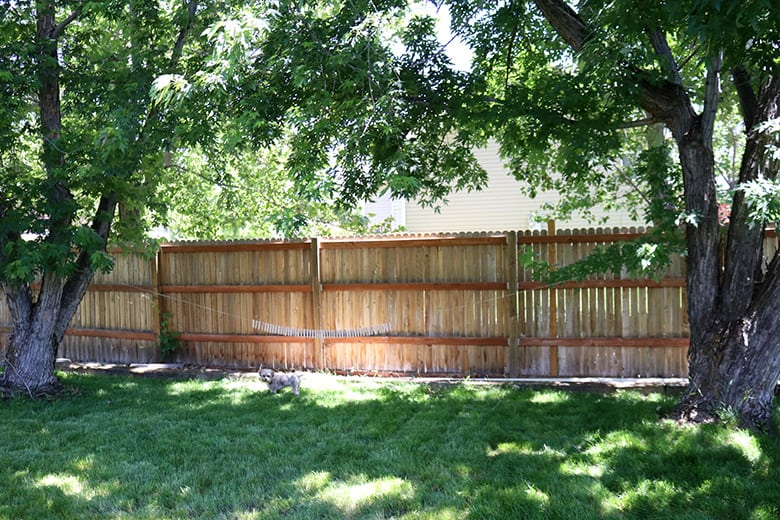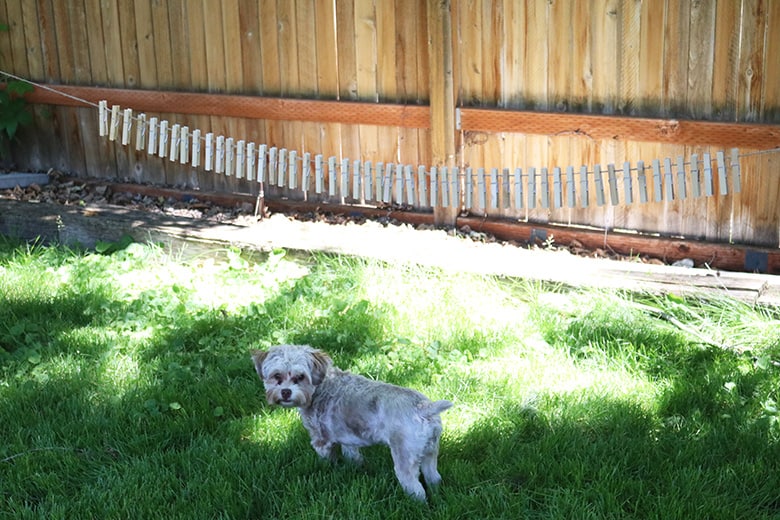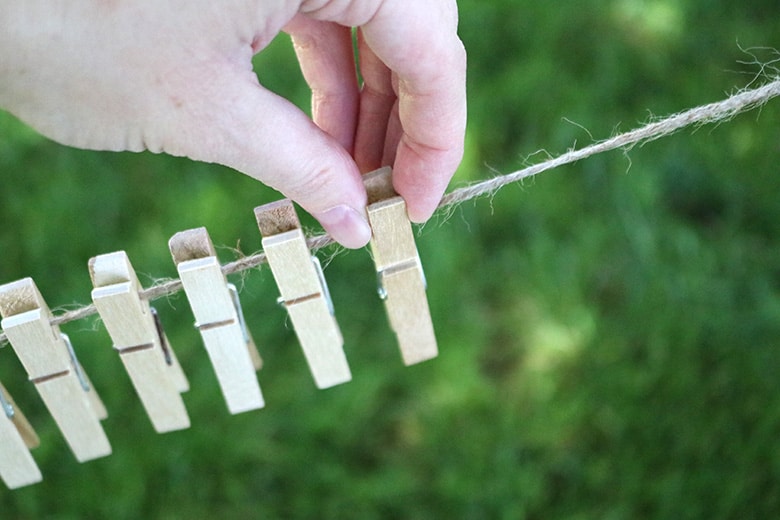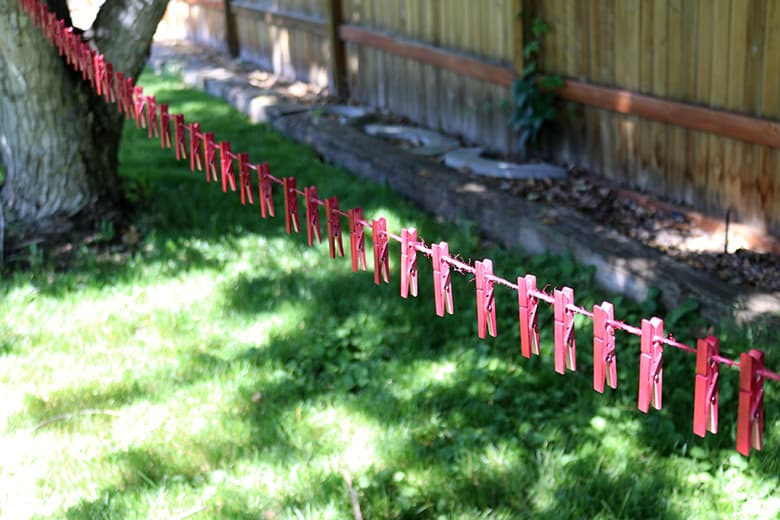 This method works great for getting the first coats on your clothespins. However, it gets a little tricky to get the underside fully covered.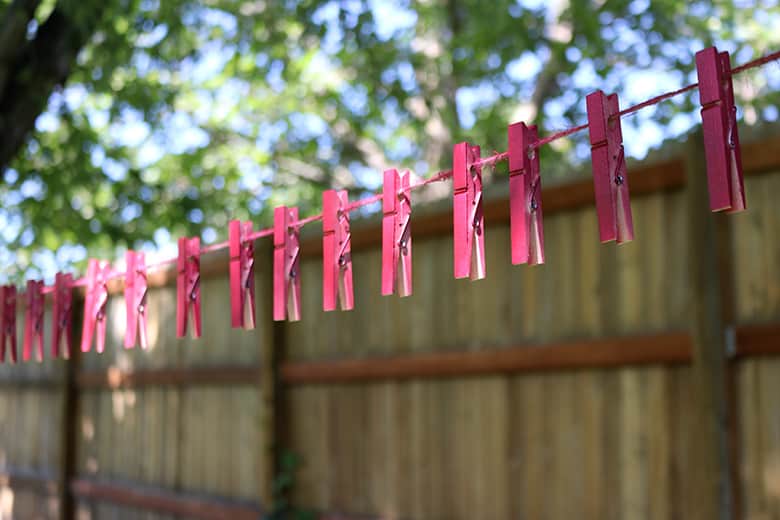 So, after painting a couple quick coats on the clothesline (if you use light coats, you only have to wait a minute in between), I took it down and laid the clothespins on a piece of cardboard. I found laying the clothespins on their sides was the best way to get in between all the places I'd missed.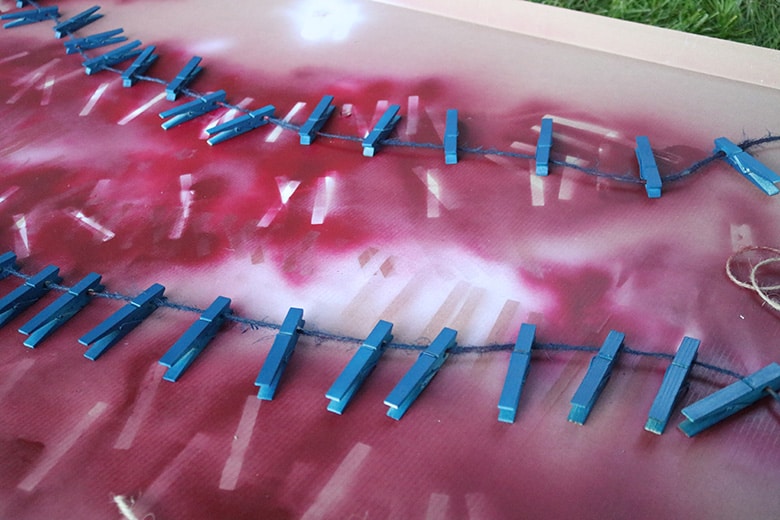 It took me the course of a day to get all the clothespins painted. However, I was taking long breaks in between coats to work on some other blogging and house projects. I bet you could get this part done in just a couple hours, especially if you do light coats (I maybe was too impatient and got heavy-handed a couple times…).
Every wreath is going to be slightly different, but in case it's helpful to you, I ended up using 52 blue, 50 white, and 52 red clothespins. This depends on the pattern you want, too, so I recommend planning this out beforehand. And paint a few extras just in case (I ended up using 4 more than I was planning on).
Assemble the clothespin wreath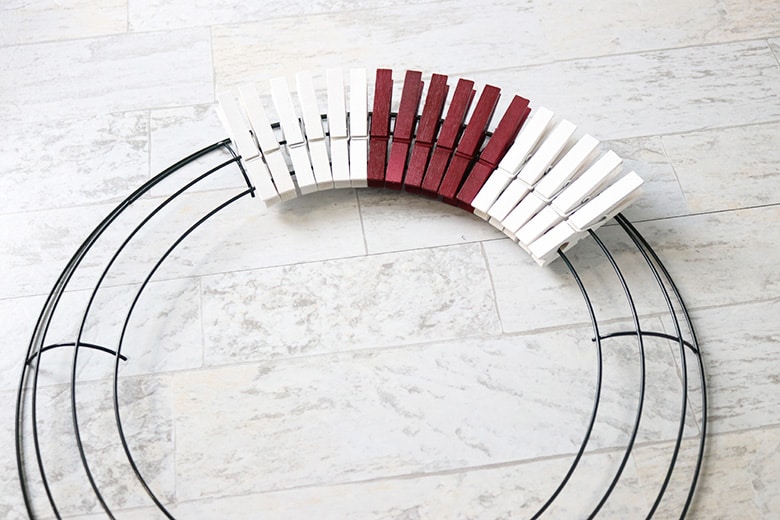 My wreath form was divided into six sections. I decided I wanted two of the sections to make up the blue part of my "flag" pattern. For the stripes, it wasn't coming out exactly even the way I wanted, so I just played with it until I found what looked good to me (either 5 or 6 clothespins within a "stripe").
As you can see, the first layer of clothespins gets clipped onto 2 wires. Push the clothespin down almost as far as it will go until you find a "sweet spot" that feels secure.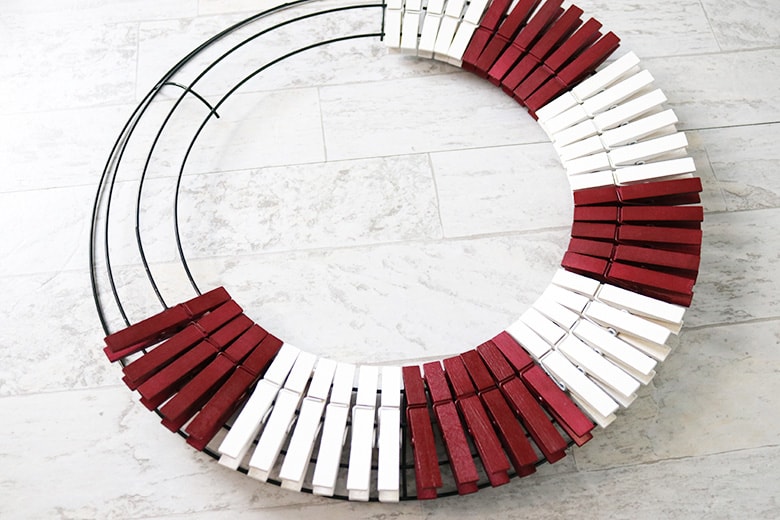 Once you've figured out the top layer of your stripes pattern, you can start on the bottom layer: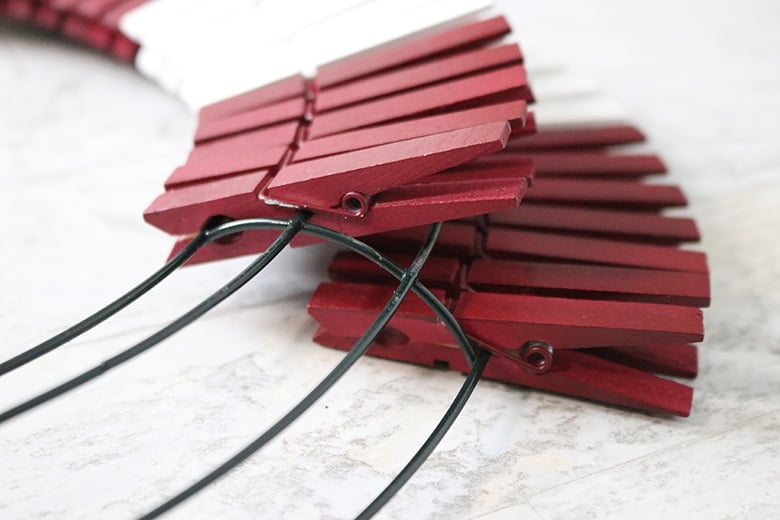 The bottom layer of clothespins gets clipped onto the outermost wire (again, finding that "sweet spot"). Since it's only one wire, it won't be as secure, which you'll see in a second. But, fear not, there's a solution.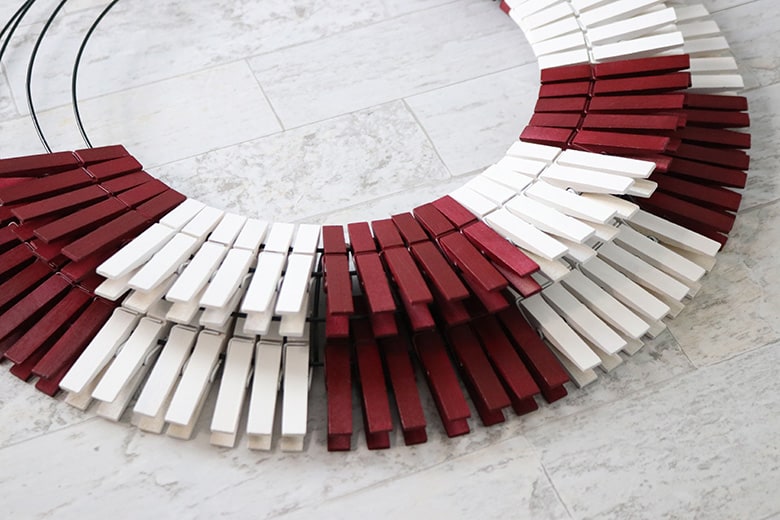 Once you've got all your clothespins on the wreath form, it looks pretty awesome, right?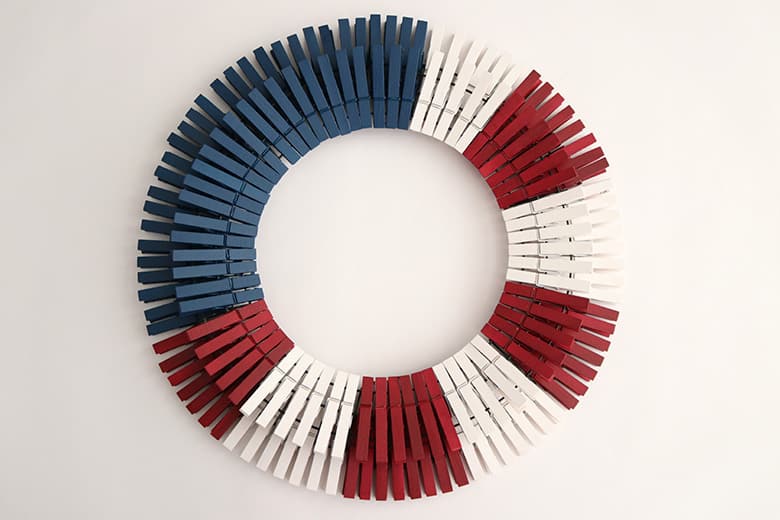 I agree. But…then you flip it over and might be terribly bugged by how insecure and "flippy" the bottom clothespins are:
Me too. Which brings us to the next step…
Secure the clothespins on the wreath form with hot glue
I was having the hardest time figuring out a solution to the flippy clothespin problem (pregnancy brain) and I was super worried my wreath wouldn't turn out. But then Jared came in and said, "just hot glue it." Oh. Yeah. I could do that.
First, take off the top layer of clothespins. I know, I know, all that hard work down the drain…for a second.
I was very picky in how I originally arranged the clothespins, so I carefully laid them out in the exact order so I could later return them exactly how they were (I'm way too OCD).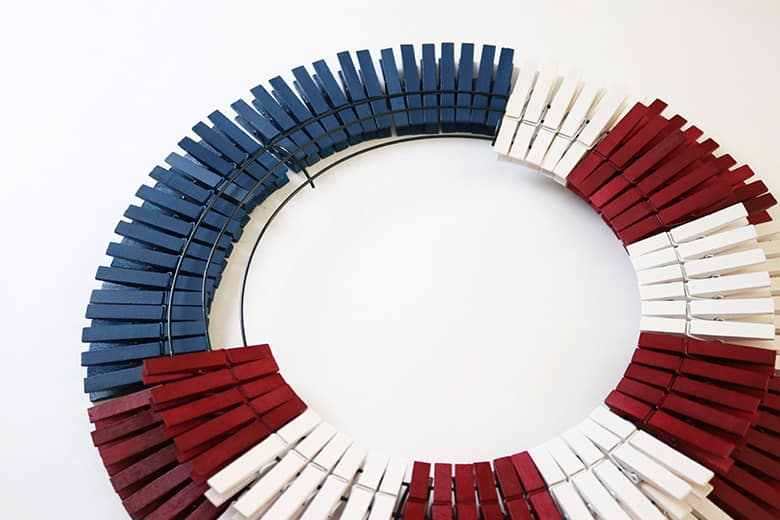 Run a bead of hot glue over the bottom layer of clothespins–where it will be hidden by the top layer. Your wreath form may be different, so do what you can to find a spot that won't be seen.
(This is where you're going to want that extra paper or cardboard to protect your work surface from any hot glue spills.)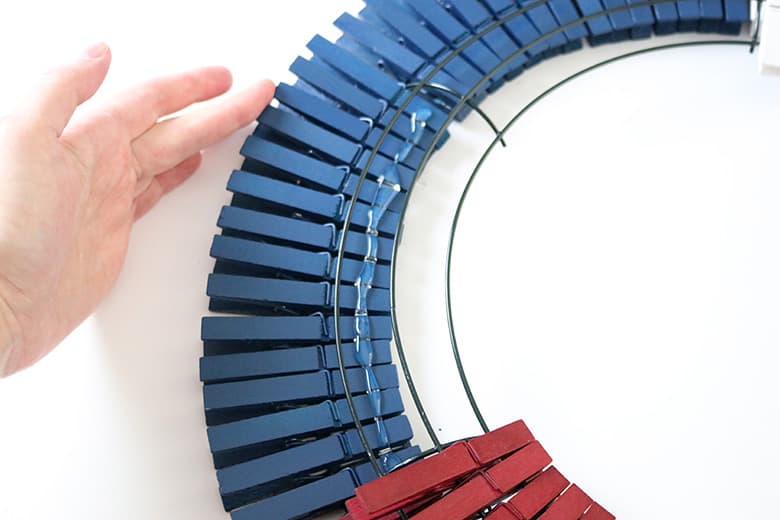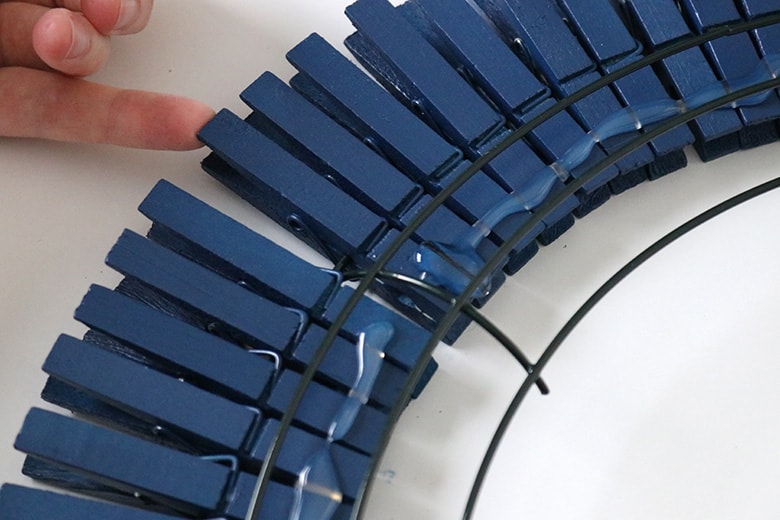 Continue removing the top clothespins and gluing around the bottom layer of clothespins. I ended up going all the way around a second time for good measure.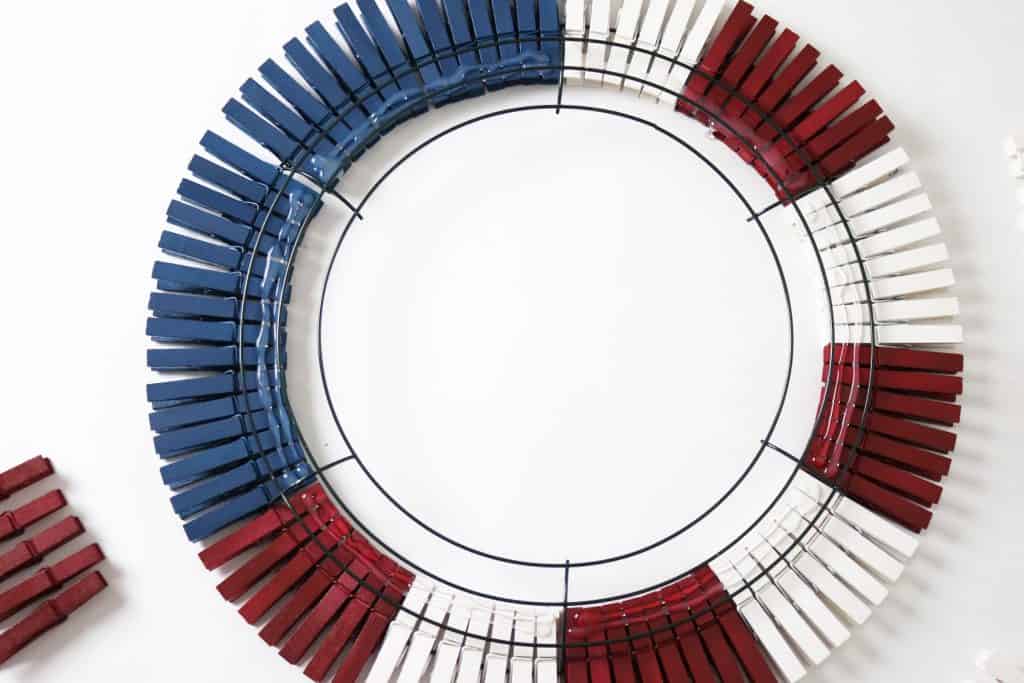 If you feel like your wreath is secure, great! You can stop here. However, I felt I needed to glue in between the sections, too. Just carefully angle your hot glue gun underneath the wire and add a larger-than-normal bead of glue.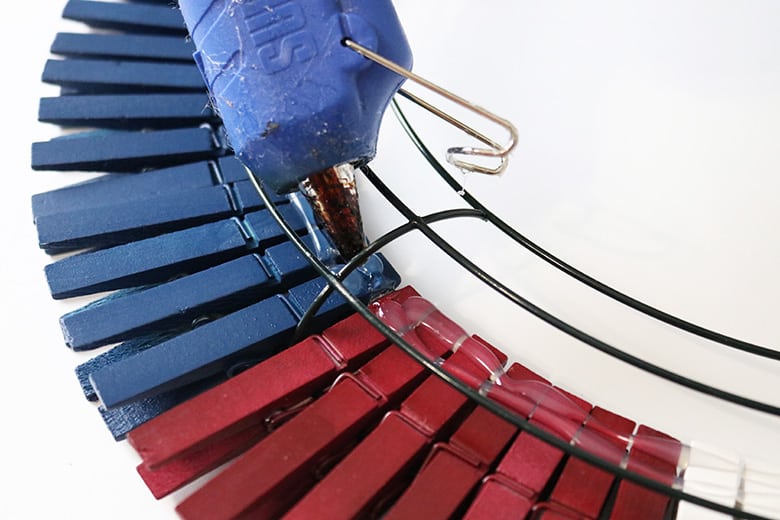 The hot glue may fall down in between the clothespins and land in a puddle on your work surface. That's okay. That's why you have the paper underneath.
I totally glued my wreath to the table in a few spots. But I just tore it off the paper once it was dry and no harm done (no one cares what the underside of the wreath looks like). And, even if the hot glue does puddle this way, it will still secure those sections of clothespins together. If you have any giant hot glue blobs that you want to make smaller, though, just wait 'til it dries and trim with scissors.
Reassemble wreath, add a door hanger, and enjoy!
Once you've secured your bottom layer with hot glue and it's dry, return the top layer of clothespins to their spot. (If you feel like the top layer is wobbly, you could do something similar, carefully gluing the underside so the glue isn't visible. I decided my top layer was secure enough as it was.)
Now you can hot glue your painted stars to the clothespins and add any other decorations you want.
To make a simple door hanger, tie a loop of twine or ribbon around one of the wires of the wreath form and knot it at the bottom.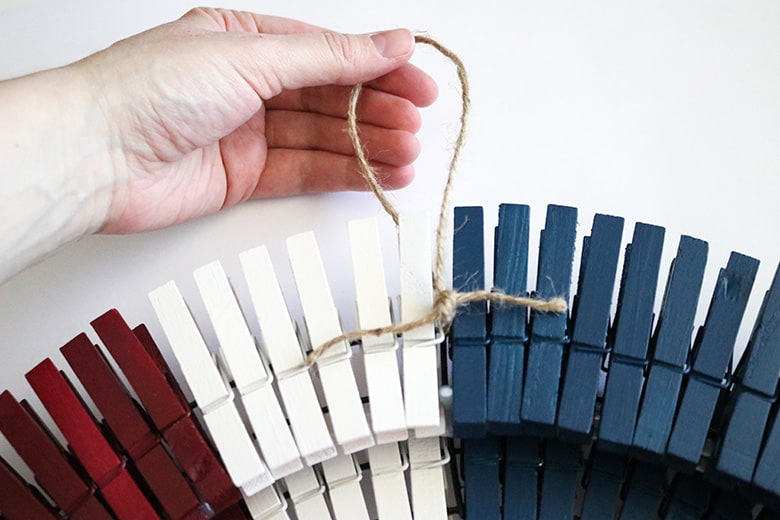 And you're finished!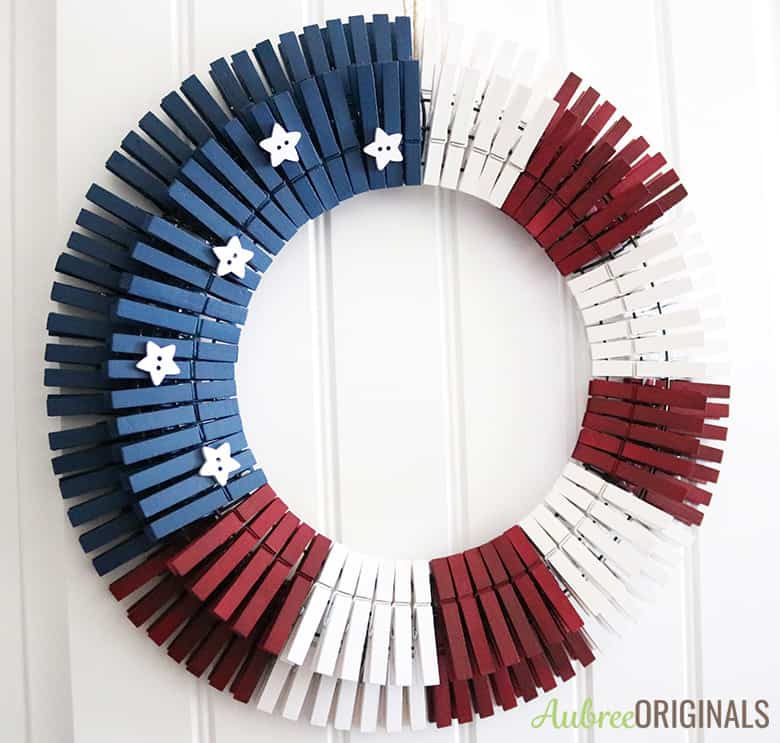 I love how it turned out! And it was such a satisfying craft project–definitely a wreath even the most timid of us wreath-makers can easily do! I hope you make one!
---
Want another easy 4th of July craft (but one that's a lot less time-consuming)? Try this easy felt star garland!
---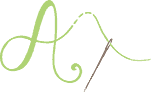 Don't forget to pin and save for later!