Learn how to make this adorable and funny gluten Valentine's card with your Cricut machine!
I've recently been diagnosed with Celiac disease, so this gluten-themed Valentine's card is both funny and sad for me. (Ahh, gluten…so many good memories of you. I shall miss you dearly.) So it's saying a lot when I say I love my husband more than gluten (he's the recipient of this card). 😄
I love the cute little cardstock bread, croissant, and pretzel on this card. This card would be perfect for people who love bread, carbs, or have a gluten intolerance or disease like me.
Thanks to a Cricut machine and easy access to these cute images in Design Space, this card whips up super quickly! And it's super easy to customize the text to say something different like "I love you more than carbs" so feel free to do that, too!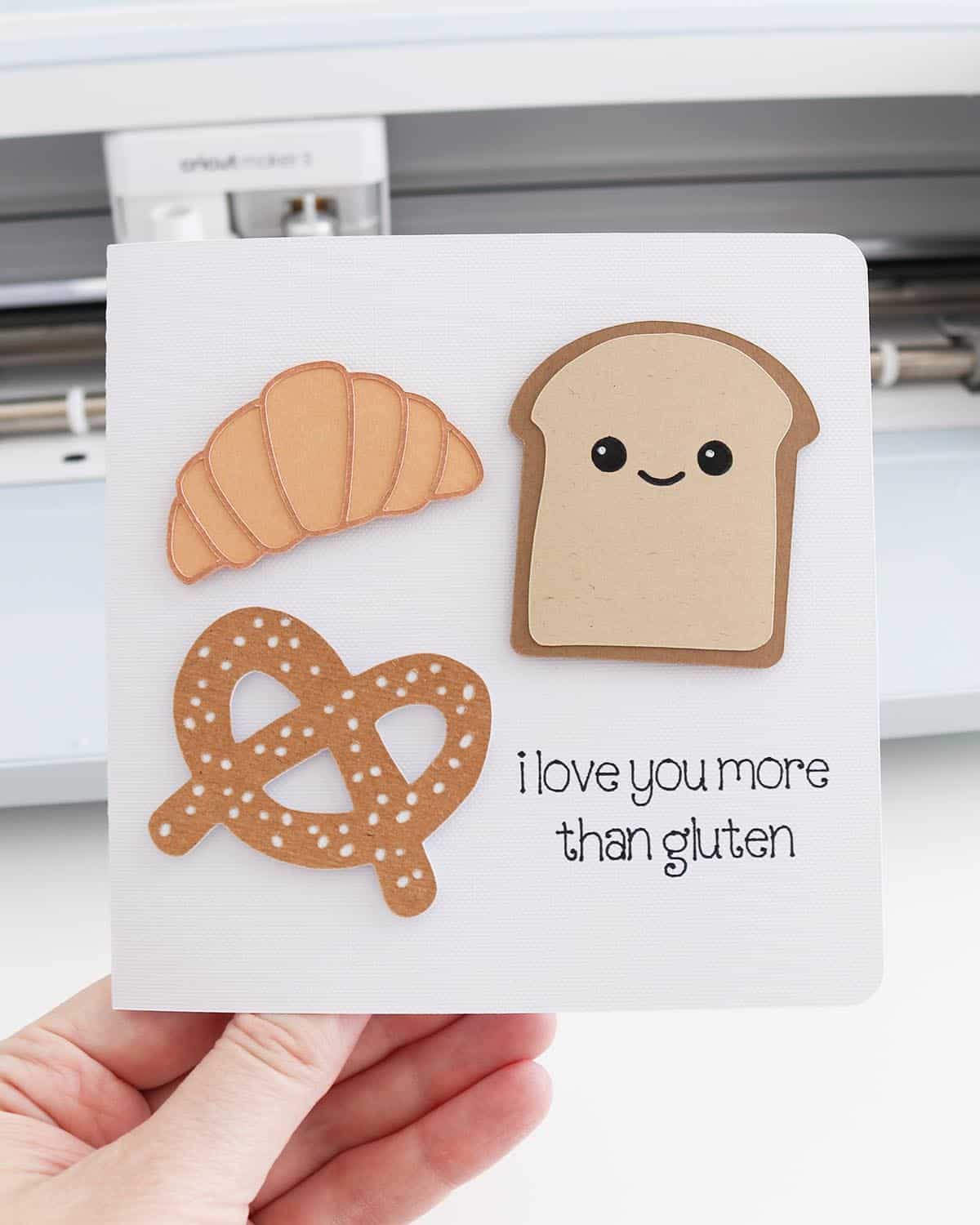 Let's make it!
This post contains affiliate links. For more information, see my disclosures here.
What you need to make this gluten Valentine's card
Cricut Access subscription: This project uses Access images and fonts. If you're not sure if Access is right for you, check out this post all about Cricut Access. (It's so nice not to have to search anywhere else for images!)
several contrasting colors of brown or beige cardstock: I raided my scrap bin for the 5 different colors I used (each piece was a slightly different shade), but you only really need at least 2 contrasting colors. This pack of cardstock might be a good option.
Cricut pen: I used a fine-point 0.4 in black for both the text and the bread's face (it's easy to fill it in the rest of the way afterwards with the same pen or you can use a 1.0 pen as well.)
a white pen: This is for the white dots on the bread's eyes, which are optional but give you that cute kawaii face. I used the new Cricut opaque pen and it worked well.
LightGrip mat: I like this for cutting light- to medium-weight cardstock
craft glue: I love this glue, especially for the super fine point tip—you're going to want that for the croissant especially!
foam tape or dots: I've been liking the foam tape from Dollar Tree! It's super sticky and a great price. You just cut off what you need and can even cut it lengthwise if you need skinnier strips. Or try a variety pack like this one with precut squares.
---
More posts you'll like:
---
How to make this bread-themed Valentine's card
Customize in Cricut Design Space
Open my I Love You More Than Gluten Valentine's Card project in Cricut Design Space. If you want to make any changes, choose Customize. I have the images set to the 5 different browns I used for the cardstock, so change the colors of the images if you're using less (so they'll be cut on the same mat from the same material). You can also customize the text to say something different like "I love you more than carbs" if you prefer.
This finished card size is 5″ x 5″.
Cut with your Cricut machine
Click Make It. Choose your mat preferences. Set your base material to Medium Cardstock if using Cricut cardstock or anything of a similar weight.
For the white cardstock, load the pen into Clamp A and the scoring wheel into Clamp B. Follow the Design Space prompts to draw and score. Once finished, switch out the scoring wheel for the fine-point blade (do NOT unload the mat or you'll lose your placement!).
Continue following the Design Space prompts until all mats/images have been drawn and cut. If you're having a hard time cutting the smaller/delicate images, try changing your material setting to "Cardstock (for intricate cuts)".
Assemble card
Carefully fold the white card on the score line (be sure to line up the corners so it folds straight!).
Fill in the bread's eyes and mouth with a black pen. Let dry completely, then draw a little white dot with your white pen in the corner of each eye (to complete the kawaii face).
Glue the top bread layer to the bottom bread layer.
Glue the thin croissant lines to the bottom croissant layer (they're the exact same size, so line them up exactly).
Glue the top pretzel layer to the bottom white layer (again, line them up exactly).
Apply foam tape or dots to the backs of all the images and adhere to the card. (You could also glue them down, but the foam tape makes them pop so much and actually makes this card look a lot more professional. The only time I maybe don't recommend foam tape is when you're mailing the card and worried about it getting crushed or costing extra postage for not being flat.)
I Love You More Than Gluten Valentine's Card DIY
Aw, I think this card turned out adorable. I love my paper-crafted version of these gluten foods—and so does my immune system, which has now decided to attack itself if I have the real gluten foods. Sad. I know. But I think this card will make my husband laugh. Laughing is all I can do, right? And hey, there's always gluten-free Oreos (and ohmygoodness, the mint ones taste like Girl Scout Thin Mints! Yum!).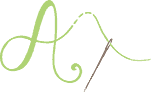 Don't forget to pin and save for later!