This is the most efficient way to organize scrapbook paper and cardstock! Plus, I'll show you how to organize scrapbook paper scraps. Use these storage ideas for 8.5×11, 12×12, and scrap paper! You'll love how little space it takes up!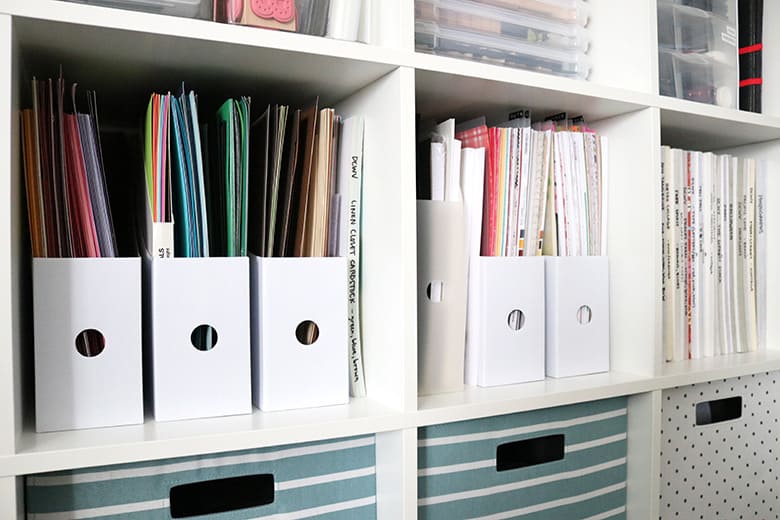 This post contains affiliate links. For more information, see my disclosures here.
My scrapbook paper storage has gone through a lot of trial and error over the years. It has now evolved into something I absolutely love!
This latest storage method feels 100% organized and accessible, which is a big deal, especially when it comes to finding that one random sheet of paper that has the little llamas all over it. Just kidding. I only wish I had that paper.
The big secret to storing scrapbook paper efficiently
Go vertical! Seriously. It will change your life.
It drives me a little crazy every time I see those uber-organized craft rooms with wall-to-wall Sterilite containers with horizontal drawers. Ah! The wasted space! (To clarify: I say this for paper storage. Plastic Sterilite organizers are super handy in other situtations, and I use a bunch throughout my craft room for other items, just not paper.)
Your paper will take up so much less room if you go vertical, not to mention it will be so much easier to flip through. I made the switch about 10 years ago and I haven't looked back. I even store my scraps vertically (we'll get to that).
---
Looking for more craft room organization ideas? Check out these related posts:
13 Random Items You Should Keep in Your Craft Room
---
What you need to store scrapbook paper properly
magazine holders or storage boxes large enough to fit 12×12 paper
dividers for the magazine holders (you can make your own or purchase something similar to

these

)
a

label maker

, optional but super handy (or, if you're super fancy/lucky, you can always use your Cricut to make labels)
somewhere to store your magazine holders (I have an IKEA Kallax unit that I love)
Here are a few container options:
I love the Totally Tiffany boxes, but I will say that they are just simple cardboard (brown on the inside and a shiny white on the outside). I have since spray-painted mine green–scroll to the end of the post for photos!
Because of how thin the boxes are, they work better when they're full of paper, as well as when they have other boxes to sit with or a cube shelving (like my IKEA unit) to give them support.
Most scrapbook paper these days is 12×12, so I recommend getting containers that will fit at least 12×12 paper (I still have some 8.5×11 that I keep in the same containers).
Now, for the actual organization part and why I love this method so much!
The best way to organize scrapbook paper within storage boxes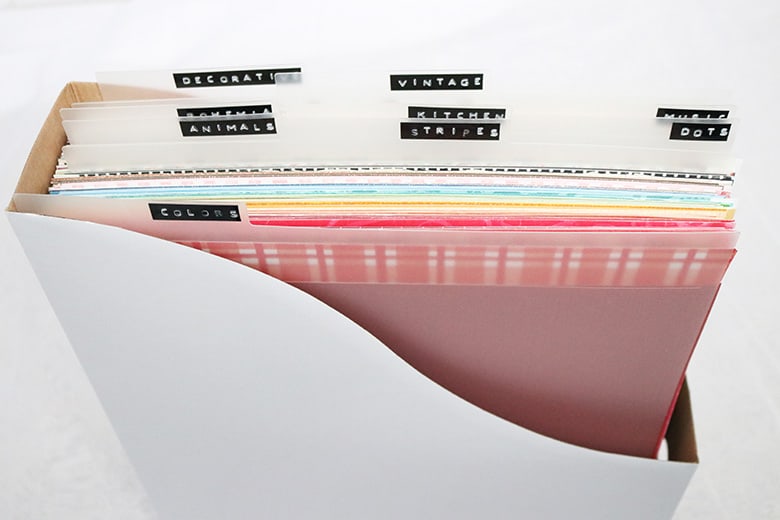 First, divide the cardstock from patterned paper. Cardstock is easy, and will get sorted by color (and then by size, if you have multiple sizes).
For patterned paper, I sort by these categories, using the plastic dividers and my old-school Dymo label maker (until they fall off and I switch to my new label maker):
color (this is for paper that has a light pattern and no real design)
stripes
dots
animals
food/cooking/kitchen (a smaller category, but one that I had enough paper for)
music
vintage
decorative (for paintable paper, shimmer, and lace)
spring
floral
summer
fall
winter
collections (this is for kits, such as my Cosmo Cricket and SEI)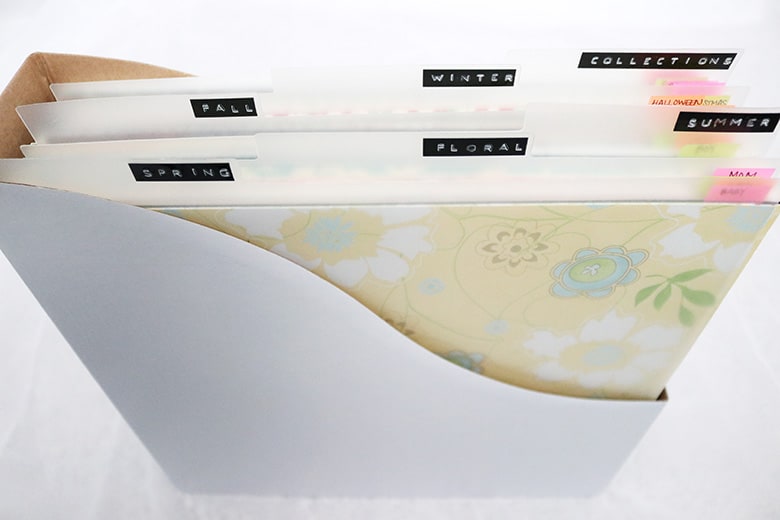 I further divide the season categories (bolded above) as follows (by using a removable sticky tab on the first page in each of the subcategories):
spring: generic spring, baby, love/family, girl, mom
summer: generic summer, boy, dad, travel
fall: generic fall, school, Halloween, wood projects (because I bought some fall paper specifically for mod-podging to some wooden blocks), Thanksgiving
winter: generic winter, Christmas
These are the exact categories and labels I use in my boxes, but your needs are going to be different. It may take you a few days to really sit down and categorize your paper, but I challenge you to make the effort! It will be so nice knowing exactly what you have and where to look for it. If I want to make a Mother's Day card for my mom or scrapbook about a school event, I will know exactly where to look.
That's why I recommend organizing your paper by theme and use. You can either choose to alphabetize by keyword ("boy," "Halloween," "winter") or lump them together by holiday/season, like I did. No, "girl" isn't necessarily a spring-only category, but I tend to associate those girly, pastel colors with spring. Also, Mother's Day is in the spring and I decided to keep "girl" next to "mom." I applied the same thought process to "dad" and "boy" being in summer.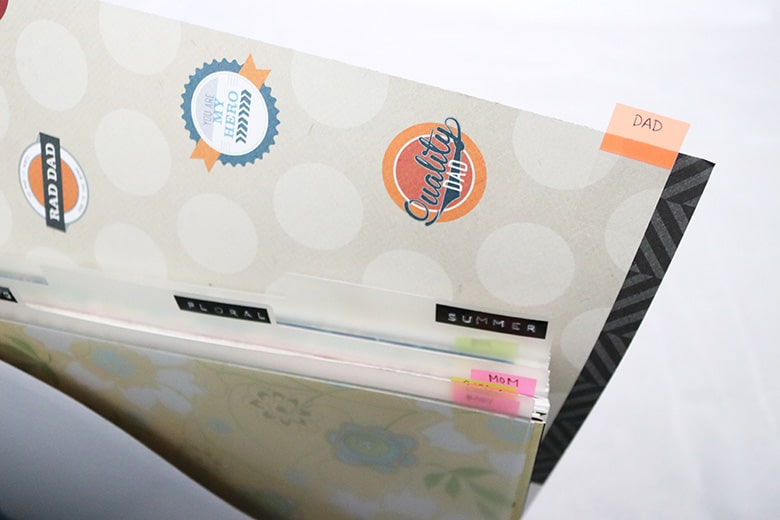 For more specific themes, such as "animals" and "music," I recommend giving them their own bigger section (or just include them alphabetically if you choose that method). For me, I know I'm only going to use these papers for very specific things (a zoo trip, a piano recital, etc.), so I wouldn't include them in a "boy" or "girl" category, for instance.
How to store scrapbook paper pads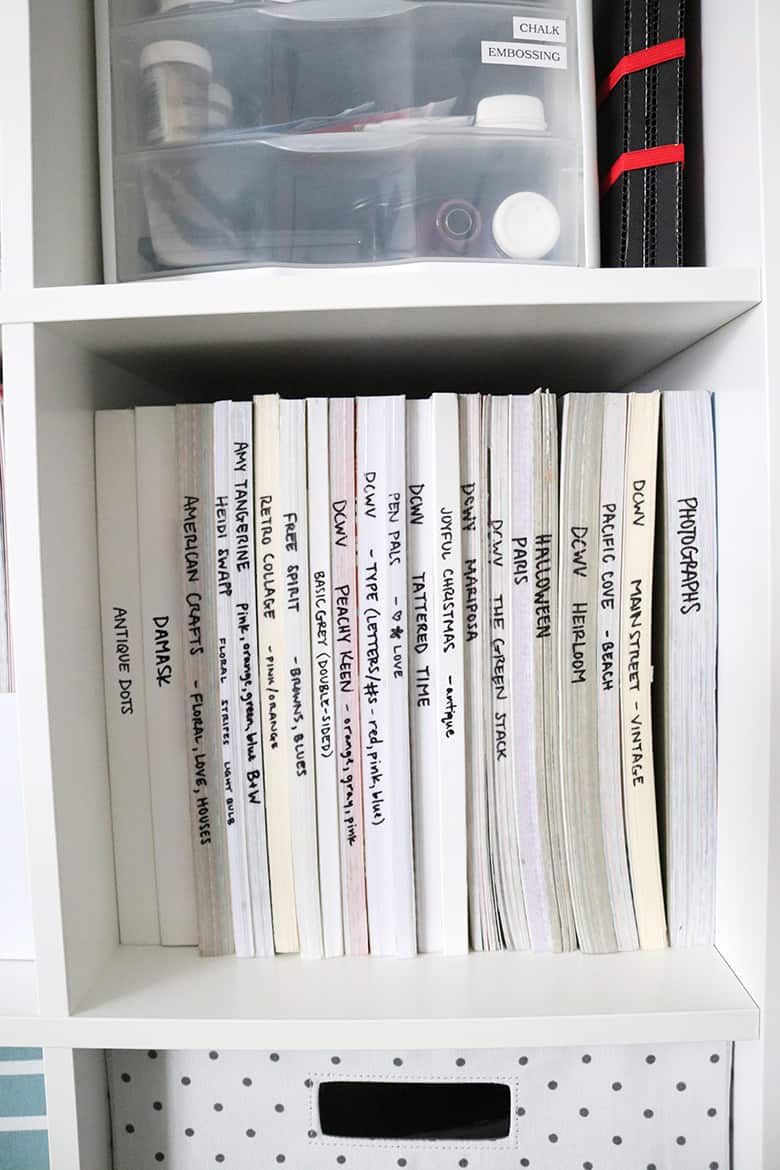 Outside of the storage boxes, I also store pads of paper upright with the title written on the spine (or hints about the contents and colors). At this point in time, it's not worth it to me to take apart the pads to organize by theme (nor would I want to, because most of them are matching collections anyway).

Whew! That was a lot of information! Okay. Ready to move onto scraps?
How to organize scrapbook paper scraps
Ugh. The dreaded scraps. There's always so many of them!
I originally had my scraps stored in plastic sheet protectors standing upright in an old cardboard box. (I don't have a great before picture, but if you scroll to the very last photo in my DIY Gratitude Jar post you can see the box in the background–and a very cute puppy in the foreground. 😄)
The box actually worked okay for a lot of years, but it wasn't my favorite to look at. And…sometimes it was really hard to find what I needed without having to dump out the whole sheet protector.
So, I graduated to this solution:
Ideas for storing scrapbook paper scraps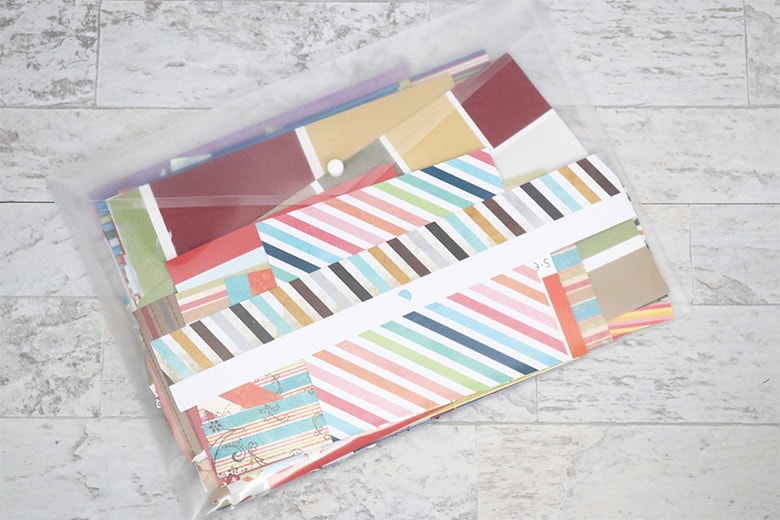 I found these plastic envelopes with a snap closure that have been working great for dividing patterned paper scraps by color or category (the original folders are no longer available, but the link takes you to an almost identical product).
The only downside is that they don't fit 12×12 paper (I tried really hard to find inexpensive plastic envelopes that would, but no luck). However, they fit at least a 9×12 piece of paper and 99.9% of my scraps aren't bigger than that, so this storage solution has been working for me.
(I like the clear envelopes for being able to easily see what's inside, but there's also colored envelopes that might make it easy to grab a certain color of scraps at a glance. Or these zipper folders with colored tops might be the best of both worlds! (I'd probably go with whatever looks the most sturdy.)
I store the folders sitting upright in an open Sterilite bin, and I'm actually super pleased with how nice and clean it looks on my shelf.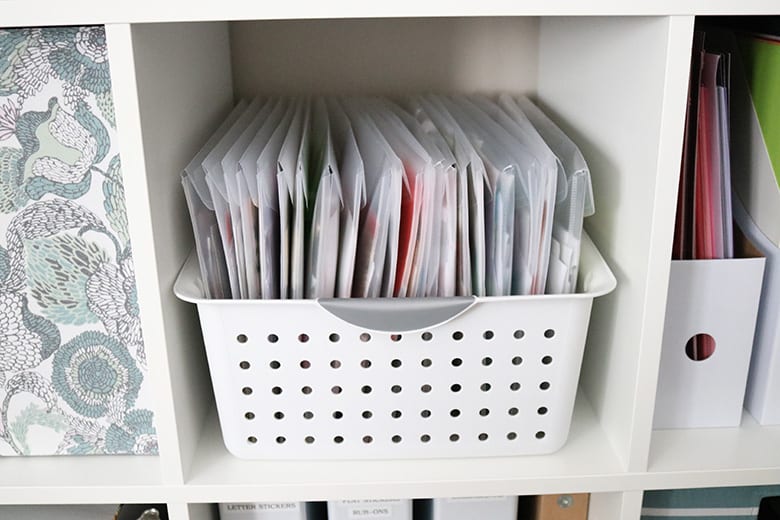 You could do this same thing with cardstock scraps, but I've had an expandable file folder that's worked well for me for a lot of years and I decided to keep it. I made it "pretty" by sticking it in a fabric bin, which didn't affect the accessibility of the scraps at all.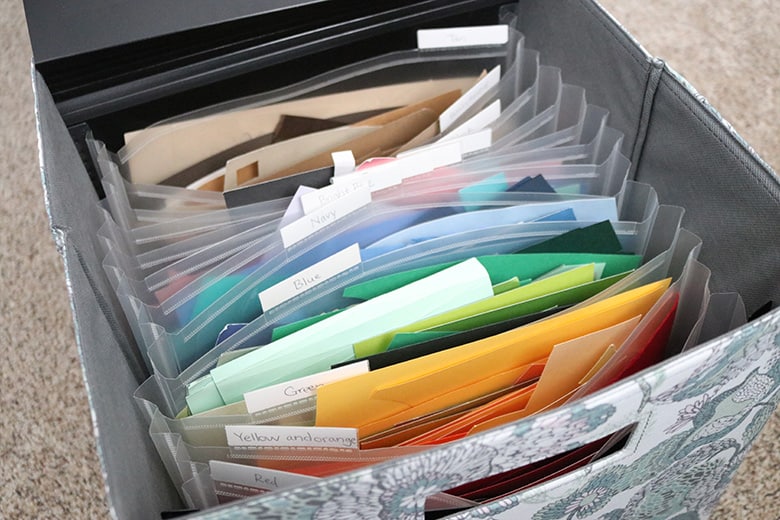 If you're looking for something similar, you might be interested in one of these options:
Storage Studios Expandable Paper Holder
Storage Studios Expandable Paper Organizer
Storage Studios Expanding Paper Folio
I am not affiliated with the brand linked above, those just seem like some good options if you want your paper organizer to be able to fit 12×12 paper. Of course, there are a LOT more expandable file options in shorter sizes, such as this file folder–which is very similar to what I'm using.
How to Organize Scrapbook Paper Efficiently
Ah, I love looking at how organized my paper is now. I love that, between whole sheets and scraps, it only took up five of the storage cube spaces. Vertical is the way to go!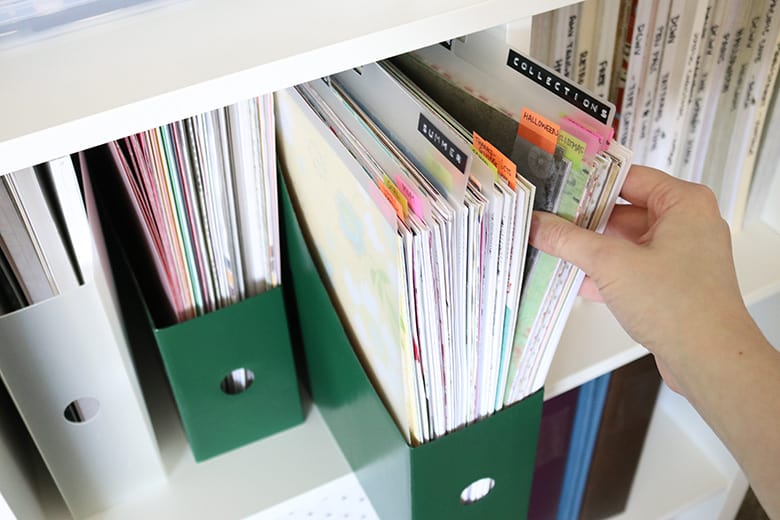 Let me know in the comments how these posts are helping you and inspiring your own organizational updates!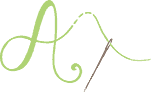 Don't forget to pin and save for later!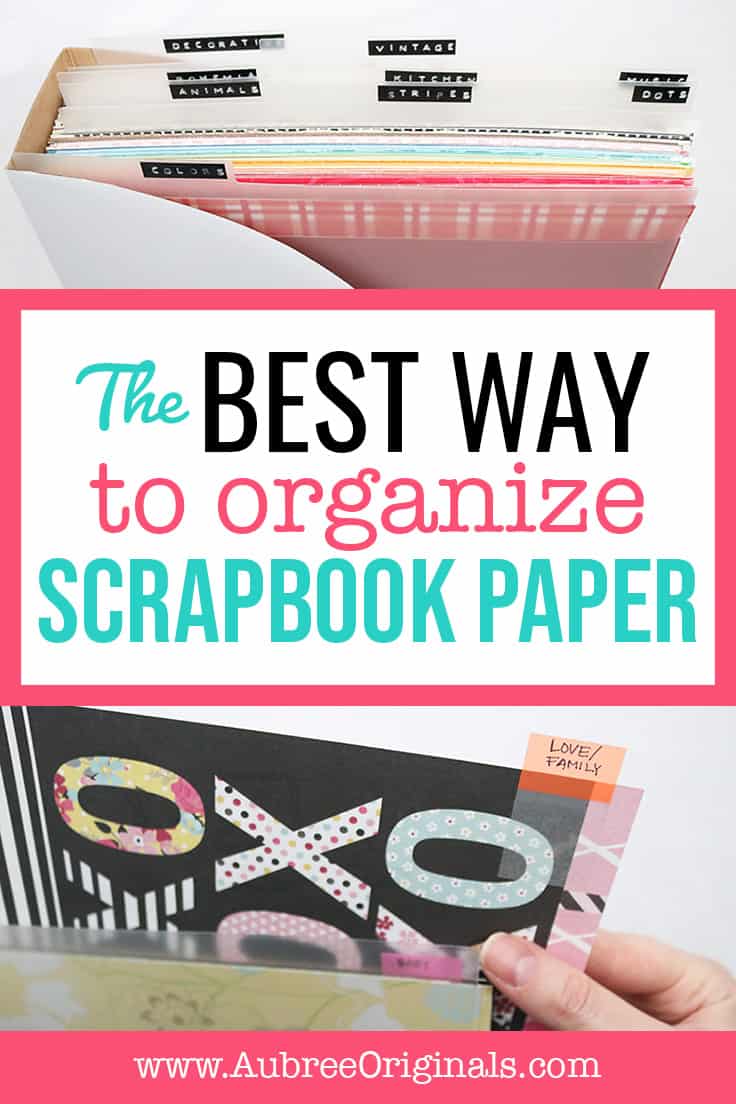 Other posts on craft room organization: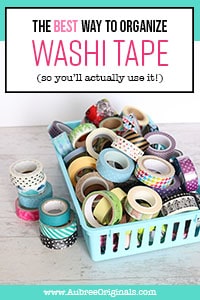 How to Store Wood-Mounted Rubber Stamps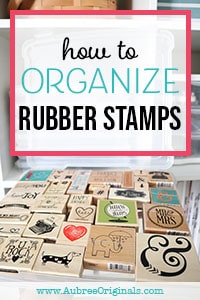 How to Store Clear Stamps Vertically