This is my favorite way to organize washi tape! I love that I can easily see all the rolls and find what I need for my papercrafting projects.
This post contains affiliate links. For more information, see my disclosures here.
Washi tape is probably the greatest invention. Super cute, sticky but not too sticky, and a staple in a lot of craft rooms these days. Walk into any craft store and you're going to be bombarded with adorable designs, begging to be added to your collection. I mean, just check out this super pretty foil washi tape. Or this watercolor floral set. And I really love the variety and adorable animals in this set…
Sorry, I got distracted. Back to the organizing. 😄
Finding the perfect storage container for washi tape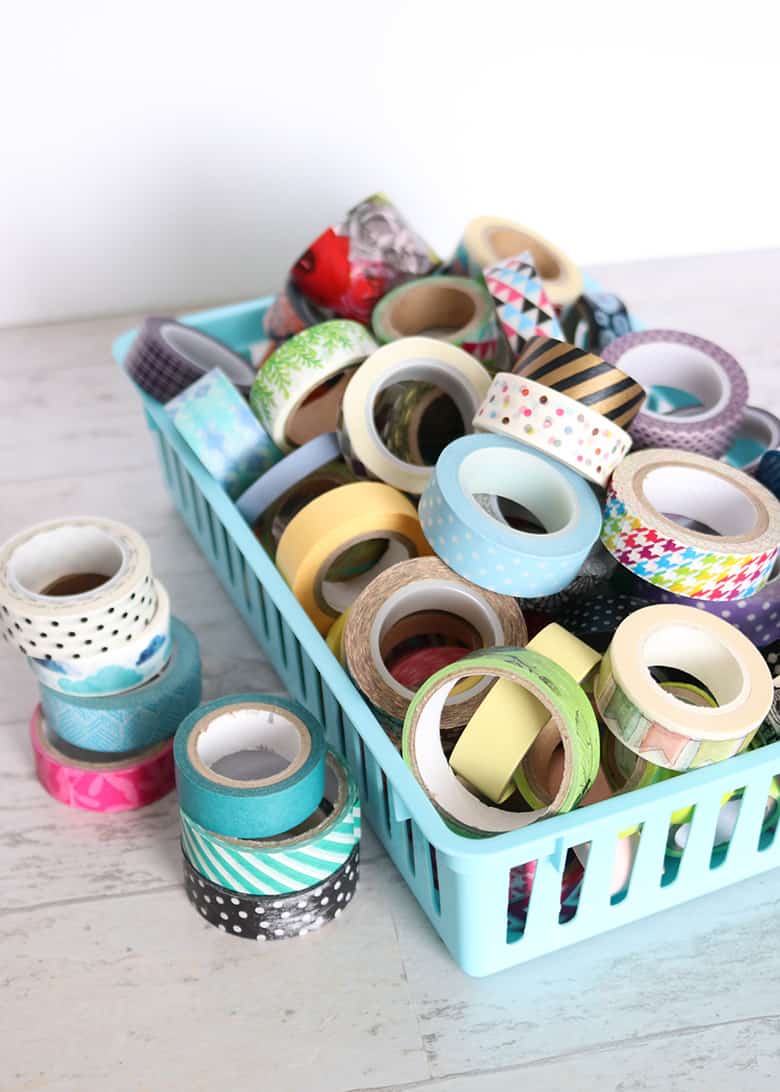 My washi tape has had a lot of different homes in my craft room–sandwich bags, random drawers and boxes–and I'd finally had enough. Mostly because I was always forgetting about all that cute washi tape when it was hidden away in those places. So, as part of my big craft room reorganization project, it was important to me to find a container that would allow me to easily see and access all those cute rolls.
---
Looking for more craft room organization ideas? Check out these related posts:
How to Organize Scrapbook Paper
13 Random Items You Should Keep in Your Craft Room
---
Where to find the perfect storage container for washi tape
Amazon. Always Amazon. It's true, I could've gone to Walmart and found a very functional Sterilite container. Or, I could've gone to the Container Store and spent a small fortune. I didn't want either of those. And wouldn't you know it, Amazon had the perfect solution for storing washi tape in a functional, efficient, and aesthetically-pleasing way! Look how awesome this clear 3-drawer chest is: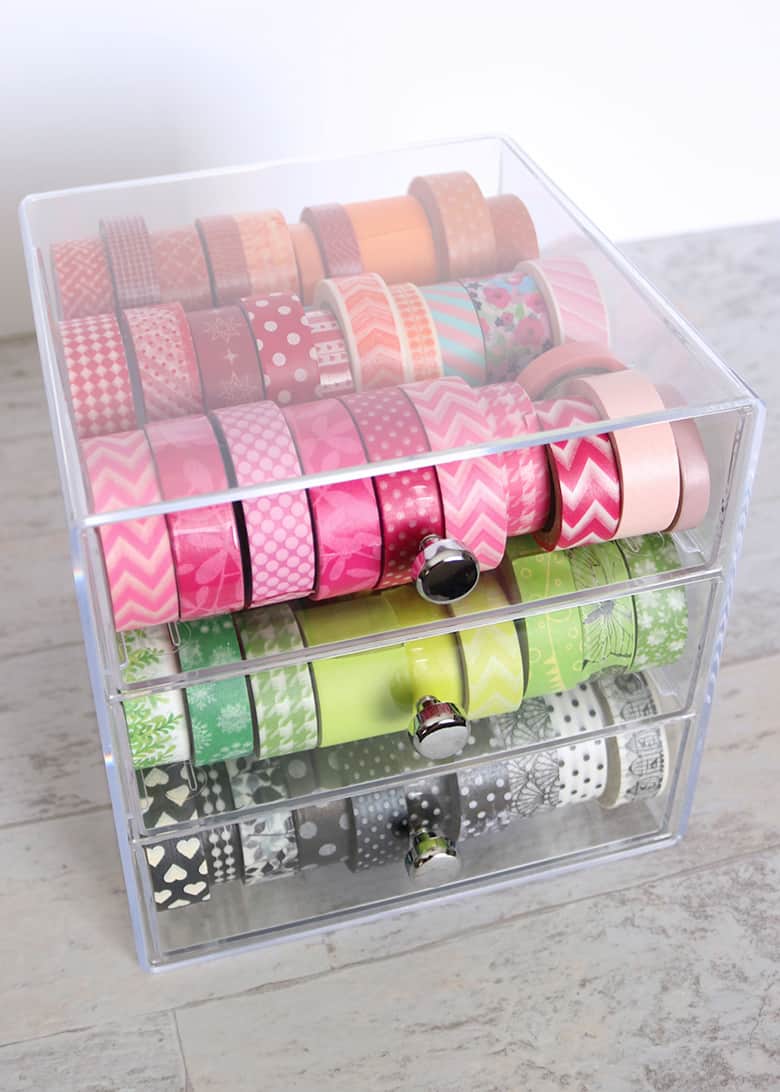 It has built-in dividers in each drawer and holds about 80-90 rolls of washi tape, depending on the size. I only had a few rolls that were too tall for the drawers, but I don't use them nearly as often so I didn't mind storing them somewhere else.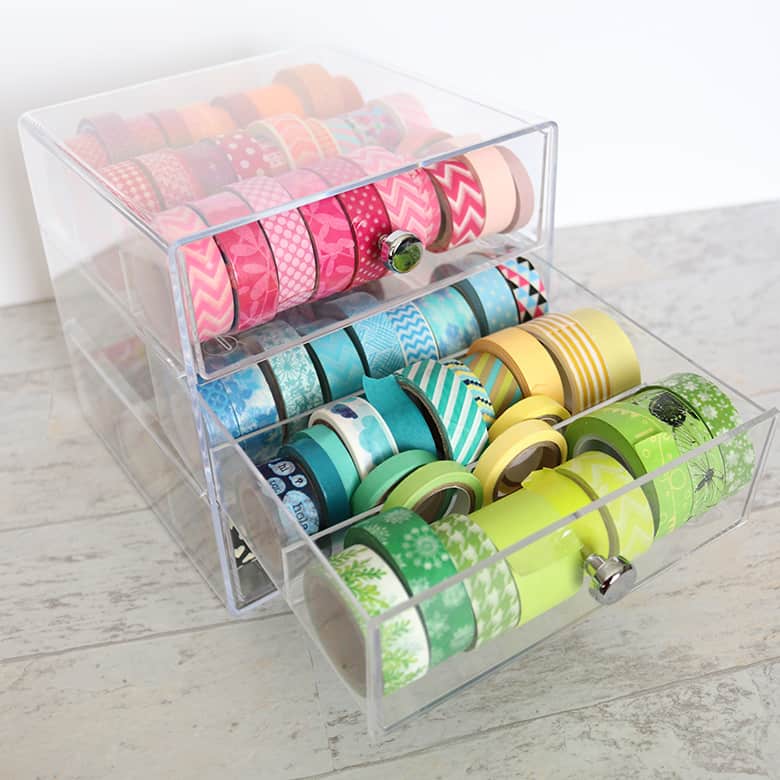 You may have seen something similar to this organizer at Michael's. I did, and I was so excited about it! Until I saw that the acrylic wasn't actually clear and had a bluish tint to it. So disappointing! But I can tell you that this holder from Amazon is 100% clear!
I've seen other methods of storing washi tape that utilize a pants hanger or a dowel rod or even a paper towel holder, and while it makes for a pretty display, it's not nearly as functional as these clear drawers. I don't want to have to remove every single roll of washi tape to get to the one on the bottom or in the middle. Besides, it would drive my OCD crazy if I had to re-sort by color every time I did that.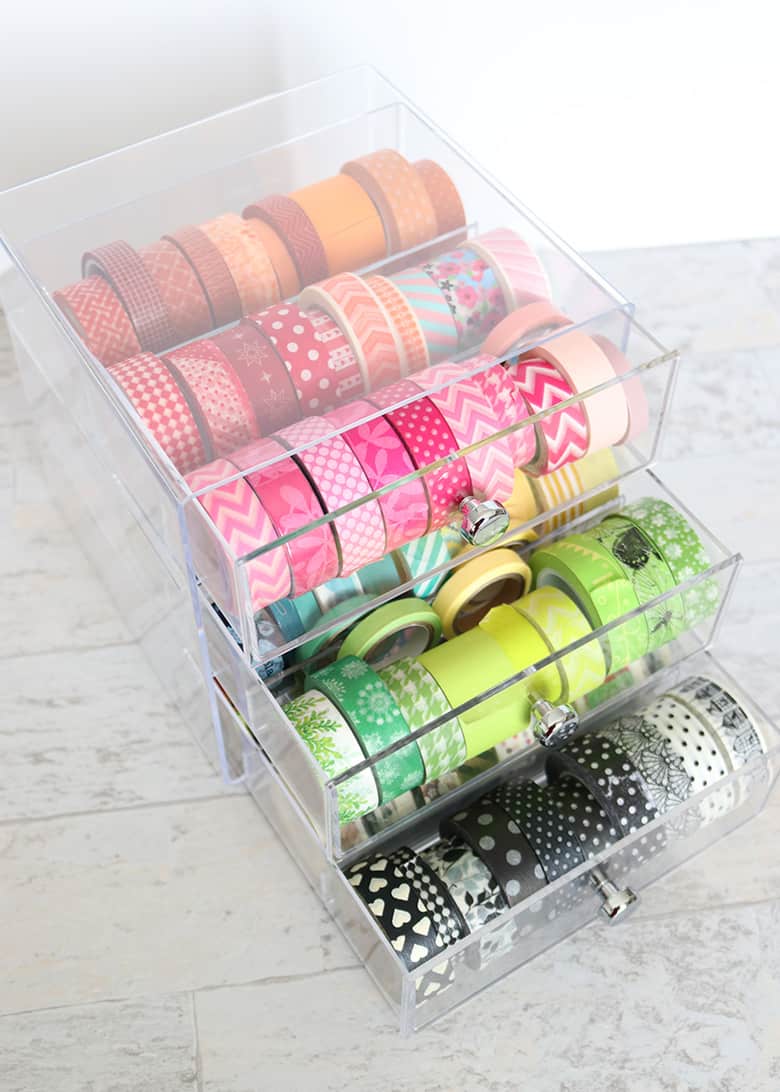 One small heads-up
I will tell you one thing about this drawer set, just in case you purchase it and realize you can't live with it: the drawers don't have stops, so they will fall out if pulled too hard. (Maybe not the best thing if you have small children around or if you don't have a designated space to display your washi tape.) However, I personally like that I can remove an entire drawer if I want and move it to my work space. But I understand if that's not for you.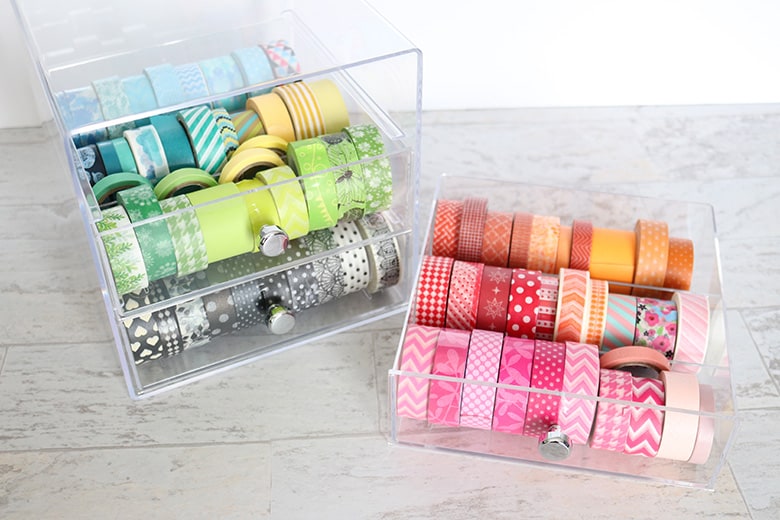 If you're nervous about the drawers and want a more secure option, something like this would be just as efficient and easily accessible. And you're still getting the benefits of being able to see all of your tape at a glance and being able to easily remove whatever roll you're trying to access. I even came across this option if you have a really large collection and would appreciate a carrying handle on your container.
So, in summary:
Things you should consider when storing washi tape
Do I want to be able to see all my tape at a glance?
Do I want to be able to easily remove one roll at a time without having to disturb all the others?
Do I need a container that closes? That's stackable? That has a carrying handle?
How many washi tape rolls do I have/how big of a container do I need?
What will be the best option for me so that I actually use my washi tape? (the most important thing!)
I hope this has inspired you to get your own washi tape collection organized! Of course, everyone's organizational needs will be slightly different, and there's really no right or wrong way to do it. Feel free to share what has worked for you in the comments below!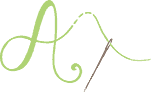 Don't forget to pin and save for later!