Scrapbook stickers can be tricky to organize, but these DIY sticker storage binders are the perfect solution! I use this storage method for all types of stickers and rub-ons. I love how much more I've been able to use my scrapbook stickers, now that I can see what I have!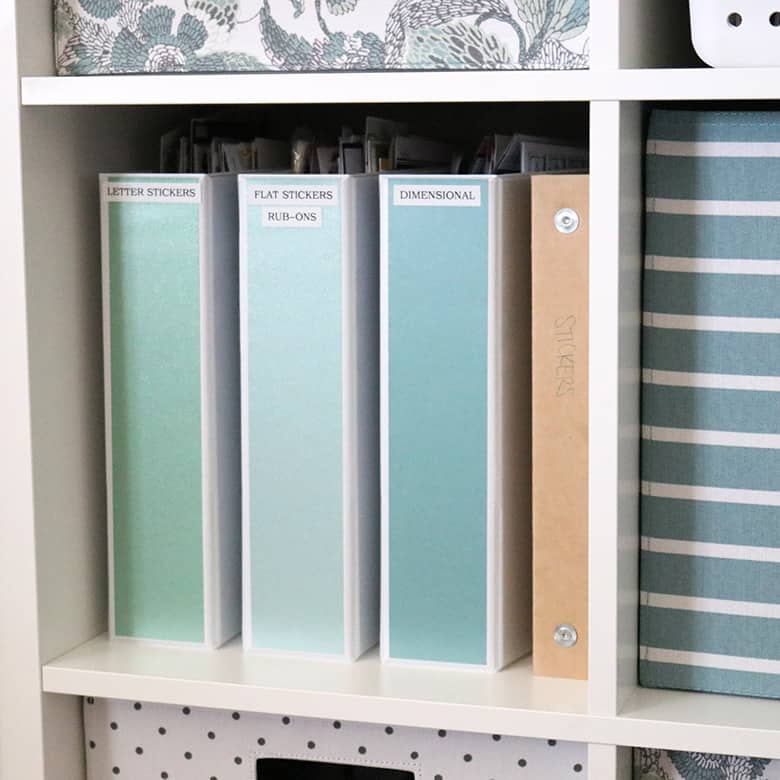 I love stickers so much. I'm a bit of a collector. (Well…is there any craft supply I don't collect? Let's be honest…) When I was young, I remember my mom letting me get a small sheet of stickers any time we happened to go to our local craft stores.
(Those craft stores are no longer in business, and I actually haven't seen those types of stickers in a very long time either–they were the ones that came on a roll, with tiny perforated sheets and you'd tear off just the section you wanted to purchase. Do you know the kind I'm talking about? Anyway, I miss those.)
But I also love how many more sticker options we have now! And from just about anywhere. I think the last stickers I bought came from Target, but I snatch up letter stickers whenever they're on sale at Michael's or Hobby Lobby.
Stickers are such an easy alternative to stamping an image or handwriting a sentiment on a card or scrapbook layout. Or, if you've joined the recent wave of journaling and planner-keeping, you also probably have a healthy stash of planner stickers.
However you use your stickers, you've probably struggled with organizing them at one time or another in your crafty life. So that's why I'm sharing my latest sticker organization method that allows me to keep track of all the colors, themes, and categories of stickers I own–so that I can use them more frequently in my craft projects!
This post contains affiliate links. For more information, see my disclosures here.
The Best Sticker Storage Method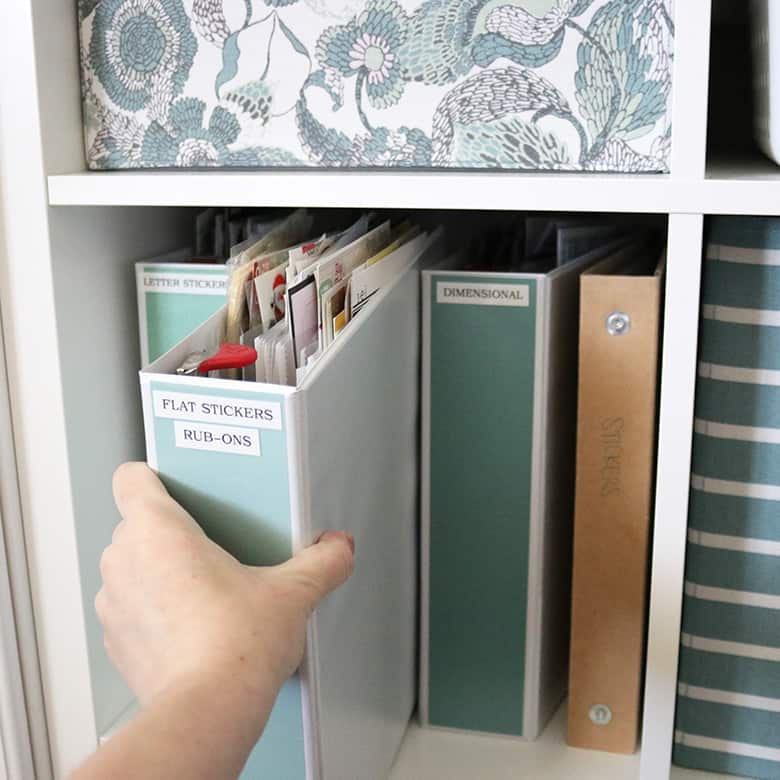 If you love home organization, you probably know that there's something to be said for organizing vertically. Vertical storage can be useful in a variety of situations, saves space, and helps you easily see your belongings. In just my craft room alone, I use vertical storage for fabric, scrapbook paper, and…stickers.
I had been storing my stickers in boxes similar to these. Which worked for a time, until my collection kept growing and I started neglecting the stickers at the bottom of the box.
I finally had enough of not being able to see what stickers I had, so I purchased some inexpensive 2-inch binders and put together these super organized sticker storage binders!
(I already had sheet protectors on hand, but you'll want to purchase some of those as well. Make sure you know whether you're getting clear or non-glare, if that matters to you.)
---
Looking for more craft room organization ideas? Check out these related posts:
How to Organize Scrapbook Paper
13 Random Items You Should Keep in Your Craft Room
---
How to Organize Stickers
When organizing stickers, you'll want to consider what types of categories you'd like them divided into. This will help you easily narrow down your collection when looking for a specific color or theme.
Sticker Categories for Organization
2-D or 3-D Stickers
My stickers are first categorized by "flat" or "dimensional." (I guess I could've also labeled them 2-D or 3-D. Oh well, use whatever terms make sense to you!)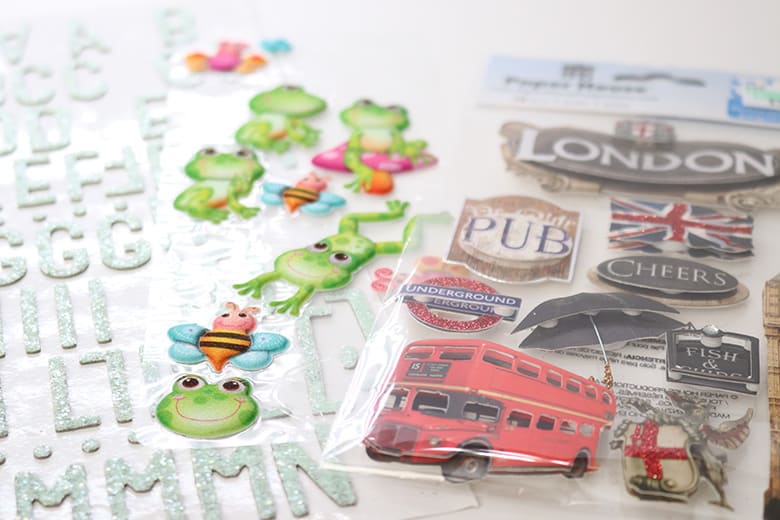 It's kind of funny, but the real reason for this division is that postage on thick/heavy cards is more than postage for flat cards. So, if I'm making a card to be mailed, I'll opt for the flat/regular stickers.
Letter or non-letter stickers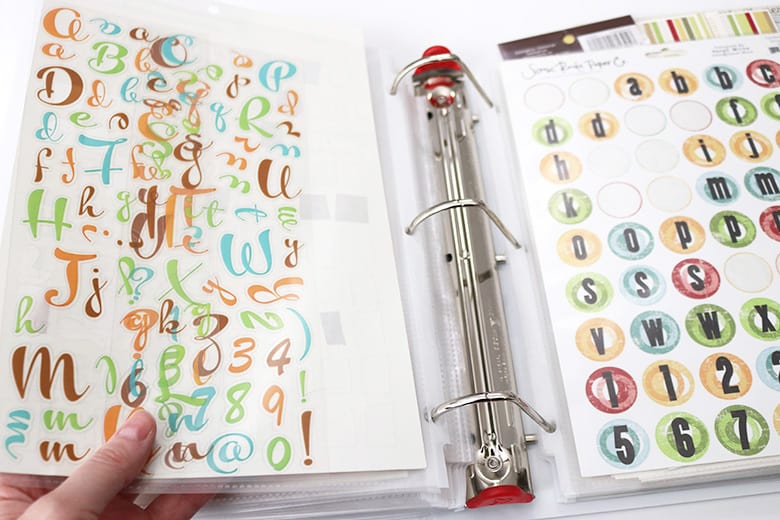 Next, I separate all my letter stickers from non-letter stickers. I have an entire binder just for flat letter stickers, and I divide them by color. I put just a few sheets of stickers in each sheet protector, back to back so that every sheet is at least partially visible when I flip through the binder.
Themed and seasonal stickers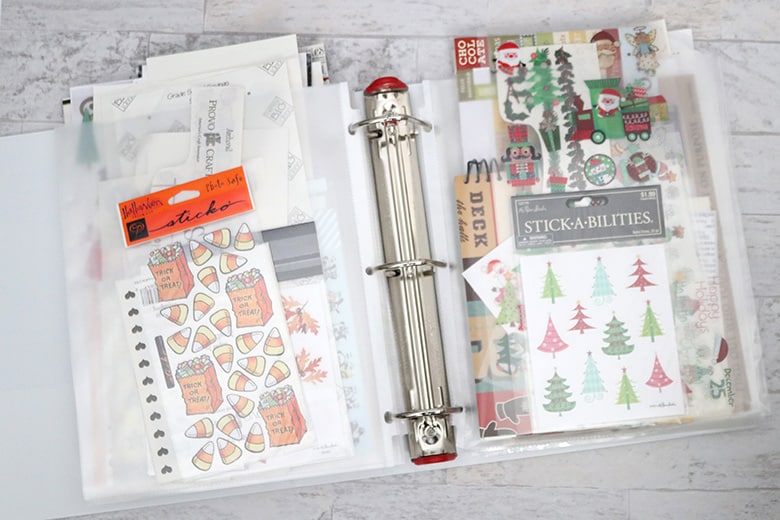 In my "flat stickers and rub-ons" binder, I store stickers by theme or category. Here are some ideas for how you might like to separate your stickers (these are the exact categories I use):
labels, frames, and borders: these are generic stickers that could be used for multiple seasons/themes
Mother's Day, Father's Day
boy/girl
Valentine's
Spring/floral
Summer/vacations
Disney
animals/outdoors
school
Fall/Halloween/Thanksgiving
Christmas
quotes and phrases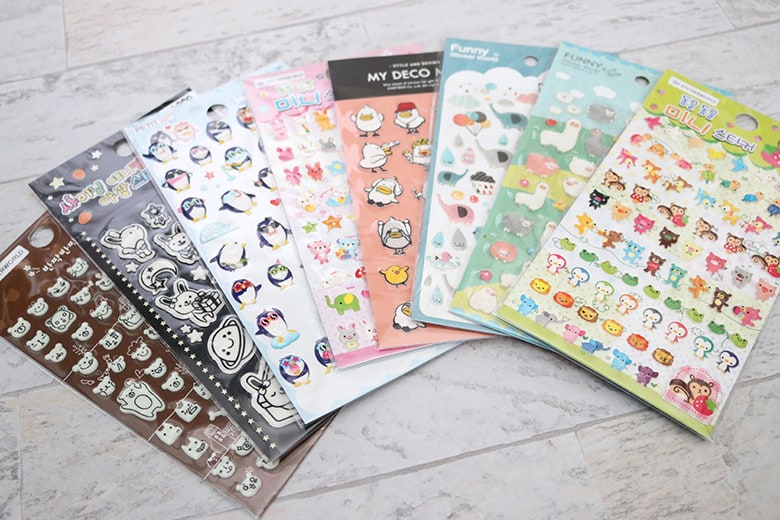 I also have a sheet protector to hold my Korean stickers, which I collected when I lived in South Korea. So…you might not have that category. But, on second thought, you should, because Korean stickers are the cutest!!
3-D Stickers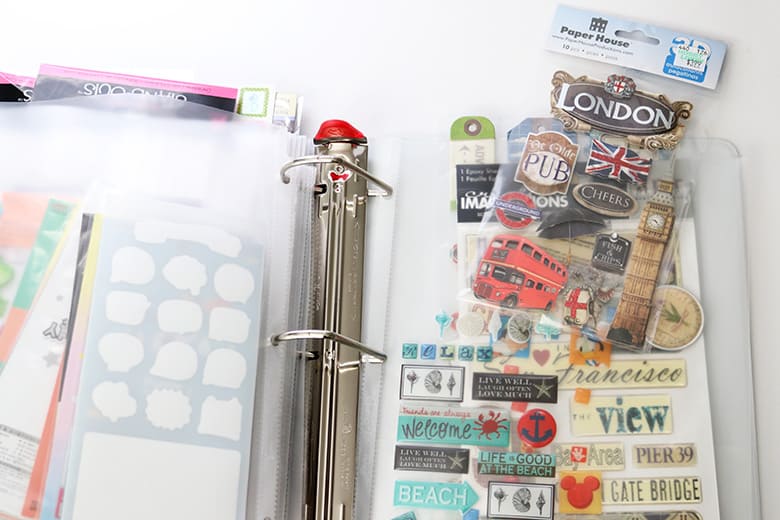 I store my dimensional stickers in one binder, including 3-D letter stickers. The 3-D letter stickers are kept in sheet protectors at the front, sorted by color. Then I divide the rest of the stickers into similar categories/themes as listed above.
How to store adhesive gems, pearls, and rhinestones
I classify adhesive gems, pearls, and rhinestones more as "embellishments" than "stickers," but I thought it would be worth mentioning how I store these here.
Because of how thick these embellishments are, storing them in sheet protectors didn't make the most sense for me at this time. I had some leftover plastic storage envelopes from my scrapbook paper organization, so I am currently using one of these.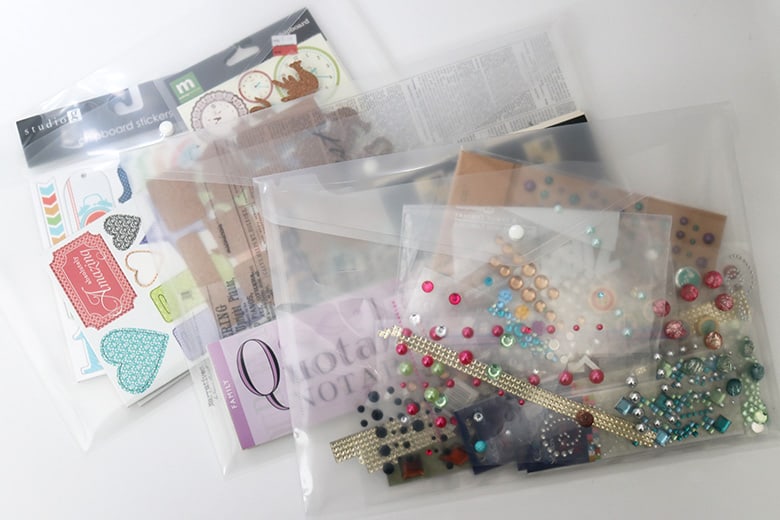 I also use one of these envelopes to store chipboard stickers, and another to store vellum quote packs. These are all kept in my "embellishment" fabric storage cube, next to the cube with my sticker binders, so all my "stickers" are kept in roughly the same location.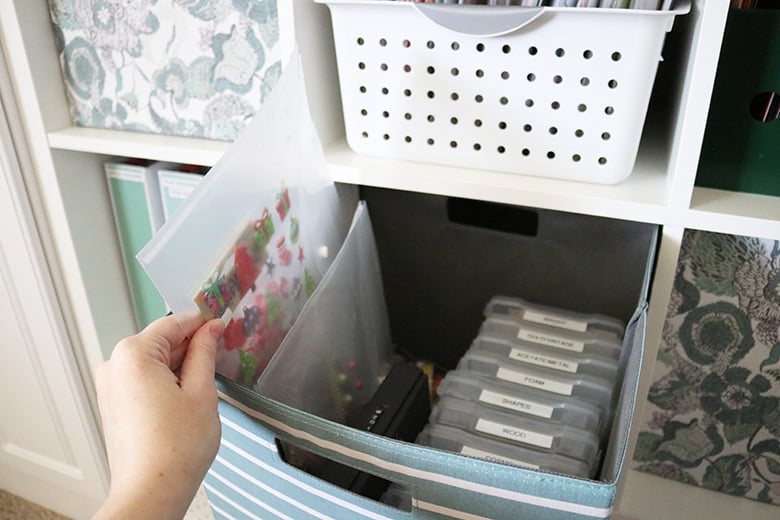 I love my new sticker storage!
I love that I know exactly where to find all my stickers now! These binders are so helpful. And cheap, and so easy to put together!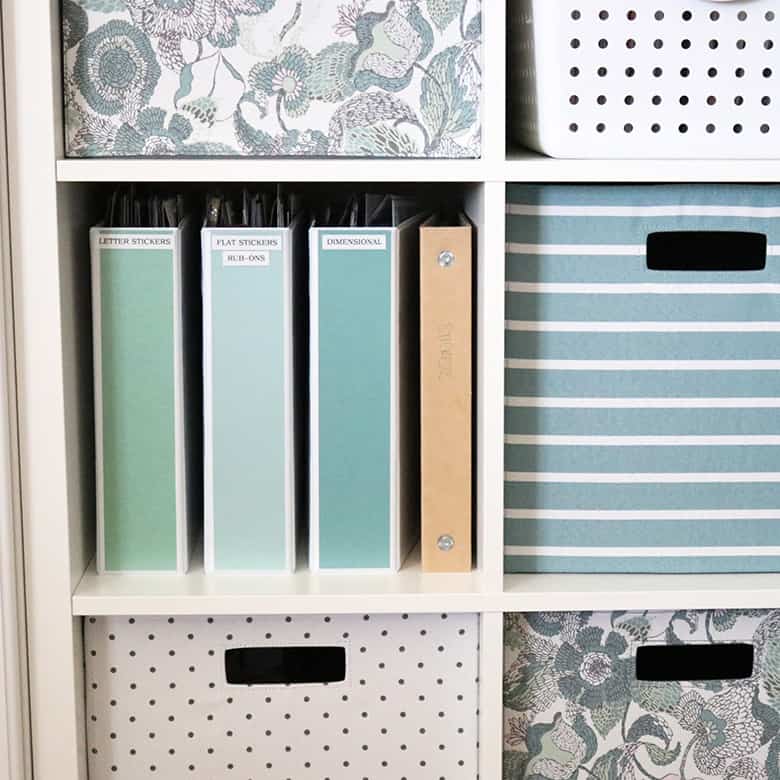 Feel free to decorate your binders however you want. I dressed mine up with a little colored cardstock…but I'm still kind of tempted to switch them out at some point for these colored binders. Maybe. 😉

How do you like to organize your stickers? Leave me a note in the comments below!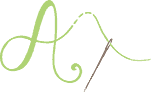 Don't forget to pin and save for later!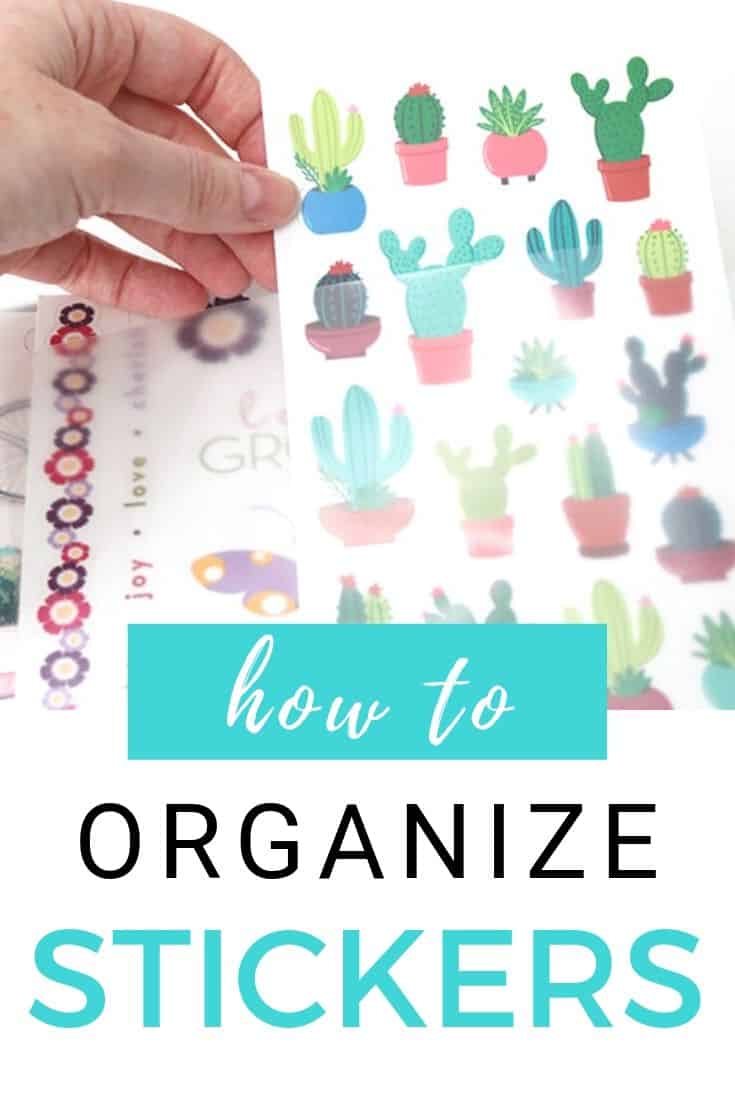 ---
Check out the other posts in my Craft Room Organization series!
---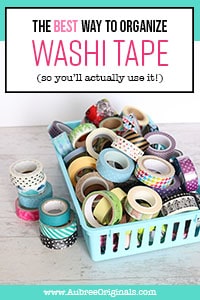 How to Store Wood-Mounted Rubber Stamps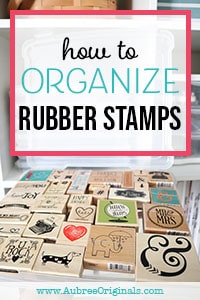 How to Store Clear Stamps Vertically
How to Organize Scrapbook Paper