These handmade Cricut cards are the perfect gift for your valentine! Get the step-by-step instructions to make these cards with your Cricut machine!
Handmade valentines are the best! If you're looking for fun DIY valentine's day projects, these homemade card ideas with your Cricut are perfect.
I've compiled lots of different cards so you can find the perfect card for your favorite valentine! Almost all of these have a detailed Cricut tutorial that I've linked to below, so they're great for all skill levels!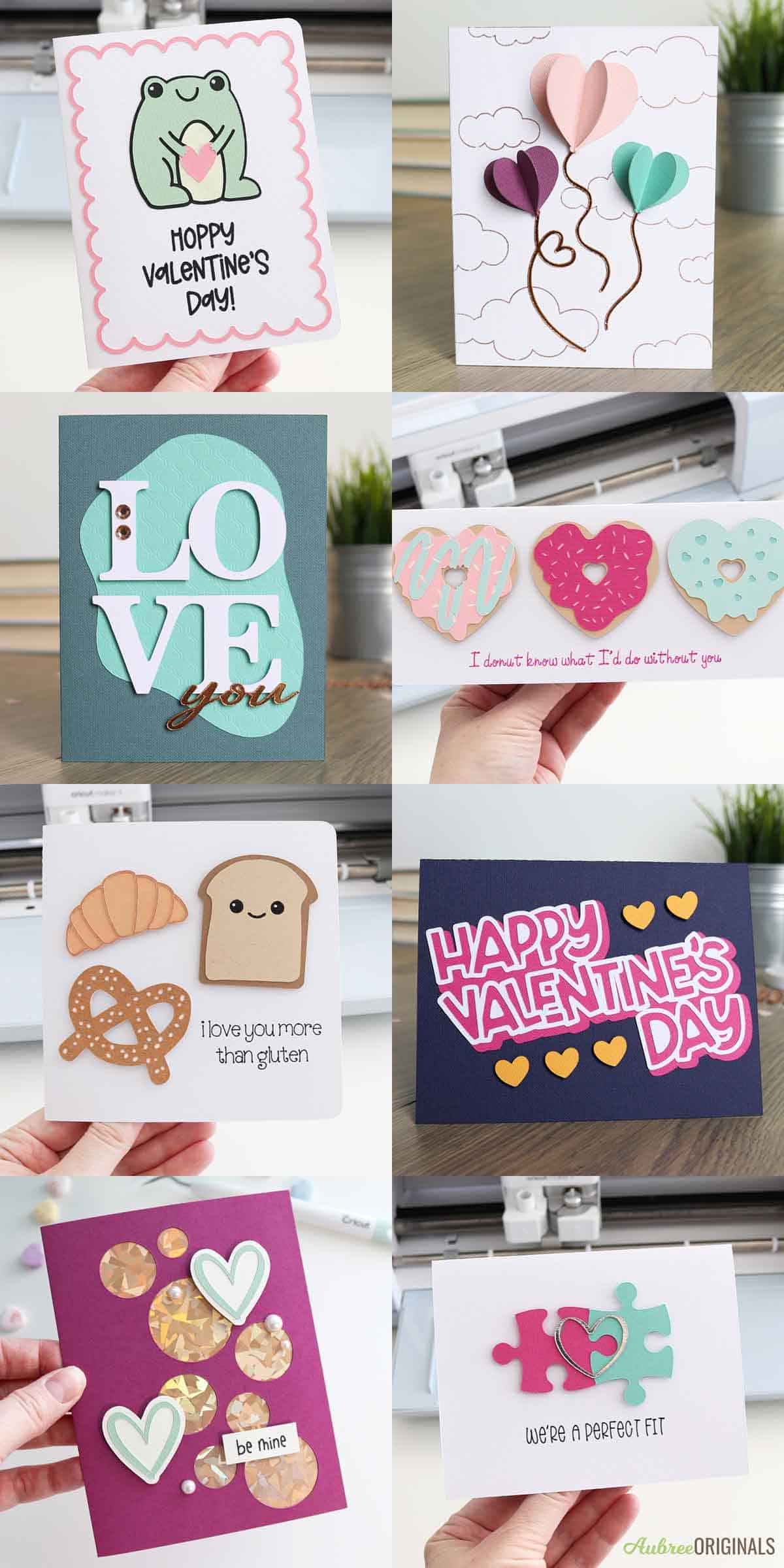 This post contains affiliate links. For more information, see my disclosures here.
What you need to make these Cricut Valentine cards
Each card tutorial linked below will tell you exactly what you need to make that card, but here are the basic supplies I recommend having on hand before starting:
Cricut machine: I love both my original Cricut Maker and my Cricut Maker 3!
Cricut Access subscription: Most of these projects use Access images and fonts. If you're not sure if Access is right for you, check out this post all about Cricut Access.
Cardstock in various colors: I primarily use the Cricut cardstock because it cuts beautifully on the Cricut and I don't have to worry about adjusting the settings. Unfortunately, the color selection is limited so I also use whatever other cardstock I have on hand.
Metallic kraft board: This is optional (you could replace all these elements with regular cardstock), but I love the thicker texture and shine! Pictures don't do it justice, it's so pretty!
Cricut Smart Paper Sticker Cardstock: This is super handy for some designs, but could also be replaced with regular cardstock and glue.
LightGrip mat (the blue one, I use this for the cardstock)
StandardGrip mat (the green one, I use this for the kraft board)
Cricut fine-point blade and scoring wheel
Cricut pens: I chose to have my machine draw all of the text on these cards with a Cricut pen. I like the finer point pens (0.4) for this, but sometimes the 1.0 tip is useful too. And definitely try out the glitter gel pens—it's a great way to add a little extra sparkle!
Foam tape or dots: Foam tape is great for added dimension in paper crafts. I love the foam tape from Dollar Tree! It's super sticky and a great price. You just cut off what you need and can even cut it lengthwise if you need skinnier strips.
Craft glue: I love this glue, especially for the super fine point tip—you're going to want that for the smaller details in these cards!
Depending on the card design you're making:
Feel free to add additional elements for your own personal touch on these adorable designs!
Purchasing a Cricut machine or heat press? Use coupon code AUBREE10 for an additional 10% off!
Do these cards require svg files or downloads?
Nope! As long as you have a Cricut cutting machine, Cricut Design Space, and an Access subscription you are good to go! (And this is why I love the Access subscription so much: there's no need to go hunting for free svg files anywhere else—all of these cute images are already in Design Space and the projects are ready to cut!)
Cricut Valentine's Card Ideas to DIY
"Love You" Cutout Hearts Card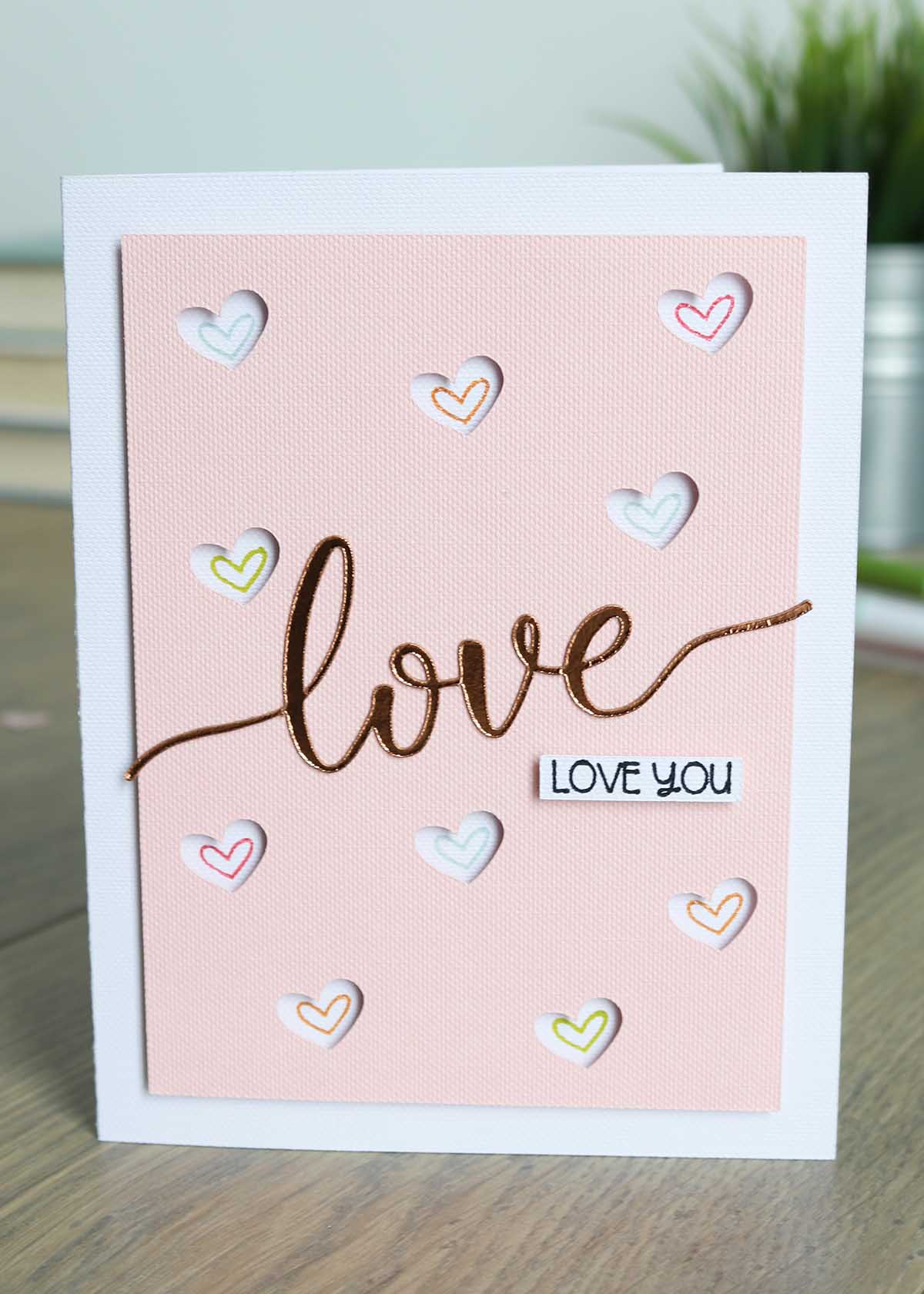 There are so many fun parts to this "Love You" hearts card! The cutout hearts show through to drawn hearts underneath, so whip out all your fun Cricut glitter gel pens (the picture doesn't even show how sparkly they are!). I also like the cursive "love" phrase cut from metallic kraft board—it's so chic and elegant! Get the full tutorial HERE.
We're a Perfect Fit Puzzle Pieces Card
If you're looking for a super simple Cricut card to make your significant other, this puzzle pieces card is it! This takes hardly any time to make and turns out adorable however you choose to customize it. Get the Cricut Design Space project HERE.
I Love You More Than Gluten Card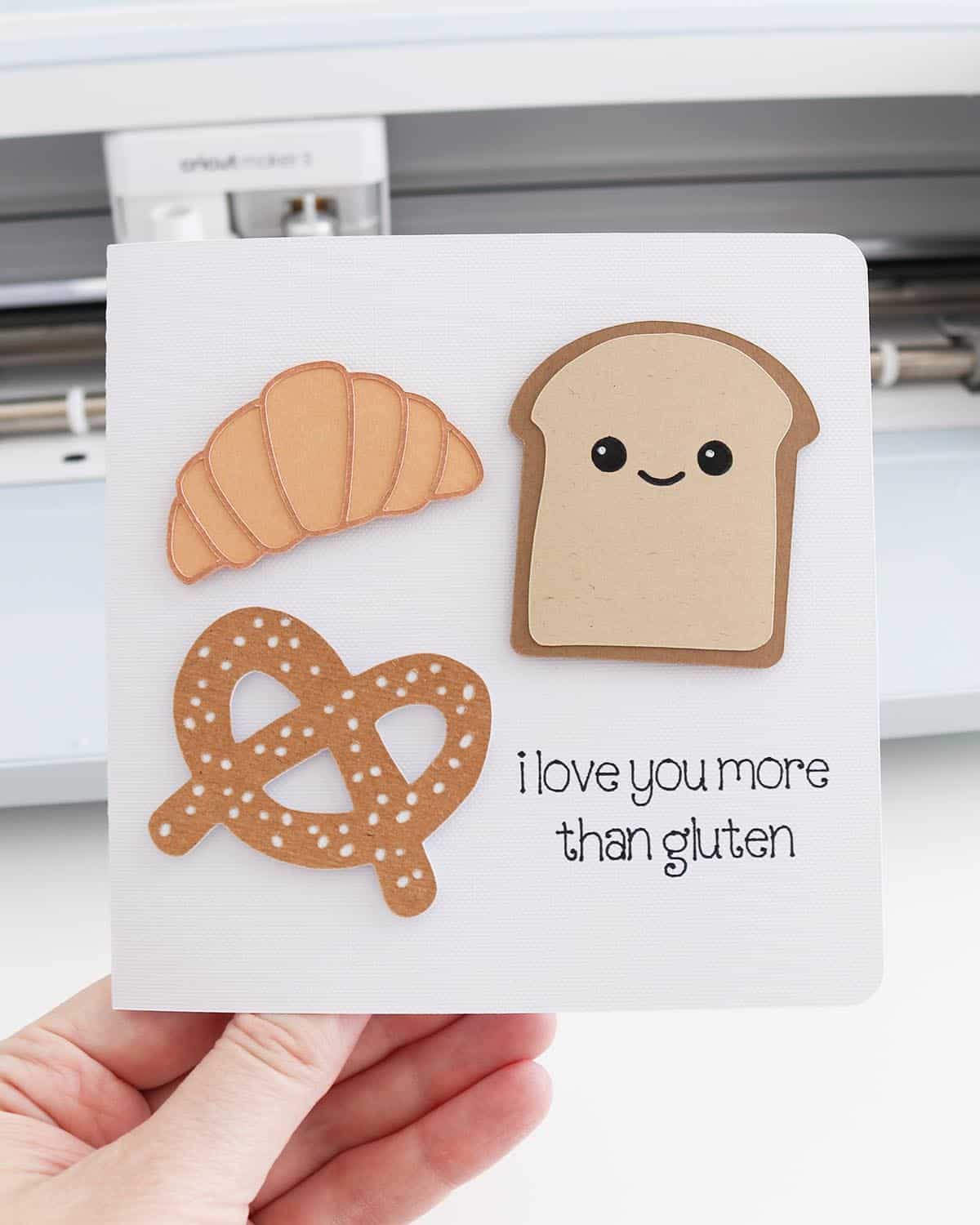 I have celiac disease so this is kind of a funny valentine to give my husband (and kind of sad, but we're choosing to laugh about it anyway). I think the bread, croissant, and pretzel are super cute (and also look delicious…but only in cardstock-form for me, unfortunately). You could easily change the text to say "I love you more than carbs," too. Get the full tutorial HERE.
I Love You More Than Pizza Card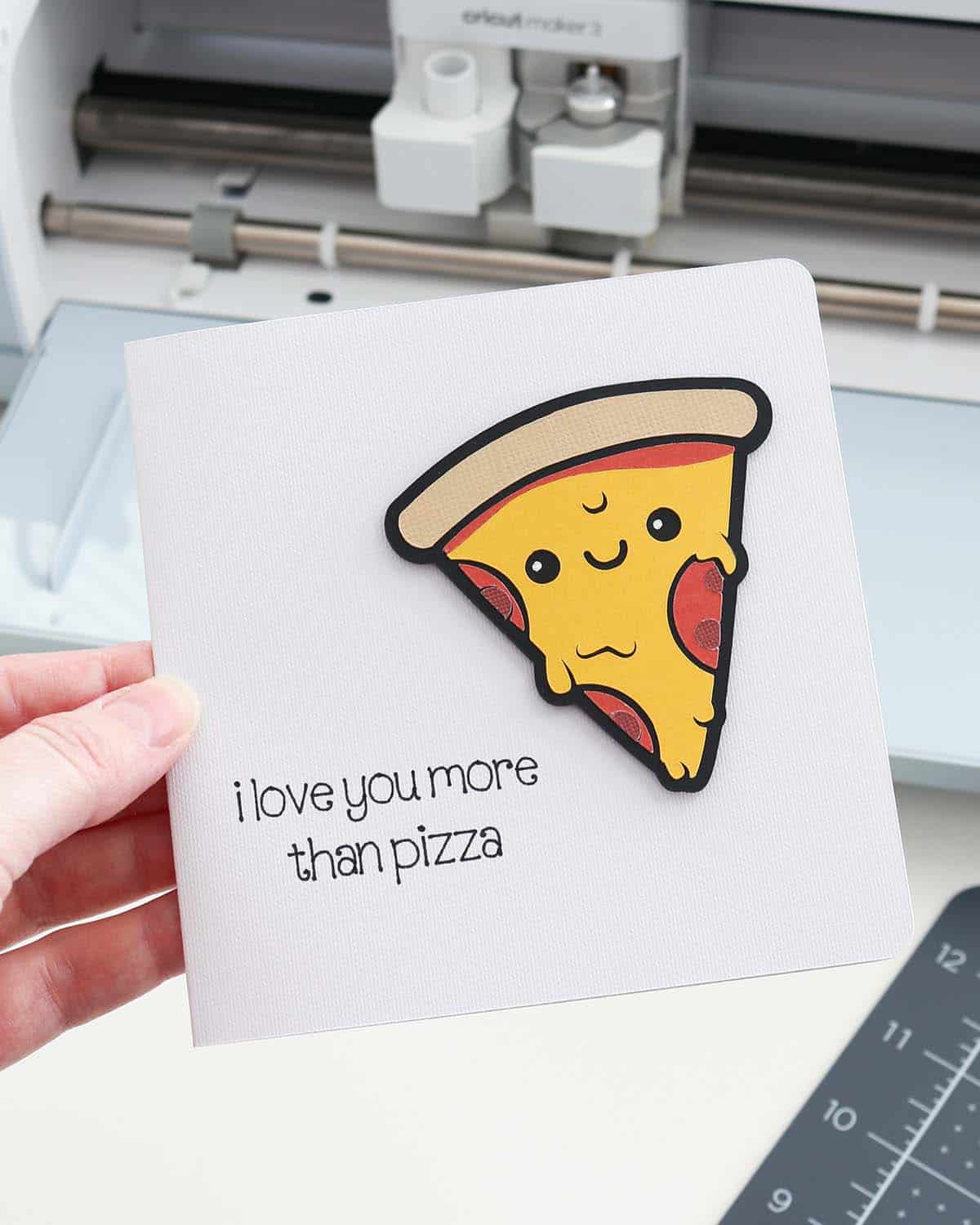 If you or your significant other love pizza and you're in need of an adorable Valentine's card, you're in the right place! The process for making this pizza Valentine's card is very similar to the gluten card.
I know the sentiment says I love you more than pizza, but attaching this card to a box of your valentine's favorite pizza would make a very cute gift! Get the full tutorial HERE.
Happy Valentine's Day Card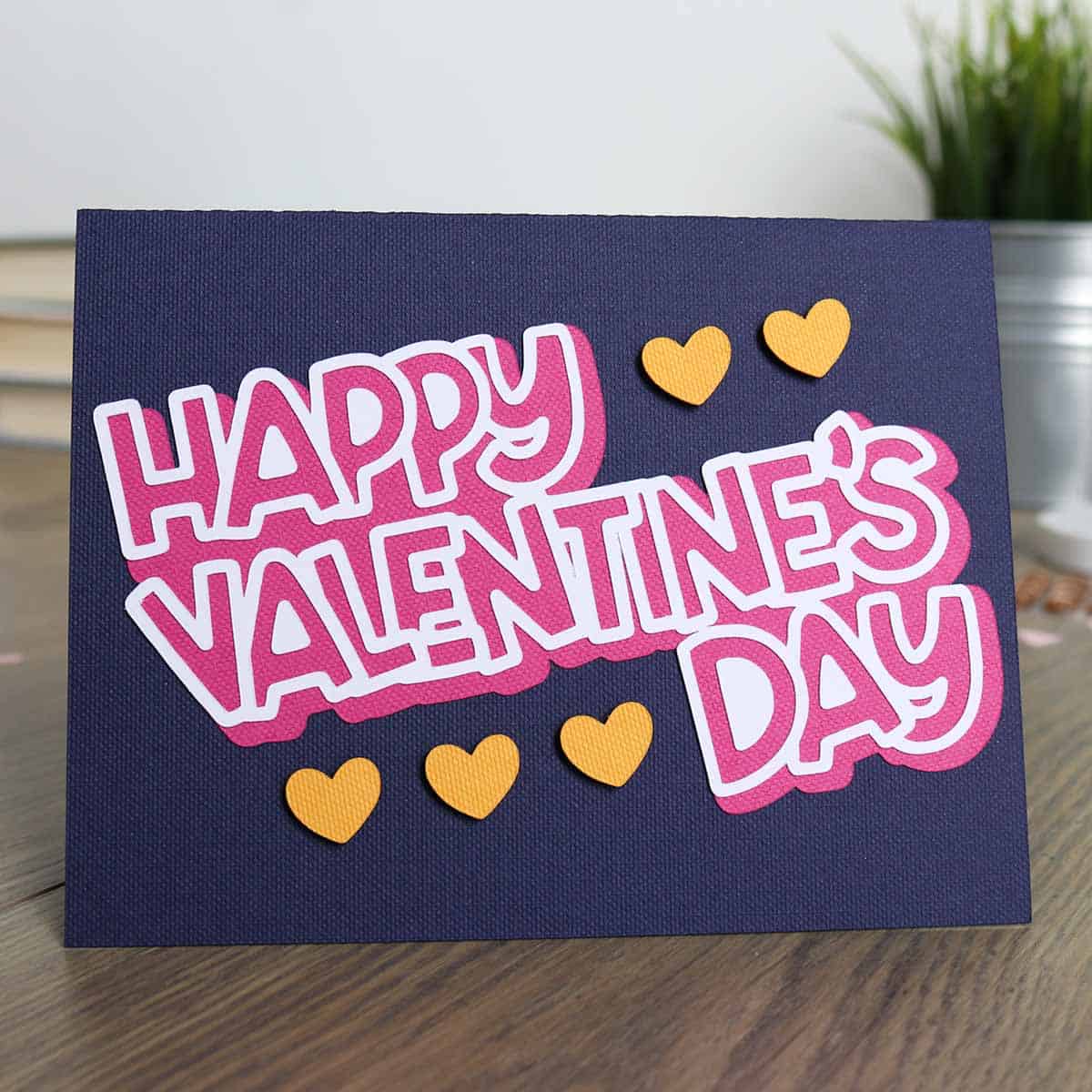 This fun "Happy Valentine's Day" card can be customized in lots of different color combinations, so don't feel like you have to use the same navy/hot pink/orange color combo I used.
The easiest way to make this card (and get the letters to cut cleanly) is to use smart sticker paper cardstock for the white text! For added dimension, adhere the hearts with foam tape. Get the Cricut Design Space project HERE.
You're a Gem Card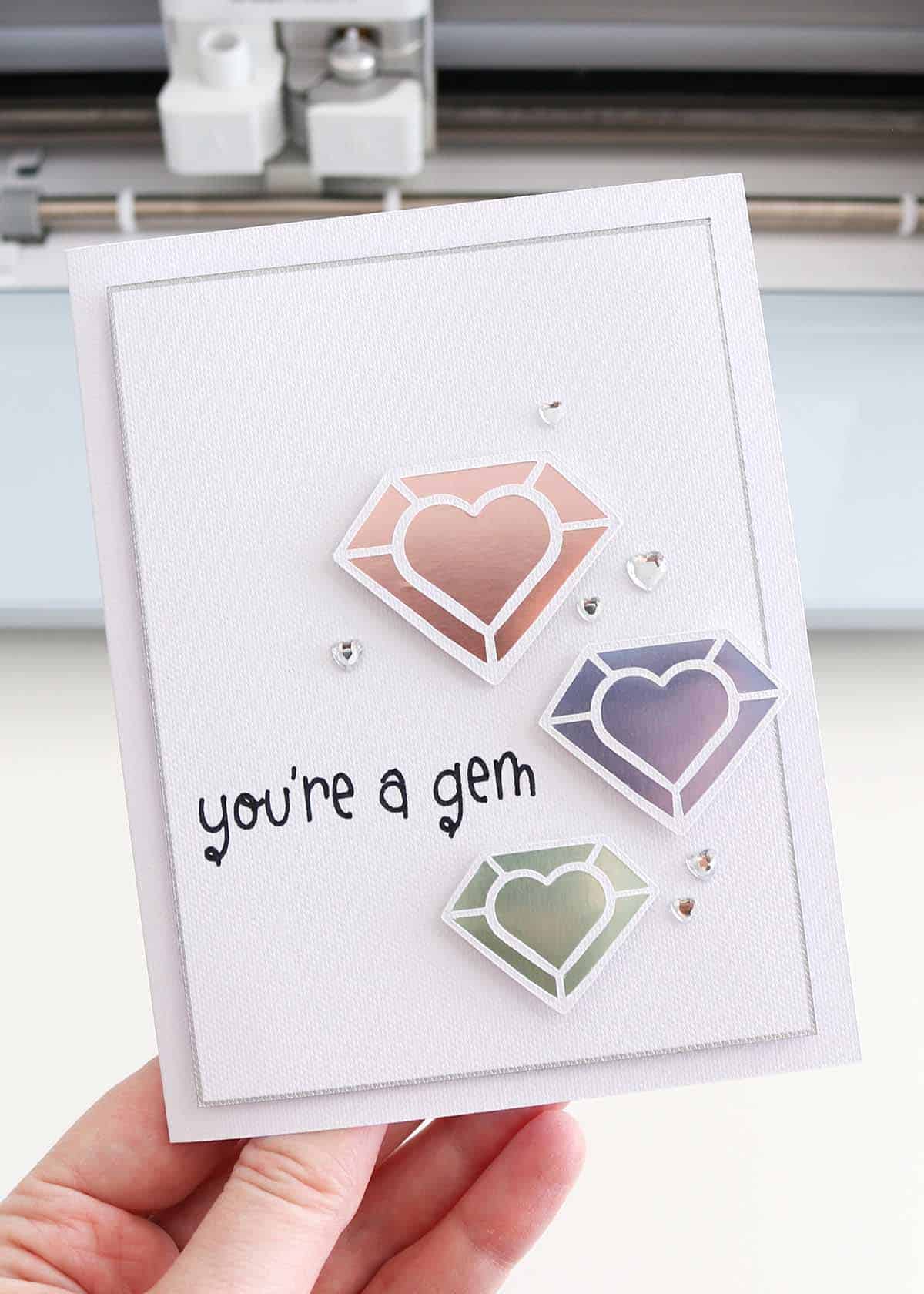 This heart gems card is great for Valentine's but would also work as a thank you card for lots of other occasions! Be sure to use a shiny or sparkly paper for the gems to get that extra shine! Get the Cricut Design Space project HERE.
Be Mine Cutaway Card
I ended up making two versions of this "Be Mine" cutaway card: one with cutout circles and your own patterned paper backer, and one with an actual Cricut cutaway card and backer (pictured here).
If you haven't made cutaway cards before, they're actually super easy! You can see my detailed Cricut cutaway card tutorial HERE. (And don't worry if you have the Cricut Joy, you can use the Cricut Joy card mat for this.) Get the full tutorial for this Be Mine cutaway card HERE.
3D Heart Balloons Card
This sweet card features 3D paper hearts that are made to look like balloons. They're actually super easy to assemble thanks to score lines on all the hearts. The cloud background can be done with pens or foil, but I recommend the foil for extra shine! Get the full tutorial HERE.
Love You Debossed Card
If it's your first time using the Cricut debossing tool, this tutorial is a perfect for you! The debossed cardstock layer on this card is the best part—I love that subtle texture! Pretty sure you'll be debossing all the cardstock after trying this one! Get the full tutorial HERE.
Hoppy Valentine's Frog Card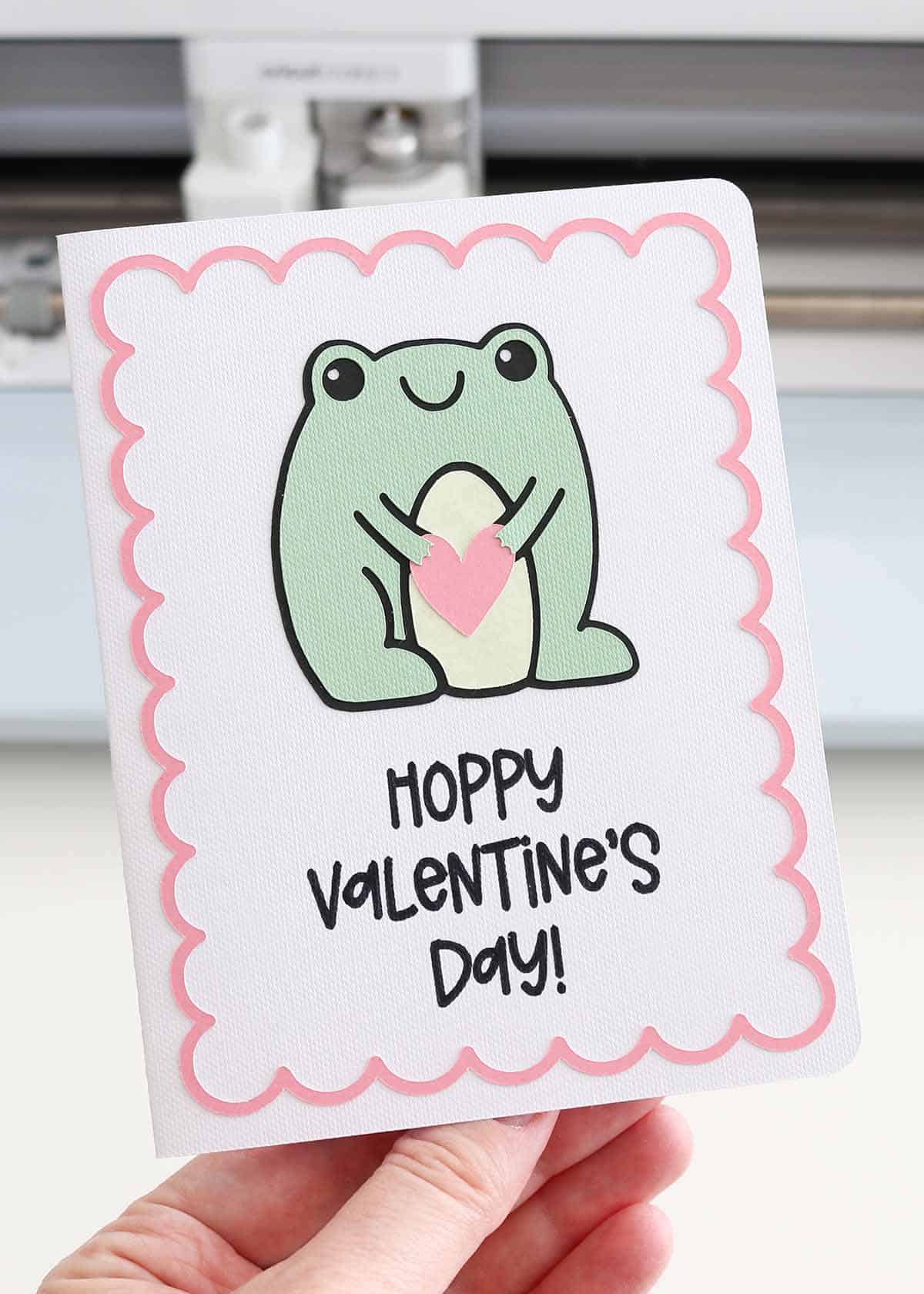 Punny Valentine's cards are the cutest, and this "Hoppy Valentine's Day" frog is no exception! I love that little smile and the little heart he's holding. Get the Cricut Design Space project HERE.
Donut Valentine's Card
I "donut" know about you, but I love pastries, and these paper donuts in a heart shape with sprinkles are adorable! The way I designed the donuts (lots of contouring in Design Space) makes it actually pretty easy to assemble this card, just cut on the "Cardstock–for intricate cuts" setting if you need to for the detailed pieces. Get the full tutorial HERE.
DIY Cricut Valentine's Card Ideas
I hope you make one (or a few) of these cute cards with your Cricut! They make an easy valentine's day gift and your recipient is going to love them! Now all that's left is for you to write your message on the inside of the card and give it away!
Happy paper crafting!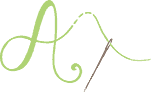 Don't forget to pin and save for later!